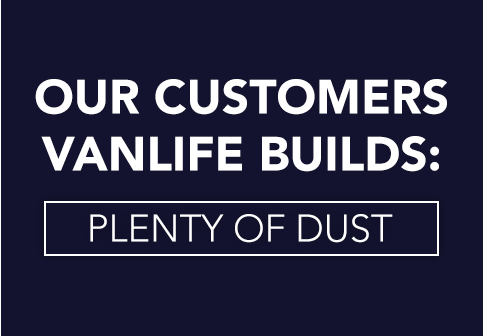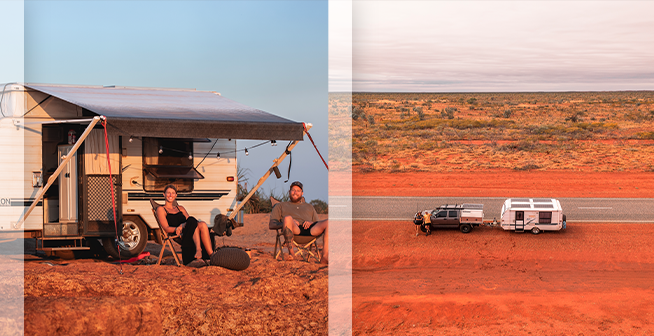 "Hey guys, Denya and I are both 27 years old and come from Sydney.
For 10 years I (Riley) was a greenkeeper on a golf course and Denya was in the finance world as a Business Development Manager. We now travel Australia full time in a 15ft 2001 Kedron pop top with a 2009 Holden Colorado as our tow vehicle.
What started as a plan to work on a cattle station for 4 months, turned into "Let's travel Australia for 12 months". Anyone who has travelled knows how hard it is to go back to normal life, which is the reason we have gone a little bit over our 12-month plan. 2.5 years later, we are still going. Loving (almost) every second of it."

"Not many people know that we've actually been through 3 camper trailers/caravans. Our little home, the Kedron (can you believe after a year we still haven't named it) hasn't been with us forever but holy moly we wish it had been. Before we had even left, we had a forward fold camper. We set this up ONCE ... and once was enough for us so we sold it a few weeks later (thank goodness). We then found a Jayco Eagle and this was our home for the first year and a bit. We love how we had a spare bed for all our friends who told us they wanted to visit but never did ... wonderful. It did an amazing job but in Cairns we decided we wanted to get a caravan with a lot less canvas and a faster set up. This is where we found our beloved Kedron. It changed the way we travelled, having SO MUCH more organised storage than we were used to + set up and pack down time was reduced by at least 20 mins.
The caravan came with two very old 120Ah AGM batteries and two solar panels. A very basic setup that got us by for the first couple months UNTIL both batteries died simultaneously ... just our luck. We saw this as a sign to finally do the upgrade we had been wanting to do from the beginning."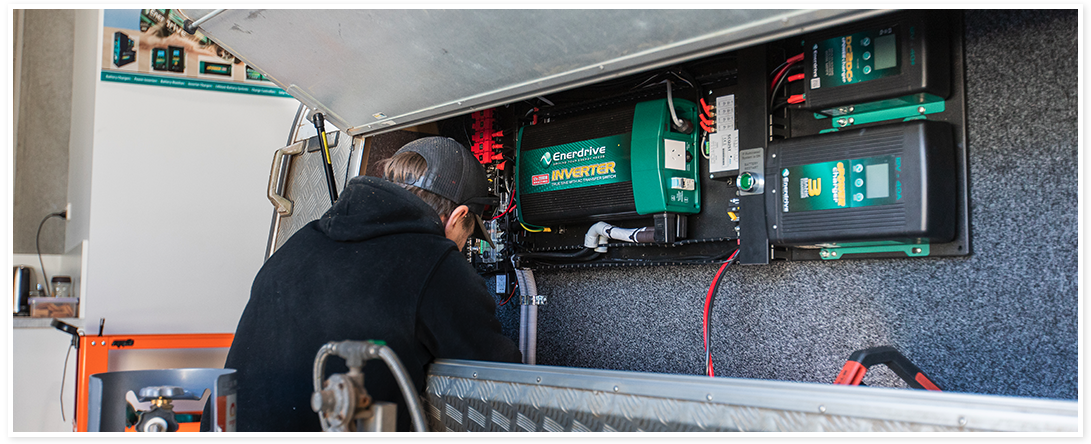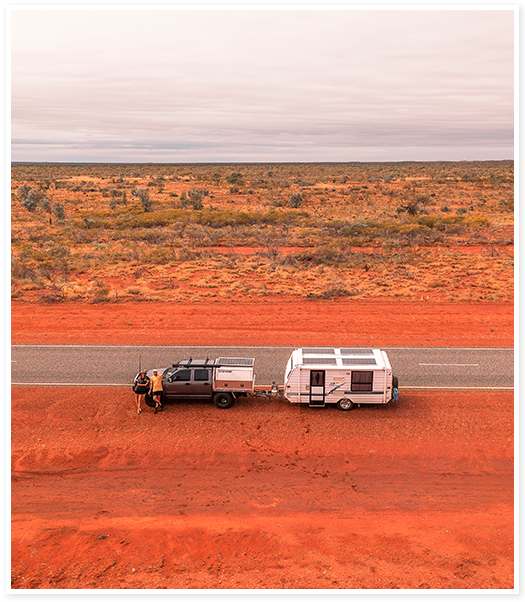 "So I (Riley) was coming up to my 10 year long service at work and I definitely knew I didn't want to stay there any longer once I got it. I had plans to work on a cattle station for a few months and then come back to a new area of work. Denya and I met during these plans and she seemed to like this idea as much as me so we started to look around for jobs on cattle stations together.
The excitement of travelling somewhere really got to us. This 3-4 month work trip quickly turned into a "Let's do the lap of Australia over the next 12 months". February 8th came around super fast and with very little planning we were off on our lap. Little did we know it would take us 9 months to get to Cairns from Sydney. You could say we like travelling a little slower than most. Fast forward 2.5 years and we are still cruising around Australia and have YET to cross the WA border yet.
This year is the year we FINALLY make it over west and we are so excited. Over the next 8 months we will be exploring South Australia, Western Australia and maybe even Tasmania."

Electronicals:
Please Note: The Enerdrive 180W Solar Panels installed by Plenty Of Dust are no longer available and have now been replaced and upgraded to the Enerdrive 190W Mono Crystalline Fixed Solar Panel
Appliances:
Hardware:

"Denya hates me looking through the Caravan RV Camping website because she knows I have no self-control and I'll always end up with something in the cart.
There is such a large range of products from a BUNCH of different brands.
Prices are always super competitive and customer service is an absolute dream to chat with. The team always try their best to help and give any assistance where they can. We just love how you guys operate."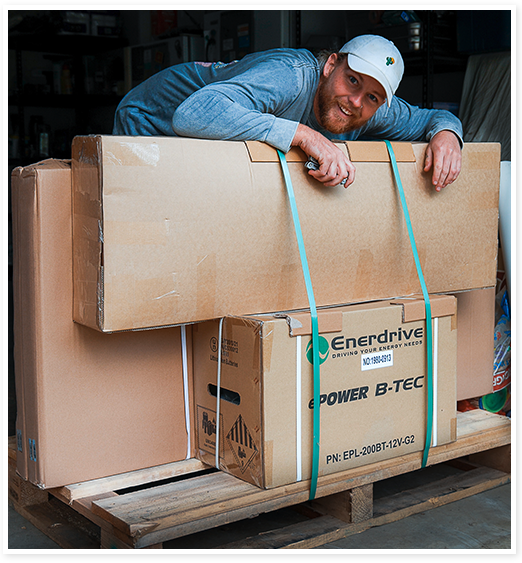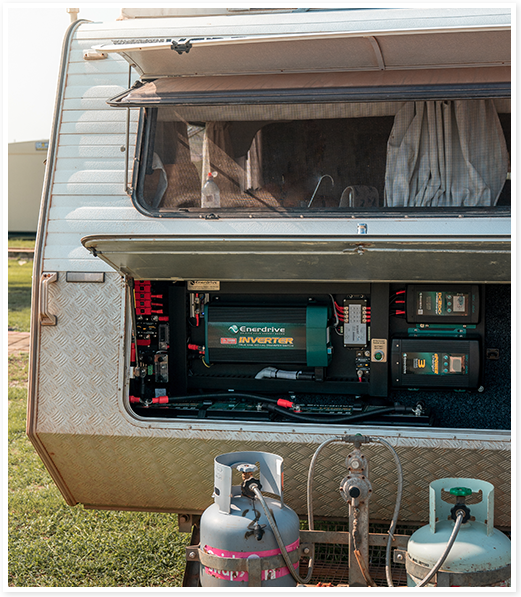 "First thing that came to mind was the Enerdrive E-System F Board we put in. When our batteries died in the old setup, it gave us the opportunity to start from a blank canvas. We ripped everything out and threw the F board in. It made life so much easier for our auto electrician having most of the components prewired, it cut more than 60% of the preparation time straight off the bat. A DCDC Charger, 3 Stage Charger and our favourite ... 2000w Inverter all on the one board, genius.
In saying that ... I still think our best purchase would have to be the Induction stove. Because our caravan stove is obviously fixed inside, we have really missed cooking outside when it's a beautiful afternoon. Getting that slight breeze come across and not having to worry about the flames going out or taking an extra 30mins to cook something. We underestimated induction cooktops massively but are so glad we have one now. So, a hot tip if you're about to take off on a trip BUY INDUCTION COMPATIBLE COOKWARE!"

"I (Riley) would love to have a boat but towing a caravan and a decent boat is a tad illegal
I think with the caravan we are all sorted. We have everything that we need for now. This could change over the next few weeks but for now we are happy.
There is one thing we would love to have on the car though, and that is a 270 degree awning. That extra bit of shade when we are parked up or even just having a day trip would be unreal.
I just asked Denya what she wanted and she said a caravan with a shower inside would be nice"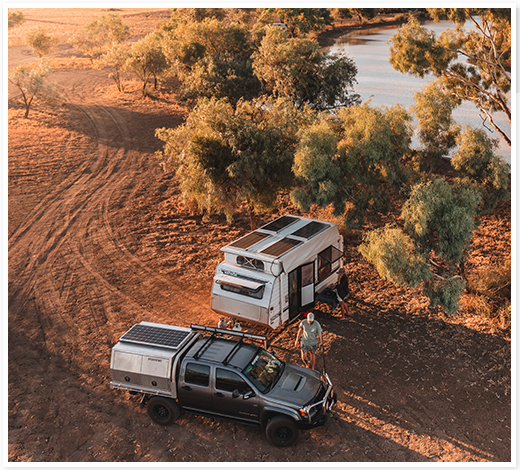 "We haven't made it to WA, TAS or done SA properly yet so this spot is based off NSW, QLD, NT mostly.
We would both have to agree that Stingray Head at Dundee Beach in NT is our favourite spot so far. You got to camp right on the edge of a red cliff, having fires every night. Catching mud crabs down the river for dinner and the best chance to get a Barramundi as well. This spot is where we felt most relaxed and could have stayed for months.
Unfortunately, it has closed down for camping due to people being disrespectful to the property owners land. It's extremely disappointing to see places like this not being able to be enjoyed by anyone anymore because of a select few ruining it. Please make sure that when you are visiting campsites that you are leaving the place better than you found it. It might just help save what free camps we have left."

Electricals
Enerdrive eSYSTEM-F 40A AC and DC Installation Kit, With Simarine Battery Monitor & 2000W RCD & AC Transfer Switch Inverter
2x Enerdrive ePower B-TEC 200Ah Lithium Battery
Enerdrive B-TEC 200Ah Slim Metal Case Lithium Battery
4x Enerdrive 190W fixed Solar Panel
4 x Enerdrive USB ports
12v LED Strip Lighting
Enerdrive 40 Amp DCDC Charger
Enerdrive ePro+ Battery Monitor
Kickass 500w Inverter
Switch panel
2x Enerdrive USB ports
1 x Cig socket
Hard Korr lights
Appliances
Bushman DC85X DC 12V/24V Upright Fridge/Freezer 85L
Engel ST90F 80 litre 2-Way Compressor Fridge/Freezer
NutriBullet 900W
LG Microwave 1000W
Thetford Spinflo Minigrill Cooktop (4 Gas) + grill - Gas only
Anko 2000W Induction Stove
Nespresso Inissia Pod Coffee Machine 1260W
Nespresso Aeroccino 450W
Hardware & Accessories:
Thetford 165 Porta Potti Toilet
Carefree 10ft Silver Shale Fade Roll Out Awning
Oztrail Cooler Arm Chairs
Zorali Camping Chair
Lifetime 4 foot adjustable fold in half table