You've parked your caravan after a long drive, and are finally ready to make dinner, crack open an icy cold drink and enjoy your first night in the campground. But then you realise...the caravan isn't level.
The sink isn't draining properly. The gas fridge isn't running properly. Lemons are rolling around the benchtop. And you know that when it's bedtime, you'll be rolling into the wall!
As any seasoned caravanner will tell you, spending a bit of time upfront with caravan levels will make your stay more comfortable and enjoyable in the long run. Plus, you won't damage any valuable appliances.
Read our essential guide to caravan levels:
How To Choose Caravan Levels
There are a few things you need to think about when you buy caravan levels - and it all comes down to your trailer/caravan.
Do you have a single or tandem axle caravan? Tandem wheels need two levelling ramps on the same side.
What is the tyre width? If you have extra wide tyres, look for a caravan level to match.

How much does the caravan weigh? Check how many tonnes the caravan levels can hold.
Extra Accessories
Most caravan levels now come with a chock included, so once the caravan is level the trailer will stay in place. If they don't come included, it is best to get a matching brand to the caravan level, so they will easily interlock in various positions.
Look for caravan levels that come with a storage bag to keep your levels and chocks together in your van, so it's easy to find them when needed.
Pro Tip: Buy a two-way level and permanently mount it onto your A-frame or draw bar so you can easily see when your caravan is level.
Our Recommended Caravan Levels
Caravan Levels For Single Axle:
Titan RV has nailed the market with the Camper Leveler Wheel Chock. It enables you to level perfectly first time, every time. No guesswork - you simply drive on until level and chock!
For a super strong and sturdy caravan level, check out the Fiamma Jumbo Level System. It can carry a maximum axle weight of 14 tonnes, and comes with a practical self-locking and overlapping system that can raise the height.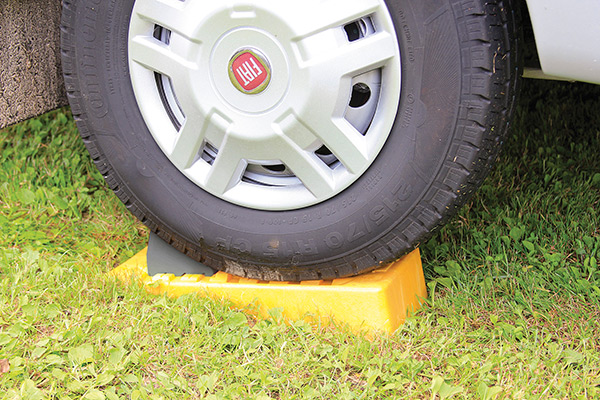 If you're looking for a cheap entry level model, we recommend the Hulk 4x4 Plastic Wheel Level Ramps. These ramps are rated to 5,000kg and are ideal for levelling caravans and motorhomes on uneven surfaces. The ribbed platform improves grip and there are three steps available: 40mm, 70mm and 100mm. You can still use wheel chocks with the caravan levels.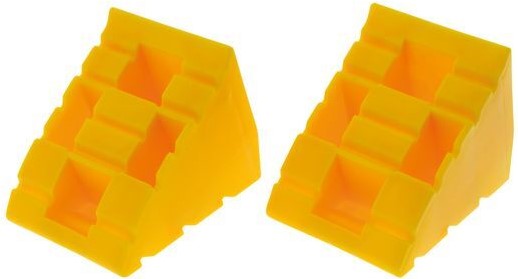 Caravan Levels For Tandem Axle:
For a tandem axle caravan or trailer, check out the Haigh CVL2 ramp and chock kit. Made in Australia, these ramps are specifically designed for tandem axles. The ramp has a red and black section that splits and can be put between the wheels in two stages.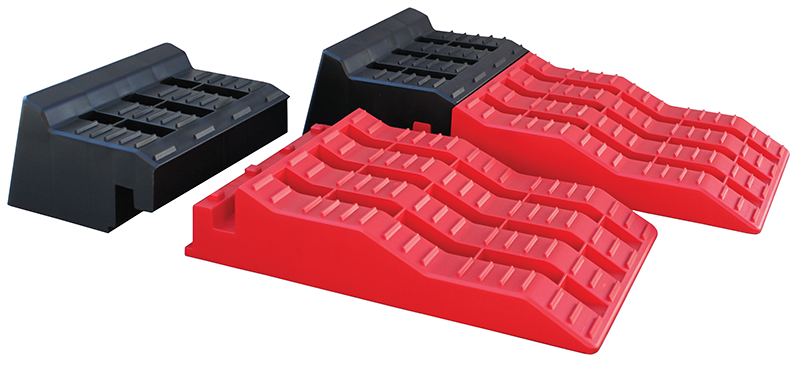 They have a 5 tonne capacity and feature an extra wide tread for tyre widths of up to 250mm. They're able to raise a wheel up to 100mm! They can also be used on single wheels if needed.
Pro Tip: It is easier to drive onto a level ramp than reverse back onto it, so check your ground levels before pulling onto site and, if you can, have your levels in place ready to drive on to.
Browse our entire range of caravan levels online today!
DISCLAIMER* Please note, this advice is general in nature and we strongly recommend consulting the product manual and where relevant, a professional installer.