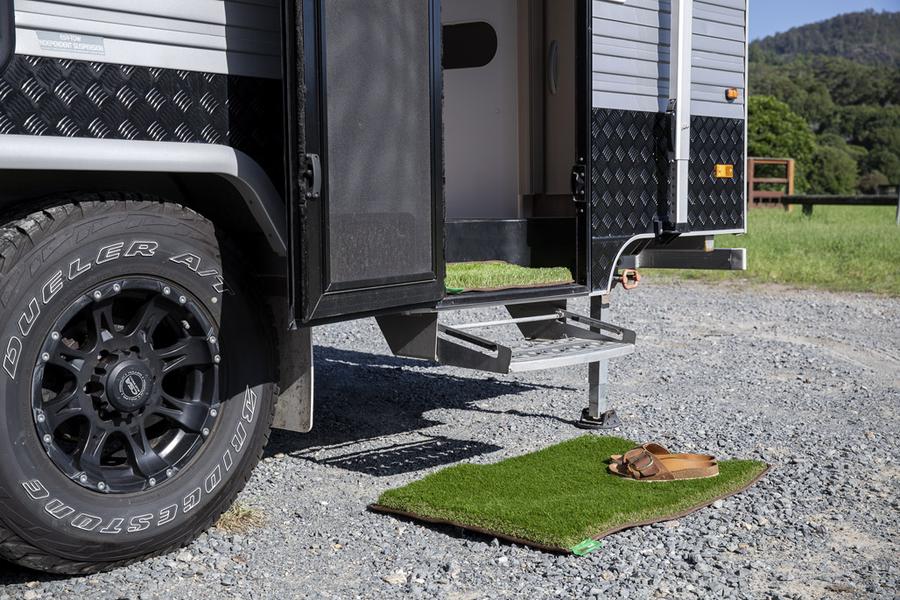 Keeping your space clean and tidy isn't always easy when you're living an adventure lifestyle. Who has time to remove their shoes when they're having so much fun? It's no wonder you find dirt, grime and sand in every last corner. That's why a caravan mat is an essential accessory. Whether you choose a mat for your annex, caravan or outdoor flooring for around your van, you can keep your caravan space looking and feeling clean and grime-free.


Types of Caravan Mat
Depending on what you need, you can buy caravan mats or caravan annexe flooring. Caravan mats can be rolled out wherever you need them. They tend to be smaller in size than annexe flooring, which makes them easier to move around to where you need them. Annexe flooring also tends to come in sizes to suit popular annex models, so you can be sure the flooring will cover the whole annexe area. Another main difference between brands of caravan mats and annexe following is the material they are made from. There are four main types: artificial matting, synthetic mesh, rubber foam, or recycled matting.

Artificial caravan mats are made from solid synthetic material. For example, the Muk Mat is made from synthetic grass, which is 100% woven polypropylene. This is designed to be durable while still comfortable underfoot.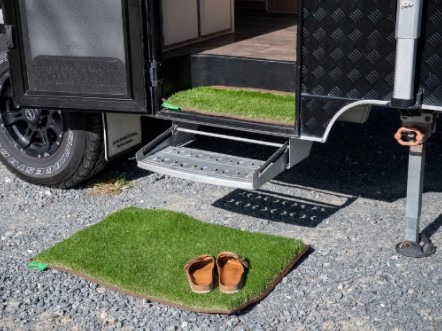 Mesh matting comes with lots of advantages for your outdoor area. It's warm underfoot and non-slip. The best part is that the mesh weave allows the air to circulate whilst stopping any insects from arriving unannounced and ruining your fun.The other advantage of mesh matting is that it is permitted by caravan parks too. The fabric is breathable, which means underlying grass is not killed. It's also very easy to clean – just hose it down and away you go!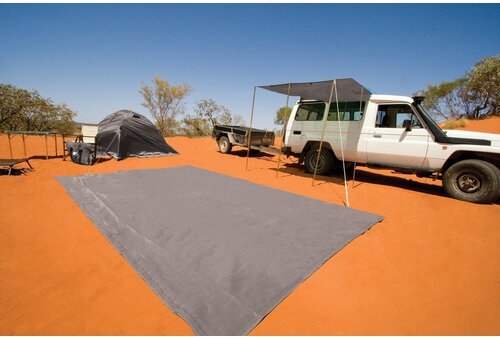 Rubber foam matting is a comfy option for under your awning, in caravan and camper trailer annexes or even as a tent floor. It's softer underfoot than other matting, which makes it comfy under bare feet. It also helps protect from sharp sticks and stones - great if you have inflatable mattresses! Unlike mesh mats, a foam mat will stay flat without being pegged down.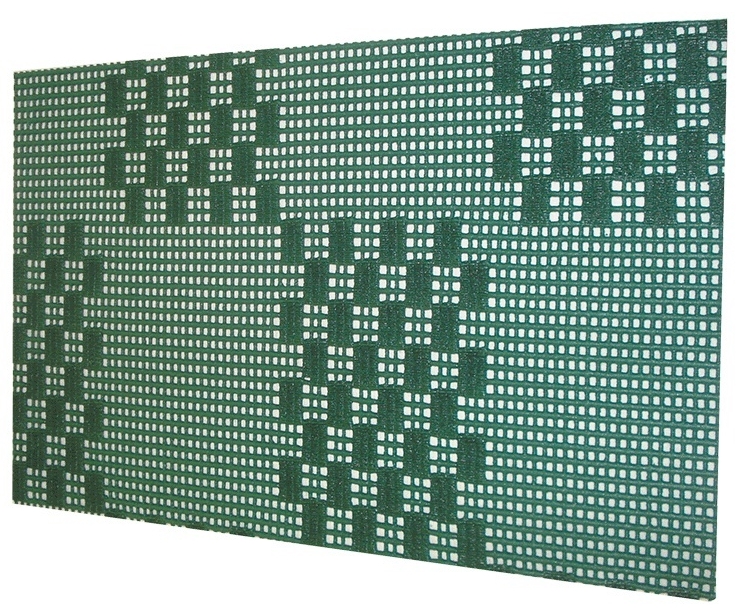 Recycled caravan mats are newer to the market and great if you're worried about your environmental footprint. Depending on the brand, the mats are made from various recycled materials. For example, DLG recycled mats are made from 100% recycled polypropylene plastic.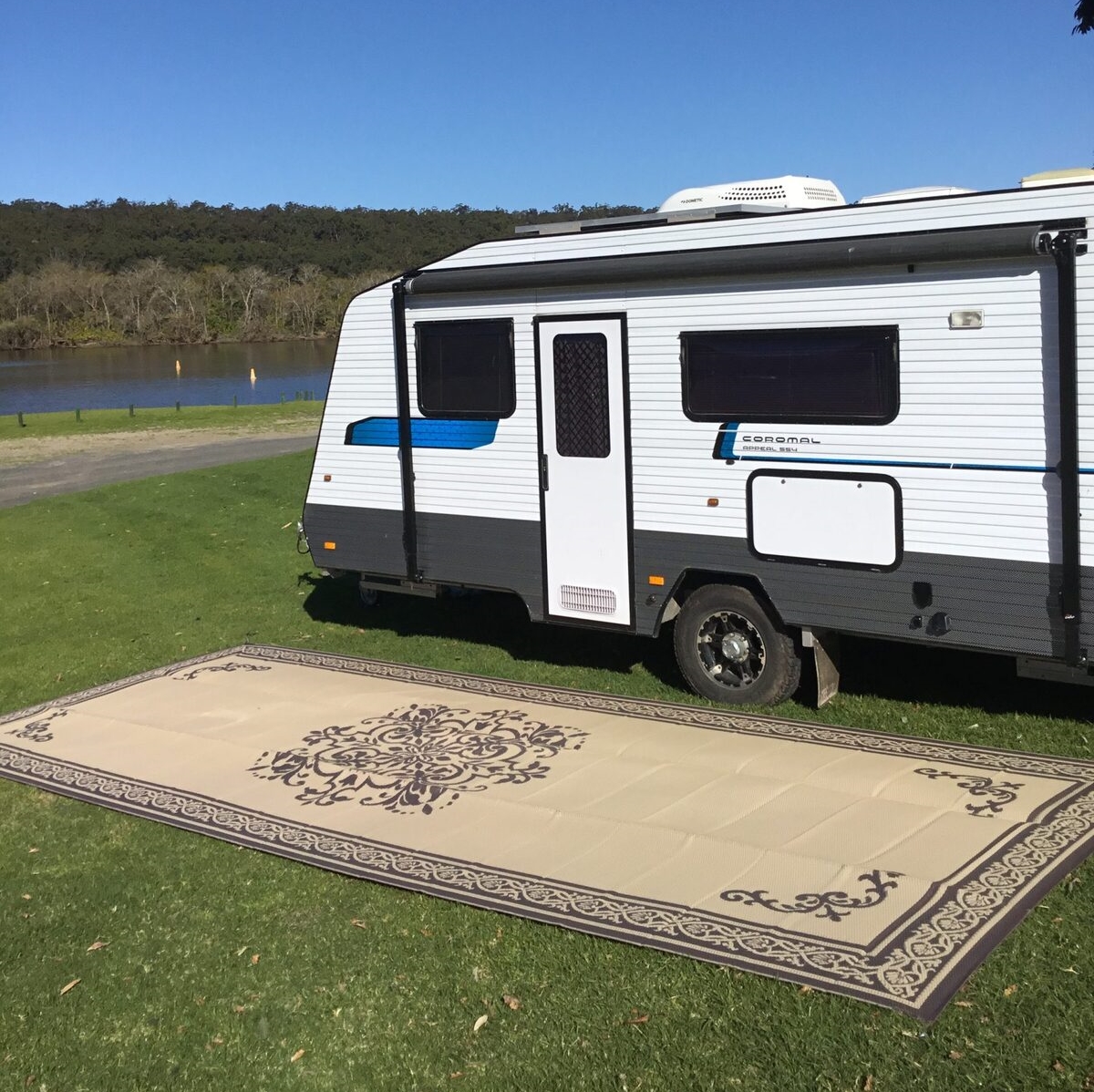 The Best Brands of Caravan Mats

DLG Australia
This Australian family business, based on the NSW South Coast, focuses on zero waste textile and plastics landfill, so you can be confident their products are environmentally friendly. DLG Australia caravan mats are made from 100% recycled polypropylene plastic and are lightweight. Best of all, they are specifically made for Australian conditions, which means they are tough and UV treated. There are lots of sizes and designs to choose from, which makes a change from the other solid colour caravan mats on the market. You can also opt for indoor and outdoor models, and they're reversible!
Why we love DLG Australia caravan mats:
Good for the environment!

UV Treated and made for Aussie conditions - you know they'll last

Easy Fold - fold them flat or roll them, and pack up in just 10-15 seconds


Muk Mat
Another Australian owned company, Muk Mat is an original artificial grass mat designed by an Aussie couple who love the outdoors. Muk Mats are made from recycled, synthetic grass materials which makes them a great choice for the environment. The Polyethylene multi-filament yarn combines the plushest and longest blades available so your feet can enjoy a super soft surface. Choose from four sizes: Muk Mat step, Muk Mat original, Muk Mat large, and Muk Mat extra large in a variety of trim colours to suit your style.
Why we love Muk Mat caravan mats:
They feel super soft underfoot

UV protected materials (avoid long exposure to direct sunlight to prevent overheating)

Easy to clean - simply shake the mat!


Camec
Camec offers a huge range of caravan mats and annexe flooring for caravanners and campers. The floor matting is good quality with hems for extra strength and pegging eyelets to prevent tripping. The two-tone weave is warm underfoot, non-slip and allows the air to circulate. At the same time, the close weave stops annoying insects from squeezing through. They are available in a wide variety of popular sizes.
Why we love Camec caravan matting
Breathable fabric ensures that underlying grass is not killed

Close weave allows air to circulate whilst stopping insects in their tracks

Exceptionally hard-wearing, rot proof and UV stabilised

Easy to clean - just hose down

CGear
Australian owned company CGear originally designed the Multimat as a helimat that could be deployed to eliminate dirt, dust and debris from being kicked up by the helicopter rotors when landing. It was so successful that the team figured it would be great for campsites too! The CGear Multimat is designed so that sand and dirt fall straight through to the ground beneath the mat, but not back up. It's a great choice for outdoor living areas to provide a sand and dirt free area. The Multimat can also be used as a shade mat and gives 90%+ UV protection, and as windbreak for screening.
Why we love the CGear Multimat:
Designed in Australia for Australian conditions

Versatile - the MultiMat can be used as a mat, shade and windbreak

Highly effective in eliminating dirt, dust and debris from camping areas

Lightweight, easy to set up and pack away

Made tough with reinforced edges and D-Rings to peg it down


Coast to Coast
Coast provides a range of multi-purpose floor matting for outdoor areas. The matting is designed to be highly durable and hard-wearing. There are two types of mat - the Premium and Travelite. The Premium Mat is made from porous and breathable foamed PVC with polymer fibres, it won't kill the grass underneath. It is highly durable, wear resistant and non-slip. The Travelite Mat is made from ultra-lightweight foamed PVC, which is also non-slip and won't kill the grass. Both types are available in three colours and four size options, and come with a handy carry and storage bag.
Why we love Coast caravan mats:
They are extra durable and resistant to wear

They offer high grip in wet and dry conditions

Very easy to sweep and keep clean


You can shop our full range of caravan mats here!

DISCLAIMER* Please note, this advice is general in nature and we strongly recommend consulting the product manual and where relevant, a professional installer.