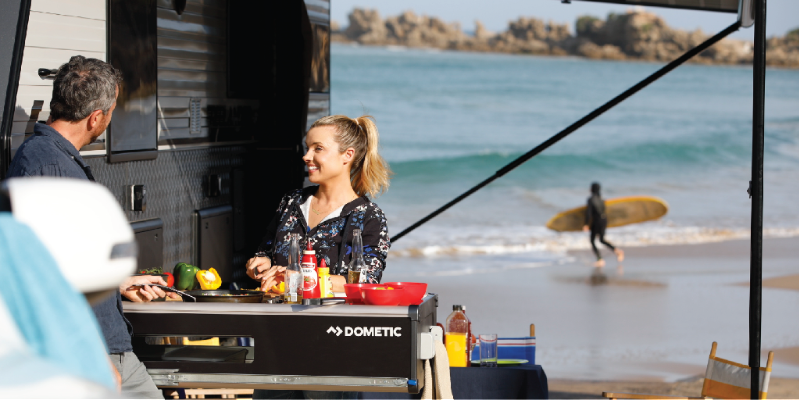 Want a compact all-in-one kitchen solution for your caravan? A slide out kitchen is exactly that. A slide out kitchen slides out from the side of your caravan when you're ready to use it. When you're done, simply slide it back in!
You get everything you need in a kitchen – complete with burners, sink, prep area and storage – with all the benefits of a streamlined and compact design.
Thinking about buying a slide out kitchen? Here's what you need to know:
Types Of Slide Out Kitchens
Slide out kitchens are super compact with a range of functions including a sink, preparation area, storage section and burners. They are designed on telescopic runners to make them quick and easy to pull out when you need them and stow away when you're done.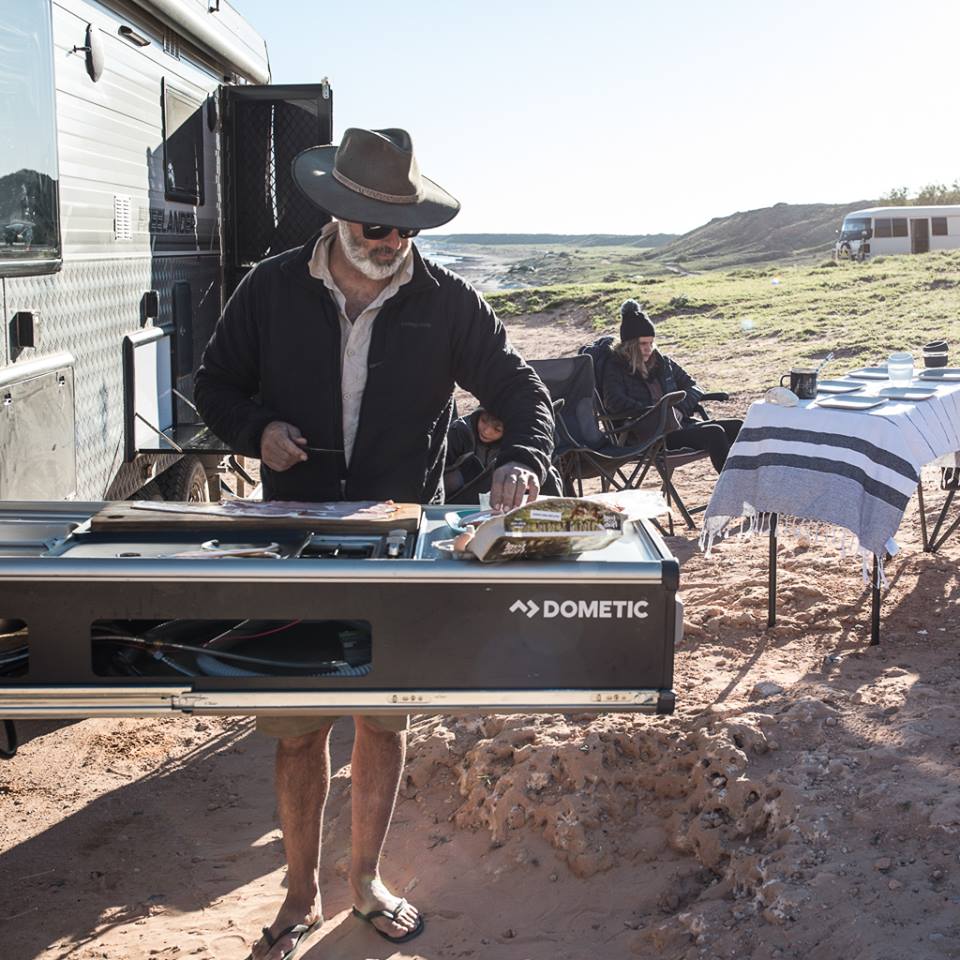 What makes the models different from each other is their size and features. So, when comparing slide out kitchens, first and foremost you need to think about exactly what you want from your kitchen. What are the non-negotiables? And what is "nice to have"? How much bench space and storage do you need? Then, go on to answer the questions below.
What Size Do You Need?
Dometic offers small and large slide out kitchens. Both are built from aluminium and stainless steel for a lightweight and corrosion-resistant design.
The Dometic Small Slide Out Kitchen comes with all the essentials: 3-burner cooktop, sink, chopping board, and a large amount of built-in double-side access storage which is great for keeping your dining and cooking equipment secure.
The Dometic Large Slide Out Kitchen has all this PLUS the addition of a drawer and extra bench space.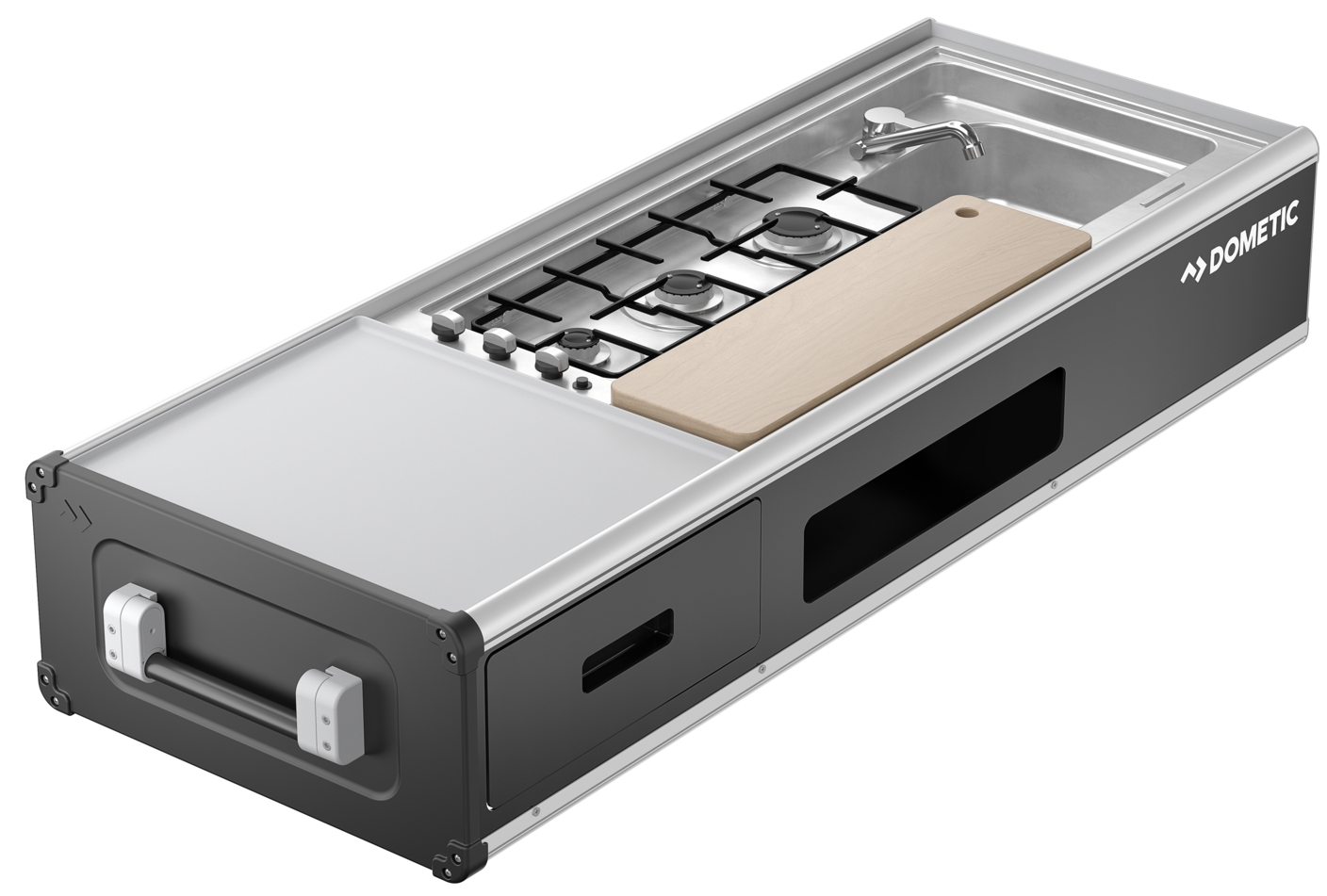 The larger model weighs in at just 44kg, which is 40% lighter than other units on the market! And the smaller model is even lighter at just 34kg.
What About Added Accessories?
There are a few great accessories you can add to your slide out kitchen to make it more personalised. Add a utensil holder so you can keep all your favourite kitchen utensils close to hand. A wind deflector will keep your burners working at their best even in windy conditions. If you're forever losing your bottle opener, you can add one to your kitchen along with a cup holder to keep your drink within arm's reach while cooking. All of these accessories are available as extras with the Dometic range.
What's Your Budget?
Expect to pay around $2500 to $3000 for a Dometic slide out kitchen, depending on the size and accessories you want. It's money well spent though – Dometic is an industry leader for RV products, and their slide out kitchens are no exception.
What Do You Need To Know For Installation?
The slide out kitchens require an access door for installation, so consider whether the unit will fit with your existing set-up (You can check this in the installation guide on the product page). The good news is that the Dometic slide out kitchen range is compatible with popular access doors. They are also height adjustable, so you can get the right level for your RV and won't need to bend down to cook!
These kitchens come with heavy-duty sliding rails and mounting brackets making them easy to install in a 3-step process. Read the reviews on our product pages to see how easy it is!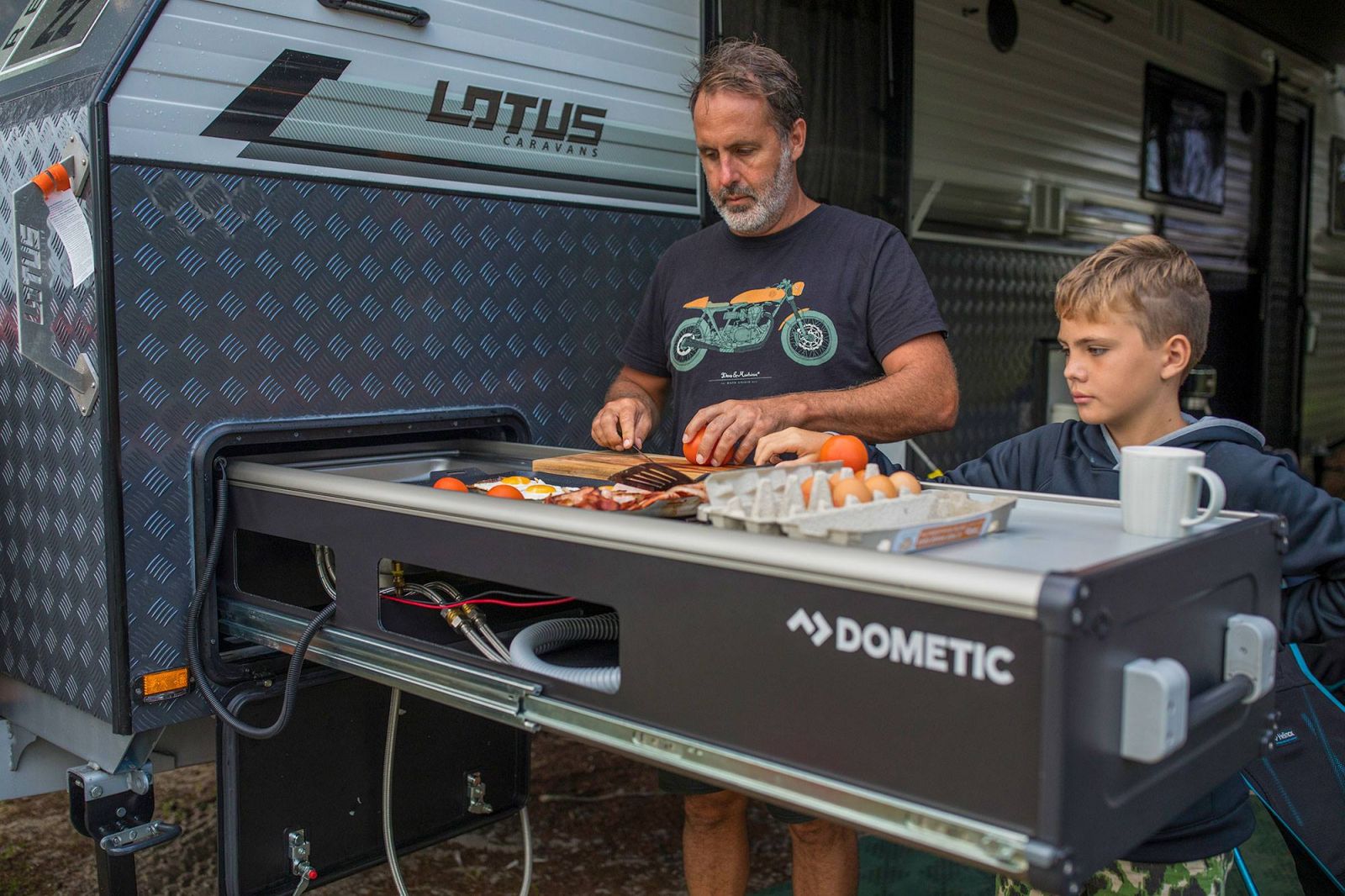 Compare the Dometic slide out kitchens in our range.
DISCLAIMER* Please note, this advice is general in nature and we strongly recommend consulting the product manual and where relevant, a professional installer.
---
Comments (1)
Hose to drain sink

No hose supplied can't find anything which will screw on to drain fitting below sink





www.caravanrvcamping.com.au Response
Please call us 1800 787 278 and we can help find a sullage hose to best suit your needs
---
Leave a comment