---
FREEBIES! Buy Close Comfort Personal Air Conditioner - PC9+Plus Today & Choose From One Of These FREE Gifts!
---
Close Comfort Portable Air Conditioner -
No Installation Required
Close Comforts PC9+plus is a new type of portable air conditioner featuring revolutionary patented Australian technology that allows for convenient and efficient personal cooling indoors or even outdoors. These units are capable of being used anywhere as a stand alone unit straight out of the box with its simple 'plug in and place' design making it perfect for the caravan, camping and home outdoor living lifestyle - especially in the hotter summer months. Weighing only 17 Kg the Close Comfort Portable Air Conditioner is easily moved anywhere and will start cooling the immediate area in the direction the unit is positioned. Simply plug into 240volt power and your good to go - there is no need for installation, ducting or consumables like ice or water needed. Built to be very simple to use, there is a remote control for your convenience aswell.
How does it work?
Quite simply warm air is drawn into the unit, cooled down to as low as 17 degrees and blown out on to the user displacing any warm air in the immediate vicinity of the unit, essentially creating an effective cool micro-climate - similar to a conventional fan but much much cooler.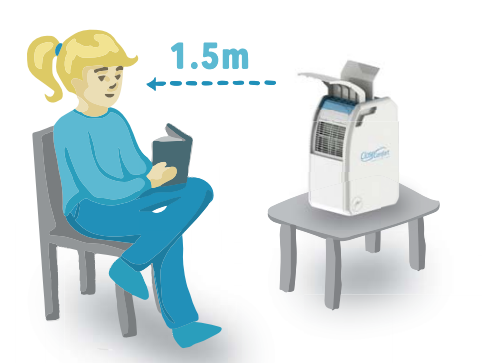 The Close Comfort Personal Air Conditioner uses only 300 watts of power, which is 3 times less power than even the most efficient air conditioners on the market and about the same output as a few light bulbs. The reason it is so efficient is because the PC9+plus creates a cool micro-climate directly in front of the unit, instead of wasting valuable energy trying to cool the entire room. Having cool refrigerated air blowing on you instead of circulating (via a fan) already warm air can make huge difference to your personal comfort - especially in very humid areas.
The cool comfort is continually displacing the warm air directly in front of the unit with cool refrigerated air, this means that the warm air that has been displaced needs to be vented which can be done by simple leaving a window open or even using outside. It is a lot more convenient to simply open a window than it is to install ducting like in many other portable air conditioners.
The PC9+plus has been successfully tested all over the world and are very popular in conditions where convential air conditioning is not readily available, or not very economical to install and efficiently run.
Sleeping with the Close Comfort - Is it silent?
Whilst this unit can be used for sleeping and is very effective for personal or spot cooling, keep in mind that because the cool comfort uses a compressor for pumping refrigerent (just like a normal air conditioner) - you will hear the noise of the compressor running and the noise of the airflow. This may be still a better alternative to a hot nights sleep and is still no noisier and has the added bonus of providing a cooler experience than a conventional pedastal fan.
Warm air is also produced by the compressor and needs to be vented via an open window if using this unit indoors.
Features:
Remote control with temperature control

Three speed operation – low, medium, and high

Easily portable at 17 Kg, with four wheels

No pipes out the window

No consumables required

Uses only 300 Watts

Compatible with 220 - 240 Volts ~50 Hz

The optimal air-conditioning choice for humid conditions

Perfect for spot cooling
Specifications:
Dimenisons when closed: 270x560x370

Dimensions when open/in use: 270x750x440

Weight: 17kg

Minimum operating voltage: 185V

Cooling Capacity: 700W-1100W

Cold air flow rate: 125

m

³/h

Operating noise: 46-54 dBA

Warranty: 2 years
Be The First To Review This Product!
Help other Caravan RV Camping Accessories users shop smarter by writing reviews for products you have purchased.
Ask a Question or Submit an Answer to this Product
---
Q) Will this cool a whole room?
A) This unit is designed as a personal cooler and to keep the immediate vicinity of the cooler down to 17 degrees. If you adequately ventilate the room and allow the hot air escape, the overall temperature of the room will become slightly cooler.
Q) Can I use the cool comfort on my outdoor back patio?
A) Yes it is quite effective for the person it is aimed at. It is very effective for spot cooling - even outdoors.
---
We Also Recommend
---
Others Also Bought
---
More From This Category