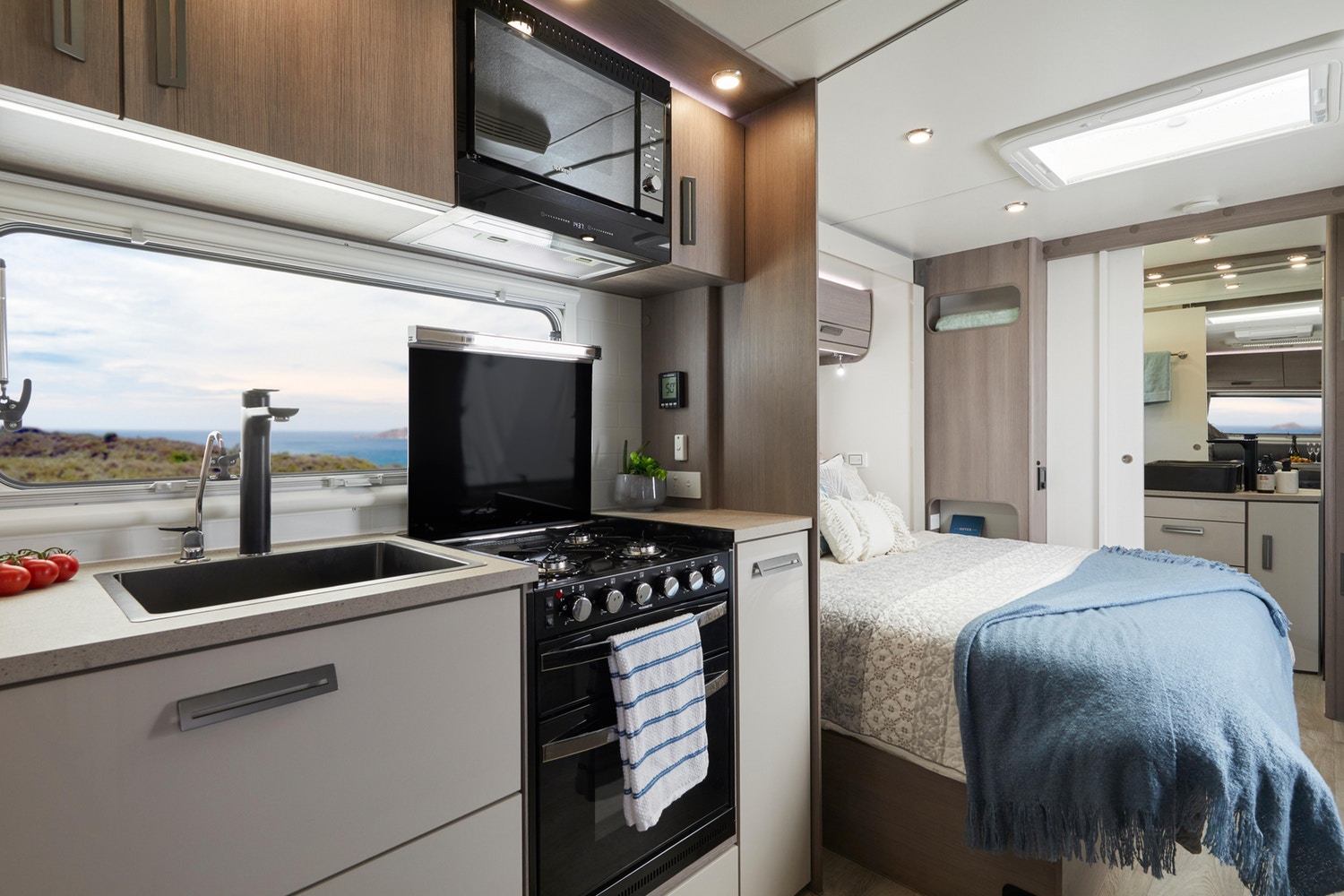 Drinking water is an essential when you're travelling, especially if you want to head out to the most beautiful, remote areas. You could use purifying tablets, but for caravan and RV enthusiasts, a caravan water filter is a worthwhile investment. In this guide, we explore the different caravan water filter products available so you can work out the best option for your van.

What To Look For In A Caravan Water Filter
Filtration Performance
You ideally want a filter that can filter out particles as small as 1 micron or less to stop the likes of e.Coli, legionella bacteria and parasites such as giardia and cryptosporidium. Ideally, you should look for smaller micron filtration - The Thirsty Nomad purification system filters down to a super tiny 0.01 micron.

Easy To Install And Use
The easier the filter is to install in your van, the better. Look for caravan inline water filters that can be used on both inlet hoses and mains water, like the B.E.S.T Inline Water Filter with Hose Fitting. It's also worth considering whether the filter can still be used after a period of non-use. Check the manufacturer's instructions to see if you'll need to flush out the system or do any other maintenance checks.

Inline Or Fixed Water Filter?
An inline water filter is an external water filter that you attach to your water hose and it filters water as it flows through. Alternatively, a fixed water filter is ideal if you're planning on heading off the beaten path and to remote places where mains water is not an option. These fixed water filters are permanently installed and will filter to the highest quality safety grade.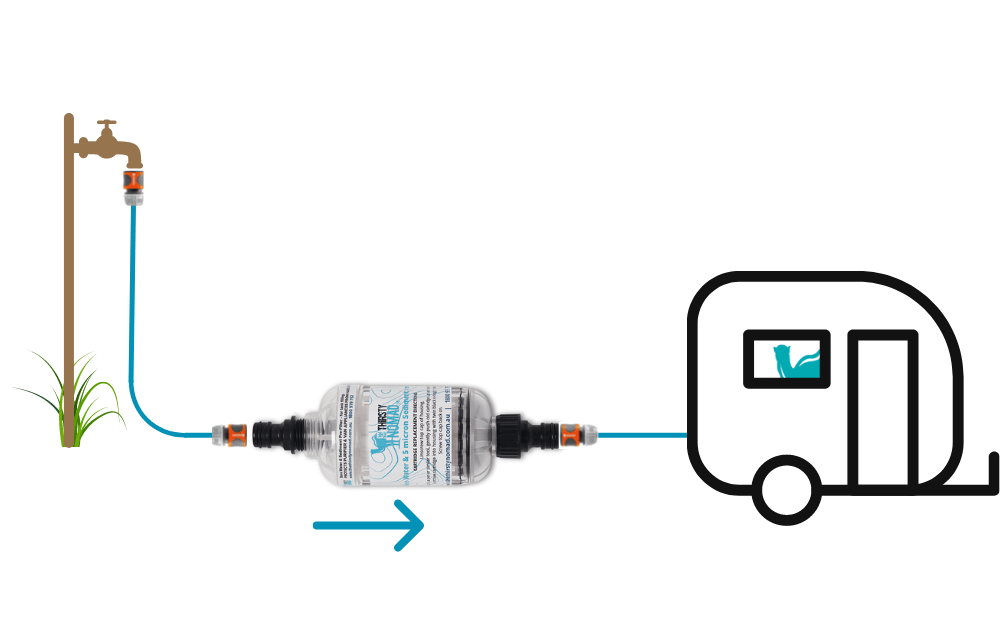 Long Lasting
The last thing you want is for the filter to stop working effectively mid-trip. Look for a filter that will last at least a few thousand litres before you need a replacement.

Great Value
Your caravan water filter doesn't have to be expensive to do the job. For example, the Thirsty Nomad systems are perfect for those on a budget and provide exceptional performance.
Caravan Water Filters We Recommend

The Thirsty Nomad Caravan Water Filters
If you're planning on travelling for a while or want the best of the best filtration systems, the Thirsty Nomad is for you. They offer an affordable water purification method especially for caravans and RVs. The Thirsty Nomad "5 in 1" water purifier has been designed and developed by water scientists, rigorously tested and scientifically proven to kill bacteria and viruses and meet Australian Drinking Water Standards for E.Coli. It uses a 5-stage water treatment system to purify water and remove 10 heavy metals inc. Lead, Fluoride, Arsenic III and Arsenic V. It uses a 5 micron Carbon Fibre Block (CFB) which has up to 20 times higher contaminant removal than granular carbon, filtering 0.01 micron. It is also super compact and lightweight (just 590g!) and easy to install. There are two to choose from: the permanent water purifier can be mounted horizontally or vertically under your caravan sink, or choose the inline system to filter water as you fill your tanks. You can expect the filter to last around 7,500 litres or 12 months.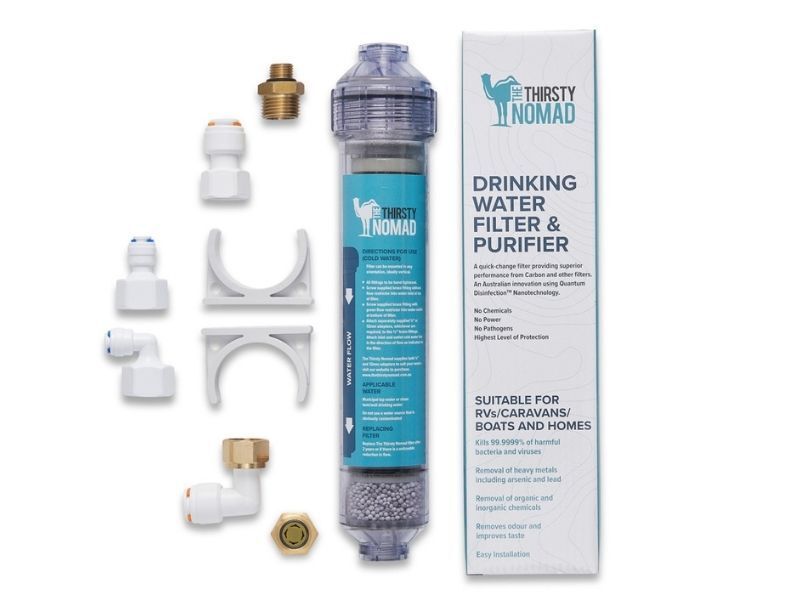 B.E.S.T Water Filters
B.E.S.T caravan water filters let you safely draw water from town, tank, creek or bore water supplies knowing the filter has removed chemicals and sediment, and destroyed bacteria. The BEST filtration systems use a SilverSafe® technology to keep the filters bacteria free, so there is no time limit on when you can use the filters - it comes down to your usage. The Inline filter has around a 5000 litre rating based, which is good for longer trips.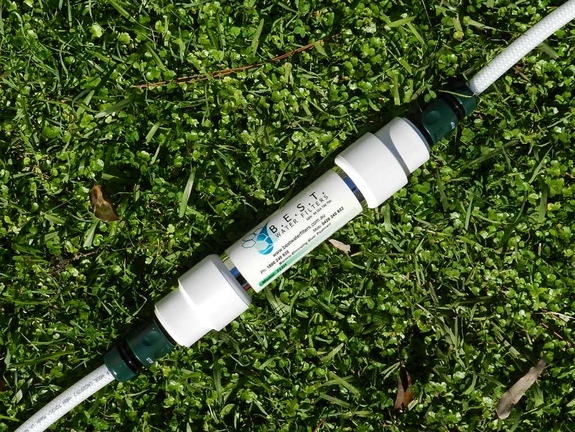 Shurflo
The Shurflo RV marine filtration kit is a good option if great tasting water is important to you. It actively reduces the chlorine taste and odour from water. However, it is recommended that after prolonged periods of non-use, you need to flush out the system thoroughly before using it (run the water through for a few minutes).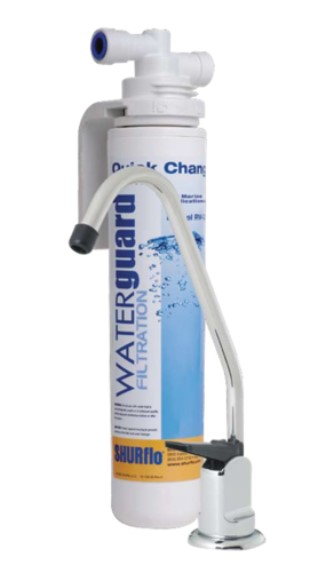 Adding a caravan water filter to your setup will ensure your family, friends and you are drinking safe and clean water on your adventures - you can't put a price on that! Check out our range of Water Filters here.

DISCLAIMER* Please note, this advice is general in nature and we strongly recommend consulting the product manual and where relevant, a professional installer.