---
---
Platinum DC Upright Fridge Freezer for RVs - Model No DC175
590mm (W) x 1275mm (H) x 585mm (D)
For the best performing 12v refrigeration all-rounder on the market, you can't go past the EvaKool 175L 12v Fridge/Freezer Platinum series. 100% Australian owned, EvaKool are the fridge of choice for many RV industry experts thanks to an unrivalled low power consumption that doesn't affect their reliable cooling capacity.
Delivering an efficient and sleek new age design the 175 litre Evakool will stop you in your tracks drawing your eyes to look no further. The Evakool range has been tried and tested to suit the harsh Australian climate whether it be on the rugged tracks of the cape or the rolling swells of the Australian coast line, the Evakool range is designed to bear it all. One of the Evakool 175 litre fridge advantages is it can still be operated on a 30 degree lean therefore putting it in front of the pack when choosing your next R.V fridge. Minimal power consumption is a must when travelling in the outback because if you have insufficient battery power your trip can come to a end very quickly.
CARAVAN FRIDGE COMPARISON CHART
For a limited time receive a BONUS 25L Icebox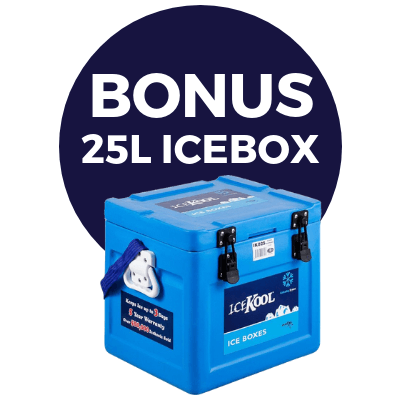 Platinum DC Upright Features
Cabinet:
100% Australian Owned
Cooling capacity up to 60ºC below ambient temperature
Maximum T+ Climate Class Rating
Simple to use internal temperature adjustment dial
Easy to use controls
12/24 volt operation
240v operation is possible with the additional purchase and installation of an AC Adaptor
Reversible Doors
Metal Door Latch
Smooth, hygenic, easy to clean interiors, with all the bells you actually want
Service agents all over Australia including in remote locations

Includes free mounting kit valued at $149
Compressor:
Self-diagnostic fault system
Quiet, reliable, and efficient operation
Low voltage protection
Externally mounted condenser for improved performance venting heat away from the cabinet for reduced power consumption. Note - This does not mean it has an externally mounted compressor
Will operate on angles up to 30 degrees
Automatic reverse polarity protection
DC175 Specifications
Overall Specifications:
Overall Dimensions: 590mm (W) x 1275mm (H) x 585mm (D) (depth includes bump stop)
Overall Capacity: 175L
Doors: 2 door
Weight: 50kg
Compressor: CK35 DC Compressor
Power: 12v (10.7~17) or 24v (22.8~31.5) operation (for 240v operation see Paul's Tips)
Power Consumption: 2.0-3.0A/hr (based on an ambient 32°C temperature, with internal fridge temperature set to +4°C, and internal freezer temperature set to -15°C)
Average Current Draw: 2.45 Amps or 31.4 Watts (over 24hrs - approx.)
Duty Cycle: 50% (i.e. 50% on and 50% off on average over 24 hours)
Finish: Metal
Colour: Platinum Satin Grey
Includes: interior light, metal door retaining clips, 3 x plastic coated metal shelves, 1 x perspex shelf, 1 x vegetable/fruit crisper, 1 x ice tray, and 1 x egg tray.
Manufacturer's Warranty: 2 years

NOTE

- frezzer self included
Freezer Specifications:
Freezer Compartment Dimensions: 420mm (W) x 265mm (H) x 350mm (D)
Freezer Capacity: 40L (approx)
Freezer Wall Thickness: 75mm
Fridge Specifications:
Fridge Compartment Dimensions: 470mm (W) x 765mm (H) x 420mm (D) (excludes compressor step)
Fridge Capacity: 135L (approx)
Fridge Wall Thickness: 55mm
Paul's Tips
> Evakool fridges can be run off 240V (mains power) when correctly set-up for use with an AC Adaptor. Our workshop recommends a product like the Dometic Power Adapter.
> Let your food cool down before placing it in the fridge to reduce your energy consumption.
EvaKool Platinum Upright Fridge Models Comparison: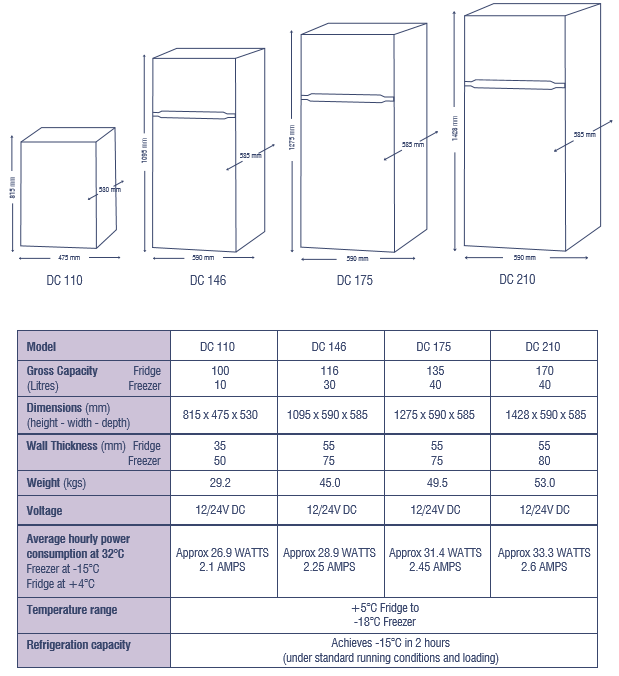 Not what your looking for? Feel free to browse the rest of our range of Evakool Fridges, 2 Way Fridges, Off Grid Fridges & Caravan Fridges - For any further infomation or to speak our fridge experts dial -1800 RV PARTS
EvaKool 175 L Caravan Fridge

By:

Hilary Stephens

on 15 February 2019

Excellent service from your Team .. Awesome product ,Easy to install in our van and works a treat ..




(5)
Just what the Doctor Ordered!

By:

Christopher Lantry

on 18 December 2017

We recently purchased a Evakool 175L Fridge/freezer for our motorhome. We had been looking to replace our 110 lt fridge as we found it a little too small. The new fridge fits like a glove into our van as if it was always there. On Wednesday the 20th of December we will have the power connected & then a life begins a new chapter. The service given by Brad & Paul was exceptional. The fridge looks good & we expect the fridge to be everything we had hoped for.




(5)
---
We Also Recommend
---
Others Also Bought
---
More From This Category