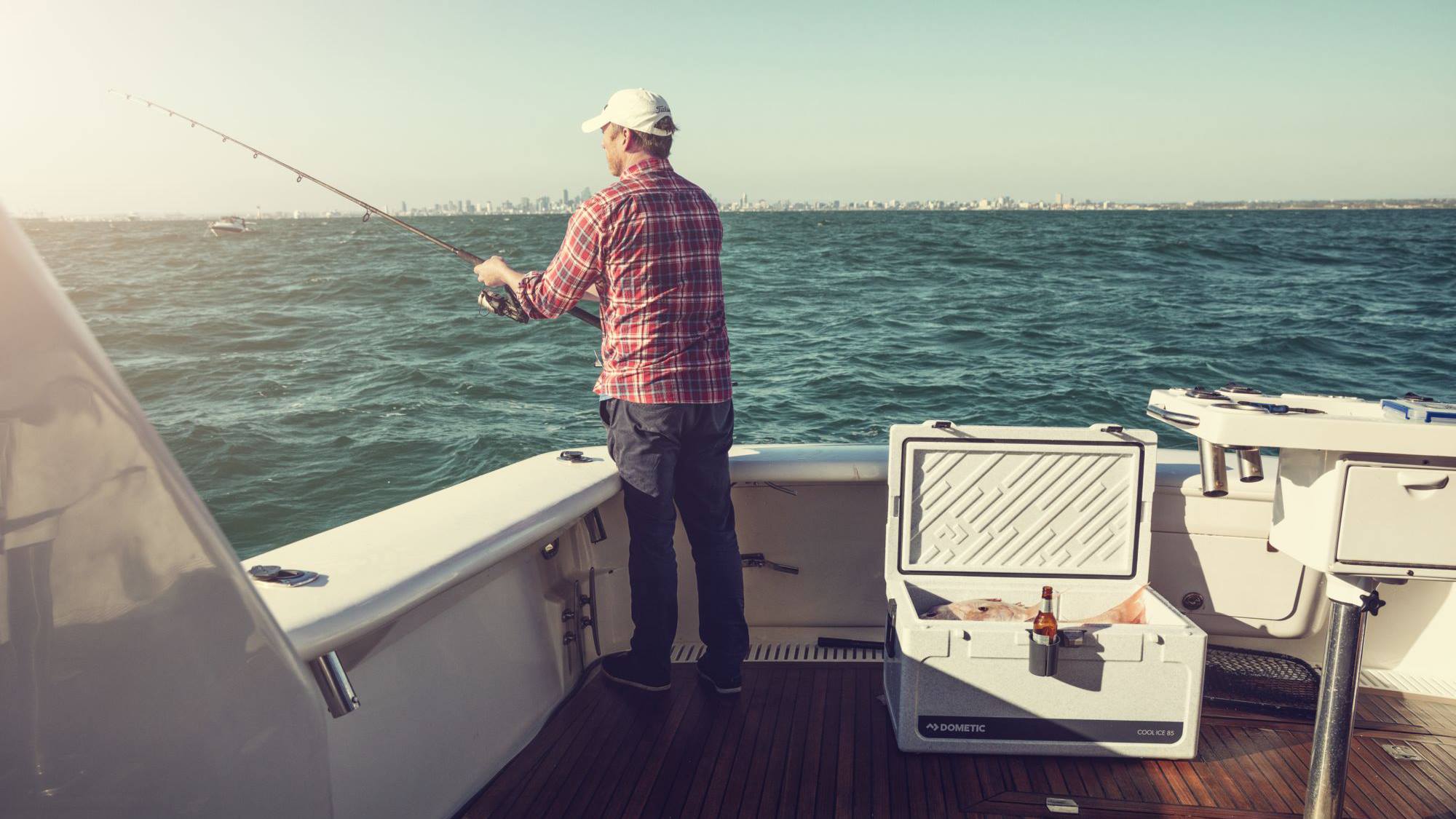 If you want to enjoy cool food and drink on a short trip, but don't want to pay the price for a portable fridge/freezer, an ice box is the solution. But with so many to choose from, how do you know which is the best ice box for you?
Read on for our top tips!
What Is An Ice Box?
First things first. An ice box is an insulated box or chest designed to store food and drink and keep them cool.
Ice boxes are perfect for short term cooling, which is great when you don't want to worry about connecting a portable fridge/freezer to power. They are super portable and robust – just throw it in the back of your 4WD or Ute and away you go.
This makes them ideal for everything from a lunch on the worksite to a day at the beach, through to a weekend away. In our opinion, no boat should be without one. Because they are so much easier to clean out than a portable fridge, they're ideal for storing your big catch.
What Is The Difference Between A Polyethylene & Fibreglass Icebox?
There are two popular types of icebox to choose from, with the main difference being the material used to make them: polyethylene or fibreglass.
Polyethylene iceboxes are usually made using roto-molding, which means the larger parts of the icebox are formed with one piece of polyethylene plastic. There's then a layer of insulation between the outer coatings.
Pros:
With fewer joins and gaps in the icebox, they boast extremely low heat absorption. Some Dometic and Engel ice boxes can keep ice for up to 10 days!

More lightweight than their fibreglass counterparts.

Often offer better value for money.
Cons:
Tend to retain odours more than fibreglass models, so cleaning is essential between trips.
Fibreglass ice boxes have both interior and exterior layers constructed from fibreglass. Insulation is between the layers to help the food and drinks stay cool.
Pros:
Non-porous so they do not retain smells or odours, which makes them ideal for storing fish.

Excellent cooling capabilities – they can typically keep ice for between 5 and 7 days in optimum conditions. Evakool's ice retention ability is legendary with the larger sizes holding ice for up to 15 days.
Cons:
Can be more easily damaged if not properly cared for.

Can be heavier than their plastic counterparts, though Evakool does have a range of lightweight fibreglass ice boxes.

Can be an expensive option.
What Size Do You Need?
Ice boxes come in all shapes and sizes. They range from smaller 15 litre models to store your lunch right up to 200 litre ice boxes which will feed your family and keep your beers cold.
When space is limited in your car or caravan, the Dometic Go range offers a hassle-free solution for packing and storing your gear. These soft, waterproof storage bags are available in 10L and 20L sizes, with the option to add an insulated storage insert, transforming them into versatile portable cooler bags. For the ultimate storage and cooler setup, explore our exclusive Dometic Go Bundles.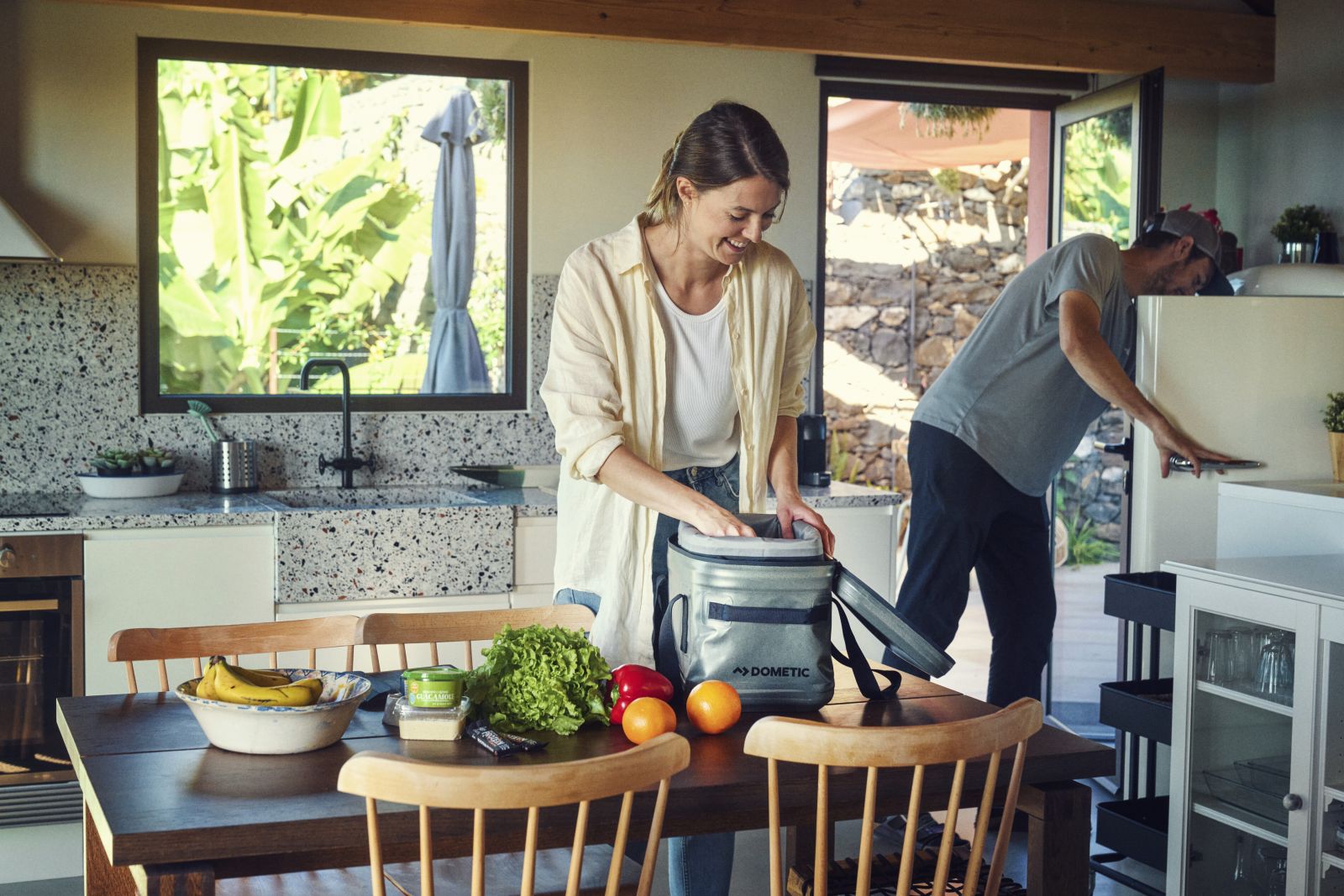 So Which Size Is Best For You?
Think about how you are going to use the ice box. Is it for weekends away with the whole family or a quick day out? Will it be stowed in a tight space, or do you have ample room?
An Ice box is a great accompaniment to a portable fridge when camping. You can keep food cold and dry in a portable fridge and load the ice box up with ice and drinks.
If an Ice Box is your only option, then look at purchasing two Ice Boxes. 1 for drink and 1 for food. You can drain the water out of the food ice box and/or use an baking rack to separate the liquid underneath from your food on top.
If you are doing any fishing bring a small ice box for bait only, and only take as much as you need. Keep your frozen bait frozen for as long as possible. Remember, you can never have too much ice. If a late arrival to camp asks if they should bring a bag of ice, tell them to bring two!
Pro Tip: Your icebox can double as a handy chair too!
How Much Do You Want To Spend?
Once you've worked out the material and size, consider how much you're willing to spend. You can go for a basic model or choose from the tonnes of models out there with all the bells and whistles. Look for latches, handles, removable trays and drinks holders, bottle openers and more.
For example, Dometic Cool-Ice Iceboxes are engineered with superior-grade refrigeration insulation and a recessed labyrinth seal design. This means they boast extremely low levels of heat absorption and superior cooling abilities.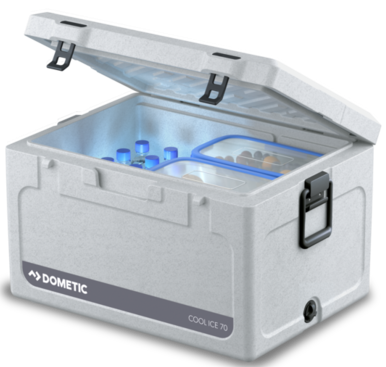 They also come with durable moulded feet (also composed of polyurethane) and a large drain plug to help you easily drain melted ice. You can also mix and match accessories, such as drink holders, rod holders or bottle openers.
You can also pay more for a top brand with a longer warranty. Weigh up what is important for your ice box.
Does It Need To Be Portable?
Again, this comes back to how you will use the ice box. If you are going to be moving it from the 4WD to the campsite and back again, you might want to think about getting an ice box with handles, wheels and drainage (to remove excess water weight).
Many ice boxes on the market today come with handles that are on the sides of the box. The alternative is a carry strap, however only one person can carry these iceboxes at a time. For added portability look at the Rolling BlackWolf Icebox Coolers with heavy duty wheels and adjustable removable handles.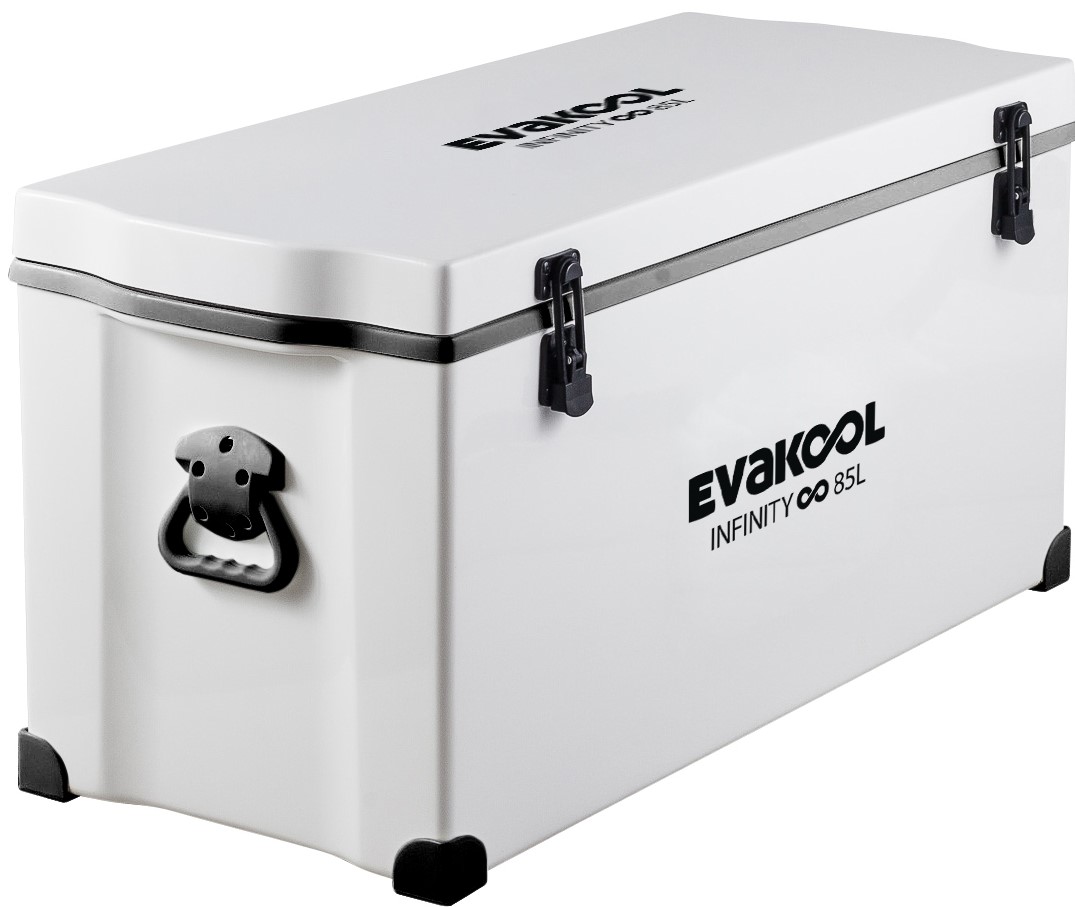 Pro Tip: Use the ice box handles as tie down points!
Our Favourite Ice Box Brands!
Depending on the ice box brand you choose, there are differences around warranties, accessories, and features. The top brands and ranges out there include:
One of the main differences between these brands is the material the icebox is made out of. Fibreglass models are super easy to clean and don't absorb odours, so they are great for your fishing adventures! Polyethylene models are more durable than fibreglass models and are more afforable. Choosing the right material for you really does depend on your desired applications.
Let's move on to warranty: Dometic and Evakool both provide a 5 year warranty on their iceboxes, compared to 10 years for Engel.
The last thing you should consider is whether you need any accessories with your icebox. Dometic offer an extensive range of accessories for their Cool Ice models, so you can customise it to suit your needs. We're taking dividers, drink holders, and fishing rod holders.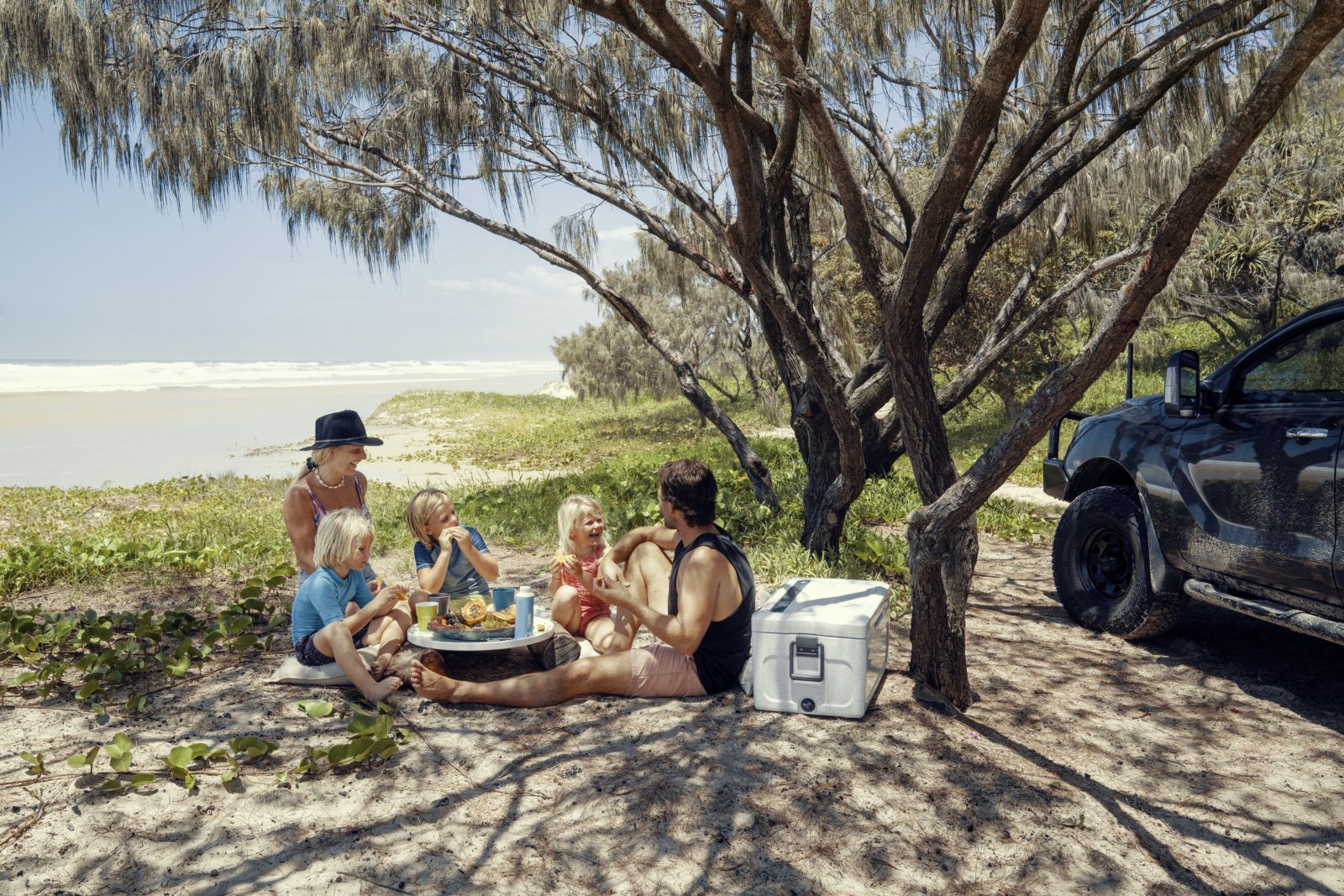 Shop our wide range of ice boxes today.
DISCLAIMER* Please note, this advice is general in nature and we strongly recommend consulting the product manual and where relevant, a professional installer.
---
Leave a comment