Staying cool in the hot Australian summer is tough on the road. How do you keep the cool air flowing when you stop driving?
Sure, you could buy an air conditioner, but that means relying on a noisy generator to keep it powered through the hot hours. That's why we believe that a caravan fan is an essential device if you want to make it through the hot Aussie summer on the road. A good caravan fan can make all the difference between a sweaty night and a cool, great night's sleep.
So, what do you look for in a caravan fan? Read our buyer's guide below:
What Type Of Caravan Fan?
There are lots of caravan fans to choose from:
Mountable caravan fans give you the flexibility to mount them where you need them. Choose a 12V fan with cables for permanent mounting.

Portable caravan fans can be moved to wherever you need cooling down. They are lightweight and compact.

Oscillating caravan fans are fans that move as they turn to cool down more of the room.

Caravan fans with a light give you all the essential features for a warm summer night.
Whatever type you choose, look for features such as energy efficiency and lightweight design.
Where Do You Plan On Using The Fan?
The main thing to think about is this: Do you want to permanently fix the fan to your caravan or buy something you can move around to where you need it?
To answer this question, think about where you want to use the fan. Do you just want it to keep you cool while sleeping? Or do you spend lots of time in an annex where you'll need to keep everyone cool during the day?
You could look to a caravan fan that ticks both boxes. For example, the Caframo fan can be mounted in your RV to keep your living and sleeping areas cool. They are especially lightweight, which is extremely important to caravanners, and very energy efficient. The fan has a very convenient timer that switches the fan off after 2, 4, 6 or 8 hours, which is ideal for when you're sleeping and don't want to worry about turning it off. The best part? You can also use the fan as a standalone cooler wherever you need it.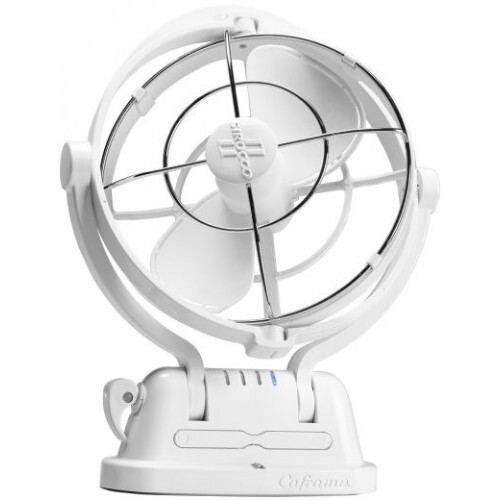 What Size Caravan Fan Do You Want?
Cooling is measured in cooling feet per minute (CFM). So, when comparing fan size, look at the CFM it offers. For example, the Caframo Maestro fan offers up to 130 CFM, whereas the next model up, the Caframo Sirocco 2 has a maximum cooling capacity of 185 CFM.
Do You Need A 12V Or 24V Fan?
What power source do you have available for your caravan fan? 12 Volt fans are very popular with caravanners and are extremely energy efficient, but it's possible to buy a 24V fan too.
How Many Fan Speeds Do You Want?
There are definite advantages to a variable speed fan. You can blast the cool air during the day, then turn it down at night. Caframo Maestro and Sirocco fans offer three fan speeds, which is one reason you'll pay a bit extra for these models. Depending on which of its three-speed settings you set it to, the power draw is still low at between 0.13 and 0.36 amps. This means you could run two Sirocco fans at full speed all night long and still not make a dent in your battery's power bank!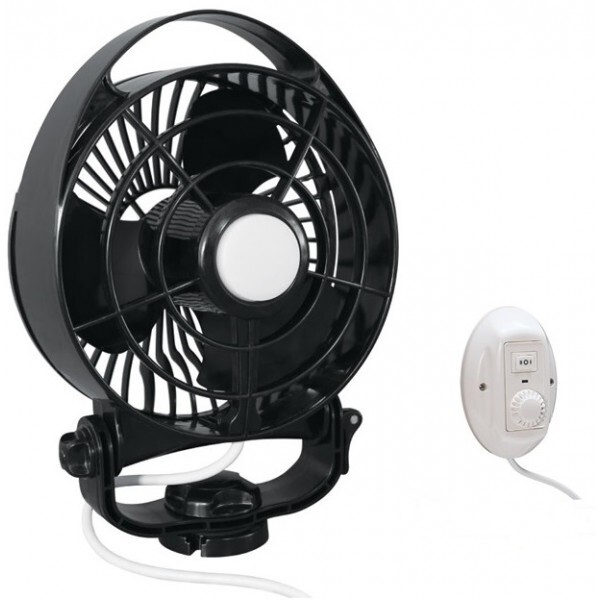 What's Your Budget?
Let's talk dollars. You can buy a cheaper model for as little as $50 or pay as much as $200 for your caravan fan. So, it really depends what features you want. For example, the Caframo Maestro 12V fan is designed to be whisper quiet yet powerful, with variable speeds, an LED light, and some great design features for convenience. It comes in at just under $175. But if you just want a simple 12V oscillating fan, the Marine fan is just over $50.
Shop our range of caravan fans today!
DISCLAIMER* Please note, this advice is general in nature and we strongly recommend consulting the product manual and where relevant, a professional installer.