The All New Dometic IBIS 4 Caravan Air Conditioner - What's all the fuss?
Inverter Technology:
The fuss is all about the IBIS 4 Dual Piston Compressor with Inverter Technology. If your caravan air conditioner does not have a dual piston compressor with inverter technology, then you are missing out on the potential to enjoy a quieter operating air conditioner that uses a significantly lower amount of power to operate compared to a traditional caravan air conditioner. Put simply having dual pistons better balances the compressor operation reducing vibration and noise whilst improving the overall life of the compressor.
Inverter technology allows the compressor to ramp up and ramp down in a controlled fashion to meet the cooling or heating requirements on demand. Gone are the days where your compressor kicks in, runs flat out, and then stops for a period before kicking back in again. This means you can enjoy a quieter nights sleep as the compressor is a lot quieter when it is ramping up and ramping down instead of starting and stopping constantly. If you are an extremely light sleeper, try using the sleep mode function which allows you to slow the compressor down even further and at a constant regulated speed for an even more quiet operation.
Power consumption is significantly lower using a controlled, variable speed compressor which means the Dometic IBIS 4 can be run from a suitable lithium battery setup in the event you want to travel 'Off-Grid'.
Retrofit Compatablity:
The new Dometic Ibis 4 has an adapter that makes retrofitting your existing air conditioner no problem at all. Most caravan or RV air conditoners are made to suit either an American style 360mm x 360mm or European style 400mm x 400mm sqaure roof cutout. The universal adapter that comes with this unit will suit both sizes which can save you time and money by not having to alter the size of your existing cutout.
Size and Weight of the New Ibis 4 Air Conditioner:
The physical size of this unit fits into the 'low profile' category at only 230mm in height and weighing in at only 40kg, the Dometic Ibis 4 is suited to most caravans, poptops and Rv's currently on the market without any extra support needed, although it is a good idea to support the weight of any airconditioner that is installed on the roof. Some caravan manufacturers provide inbuilt roof support as standard, otherwise you can install an external 'H-Frame' support on top of your roof that will give you peace of mind that your roof structure will stay intact.
Ibis 4 VS Ibis 3 VS Freshjet 3200 Comparison:
Here is a technical comparison at a glance comparing the existing market leaders in caravan air conditioning. The Ibis 3 is a very popular choice for caravans with an existing 360mm x 360mm roof cutout, while the FreshJet 3200 caters for the 400mm x 400mm roof cutout market. Now with the New Ibis 4 available, it will be hard to settle for anything less.
The IBIS 4 is definitely more than capable to operate in the hottest parts of Australia. Designed to operate between ambient temperatures of -2 to 52 Degrees Celsius - this unit will keep you cool or warm when you need it most.
Please note: The Ibis 3 and Freshjet 3200 have now been discontinued. The Ibis 3 was the most popular caravan air conditioner on the market for many years. It was superseded by the Dometic IBIS 4 in late 2019. Dometic improved many of the marketing favourite features of the IBIS 3 and incorporated them into the IBIS 4, a new lightweight roof top unit.
Why 2 or 4 Way Directional Air Flow is Important!
The Dometic Ibis 4 has a purposeful designed 2 way directional air flow feature that minimises any potential re-circulation issues. It does this by blowing cold air towards the front and rear only of your caravan, motorhome or bus allowing the warmer air you're trying to displace to naturally rise and flow out through the return side of the unit.
Re-circulation issues can arise with some 4 way directional air flow models when cold air is directed straight into the side walls or overhead cupboards, causing the cold air to bounce straight back and be sucked into the return side of unit instead of the the warmer air you're trying to displace. This can cause the air conditioning unit sensor to read a colder temperature than what the rest of the space may actually be, resulting in the unit slowing down or stopping prematurely.
We generally find re-circulation issues are more prevelant with narrow bodied coaster buses and campers that are less than 2.4m wide and have obstructions like large overhead cupboards to reduce this space.
If you are planning to install an air conditioner to your RV, we recommend checking the minimum clearance specifications before purchasing, or choosing a 2 way directional model like the Dometic Ibis 4 to remove all doubt.
To talk to an expert about caravan air conditioners, contact us on 1800 RV PARTS or email us at sales@caravanRVcamping.com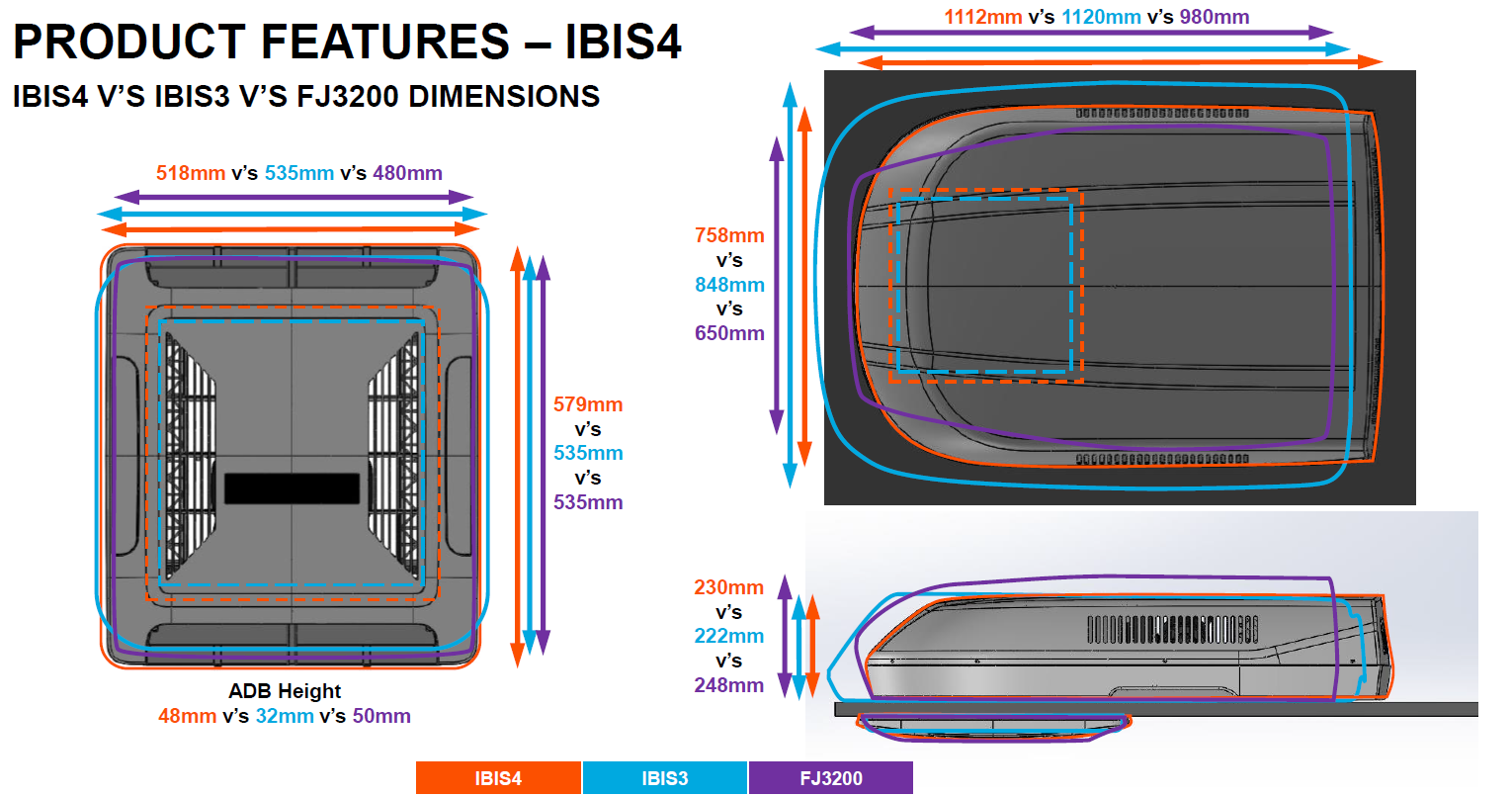 For further comparisons across our whole range of caravan air conditioners, feel free to view our Caravan Air Conditioning Comparison Charts.
Here is an installation guide on how to fit the new Ibis 4 Airconditioner: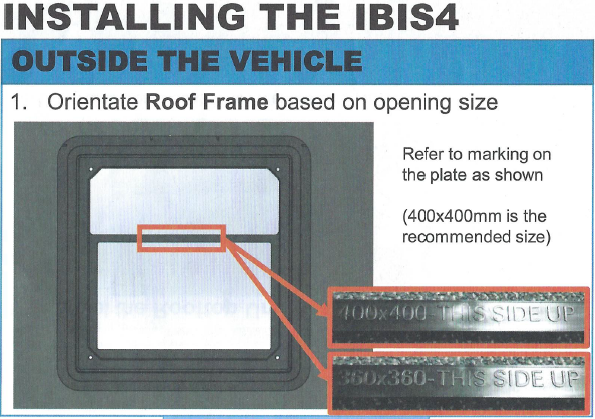 This is the universal adapter that comes with unit. Designed to fit into your 360mm x 360mm or 400mm x 400mm square roof cutout depending on which way the adapter is installed.