Have you ever tried towing without caravan weight distribution? We're going to save you some time, effort and stress with this simple bit of advice: Don't do it.
Towing without caravan weight distribution is risky business. It can cause dangerous loss of brake control and steering, meaning you put yourself and others in danger.
As if that's not enough to convince you, it can cause more stress and wear on both the tow vehicle and your caravan or trailer. That means more problems on the road and more money down the drain.
Caravan weight distribution hitches from Titan RV are designed to do two things:
Distribute weight

Prevent sway
Why You Need Sway Control
Having sway control included in your weight distribution hitch is a game changer while towing. Picture yourself driving across the Nullabor surrounded by road trains and semi-trailers. Now, add in some crosswinds.
Sway control gives you peace of mind that you won't lose control of your vehicle.
Now imagine you're towing a horse float where your load might move around while you're driving. Sway control keeps everything stable.
Benefits Of Titan RV Weight Distribution Hitches
Let's take a look at the two top caravan weight distribution hitches brought to you by Titan RV.
Fastway E2 Weight Distribution Hitch
This all-in-one caravan weight distribution hitch comes with integrated sway control, which means whenever you are hitched up and towing, the sway control is engaged.
The e2 Weight Distribution Hitch is available in two styles depending on where the coupling is mounted on your van/trailer tow bar:
Trunnion bar for couplings that are 'underslung', which means they are welded in the middle or bottom of the caravan/trailer A-frame. The Trunnion model is available in 2000kg, 3500kg, 4500kg and 5400kg weight ratings.
Whichever model you choose, the sway control works the same, using steel on steel friction in the L brackets fitted to the A-frame. The friction locks the van/trailer into position which reduces side to side movement or sway.
The e2 Weight Distribution Hitch comes with a long list of advantages, and not too many cons.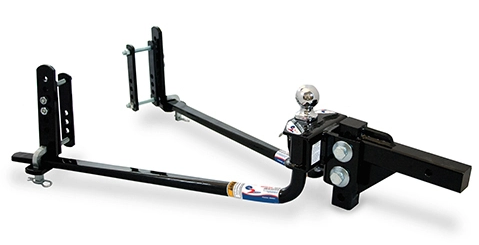 First, The Pros
Unlike some caravan weight distribution hitches, you don't have to disconnect and unhitch the system everytime you need to reverse into a caravan site or garage. And there's no need for additional weight distribution brackets or sway arms to restrict your van's turning circle, so reversing and navigating tight corners is a breeze.
These models are compatible with D035 and other swivel hitches, which are becoming more popular than standard ball couplings.
The link bracket, which attaches to your caravan or trailer draw bar, is adjustable to suit most 3", 4", 5" and 6" draw bars.
And to seal the deal, Titan RV backs the quality of their weight distribution hitches with a 10 year warranty.
The only drawback we have experienced is that you still need a degree of physical strength to lift the bars on top of the L brackets. To improve this process when hitching and unhitching with the e2 Hitch, use a jockey wheel or trailer jack to lift the van higher off the ground to make it easier in removing the bars.
Andersen 'No Sway'
The Andersen 'No Sway' caravan weight distribution hitch is a popular option if you want combined weight distribution and sway control.
But that's not all – the Andersen 'No Sway' also has a patented True Motion-Dampening system to reduce bounce, or the 'Caravan Hop' as some seasoned caravaners will know only too well!
One of the best things about the Andersen is its ONE-PIN hitch/unhitch design. This makes light work of unhitching your load when you arrive to camp. Forget all that back-breaking work lifting heavy and tight bars into place – hitching has never been easier.
Another benefit is that the Andersen can be used while reversing, like the e2 Weight Distribution Hitch.
You can use it for loads as big as 3500kg ATM.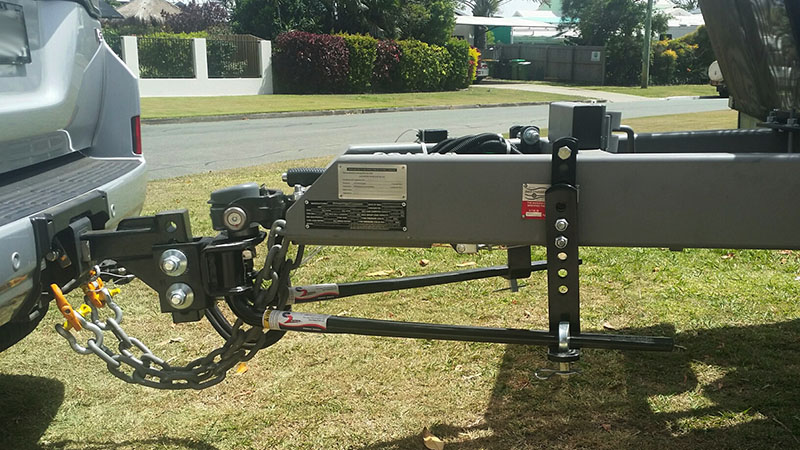 Now For The Details
There are two styles of Andersen hitches:
Andersen AU (standard) is suited for couplings fitted on top of the A-frame of your van/trailer.

Andersen AUX or Andersen Hitch with Long Brackets is designed for the 'underslung' coupling, where the coupling is welded in the middle or underneath the caravan's A-frame.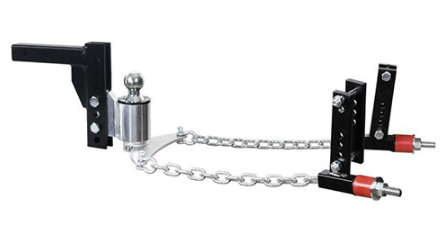 We know what you're wondering – what are the drawbacks?
So far, we've only found one: the Andersen can only be used on standard 50mm ball couplers, not the D035 and swivel hitches.
Final Word Of Advice
We said it at the start, and we'll say it again: don't tow without a weight distribution hitch. But even the best weight distribution hitch from Titan RV is still no substitute for good payload balance. Our advice? Do both.
DISCLAIMER* Please note, this advice is general in nature and we strongly recommend consulting the product manual and where relevant, a professional installer.
---
Leave a comment