Fastway E2 Roundbar Sway Control WD Hitch 8000lb with Black Jack Trailer Jack Combo
SKU: 800LBS-COMBO Learn More»
---
$1,328.00
In Stock
1-2 Days Dispatch
---
Fastway e2 Roundbar Sway Control WD Hitch 6000lb with Black Jack Trailer Jack Combo
Pack Includes:
With the Fastway e2 hitch there's nothing extra to buy and install. Nothing extra to store. Nothing extra to remove before you can back into your campsite or make a u-turn. For a faster, easier and safer towing experience, get a Fastway e2 hitch today!
The Fastway e2™ hitch is the best-selling sway control and weight distribution hitch in the USA and is now available in Australia.
For the best and safest towing experience, you need the Fastway e2™ hitch, providing you with fast, easy connectivity to your trailer without the hassle, chains, add-on sway bars or dampening arms.
With its built-in sway control, the Fastway e2™ hitch has no reversing, turning, or weather restrictions. It's rigid brackets in conjunction with the sway control bars give you permanent sway control for smarter, safer towing. Old style Weight Distribution hitches don't provide built-in sway control and will usually require you to remove these sway bars before backing-up and making tight turns. The Fastway e2™ hitch is designed so you can get on the road faster and enjoy your drive.
The Fastway e2™ Trunnion hitch can be used with GTM loads of 8,000lb (3,500 kg), 10,000lb (4500kg) and comes standard with a 3″ drop rise shank suitable for most vehicles.
BUILT-IN SWAY CONTROL
The Fastway e2™ hitches have the convenience of Integrated Sway Control™ built into the hitch; so you have sway control engaged whenever you are hitched up and towing. The e2™ utilizes unique sway control brackets instead of old 'add-on' sway bars or cam type attachments that are added to chain style hitches. Integrated sway control offers many benefits including no backing or turning restrictions, and simple and easy to understand adjustments. Built with sway control in mind, the e2™ hitch is better than a chain style hitch with add-on sway control devices.
SWAY CONTROL BRACKETS
The unique rigid sway control brackets provide the convenience of integrated Sway Control™ through two points of linear steel on steel friction. Instead of the spring arm swinging back and forth freely at the bottom of a chain, e2's spring arms rest on top of a bare metal bracket. This improvement alone significantly reduces driver fatigue and stress while towing, not to mention making it easier to use than chain style hitches on the market.
WEIGHT DISTRIBUTION
Without proper weight distribution drivers can experience highway hop, loss of steering control, and sagging of the tow vehicle.
The e2 hitch changes the way the tow vehicle and trailer couple together. It creates a bridge between them, helping them work together like one unit instead of two, and distributing the weight more evenly to the axles of both vehicles. When set up properly, the steering wheels will stay more firmly planted on the ground.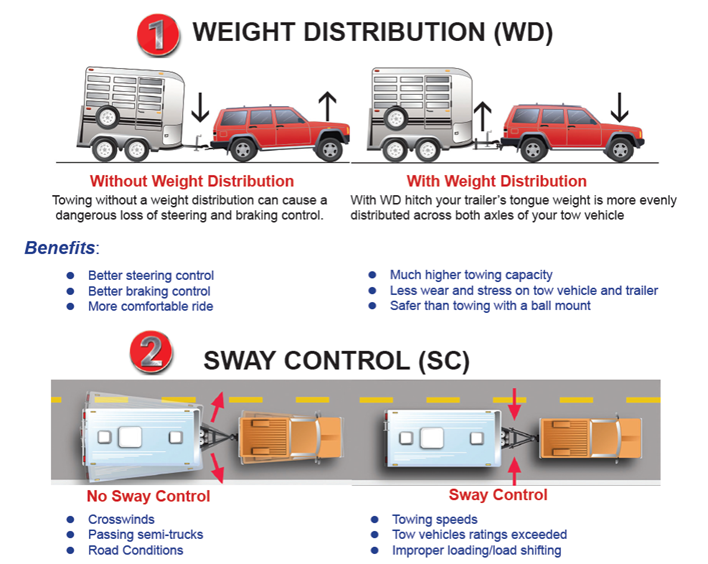 Features:
Evenly distributes weight over axles of tow vehicle and trailer
for improved stability and control
Creates a level ride for both tow vehicle and trailer
Integrated 2-Point Frictional Sway Control prevents side-to-side movement
Brackets keep spring bars in place for a rigid system that holds trailer in line. "like its on rails!"
Steel-on-steel friction prevents sway caused by winds or sudden maneuvers
No lift chains – eliminate unwanted movement
Unique design makes system compatible with surge-type brake actuators
Trunnion spring bars flex for a controlled, even ride
No-drilling! Clamp-on brackets can be adjusted along the trailer A-frame
Desired tilt is achieved with traditional washer design
Add or remove washers from spacer rivet to tilt head up or down
Powder coated steel construction is durable and corrosion resistant
Snap-up lever eases installation by reducing lifting required by trailer jack
Australian Standard 50 mm ball included
SIZING
The Fastway e2™ Sway Control Weight Distribution Hitch comes standard with a 3" drop/rise shank. Depending on the height variations between the Tow Vehicle tow bar receiver and trailer coupler you may require larger drop/rise shank which are available in 4", 6" and 8". These variations will vary depending on your setup. Refer to the size shank options below to help calculate your required configuration.
Specifications:
Model Number: PR94-00-0800
Drop/Rise Shank: Standard 3″
GTM Weight Sizes: 8,000lbs (3500kg)
Weight of Hitch: 37-38kg
Tow Ball Weight Rating: Maximum 350 kg (800lbs)
Receiver Size: 2 inch
Finish Colour: Black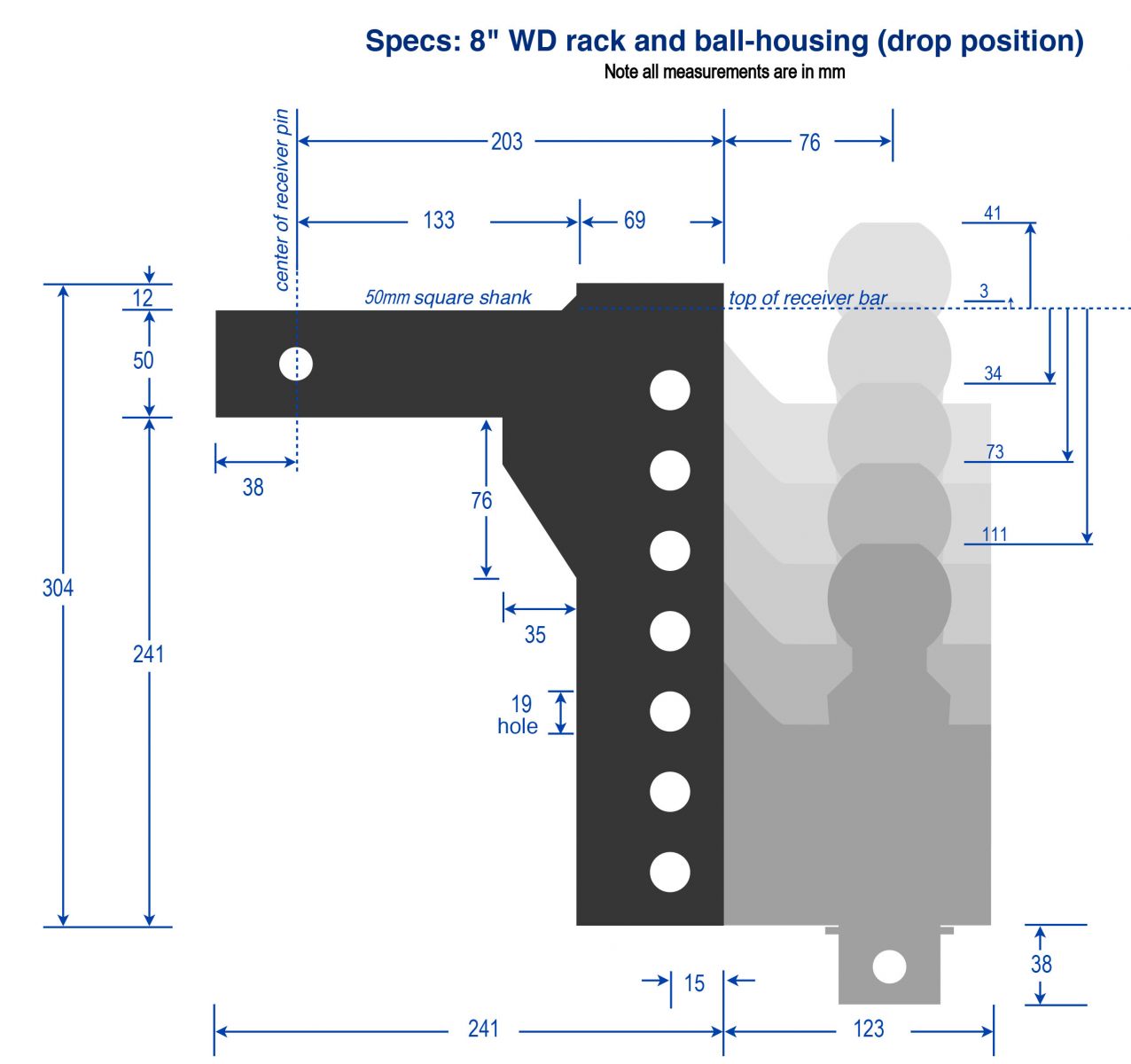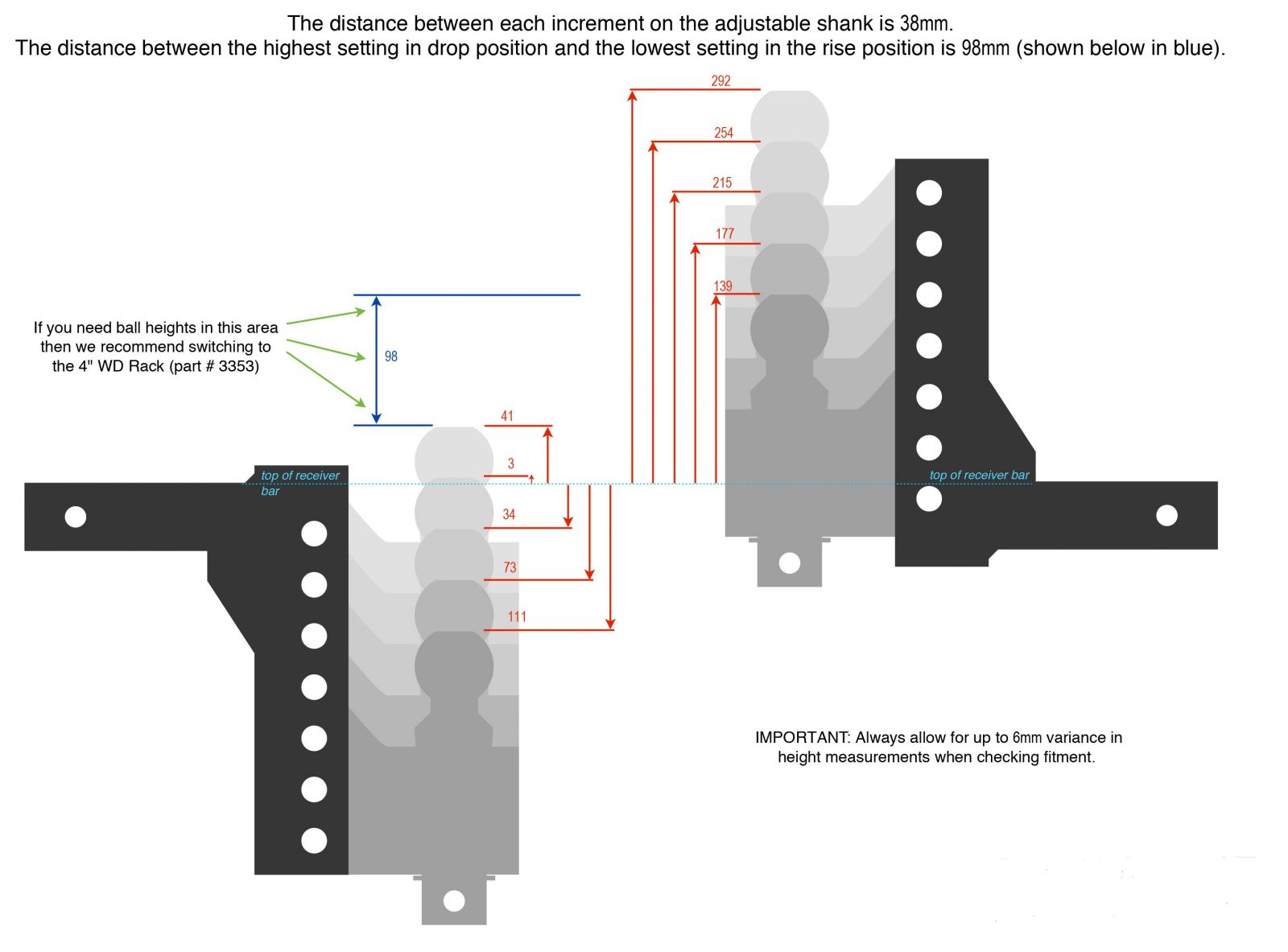 Black Jack Electric Trailer Jack with Clamp & Harness Kit
The Black Jack™ Trailer Jack is the simplest, quietest and most advanced electric jack on the market today. Easy DIY installation and insanely simple RAISE\LOWER switch operation.
Hugely popular in the USA, the Black Jack™ now comes complete with the all-weather cover, and the Black Jack Clamp™ allowing uses the ability to easily bolted to the Caravan or Trailer A-Frame. For easier and faster deployment or retraction the Black Jack™ includes the Black Jack™ Folding Foot providing no more bending down to adjust the foot extension height position. Also included is the Black Jack™ Foot Pad giving improved stability on soft or unstable surfaces.
For easy installation, the Black Jack™ installation wiring harness is also included (with BJTJ- 1001)
Kit Includes:
1x Black Jack Electric Trailer Jack
1x Black Jack Clamp Patented
1x Black Jack Folding Foot
1x Black Jack Foot Pad
1x Black Jack All Weather Cover
1x Black Jack Harness
Black Jack Trailer Jack Features:
1600 kg lifting capacity, more than enough muscle
Robust 58 mm outer post built for the toughest conditions (normal jockey wheels are only 48mm)
Massive 560 mm stroke that will lift the caravan clear of the tow vehicle hitch in any conditions
Built in level indicator to easily adjust the caravan level after you unhitch
Removable foot pad extension for travelling
Tough powder coated finish
Emergency crank handle included as an emergency back up
Built in night light for operating after hours
12 volt 28 amp DC power plugs directly to 12 volt battery
Free installation kit included, easy DIY Installation (with BJTJ – 1001)Free all weather cover to keep the rain out
Total weight including Black Jack Clamp 17 kg
Also Included is the Black Jack™ CLAMP Featuring:
6 different chassis bolt hole positions so it fits any Caravan or trailer A-Frame in Australia (6 inch, 5 inch, 4 inch or 3 inch)
Multiple top hole positions so the Black Jack can be installed facing the front, the side or the rear of the Caravan or trailer. Your choice!
Panel recess so you can install over the top of existing wire fittings maximizing the options of where to install on the A-Frame.
Safety chain insert hole so you can hang safety chains on the Black Jack Clamp.
Upper support and a lower support brackets designed to eliminate any lateral movement that may be caused by uneven surfaces.
Easy bolt installation. No additional modifications, welding or tools are required.
Tough powder coated finish
Australian Patent Pending (No. 2020902039)
Registered Australian Design
Made in Australia supporting Australian jobs

Black Jack DIY Harness Kit
Installation DIY Wiring Harness Kit
This is the full and complete installation kit to connect the Black Jack to the Caravan or trailer 12 volt battery. Includes 30 Amp in line fuse, connectors, grounding wire and 5 meters of battery cable. Makes the whole installation very easy and fun!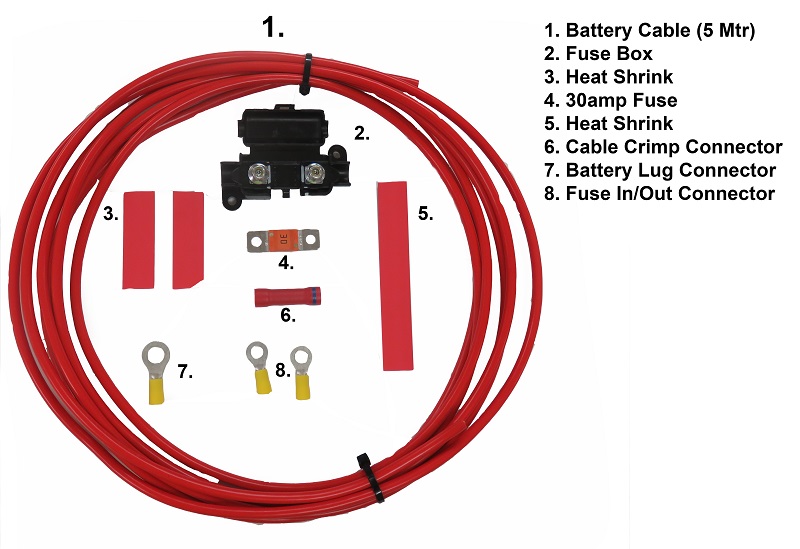 We ship Australia-wide with national road express freight companies such as Star Track, TNT and Toll.
Small Items are sent with Australia Post via regular post.
Delivery times are generally 3-5 days from day of dispatch for major cities (sometimes quicker). Please allow longer for regional and remote areas.
Once your item(s) have been dispatched, we will provide you freight tracking information so you can track your delivery to your door.
Items are fully insured during the freight process.
Unfortunately we cannot deliver to PO Boxes.
For further details on our Delivery Process you can visit our Delivery Page HERE.
Important Covid-19 Comment: during these difficult times, our dispatch and delivery times are longer than normal. Please allow additional days for delivery over and above the normal estimates outlined above.

Be The First To Review This Product!
Help other CARAVANRVCAMPING users shop smarter by writing reviews for products you have purchased.
---
What is the purpose of a Weight Distribution Hitch?

Weight Distribution Hitches prevent the rear of a tow vehicle from sagging when the weight of the caravan or trailer is added to the tow ball. In this way the front of the tow vehicle and the rear of the caravan or trailer does not lift.

Are Weight Distribution Hitches the same as anti-sway devices?

No, weight distribution hitches (WDH's) are not anti-sway devices. Some WDH's do however reduce sway, but only those that specify that this is the case.

How do I know what the maximum tow ball weig

The max tow ball weight is usually indicated on the product listing and it is calculated as 10% of the gross trailer mass (GTM). The use of a Weight Distribution Hitch does NOT increase the max tow ball capacity.

How do I choose a Weight Distribution Hitch for my vehicle?

You need to take the following into consideration when selecting a WDH:

Read the product information carefully for each WDH you are considering to ensure they meet all your requirements.

How much weight your caravan puts on your tow ball
How much room you have on the A-frame to mount the WDH
The types of brakes your caravan or trailer has
The height of your tow ball

When do I use a trunnion / straight bar hitch and when would I rather opt for a round bar hitch?

It depends on the depth of the A-frame and where the coupling is situated. The trunnion hitch is designed for an underslung coupling and will provide more ground clearance. The round bar hitch is designed for coupling above the tow bar and provides more clearance from the A-frame.

Can I still use a Weight Distribution Hitch if I have electric brakes on my caravan?

Yes, you can. However, it is important to note that the WDH will inhibit the manual override function of the electric brakes. You are still able to use a WDH, but you need to allow for harder braking.

Can these be used with the Ford Ranger?

No these cannot be used with the Ford Ranger without modifications