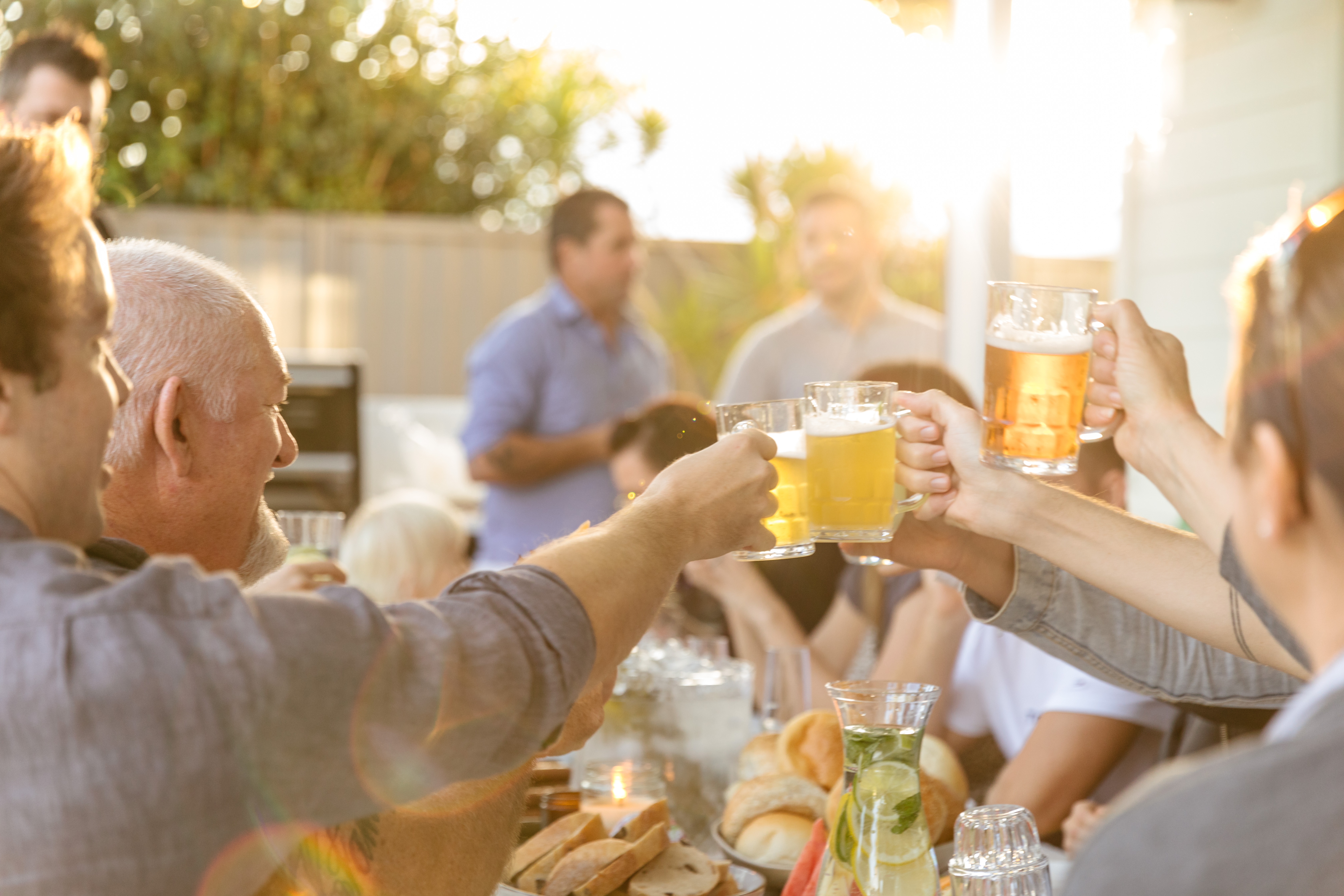 Heading to happy hour in the caravan park? There's nothing like sundowners with old mates and new friends when you're travelling. And the best accessories make it easy to host your happy hour drinks, even in the most remote camping spots.
Furniture, tables, drinkware and, of course, drinks – there are lots of essential products you need to happy hour like a pro.
Here, we share the essential products you need for happy hour plus some cocktail recipes you'll want to taste.
Icebox
Keep your drinks icy cold with an icebox. Iceboxes have been the happy hour essential since the '50s!
So what's the best icebox for your happy hour? The one that keeps your ice and drinks cold for longer, of course!
Check out the Dometic Patrol 20, an insulated icebox that will keep ice frozen for days! Best of all, the tough construction means you can take your happy hour off the beaten track. It even has a handy in-built bottle opener and cup holder.
Or go for the original icebox by Evakool. Their classic fibreglass iceboxes are specifically designed to withstand Australia's harsh conditions. Plus, the legendary insulation means they can store ice for up to 15 days in the right conditions.
Imagine how many sundowners you can enjoy with the 47 Litre Evakool Icebox in that time.
If you're after an icebox with all the trimmings, the Dometic Cool-Ice Icebox has baskets, dividers, somewhere to hold your drink and the option for a seat cushion.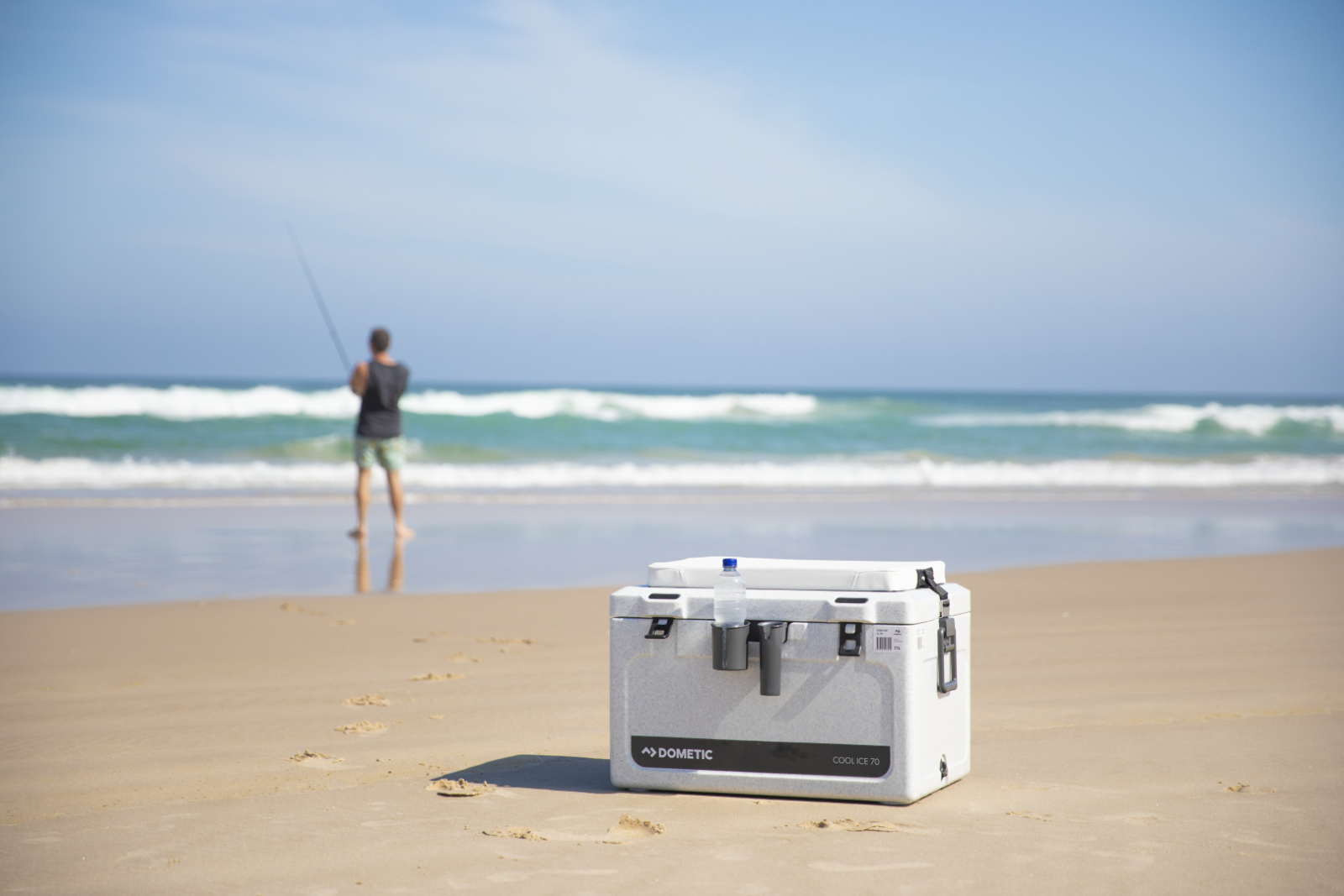 Camping Chair
You need to be comfy while you're sipping your favourite drink. So, make sure you have comfortable camping chairs. You might even want a couple of spares for your guests!
You won't need much room in your vehicle to bring along the Front Runner Expander Chair. Designed with a new space-saving patent pending technology, the full-sized chair will compact to 1/16th its size – that's the size of a laptop case!
We also sell the popular chair in a set with two chairs, storage bag and carrying strap. So it's even easier to take your sundowners up to that lookout everyone is raving about.
Camping Table
With drinks, bottles, ice, and some delicious snacks, you'll need a camping table. But not just any camping table, you need one that will stay sturdy so your drinks are compromised on uneven ground!
That's why we love the Dometic Zero Concrete Table and larger Dometic Element camping table. The legs can be easily adjusted to suit the ground levels and it's ultra-lightweight with an aluminium frame that can hold weight up to 30kg (that's a lot of cocktails!).
Enjoying happy hour at ground level? We've all experienced the frustration of trying to find level ground on a picnic blanket to place your glass! That's why we love the super cute picnic table by Blackwolf – it means your cheese platter will be safe from the ants too.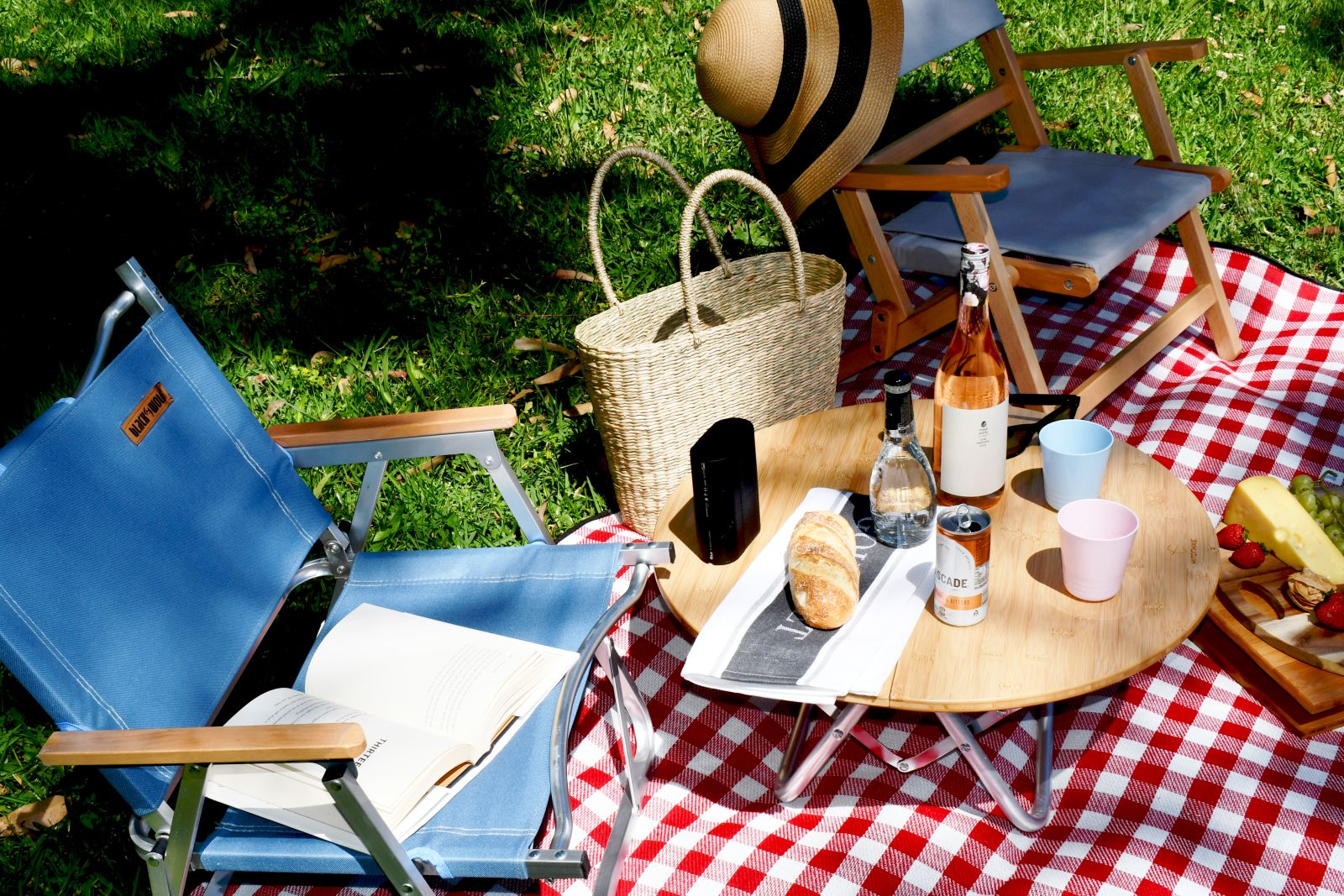 Cocktail Glasses
Martini in a camping mug? No thank you! Wine out of a plastic tumbler? Not a chance! Make sure you have the cocktail glasses you need for a real happy hour. But not just any camping glasses, D-Still offers unbreakable beauties that are the perfect alternative to plastic glasses, not to mention they look much more stylish.
The Unbreakable Crowd Pleaser Cocktail Kit comes with a decanter, six highball glasses and a mixing spoon. Love margaritas? Get an unbreakable Margarita Cocktail Kit. Or if martinis are more your style, get them shaken or stirred with the stunning Diamond Cut Martini Glasses.
Or go deluxe with the Unbreakable Broadway Drinkware Kit, which includes six tumblers, six highball glasses, and six 50ml glasses - everything you need for a sophisticated happy hour.
Wine & Champagne Glasses
If you've been sampling wine at local vineyards, why not extend the tasting at happy hour? Make sure you have the right wine glasses for the occasion - choose from 285ml stemmed glasses or 350ml stemless glasses (they're more stable on uneven ground!).
Cracking open the bubbly? Every day is a celebration on holiday! These Unbreakable Champagne Lovers Kit will make the toast even more special.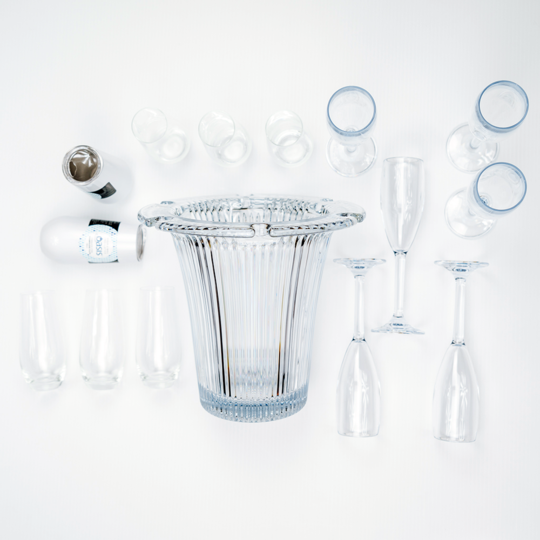 Beer Glasses
Sure you could drink out of the bottle or can, but if you really want to make the most of that beer, pour it into an unbreakable beer glass. You can choose a set of dimple beer mugs or pilsner glasses to suit your beer. All you need is a mate to share and you're ready to cheers to adventure.
Highball, Rocks & Cups
Whisky is the unofficial spirit of camping - whether you enjoy it around the campfire or add it to refreshing cocktails.
Whisky on the rocks or neat? Check out the camping glasses to suit your favourite tipple, including Diamond Cut Old Fashion Glasses and Whisky Rocks Glasses – all of them 100% unbreakable!
Jugs, Decanters & Buckets
Serve up your drinks in style with jugs, decanters and ice buckets. The camping water jug has the look and feel of real glass, but no risk of breaking! Because it's made from high-quality polycarbonate, the jug is 100% unbreakable and guaranteed never to chip or crack. Add some sliced fruits and ice for a refreshing water beverage, or why not get creative with your own sangria or punch.
Barware Kit
Love playing host? Amaze your guests at happy hour with some deliciously inventive cocktails (like the ones below!)
The Pro Cocktail Barware Kit includes everything you need to shake, mix and create from sunset til the early hours! It comes with a shaker, jigger, strainer, bar spoon, muddler, mixing glass and more.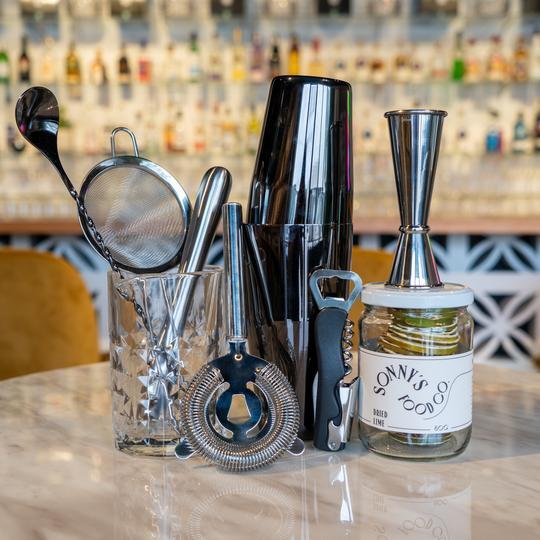 Plates For Nibblies
Now the drinks are sorted, what about the nibbles? Lay out your cheese, biscuits, nuts and snacks in style with small camping plates.
Music Speakers
Drinks and food are ready, now what about some tunes to set the mood? The Furrion LIT Bluetooth portable speaker might be compact but it's big on sound, so you can pump up the music (while being nice to the neighbours of course!).
The speaker is compatible with both Apple Siri and Android Google and has 15 hours of playtime, so your tunes will last longer than the cocktails! Best of all, its rugged design means it's waterproof, submersible, shockproof and even sandproof! Need a torch and emergency SOS light? It has those built in too.
Torch Or Lighting
When the sun goes down, you need light to help you pour your drinks! Not to mention to get back to your van safely when it's time to hit the hay. LED camping lights will do the trick.
Explore Planet Earth 450 LED rechargeable camping lantern is a fantastic rechargeable camping lantern with up to 75 hours run time.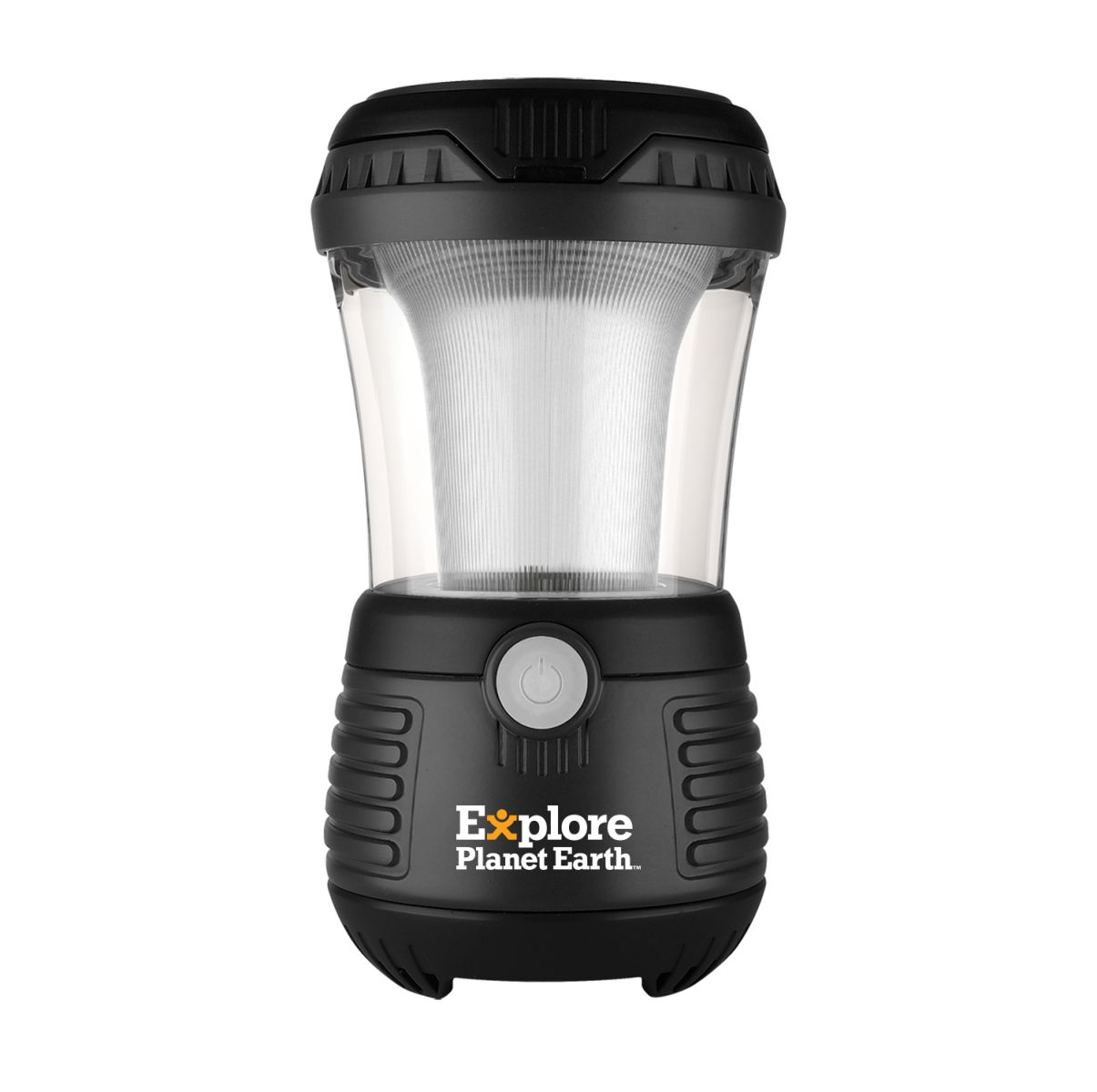 For something brighter, check out the CAOS Tactical LED Torch. It comes with five selectable modes including high, mid, low, strobe and SOS, but you can drop it, drive over it, or hose it, and it will still perform like new! Or the PWR Explorer, a powerful 2000L flashlight with six light modes - perfect for anyone needing an ultra-powerful light on-the-go.
Firepit
Stoke the fire, pour a drink, and relax. Is there any better way to relax after a day adventuring? A fire pit makes it easy to enjoy fireside drinks.
The Grillz Portable Fire Pit BBQ means you can set up a fire and even load on some food when you get hungry! Best of all, it folds flat for easy storage and transportation, and comes with a handy carry bag, so you can set it up almost anywhere.
Projector
Keep the kids entertained while you're at happy hour! Set up a portable projector, choose a movie (the longer the better) and let the fun begin.
The BenQ camping projectors are designed specifically for the outdoors - they're compact, light, come with rechargeable batteries and double as Bluetooth speakers.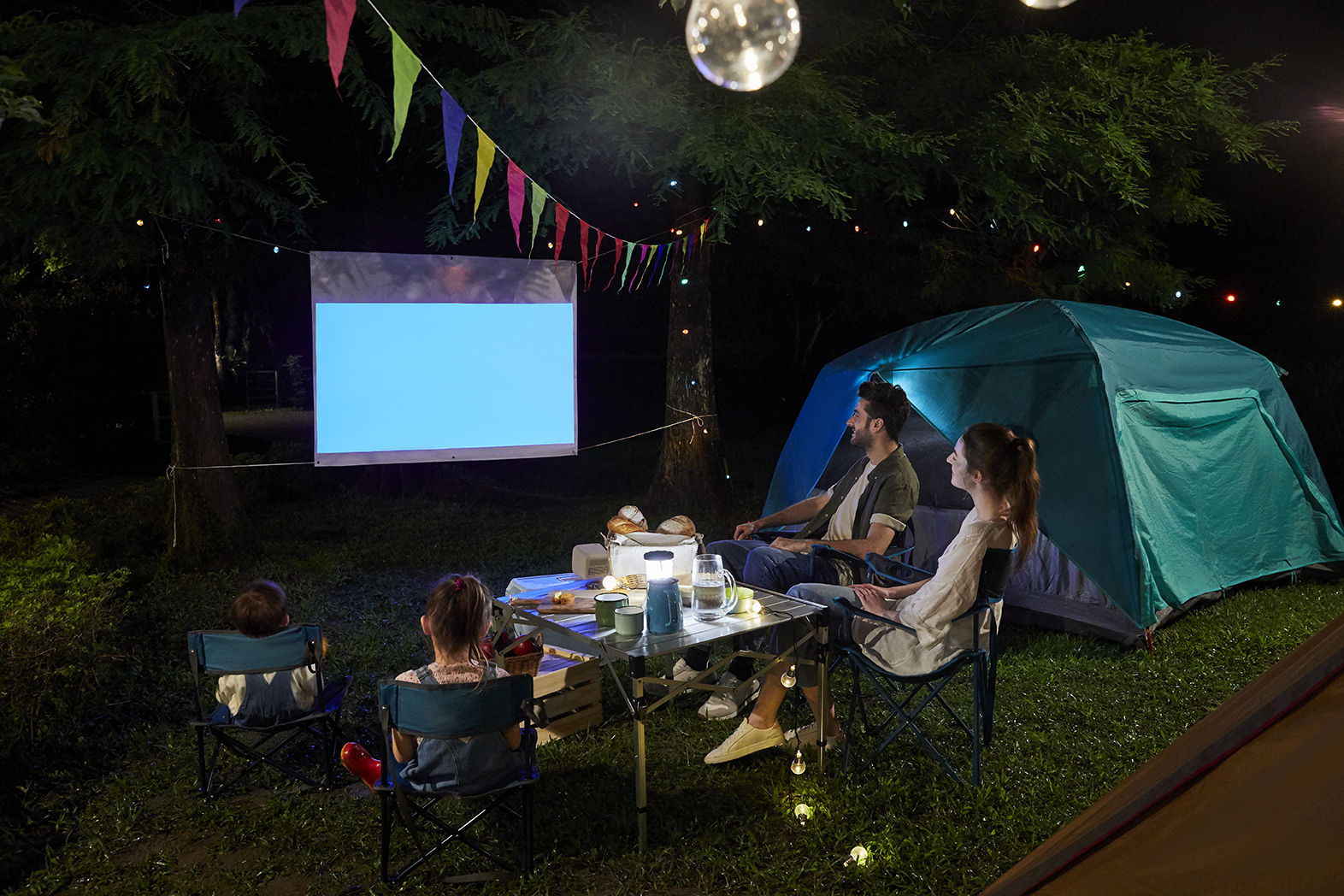 Awning
Don't let a little rain ruin your happy hour! An awning will make sure you can enjoy drinks with friends no matter the weather.
Jokes
Break the ice at your happy hour with some jokes – the cheesier the better!
Here are some of our faves:
"Knock, knock!" "Who's there?" "RV." "RV who?" "RV there yet?"
"I went to buy a camouflage tent the other day. I couldn't find any!"
So you're now set with all the accessories you need for happy hour, the only thing left is what you're going to drink!
We have partnered with Marni from the popular Instagram account marnidrinks to bring you seven delicious cocktail recipes you need to try at the next happy hour get together! Click here to see our dedicated "Cocktails For Camping & Caravanning" blog - you won't be disappointed (just checkout the preview below!)
DISCLAIMER* Please note, this advice is general in nature and we strongly recommend consulting the product manual and where relevant, a professional installer.