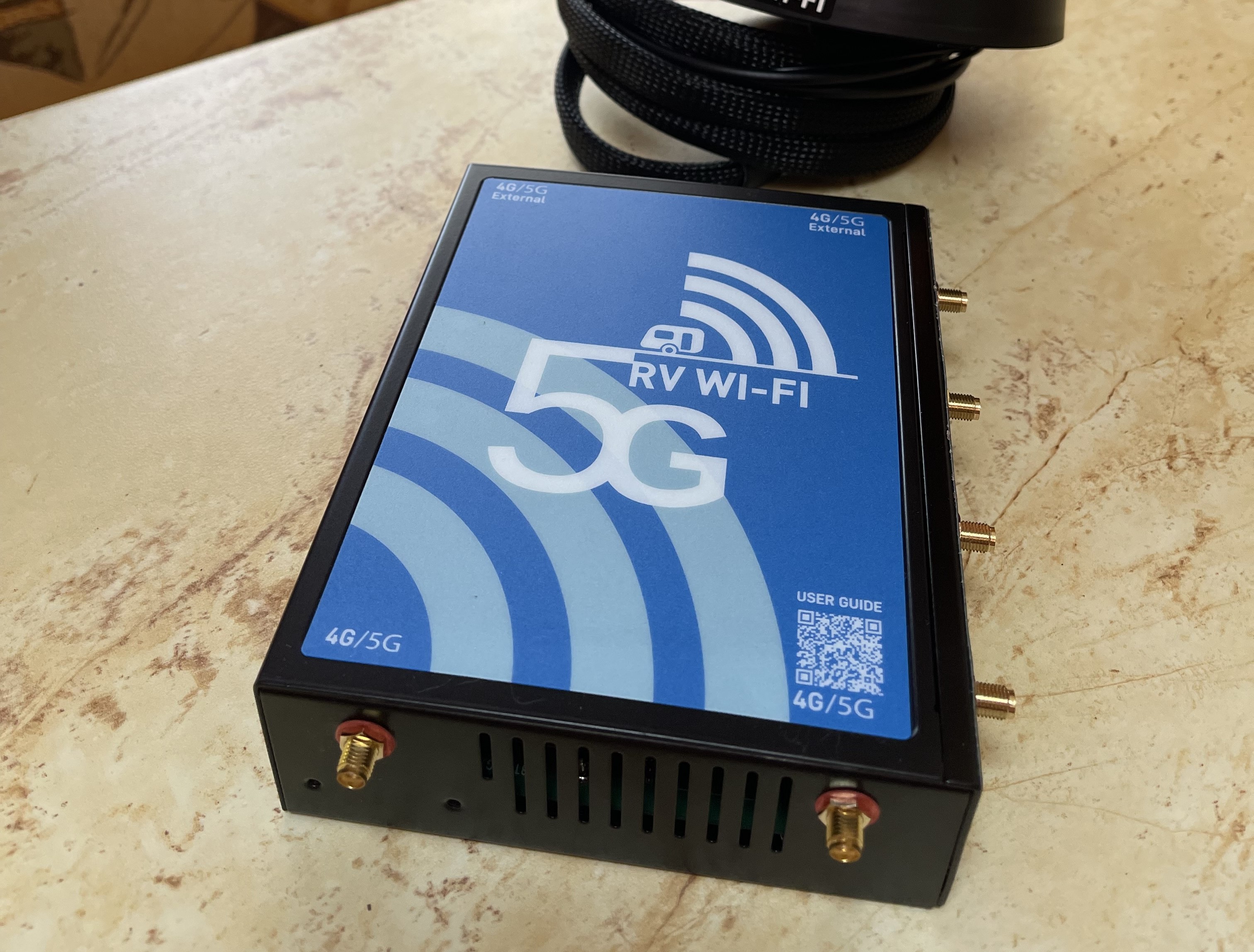 Want to stay connected while you travel? Don't rely on sketchy caravan park internet. An RV WiFi router is a reliable and affordable way to keep connected to the internet while you're on the road.
A good internet connection will provide countless hours of entertainment for everyone. How often have you needed a distraction for the kids while you make dinner? Or wanted to stream your favourite TV show on Netflix?
That's not all – a good internet connection lets you get essential information for your trip, such as weather conditions, road conditions or even COVID-19 border restrictions.
You can also use it to stay connected with loved ones back home. Video chat on special occasions and update them on all your news.
What should you look for in RV WiFi router? Read on for our Buyer's Guide to RV WiFi: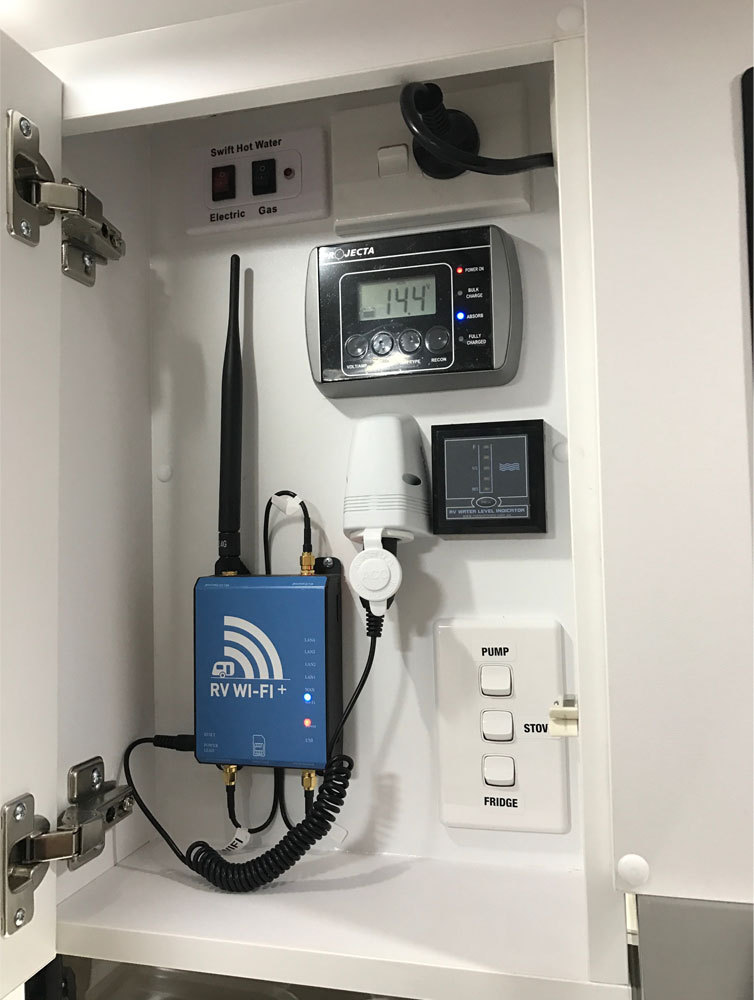 What Is RV Wifi?
RV WiFi is the name for a portable wireless router that is fixed in your caravan. They are specifically made for the RV community, so you can enjoy a stable internet connection while you travel. (It's also the name of one of our top-selling brands – RV WiFi – which can get confusing!)
All you need to do is install the router (base unit) inside the caravan and an external antenna on the roof of your van. The router is powered by your caravan.
The base unit creates a hotspot so you can use multiple devices at the one time. So, if you all want to stream different movies at the same time, there are no arguments! The hotspot also works while you are towing your van. Best of all, you can make sure it is password protected so nobody can access your connection unless you want them to.
Do You Need A Mobile Plan For RV WiFi?
Most portable wireless routers, like the one by RV WiFi the brand, operate off 3G or 4G networks. This means you need to insert a SIM into the base unit. It works in much the same way as the SIM in your phone, so you need to sign up to a mobile data plan. The good news is you can sign up to whichever provider (Telstra, Optus, Vodafone etc) and plan you like. You also only need one data-only SIM card to provide internet for a number of devices.
What About Added Features?
When it comes to RV WiFi, it's worth thinking about what extra features you'll use. Some RV WiFi systems come with GPS built into the router. This means you can obtain the location of your caravan at any time, giving you the comfort and security to locate your motorhome in an emergency.
You can also use your WiFi system to create a media centre for the family to store and watch movies and photos. RV WiFi, the most popular caravan WiFi router brand on the market, comes with a built-in media centre. You can simply insert a hard drive or USB to share movies, images or music over multiple devices.
Expert Tip: The RV WiFi router can be used as a media centre WITHOUT a SIM card or data only plan. Download movies onto an external hard drive (maximum 1TB) at home and watch them wirelessly on Smart TV, tablet or mobile phone, without needing any data!
How To Power RV Wifi:
Do you need to power your RV WiFi using a 12V, 24V or 240V power source? Check out the specs for power requirements before you buy your device.
How To Install Your WiFi:
Good news! Installing your WiFi device is easy - even for the less tech savvy amongst us! The router is installed inside the van. Simply plug it in using the 12V outlet (or an adapter). Then you can mount an external antenna to the roof for better reception. Alternatively screw flexible antennas into the router. Then, insert the SIM card from your chosen provider, set up your password and connect your devices to the internet as normal.
RV WiFi comes with four internal antennas and one external antenna for better reception.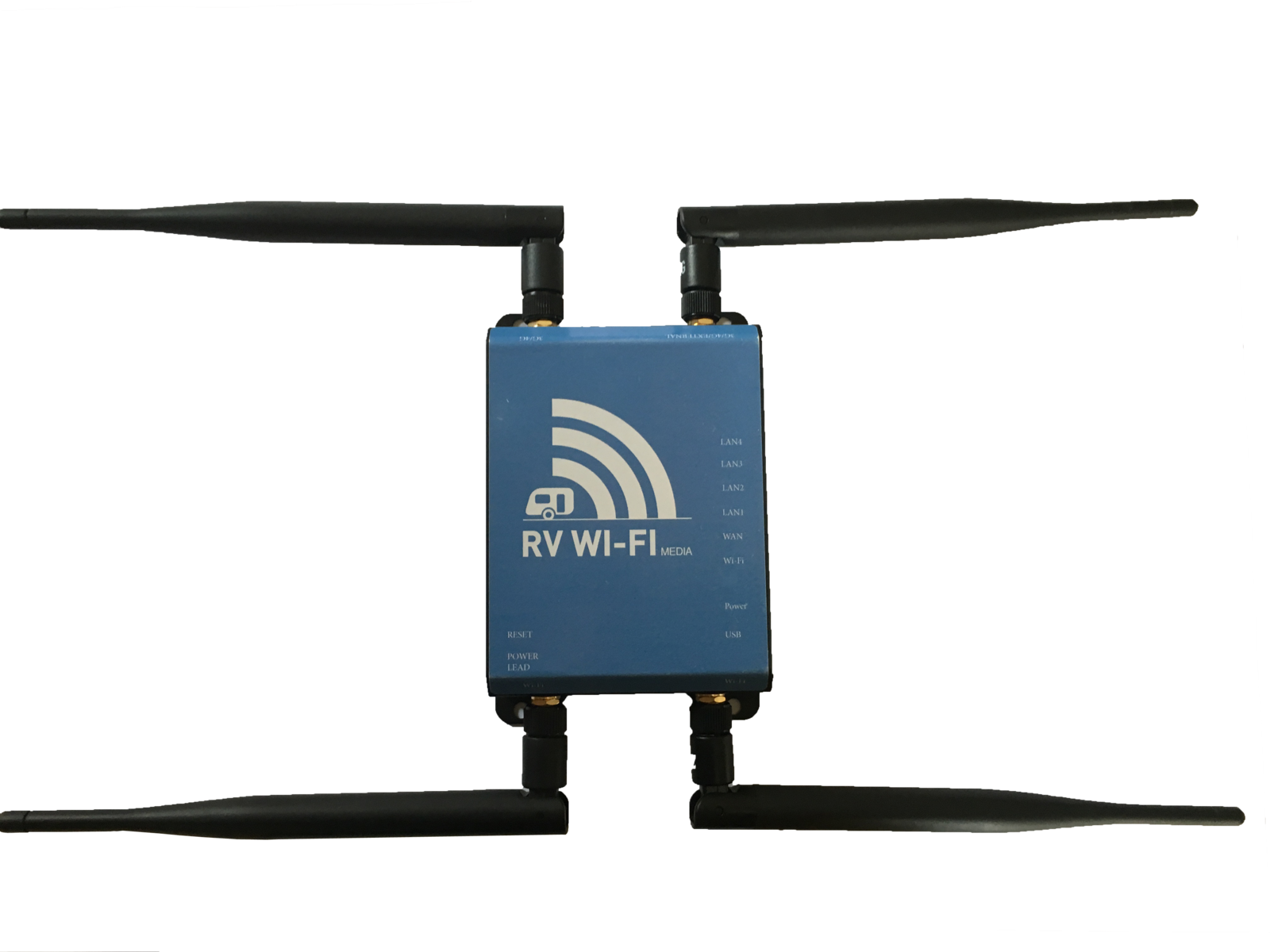 Which RV WiFi Brand Is The Best Choice?
We love the RV WiFi brand which is why it is the only model we stock!
The RV WiFi model has the following features:
• Your choice of network provider
• Password protection
• USB sharing and media centre
• 4 x LAN Ports and 1x USB Port
• Powered by 12V, or 24V/240V using an adapter
• 3G and 4G coverage
• Internal antennas x 4
If you do want to explore other models here are some key questions you should consider:
• What is your budget? The RV WiFi model will cost you close to $499, however it does come with additional features and a longer warranty than other models on the market.
• How much coverage do you need? The RV WiFi router boasts WiFi coverage up to 50m from your van.
• How long is the warranty? This is where RV WiFi really excels against other models, it comes with a 3 year warranty.
• Do you need a SIM card adapter? The RV WiFi comes with an adapter for full, nano or micro cards.
• Do you need an external antenna? The RV WiFi router comes with an antenna and 2-metre lead.
Check out what our customer Elysia has to say about the RV WiFi router:
Ready to buy? Shop RV WiFi routers here.
DISCLAIMER* Please note, this advice is general in nature and we strongly recommend consulting the product manual and where relevant, a professional installer.