Thinking of buying electric caravan steps? Read our guide before you buy.
Learn the difference between manual and electric caravan steps, find out what you need to know about installation, and weigh up the top brands.
Let's dive in…
What Is An Electric Caravan Step?
There are two main types of caravan steps: manual and electric steps.
Unlike manual steps, electric caravan steps are powered by a motor with a 12V connection. They are installed just under your caravan's doorway and at the push of a button, they can slide out. Then when you're ready to move on, you simply press the button to slide them away again.
Manual steps are either folding (retractable) steps, which are fixed to the caravan and extended by hand when needed. Or they can also be completely freestanding which means they are stowed away when the caravan is in motion and put in place once it's parked.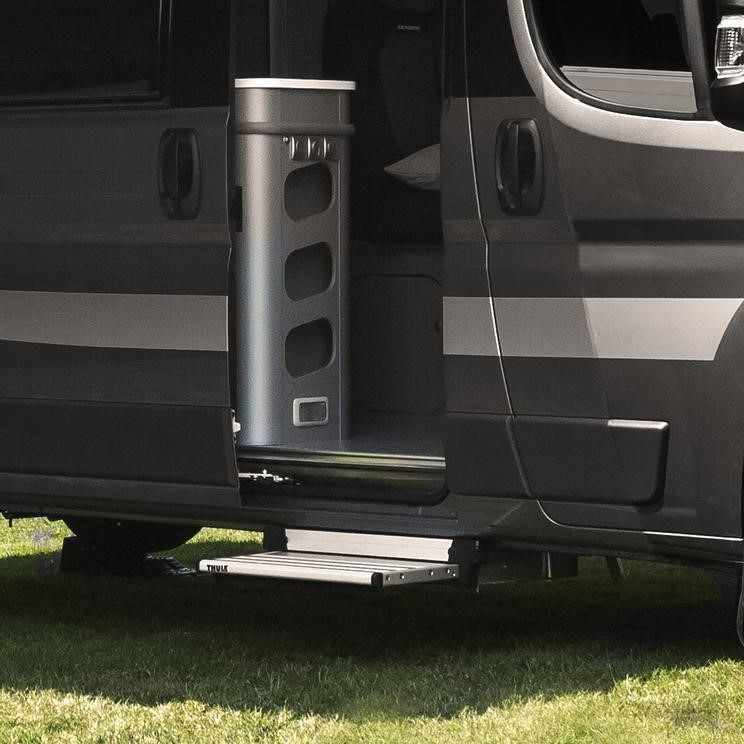 Why Do You Need Electric Caravan Steps Over Regular Caravan Steps?
There are lots of pros to electric caravan steps over manual ones. The best thing about electric caravan steps is their ease of use. With manual steps, you need to extend them by hand or manually place them outside your caravan, which can be annoying.
Electric steps do the work for you. You simply press a button once your caravan is parked and in position. Then, when you're ready to move on, you can push the button to slide them away. No need to worry about storing them inside your van, or forgetting them when you drive off!
Another benefit is that top-of-the-line electric caravan steps can come with additional features such as automatic self-levelling and electrical steadies. This means you have even more stability when going in and out of your van.
The main disadvantage to electric steps is that they require installation and need a 12V power source, which will impact the total draw of appliances from the van.
Your electric caravan steps require extra care around loading too. All caravan steps – manual and electric – come with a maximum load rating, which you will find in the specs or on the tread of the product. Electric steps require extra care around loading and use. Be careful not to step on it when it's sliding out, as this puts strain on the motor and can shorten the lifespan. For example, the Thule 12V Slide-Out Step will not operate with more than a 15kg load.
Electric caravan steps will also need some minor maintenance to keep them moving smoothly. This simply means adding some lubrication from time to time.
As you'd expect, the added technology means electric steps cost more than their manual counterparts. However, the difference isn't as big as you might expect, and in our humble opinion, the convenience factor far outweighs the cost factor!
Installation Of Electric Caravan Steps
Installation is easier than you might think. You need a 12V power connection, which you can get through a battery system.
Depending on the model, you may need to purchase the wiring harness separately.
Top Brands For Electric Caravan Steps
Here at Caravan RV Camping, we recommend two brands: Thule and Nuova Mapa.
Nuova Mapa:
Nuova Mapa offers a single and double electric step.
Both are made from galvanised steel for durability and stability. The footrests are made with anodised aluminium, which means they won't rust. They are spaced at a comfortable height for easy use.
For installation, you will need to purchase the wiring harness separately (you can buy it here at Caravan RV Camping).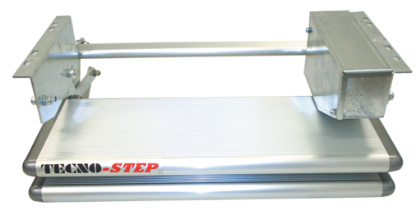 Thule:
There are two main styles of electric caravan step: a single and double step, and a slide out step.
The Thule Single and Double Step both fold down at the flick of a switch. They are a great choice for offroad caravans because they give you a higher clearance. The double step is your go-to for offroad as it allows 380mm of extra assistance to get into the vehicle.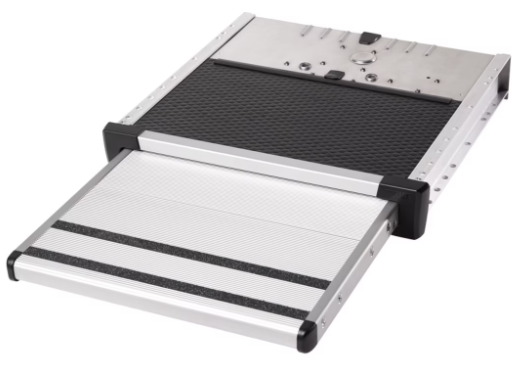 Both models also come with a switch to connect an optional warning lamp, so you don't need to worry about driving away with your step still out!
The Thule Slide Out step is a top option for vans, buses, or motorhomes with low ground clearance. You can choose from different widths to suit your door entry, and there's also an optional LED strip kit to make it easier to see the steps in low light. The slide out step also has a manually override that you can use in a power failure or if you run out of battery. The footboard is made of corrugated, anodised aluminium, which makes the steps strong and durable, while also being lightweight.
Ready to buy? Check out the electric caravan steps in our store.
DISCLAIMER* Please note, this advice is general in nature and we strongly recommend consulting the product manual and where relevant, a professional installer.
---
Comments (1)
enquiry on steps and price

I have a 2022 LDV Delivery 9 van that I am converting. I have already fallen out of the darn thing and hurt myself badly. I would like a step for the drivers door and one for the side sliding door please supply pricing regards Janelle





www.caravanrvcamping.com.au Response
Hi Janelle, I have sent you an email to get some more information off you to see if we have something that will suit. Alternatively you can call us 1800 787 278 or jump on our website and contact us through the LIVE Chat feature
---
Leave a comment