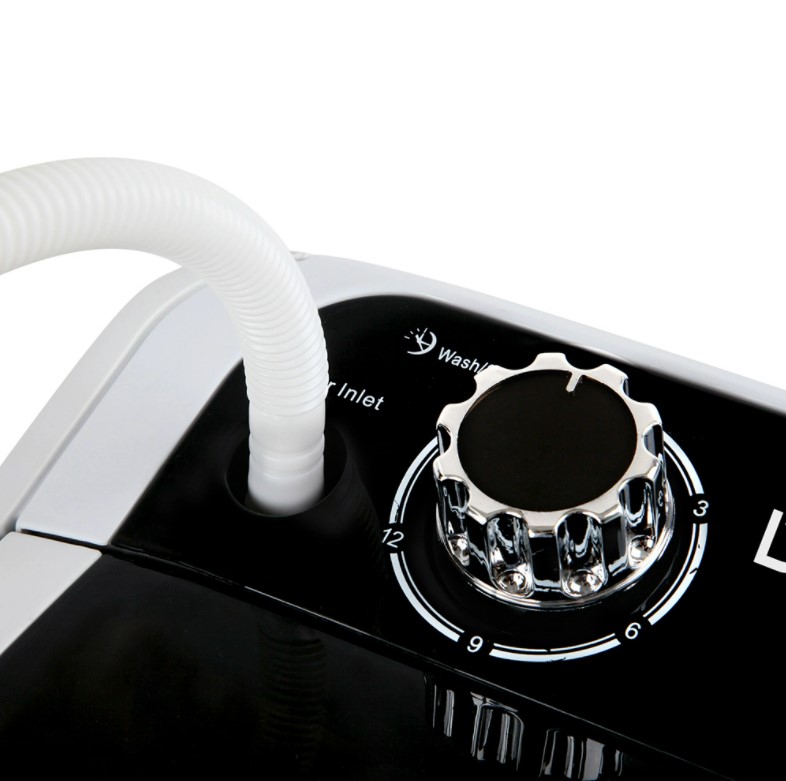 Portable washing machines, or caravan washing machines, are extremely popular appliances. You might not think you need a portable washing machine until you start travelling more, then they become essential! In this article, we cover what you need to know about portable washing machines.
What Is A Portable Washing Machine?
Portable washing machines are smaller, lighter versions of standard washing machines. They are often used by caravan owners, tiny house dwellers and individuals with limited space in their homes. They are smaller in dimensions and lighter than traditional washing machines, which means they can easily fit into tight spaces or be mounted, and are easily moved around. For example, you can move the machine from a storage area into the main area, then back again after use. Although each model varies in its exact load capacity, most can generally handle loads weighing anywhere from 1.5kg to 5kg. While these loads are relatively small when compared to a standard home washer, the larger 5kg models offer plenty of room to keep a family in clean clothes during longer caravanning trips.
Sphere EcoSpin Portable Washer Devanti White 5kg Portable


Do I Need A Portable Washing Machine?
Okay, so a portable washing machine isn't an essential appliance for caravanning - but it's definitely up there on the list of appliances you won't want to travel without! Campers rave about the benefits they provide, especially when it comes to convenience. If you often find yourself camping in caravan parks equipped with laundry facilities, you can go without one. But having your own portable washing machine in your RV means you don't have to worry about having the right coins, waiting for other people's loads to finish, and then waiting for your own loads to finish. People tend to go through more clothes than they anticipate when travelling, especially with children in tow. In these cases, a portable washing machine can be a good investment. The beauty of your own caravan washing machine is that you get to choose when you do your washing. Put the clothes in, go to the beach, then hang them out on the clothesline when you return. You can always have fresh clothes when you need them. Another advantage is that you can use your washing machine as a dirty clothes basket!
Devanti 3kg Portable Top Load Washing Machine

How Do I Use A Portable Washing Machine?
Because these appliances were largely developed for convenience, using a portable washing machine is really simple. Installation consists of simply connecting the portable washer to a water source and then a power source. Remember, a top-loading machine requires free space above it, while a front loader can be installed in a smaller space. Once everything is connected, fill the portable washing machine with the appropriate amount of water and add a small amount of detergent-- liquid is generally preferred. Once the tub water is ready, you just need to add the clothes, plug the washer in and turn it on. Some twin-tub washers require you to move the clothes into the rinsing bin once the wash cycle has completed, while others need you to drain and add new water for each cycle. Once your clothes have been washed, they can easily be hung outside or dried with a portable dryer (yes, you can get portable dryers too!)
Devanti White 5kg Portable Top Load Washing Machine

Pro Tip: Always Read Your Instruction Manual Before Using Your Portable Washing Machine.
How Much Does A Portable Washing Machine Cost?
A portable washing machine can be bought for anywhere from $79 up to $400, depending on the features and size. We sell basic portable washing machines for as little as $105 on sale for the Devanti 3kg model. Prices above $200 boast a larger number of features (such as wash cycles, speeds, and settings). Therefore, it's worth working out what features you want before you buy.

Top Portable Washing Machine Models:

Devanti 4.6kg Portable Top Load Washing Machine
The best thing about the Devanti 4.6kg washing machine is that it's incredibly lightweight, while still offering a larger load capacity. It also comes with a built-in handle which is great for easy transportation. This portable washing machine features a 15 minutes washing time, which is ideal if you want a quick wash to get on with your day. Just plug it in, fill with laundry, add detergent and water - after 15 minutes, you have clean clothes ready to hang out to dry! The cleaning performance is top-notch thanks to the 2-in-1 wash and spin dry with a powerful wave pulsator. All Devanti machines are made with quiet operation, which is ideal for use in smaller spaces.
Devanti black 4.6kg Portable Top Load Washing Machine

Devanti 3kg Portable Top Load Washing Machine
Looking for something even smaller? The 3kg Devanti portable washing machine is small but perfectly formed. Like the 4.6kg model, it also features a 2-in-1 wash and spin dry with a wave pulsator. There's a 15-minute timer control and easy-to-use knobs. Even though it's a portable machine, you can still wash delicate clothes - the Devanti 3kg model is gentle on all fabrics with its intelligent wash cycles. Need to clean your mucky shoes? You even get a shoe brush to wash up to four pairs of shoes at once. And all this in a machine that only weighs 6.5kg!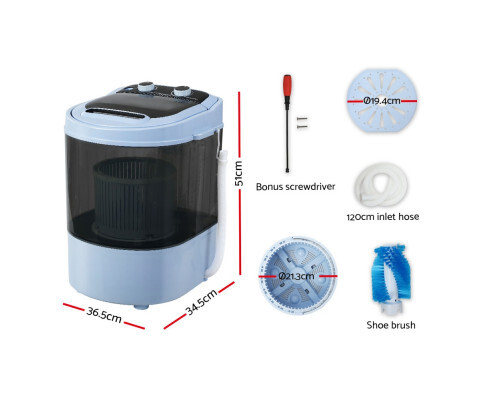 Devanti 3kg Portable Top Load Washing Machine

Devanti White 5kg Portable Top Load Washing Machine
For something a bit bigger, go for the 5kg Devanti top loader. It has all the features of the 3kg and 4.6kg models, just with a larger load capacity. This makes it the perfect size for families on camping and caravan trips. Another added benefit is the twin tub design, which means you have an independent wash and spin tub.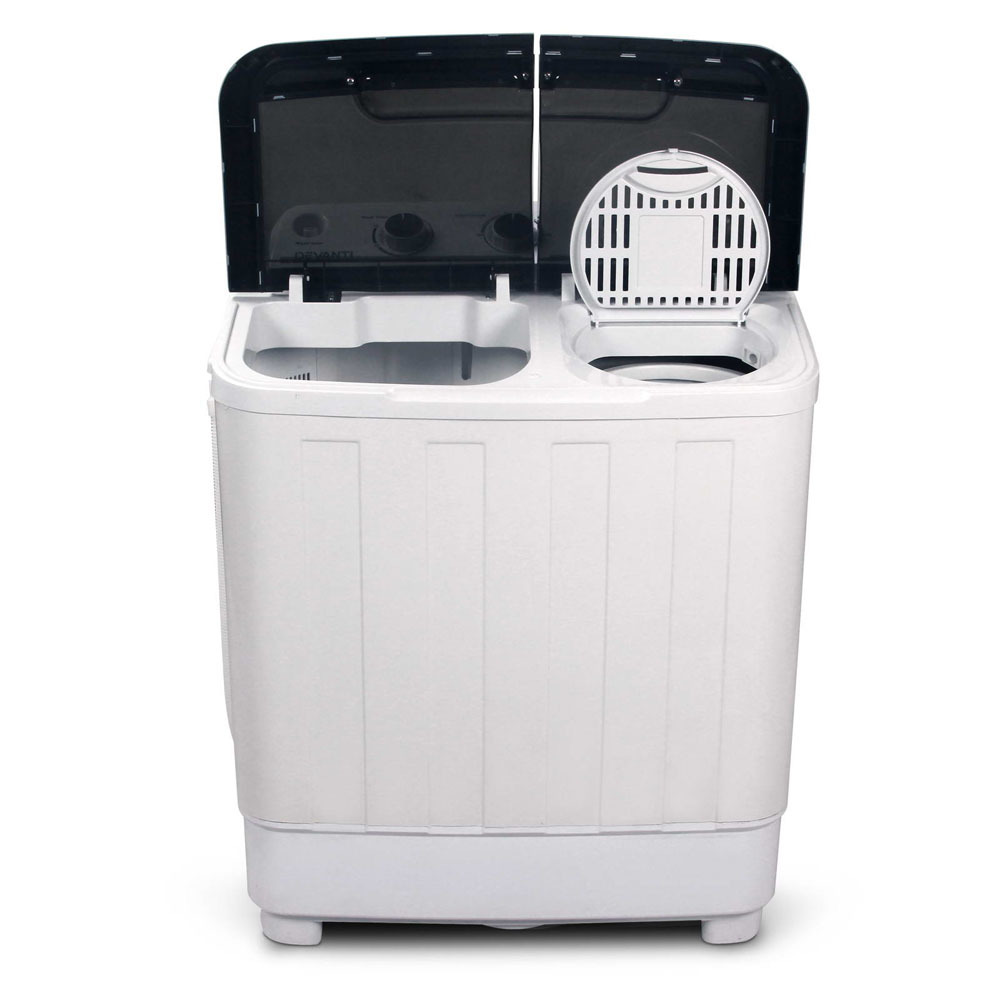 Devanti White 5kg Portable Top Load Washing Machine

Want the convenience of fresh clothes wherever you go? Choose your portable washing machine today from Caravan RV Camping.
DISCLAIMER* Please note, this advice is general in nature and we strongly recommend consulting the product manual and where relevant, a professional installer.