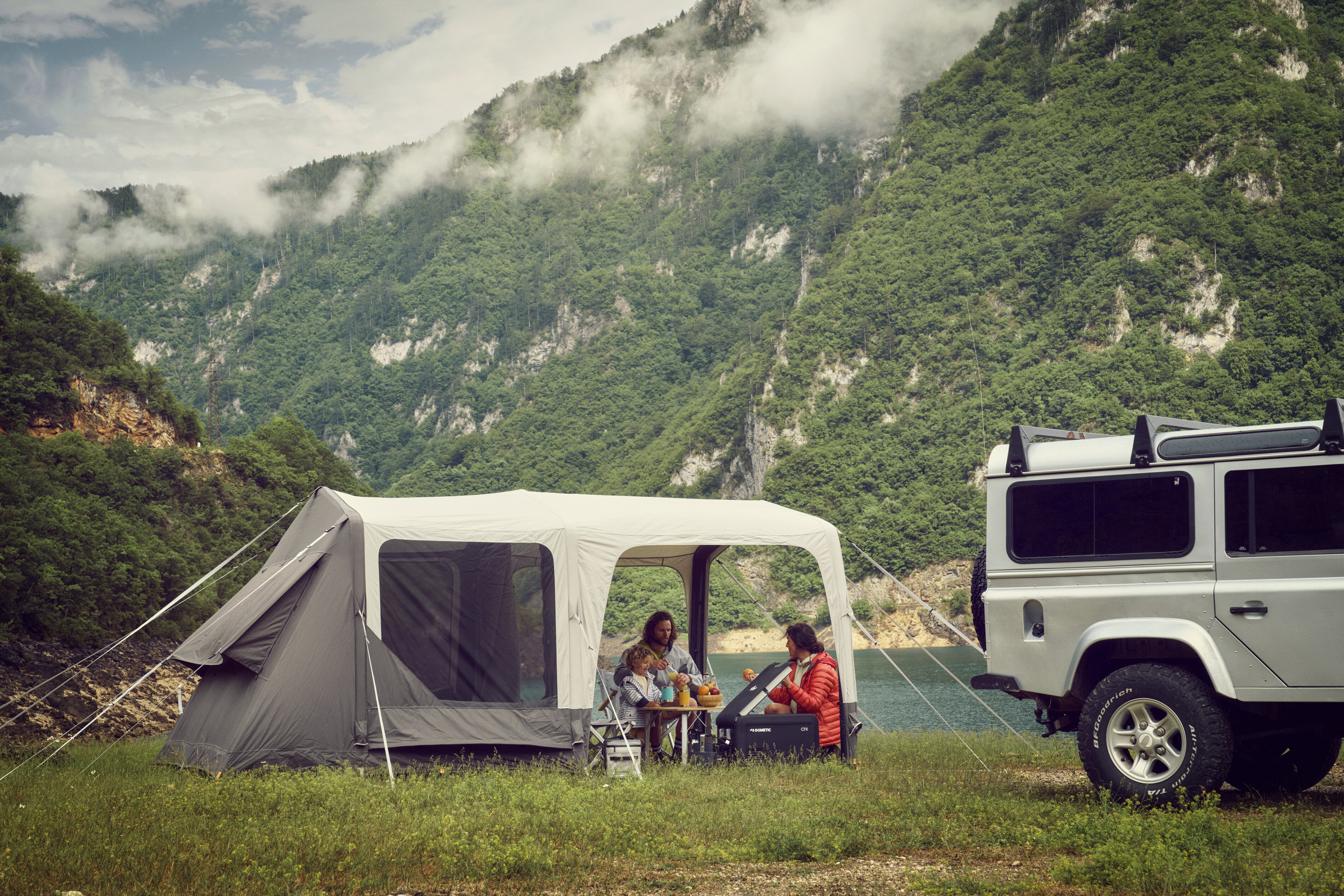 Dometic have been in the inflatable tent game for some time now and their range is nothing short of exceptional. They have designed a range of inflatable camping products including tents, awnings, shelters and now even swags to get you out in the great idea with ease and comfort.
What makes an inflatable tent or swag different you ask? It is the inflatable poles. You just pump them up! No messing around with rigid poles snapping in the middle of the outback, Inflatable tents and swags promise faster and easier setup, greater strength, better wind resistance, and easy repair.
Here's the thing – they are not the cheapest models on the market. So, when you check out the specs, are they worth the money?
Let's take a look at what you get for your hard-earned dollars:
Inflatable Tents:
Wide Range of Sizes:
The range of Dometic Inflatable Tents includes roomy 4-person and even 8-person tents in different styles – all of them packed full of features for everyone from beginner campers to camping enthusiasts.
For large families, Dometic offers spacious tents with plenty of standing room and some of the widest bedrooms on the market. If you want a tent with a porch, Dometic offers the Stradbroke series, which is available as a four-person and six-person, or the Daydream 6-person tent.
Dometic have now also released the new Santorini Range, these come in 4-person and 8-person tents. It is constructed of the advanced technical cotton similar to the Stradbroke range. It includes a perfect outside canopy to provide shelter and increased comfort when camping for short or long periods of time.
Easy Set Up and Pack Down:
The top selling point for these inflatable tents is how easy they are to set up and take down. Thanks to Dometic's AirFrame technology and multi-inflation points, it really is no fuss.
Multiple AirPoles will inflate individually and there's a quick-pitch guiding element to ensure the tent sets up in seconds without you needing to manually guide it.
Added Extras:
There are a few special features that make these inflatable tents worth the money. For example, the Santorini Inflatable tent range has the options of adding a carpet for added comfort underfoot, and a ground sheet to protect from rocks and sticks. The Santorini 8 person tent also has the option to add a Sleep Tight Inner Tent to keep the sleeping room darker for those early rising toddlers.
Designed for Australia Conditions:
There's nothing worse than a hot, sweaty night in a tent with no airflow. That's where Dometic's inflatable tents really make a difference to camping trips. They are designed for maximum ventilation, air flow and breathability.
It comes down to a few important design elements.
First, the fabric. Depending on the model, the tent is either made from Weathershield polyester material or polycotton fabric:
Weathershield polyester material is durable, lightweight and weather-resistant with UV protection.

Weathershield polycotton fabric boasts a cotton content of 35% which creates a more breathable material to reduce condensation in the tent and regulate the interior temperature.
Second, most tents feature large oversized windows and a darkened inner tent help block out the sunlight and regulate the interior temperature while increasing airflow – exactly what you need to get a good sleep on balmy nights.
All you need to do is open the window gussets and peg out the eyelets to enjoy airflow without compromising on privacy.
Inflatable Awnings:
Own a van, motorhome or caravan and need to extend your living space? Dometic offer a range of campervan, motorhome and SUV awnings to give you extended living space on the side or back of your vehicle.
Like the inflatable tents, these awnings feature AirPole technology and come with a pump included.
Want to add more space to the side of your campervan? Choose the Dometic Sunshine AIR Pro VW. While for motorhomes, the Rally static 3300mm wide awning is a good choice.
There are also inflatable awnings that you can leave standing independently when you move your vehicle. The Dometic Rally Driveaway awning 2600mm is worth taking a look at so you don't have to pack up your whole camp every time you go out for a daytrip.
Finally, for all those daytrips and camping adventures where you want to add a bit of extra living space to your vehicle, check out the Tailgater Air Inflatable Awning for SUVs.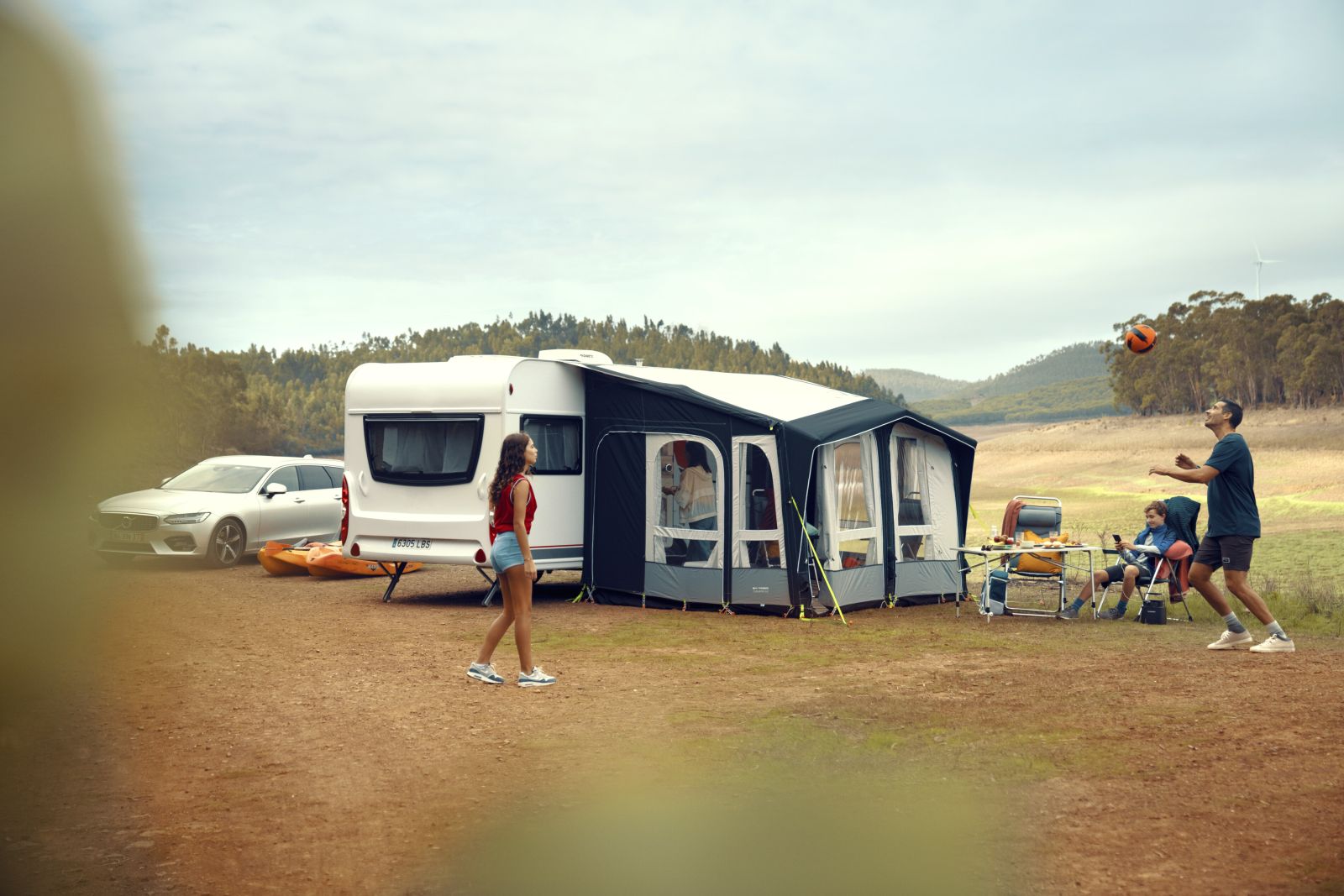 Inflatable Shelters:
Did we mention Dometic now offers an inflatable Shelter or Gazebo as some refer to them by. This shelter sets up in seconds so you can get your fishing line in the water quicker and don't need 3 or 4 people to help set up like some other metal framed shelters on the market. You can also add in mesh panels or an inner tent to take your outdoor comfort to the next level, never have another fly buzzing over your picnic again!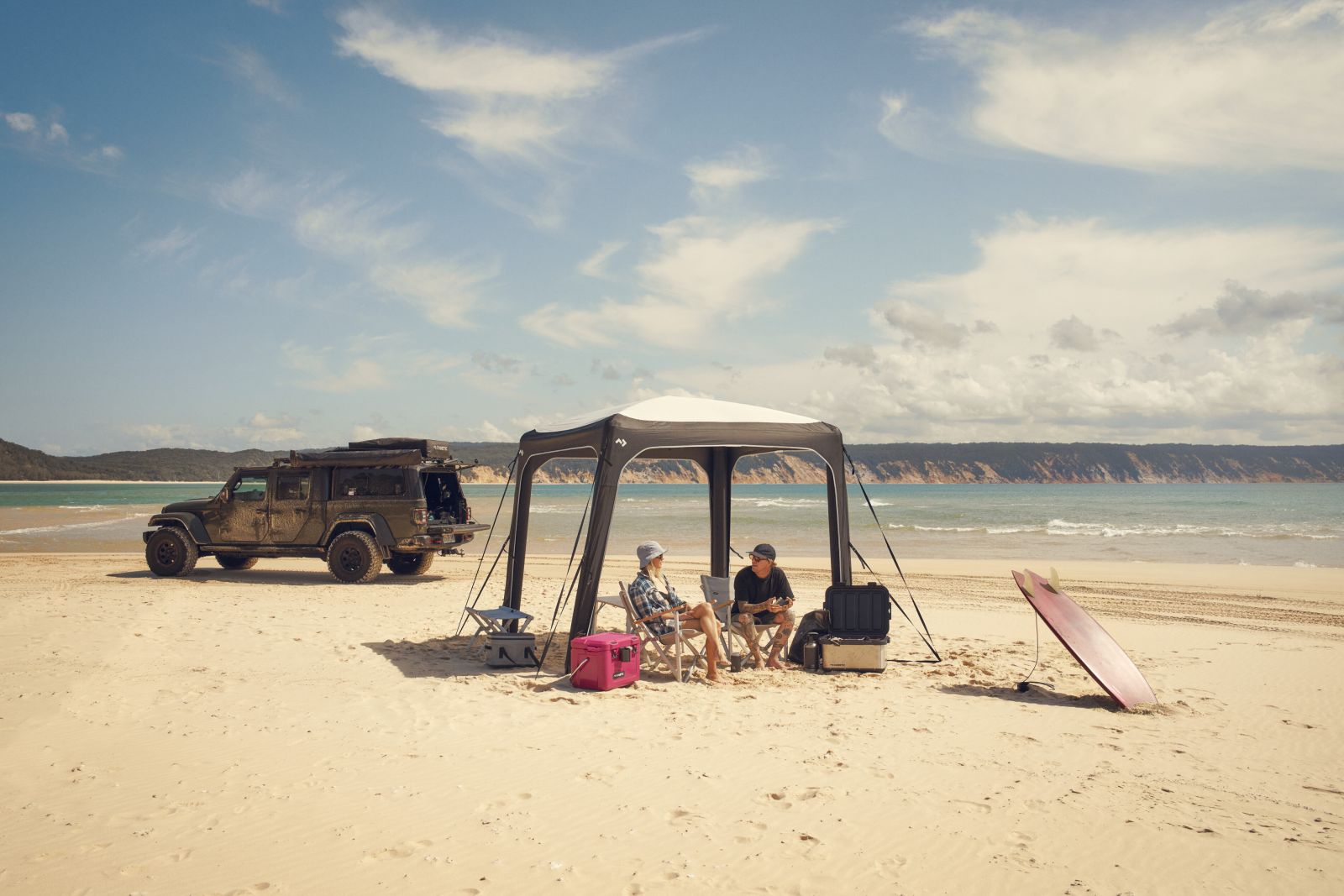 Inflatable Swags:
Dometic have even considered the hiking, motorbike or space limited camper with the release of the Dometic Pico Inflatable Swag. Available in single and double sizes, these easy to inflate swag provides a spacious room inside without compromising in comfort.
The Dometic Pico swags use the same material as the Dometic Santorini tent, utilising the strong technical cotton fibre to reduce condensation and regulate the interior temperature. They come in a backpack style carry bag to give you ease of moving around, perfect for trekking into remote camp areas.The mattress is an integrated inflatable bed. So no need for those bulky swag mattresses with the Pico packing down to as little as 8.45 kg and 650 x 280 x 280mm.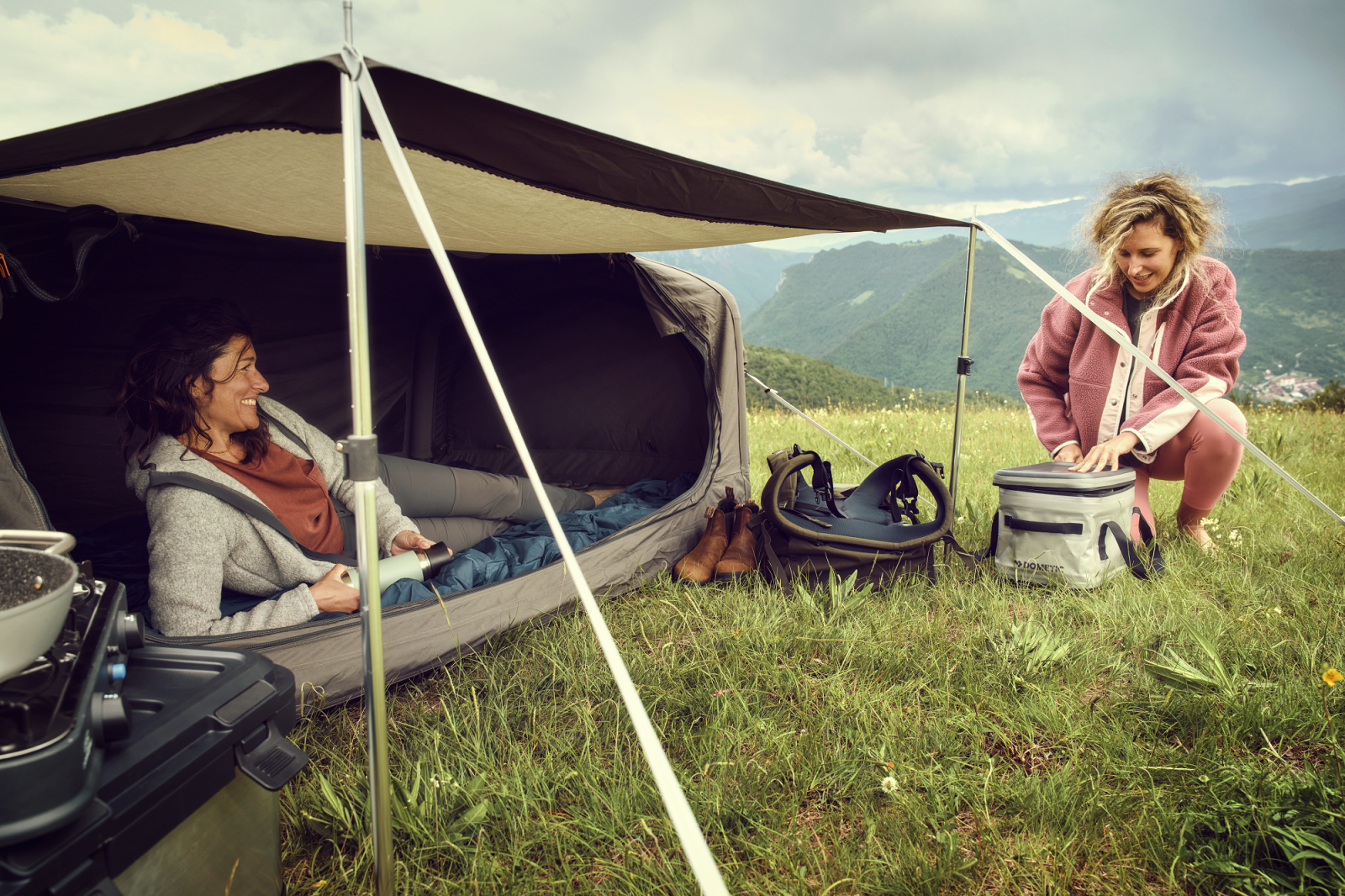 12V Pump For Inflatable Tents, Awnings, Swags & Shelters:
Need a pump to inflate your tents, awnings swags or shelters? Dometic has it covered with a 12V electric pump. Plug the pump into a 12V power source and use the extra-long cable to reach your site. Then, set the required PSI and watch as the tent inflates in an instant!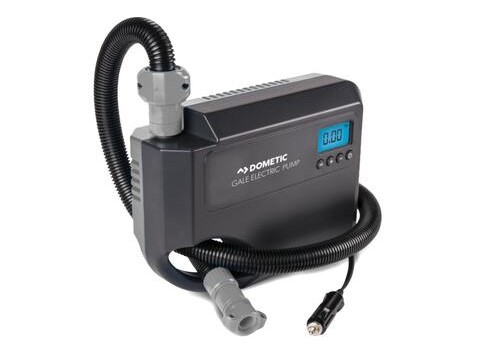 Pro tip: The Dometic Inflatable Swag frame should be inflated to no more than 10 PSI and the recommended inflation pressure for the integrated mattress is 1.5 PSI, never exceed 2 PSI.
The Verdict:
Are the inflatable tents and awnings worth the money? As always, it depends what you're looking for in a tent. If you want absolute ease in set-up, comfort and a large space, then we think you'll find these are worth every dollar.
Remember, Dometic is a reputable outdoor adventure brand, so you know you are getting a high-quality product from a company that really knows what's important in outdoor leisure gear.
Check out the entire Dometic Outdoor Leisure Range here!
DISCLAIMER* Please note, this advice is general in nature and we strongly recommend consulting the product manual and where relevant, a professional installer.
---
Leave a comment