Gas Heaters VS Diesel Heaters
When it comes to heating your RV, the most common question we are asked here at Caravan RV Camping is which is the better way to heat your van or RV, gas or diesel?
Diesel heaters are becoming more favorable in the Caravan industry at the moment due to how efficient they are in fuel consumption and their ability to work at really low temperatures. Perfect for those below 0 degree destinations. No need to only caravan in summer!
With the increase in lithium and 12v power sources many caravanners are also choosing to go gas free, utilising induction cookers instead of gas stoves. With this in mind many are choosing the diesel heater over gas for this reason.
Lets dive into the differences a little more so you can make your own educated decision on what will suit your application best.
Factors to consider when choosing between a gas heater and a diesel heater for your caravan or RV:
Available space for installation

Availability of fuel sources - do you already have a diesel fuel tank or gas bottles installed and if so, what size is available? Will this be enough to sustain your required usage.

What appliances are already installed in your van? Will the heater you choose place a strain on your existing fuel source?

Your budget- don't forget to factor in the cost of installation of the unit into your vehicle.

Where you intend on travelling
Now let's break down the Pros and Cons of both gas and diesel heaters to help narrow down which one suits your individual needs.
Diesel Heaters:
Pros
Fuel Source - If your motorhome is diesel then you already have a fuel source ready to go, pump direct from your vehicles tank. Alternatively, for caravans you can install a separate tank just for the heater and have it on the van ready to go. The Diesel Heater Lockable Fuel Tank is a great option with the added safety of locking the fuel from thieves.
Installation – Without the need for a professional installation certificate like gas, the diesel heater allows for a little more flexibility when installing. If you are handy, these can be installed by yourself. They can also be installed through the floor unlike gas that requires installation of the flue through the walls. This allows more choice of installation location. The Webasto 12V Diesel Heater comes with clear and easy to follow instructions.
Efficiency - Diesel consumption is low with the use of diesel heaters. Some heaters like the Eberspacher Airtronic AS3 D2L Diesel Air Heater Kit can use as little as 0.10 litres per hour. Making it a great option to keep warm during those colder months.
Cons
Fuel Source - If you do not use a diesel vehicle or can't obtain diesel from your vehicle you will have to store a tank on the caravan to run the heater. When people already have gas appliances and a tank on board it makes it easier to choose gas with the fuel source already on board
Noise - If not installed thoughtfully the diesel heaters can be quite noisy and irritating. The pump that supplies the diesel into the heater makes a 'clicking' noise, which in the stillness of night can be quite annoying to the restless sleeper.
Gas Heaters:
Pros
Fuel Source – If you already have a gas cooktop on board then you already carry the fuel source ready to go. Simply tap into your gas line and you are set.
Quiet Operation - Gas heaters can be much quieter than diesel heaters. For the light sleeper a gas heater may be the best fit for you. The Truma Vario Eco Gas Heater also boasts a night mode to ensure an undisturbed night's sleep.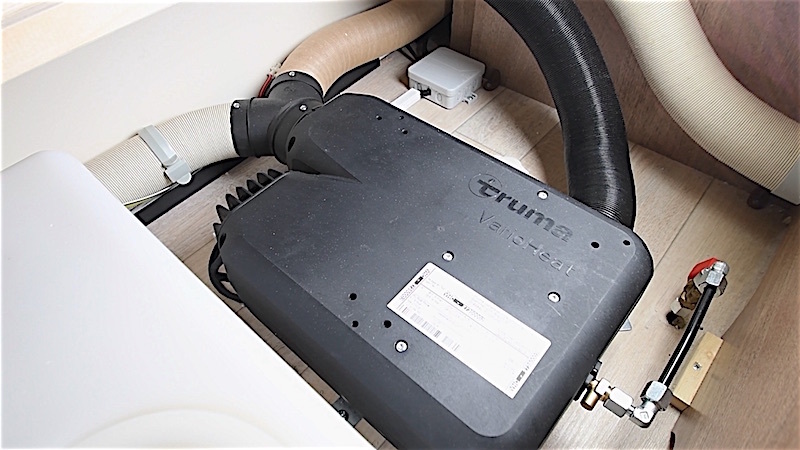 Cons
Installation - Gas heaters can't be installed DIY; they must be installed by a certified gas fitter and an installation certificate provided for both warranty and insurance purposes. Gas is also limited to where it can be installed, for example it needs to be flued outside an external wall. It also can't be installed near windows and doors or under beds.
Fuel Availability - In remote locations, Gas may be hard to source.
Wrap up!
Based on the above-mentioned Pro and Con's which one will best suit you?
If you are planning on camping in the heavy winter months such as taking the kids snow skiing, then we reccommend considering a Diesel heater. Diesel Heaters will operate in temperatures below 2 degrees. The Belief 12V 4kW Diesel Air Heater Full Installation Kit is a great option for extra large caravans, boasting a fantastic budget price and comes backed with a 2 year warranty.
The diesel heater will provide more efficient use of fuel over gas, so while it is cheaper to run it will also be readily available in most rural towns where gas can be limited.
If you caravan occasionally over winter for short stays, then gas may suit you best. It is less weight to carry and will be nice and quiet for those cosy sleepy nights. If you already have gas onboard for your cooking needs, then it is one less item (tank) you need to fit compared to diesel. There is also the option to install a combi unit with the Truma Combi 4E Kit, Gas Heater / Hot Water System. This unit provides the benefits of hot water and heating in an all-in-one system.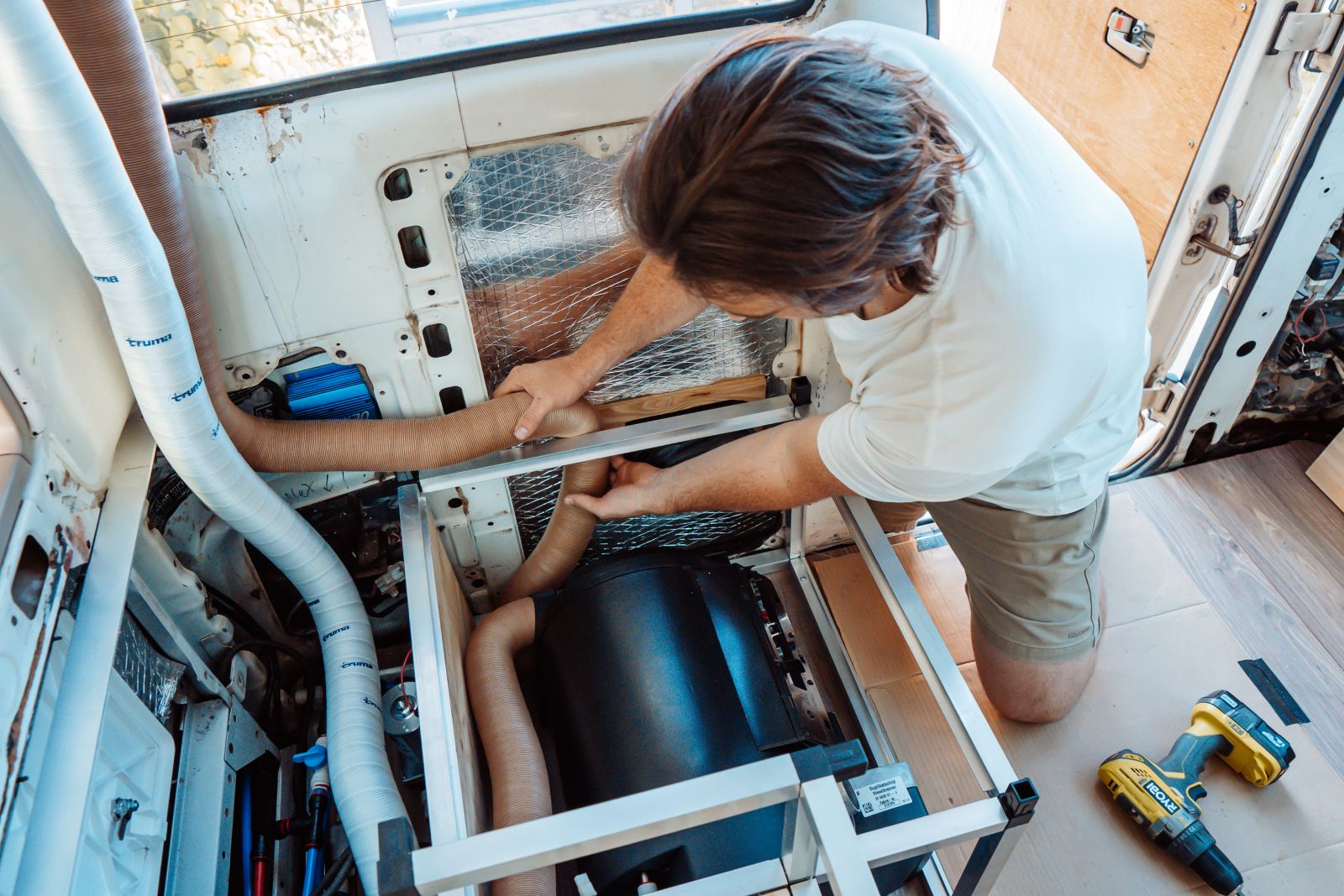 Either way a heater for your caravan will have you out and about in the Winter months and not just chasing the warmer weather. With a vast range of heaters available at Caravan RV Camping, you can be travelling all year round and keep the toes warm no matter what the temperature.
If you need some help on deciding whether to go for a diesel or gas heater for your caravan or RV, give us a call on 1800 787 278 to discuss with one of our experienced staff.
-
DISCLAIMER* Please note, this advice is general in nature and we strongly recommend consulting the product manual and where relevant, a professional installer.
---
Comments (5)
Noise Limits

I have a Warmda diesel heater fitted, it is great little worker except for the noise it makes at start up, sounds like a jet taking off so I don't like to use it when near other campers. You didn't state the noise levels of the gas models, are they significantly quieter?

By:

Andrew Morom

on 21 June 2023





www.caravanrvcamping.com.au Response
Hi Andrew, I have used a Truma Gas Heater this winter for a short time and noticed it does make a little noise when it kicks in as well, not quite like a jet but noticeable if you are a light sleeper. Any heater with an ignition and fan will make noise both in diesel and gas.
---
Gas Heaters.

I was told that gas heaters were not compliant in Queensland .Is this true?

By:

TERRY FORSTER

on 19 June 2023





www.caravanrvcamping.com.au Response
Hi Terry, all gas heaters we sell on our site at Caravan RV Camping are all compliant to be installed in Australia and all states. Noting they need to be installed by a certified gas fitter. It is always advisable to purchase from a reputable company to ensure your purchase is compliant. Especially when it comes to gas
---
Butane V LPG (Propane)

Can you clarify the comment made about Butane having problems in low temps please (ie -2degrees). Whilst I agree this is the case I was under the impression that most gas heater run off propane that does not suffer the same ignition issues as butane??





www.caravanrvcamping.com.au Response
Hi Marc, sorry for the confusion. The gas heaters we do sell at Caravan RV Camping will operate at temperatures below 0 degrees.
---
Kimberley Karavan Diesel Heating

We purchased a second-hand Kimberley Karavan at the end of 2019 and soon discovered it's "heater" was useless in the Victorian High Country. The van's so called heating was off a hot water coil from the diesel hot water service. Whilst the hot water unit was very good the coil and its fan put out very little heat! We subsequently had an Eberspacher Airtronic diesel heater installed and cannot speak too highly about it - made a month long trip in Tasmania at the end of Autumn (between lock downs in Victoria) a pleasure rather than a pain (very cold down the West coast and at Lake Pedder). A 15,000km trip last year saw us use a total of 9L of diesel for the heater, the hot water service and the Webasto diesel cooktop.

By:

David Price

on 18 June 2023





www.caravanrvcamping.com.au Response
Hi David, that is great news that the Eberspacher performed so well for you. It is great to hear feedback of people caravanning in the Winter time and being comfortable. Enjoy the great outdoors!
---
Fuel consumption

Hi Was the fuel consumption really 10 litres per hour ? Surely this is a typo !





www.caravanrvcamping.com.au Response
Hi Ted, Great pick up! That is a typo. It can use as little as 0.10 litres
---
Leave a comment