Gas Heaters VS Diesel Heaters
When it comes to heating your RV, the most common question we are asked here at Caravan RV Camping is which is the better way to heat your van; gas or diesel?
Unfortunately, one is not necessarily better than the other when it comes to heating your RV. Selecting the best heating option for you really depends on your setup, travel style and the temperatures you plan on using your heater in.
There is a number of brands available on the market, however, at Caravan RV Camping we offer the Truma Vario Gas heater and the Eberspacher Diesel heaters. This is because of their proven performance and reliability for years to come, giving you peace of mind once installed into your caravan or RV.
Factors to consider when choosing between a gas heater and a diesel heater for your caravan or RV:
What temperatures will you be travelling in?

What is the size of your vehicle?

Available space for installation

Availability of fuel sources- do you already have a diesel fuel tank or gas bottles installed and if so what size is available? Will this be enough to sustain your required usage.

What appliances are already installed in your van? Will the heater you choose place a strain on your existing fuel source?

Your budget- don't forget to factor in the cost of installation of the unit into your vehicle.
Let's do a quick comparison at a glance between the Truma Vario Gas Heater and the Eberspacher Diesel Heaters; D2 single outlet and D4 triple outlet.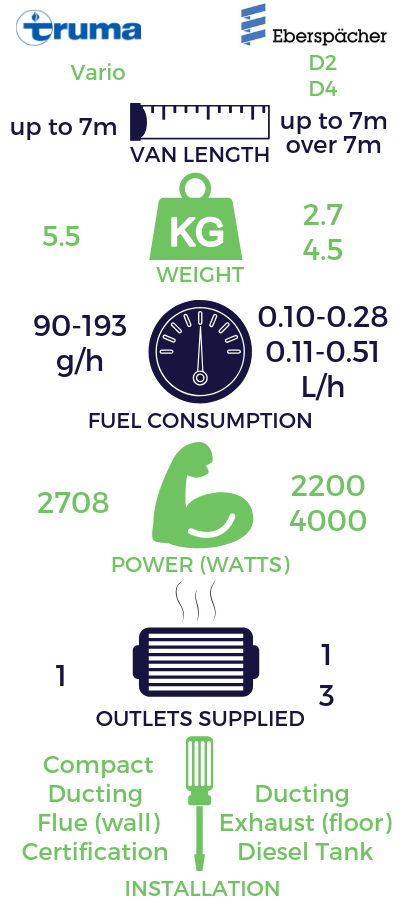 Note: You can add additional outlets and ducting to the Truma Vario if your van length is larger than 7 meters.
Truma, do also offer additional units which are a combination air heater and hot water system.
If you need some help on deciding whether to go for a diesel or gas heater for your caravan or RV, give us a call on 1800 787 278 to discuss with one of our experienced staff.
DISCLAIMER* Please note, this advice is general in nature and we strongly recommend consulting the product manual and where relevant, a professional installer.