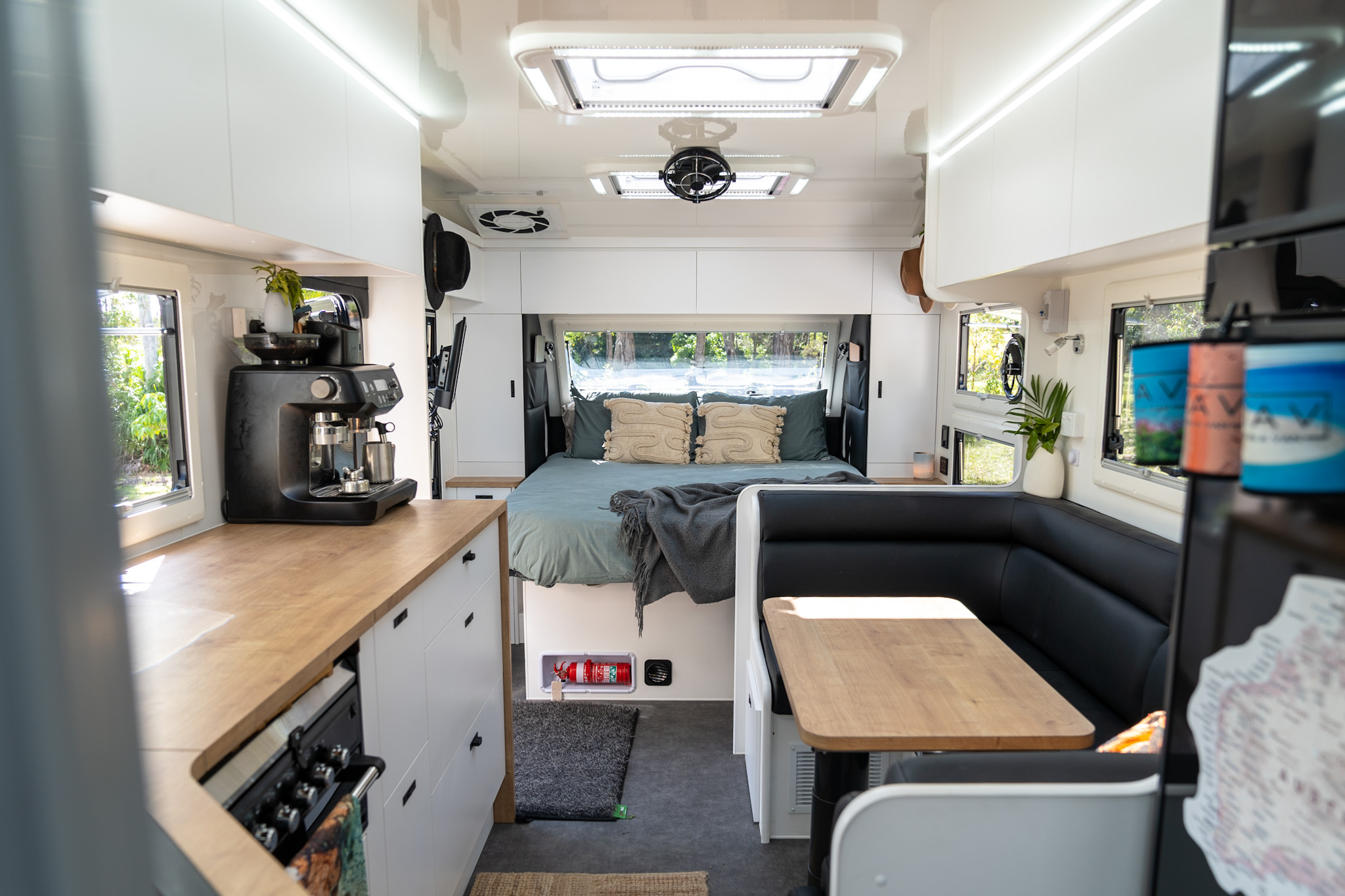 Being off the road is the perfect time to give your caravan some TLC. Your caravan renovation can be as simple as replacing and upgrading some essential appliances. You'll be amazed what a difference a new caravan fridge or cooker make to your next adventure.
So, what should you upgrade? Put these items on your list for a stellar caravan renovation:
Upgrading Your Caravan Fridge
Why Upgrade?
Take a good look at your caravan fridge.
Is it old and inefficient? Look at how much energy it draws.

Is it broken – maybe the door doesn't close properly?

Is it noisy?
If you tick any of these boxes, use your caravan renovation to get a new fridge.
Many caravanners are replacing an old three-way absorption fridge for a two-way compressor fridge. Here's why:
Compressor Fridges VS Absorption Fridges:
Cooling Power: Two-way compressor fridges provide more consistent cool temperatures than a three-way gas fridge, which makes them ideal for road trips. They also perform better in the hotter environments you'll find around Australia.

Convenience: A compressor fridge can be run from a variety of power sources, including 12/24V battery source, 240V mains power or a generator.

Efficient on DC Battery Power: Speaking of power, compressor fridges run more efficiently on DC battery power than gas fridges.

Work on Uneven Terrain: Parking on uneven terrain? That's no issue for most compressor fridges, whereas absorption fridges need to stay on level ground due to the gas cooling system.

Installation: Because they are powered by gas, 3-way absorption fridges must be installed and certified by a qualified, licensed gas fitter. A 2-way compressor fridge can be installed according to the steps in the instruction manual.

Safety: If gas fridges is not installed correctly, it can be a huge safety risk.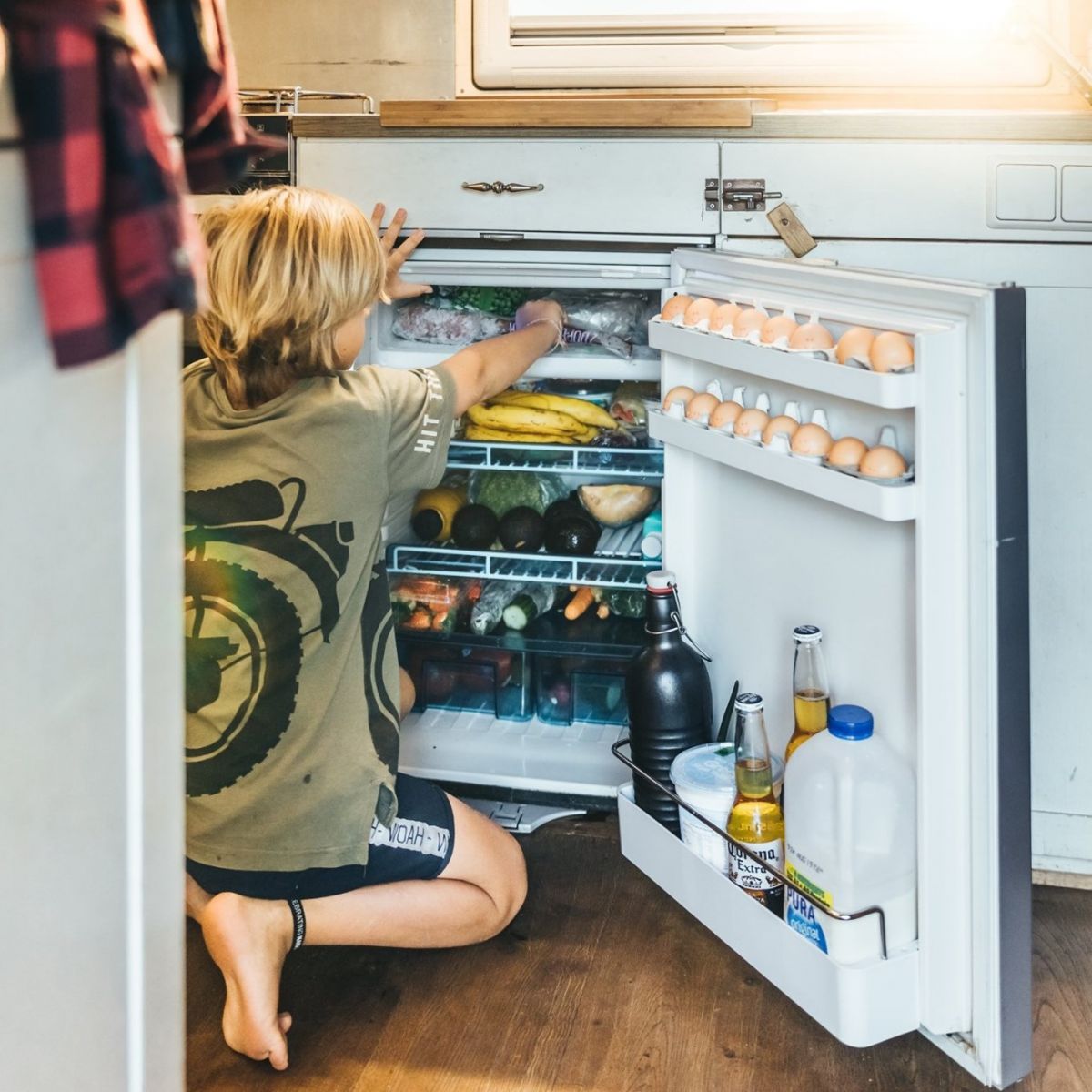 Upgrading Your Caravan Air Conditioner
Why Upgrade?
Check your caravan air conditioner:
Is it inefficient? Look at how much energy your air conditioner draws.

Is it broken? Does the remote work? Does the fan work?

Is it noisy? Does you air con keep you up at night?
If you tick any of the boxes above, it's time for a new caravan air conditioner.
Maybe you don't have an air conditioner and have been suffering through hot, sweaty trips in your van for years. Now is the time for air con! Air con is not a luxury – it's a necessity for anyone spending long periods travelling in a caravan.
For your caravan renovation, we highly recommend one of the latest models on the market. These units are highly efficient and super QUIET. That means no more sleepless nights just to try to stay cool.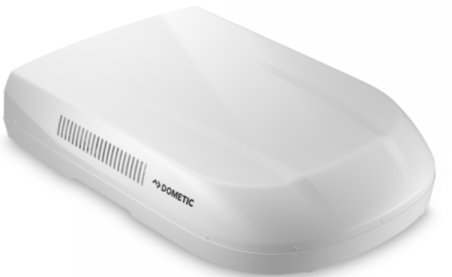 Here are the advantages of the latest air con units:
Streamlined design – These models come with lower profiles to minimise damage risk from overhead obstacles such as low branches. It also means you can drive into lower clearances in garages, car parks and carports.

Lightweight – The latest air con models are constructed from lightweight EPP material, so you're not adding unnecessary weight to your van.

Inverter technology in the compressor - The benefit of this is their start up power requirements are significantly reduced, which means you don't need a massive noisy generator to run them when you're set up off-grid.
Upgrading Your Caravan Battery System
Why Upgrade?
Check your caravan battery system:
How much space does it take up in your van?

How heavy is it?

Do you find yourself struggling to run all the appliances and electronics you want?
If you ticked any of the above, consider replacing your old AGM battery with a lithium battery.
The reasons for a lithium battery over an AGM battery are clear:
Cost – Yes, lithium batteries are more expensive than AGM batteries BUT you get more bang for buck. It all comes down to efficiency. Lithium batteries have higher performance, better longevity and require practically no maintenance. Your dollars are well spent!

Capacities – The biggest reason to buy a lithium battery is because it provides more energy in a smaller capacity compared to an AGM. In other words, you need far more Amp hours in an AGM battery to get the same amount that a Lithium battery offers. Take a look:

100Ah Lithium = 160Ah AGM

125Ah Lithium = 200Ah AGM

200Ah Lithium = 360Ah AGM

Depth of Discharge – Lithium batteries have a higher depth of discharge compared to an AGM battery, so you get more power in the long run.

100Ah of lithium gives you 80Ah

100Ah of AGM gives you just 50Ah

Life Cycle – Buy a lithium battery and you get almost double the life cycle of an AGM battery. Even though AGM batteries are cheaper in the short-run, you will need to replace an AGM battery sooner than a lithium.

Size & Weight – Want to save space in your caravan renovation? A lithium battery can save you up to 70% of the weight and volume of an AGM battery with a similar capacity. That's a huge difference! It comes down to the higher amount of lead in an AGM battery which makes them heavier.

Applications – This is where AGM batteries win over lithium. AGM can be used for cranking and deep cycle applications, whereas most lithium batteries cannot and should never be mounted under the hood of a vehicle.
Upgrading Your Caravan Solar Panels
Why Upgrade?
Inspect your caravan solar panels:
Are your panels old, worn or damaged?

Have your panels stopped working reliably?

Do you find your panels are not as efficient as they should be, even in full sun?
If you ticked any of the above, it could be time to upgrade your caravan solar panels.
Take a look at some of the many affordable and highly efficiency solar panels on the market. You can choose from fixed, flexible, portable and folding panels depending on what best meets your needs.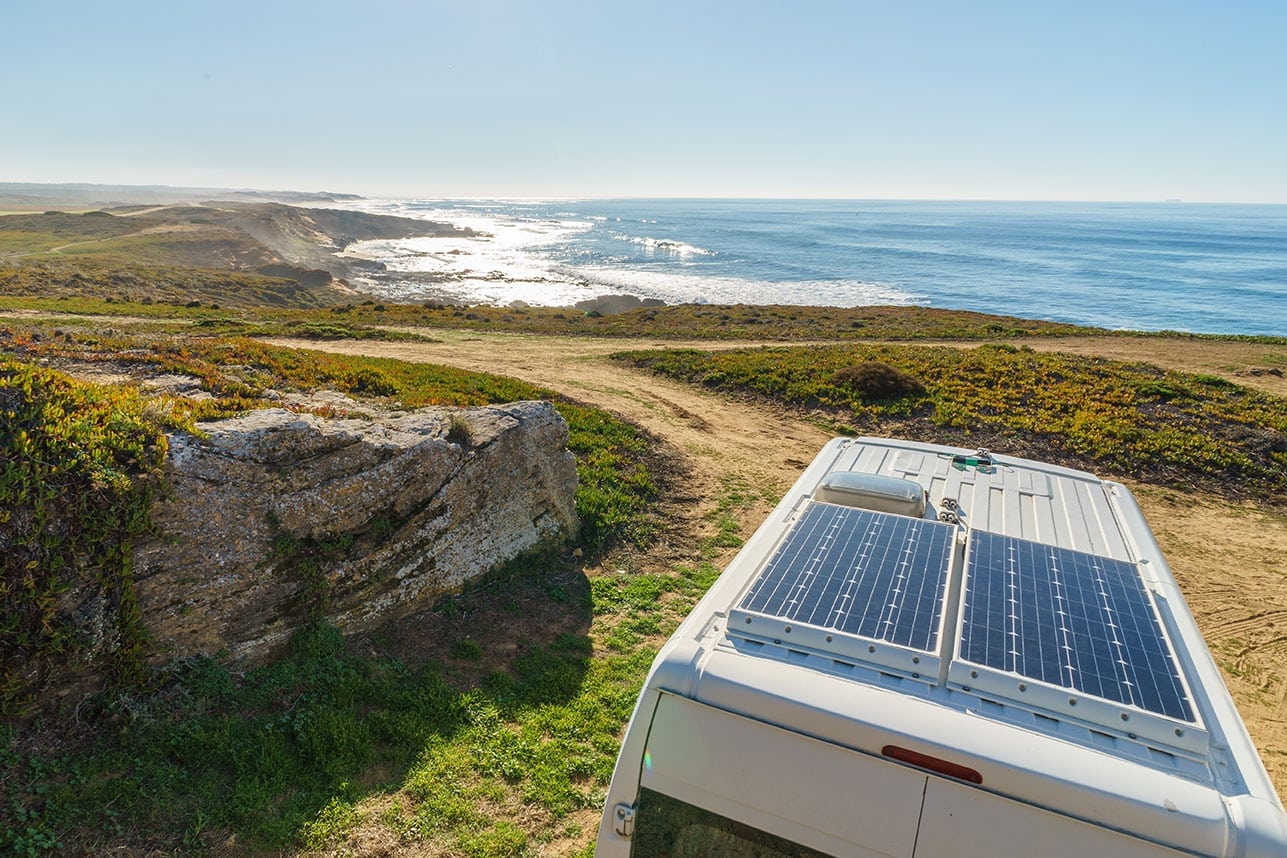 Start by working out how much power you need. Your needs have probably changed since the last time you bought solar panels so use this time to get what you need to power appliances.
To calculate what size solar panels you require, look at what appliances you want to run, their power draw and how many hours a day you want to run them. Then, calculate the total daily consumption of your appliances and look at the solar panel capacity. You want the amps in to be higher than the amps out.
Next, look at the types of panels.
There are four types of solar panels to choose from:
Upgrading Your Caravan Hardware & Accessories
Why Upgrade?
Have you always wanted a brake controller or reverse camera?

Want to increase the security of your caravan?

Want your life to be easier and more secure on the road?
Use your caravan renovation as a time to invest in some gadgets that will make your life easier on the road.
Here are our top picks for caravan hardware and accessories:
Windows & Doors – You can't put a price on security. Invest in high quality doors and windows for your caravan to ensure your valuables are secure.
When replacing caravan windows, start by making sure you have the exact dimensions of the cut out. Make sure you know the number of your current window – you'll find it in the top corner, for Dometic / Sietz S4 and S7 windows.
Awnings – Adding an awning to your caravan can add a whole new dimension to your adventures. You get the bonus of additional space and can enjoy the great outdoors with new friends, while staying protected from the harsh Australian sun. Consider adding a privacy screen or annex to your awning for a more enclosed space. Think of it as an extra room!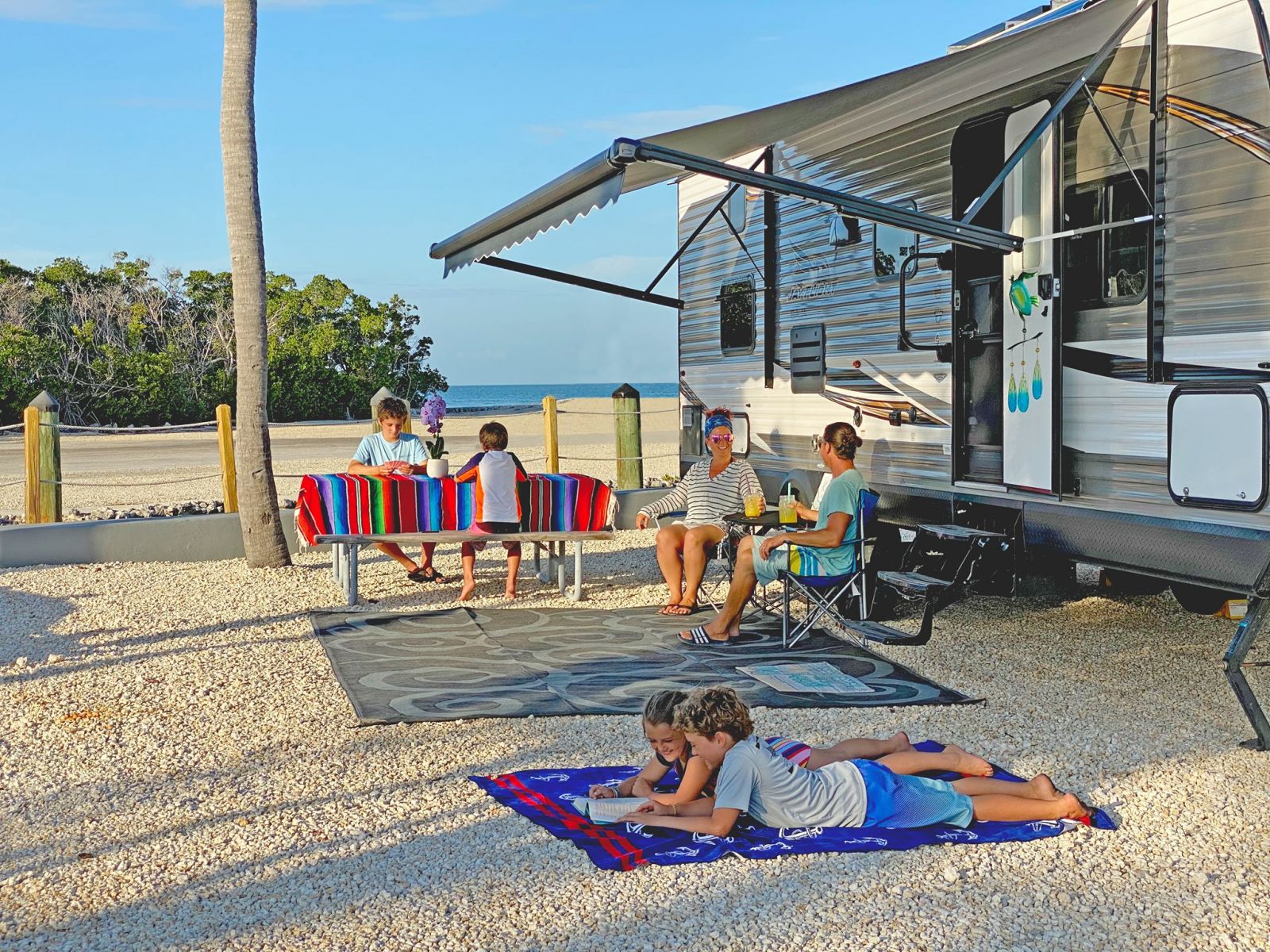 Caravan Covers – Using a cover to protect your van from the harsh Australian climate is a non-negotiable in our books. Your caravan is a huge investment and you should take steps to protect it properly. Measure your caravan to find out which one is best for you. Simply measure the caravan's body parallel to the ground from the rearmost to the foremost point of the body. Do not include the A-frame, tool boxes, gas bottles etc in these measurements as these items can cause tearing on the cover.
Towing Mirrors – This essential item allows you to view the entire length of your caravan while driving and stay safe on the road.
Brake Controller – We can't recommend a brake controller enough for safety. It is mounted to your tow vehicle and sends an electric current to the caravan's electric brakes to make them operate, so you have more control over the caravan you are towing.
Levelling Ramps – How many times have you tried to sleep or cook in an uneven caravan? It's very frustrating! That is where the ramps can be very handy.
Need more ideas and tips for your caravan renovation? Contact us.
DISCLAIMER* Please note, this advice is general in nature and we strongly recommend consulting the product manual and where relevant, a professional installer.
---
Comments (1)
Refurbishment

We are thinking of repainting the interior of our veneered caravan. How do you prepare the veneer surface for painting. Is it better to spray paint or hand brush these walls and the cupboard surrounds.





www.caravanrvcamping.com.au Response
We aren't specialists in paint and surfacing so it would be best to speak to your local paint specialist for the best advice
---
Leave a comment