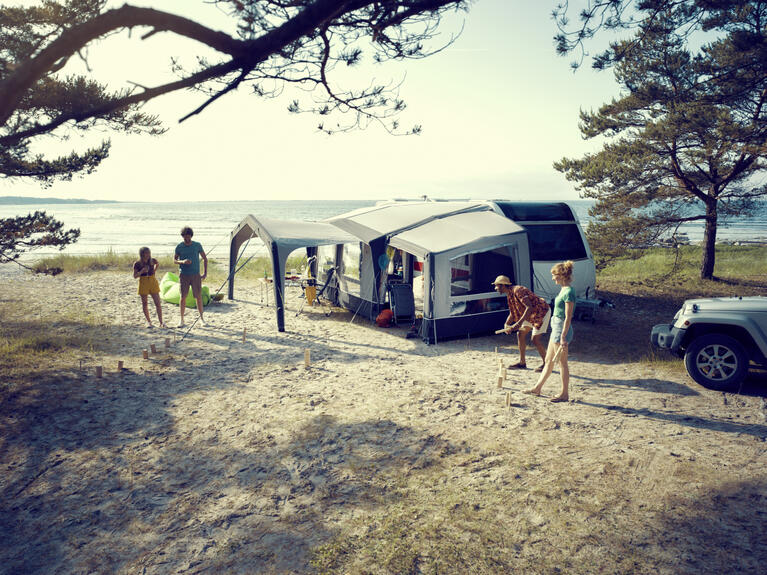 Adventure seekers rejoice! Dometic has launched a new range for campers.
A market leader in caravan appliances and hardware since the 1960s, Dometic has made a big name for itself in caravan equipment. If you're looking for caravan fridges, portable fridges, caravan air conditioners, caravan awnings, caravan slide out kitchens and much more, you just look at a Dometic review and they go straight to the top of your list.
With all this outdoor experience, it's no surprise they've put it to good use by creating a camping range.
We're talking practically everything you could need for an epic camping adventure – tents, awnings, camping furniture, portable cooking appliances, generator and battery charger.
Our experts have checked out the range to see how it performs, and we've got to say – it's impressive!
Here's Our Dometic Review:
Inflatable Tents
Inflatable tents are at the cutting edge of camping. Remember all those times you spend hours trying to put up a tent, fiddling around with poles in the rain and wind? Those days are long gone.
The best thing about Dometic inflatable tents is how quick and easy they are to set up and pack down. It comes down to the Innovative AirFrame technology together with multi-inflation points. Not only do the AirPoles inflate individually, but Dometic tents also feature a quick-pitch guiding element so you don't have to manually guide them. It all goes up in a matter of seconds!
There are different tent types and sizes depending on who you are camping with. You can choose the Dometic Hayman 4-person or Dometic Daydream 6-person – both are made using with Weathershield™ 68D material for incredible durability and weather resistance (including UV protection) while still being lightweight. The Daydream comes with an enclosed front entrance meaning you get a large indoor space when the weather isn't playing nice, and a large open porch on sunny days. Each tent package comes with a fitted carpet and footprint too.
For your next family trip, the Dometic Stradbroke range is a great choice. Available in a 4-person and 6-person tent, the Stradbroke design is tall enough for adults to stand up and is made from a Weathershield cotton, which is breathable and prevents condensation. You also benefit from increased airflow thanks to the multi-level ventilation flyscreens. Perfect for a great night's sleep!
Rooftop Tents
Next up in our Dometic review is the rooftop tents. Rooftop tents have come a long way in the past few years with 4WD enthusiasts realising how incredibly convenient and easy they are. Now Dometic has added its own models to the market – and they're good. Really good.
There are two rooftop tents in the range – the Dometic TRT140M and Dometic TRT120E. Both are big enough to sleep two people comfortably on a high-density foam mattress. You also get an integrated fly screen and PVC tent cover which ensures your tent is water resistant and boasts a UPF 50+ protection from the elements.
The main difference between the models is how you set them up. The Dometic TRT120E features electric set up (that's what the E stands for). With 12v operation and a wireless remote control, you can assemble the tent in a matter of minutes, whereas the Dometic TRT140M is manual (that's what the M stands for).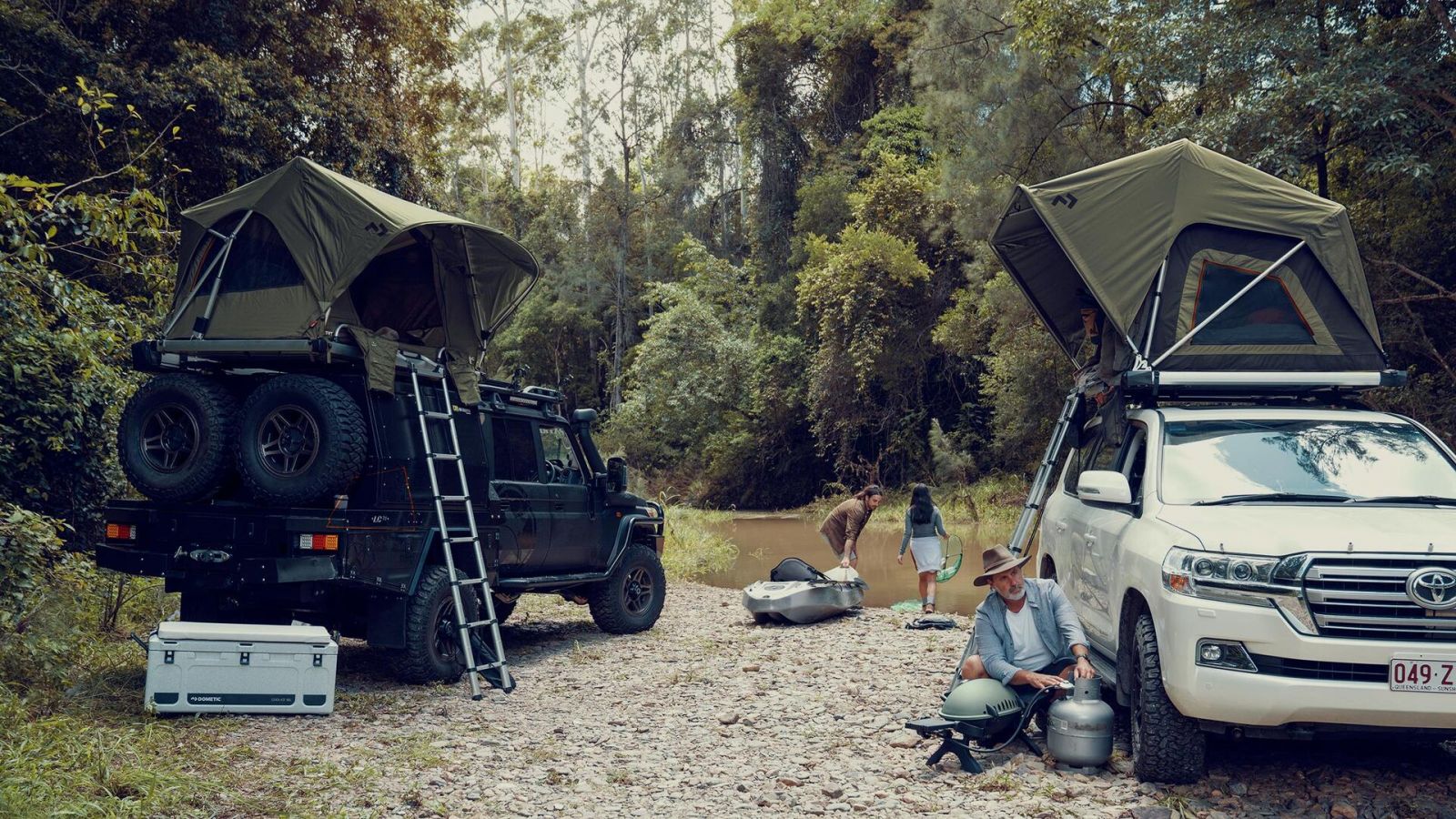 Rooftop Tent Awnings
To extend your outdoor living space, Dometic has added a range of rooftop tent awnings. They are easy to set up (no surprises there!) and constructed from durable water-resistant and UV-resistant material.
Choose from the Dometic TCA100 for a classic awning design or the more multifunctional Dometic TMA100 awning, which can be set up as an awning or a privacy room.
Inflatable Awnings
Speaking of awnings, Dometic now offers an extensive range of campervan, motorhome and SUV awnings to give you extended space on the side of your vehicle. All of them feature the innovative inflatable AirPole technology and a pump included.
For your campervan, the Dometic Sunshine AIR Pro VW is a solid choice. For motorhomes, check out the Rally static awning, which comes in two different sizes: 2600mm wide awning or 3300mm wide awning.
If you want to leave the awning standing while you move your motorhome, that's possible with the Dometic Rally Driveaway awning range. Again it comes in 2600mm wide and 3300mm wide models.
And for all those daytrips and camping trips where you want to add living space to your vehicle, Dometic offers a Tailgater Air Inflatable Awning for SUVs. You can even zip it up and drive away!
12V Pump
You can't inflate your tents or awnings without a pump. Dometic has that covered with a special 12v pump. Simply plug into a 12v power source and use the extra-long cable to reach your tent site. Then, it's easy to set the required PSI for your tent or awning.
Cooking Appliances
Dometic is making it easy for you to cook up a feast while camping with new portable cooking appliances.
The range has four models for you to select from, depending on how you like to cook.
First up, there's a portable gas stove and portable gas stove with grill which boast impressively high heat outputs. Plus, you can start them with the push of a button thanks to the Piezo ignition. (Coming to our online store soon!)
For something a big bigger, you can't go past the portable gas oven and stove. As you'd expect if you've read any Dometic review, design quality is top-notch. All three portable gas stoves include windshields made from powder-coated pressed steel so you never have to worry about the flame going out mid-sizzle!
Then, there's a portable gas BBQ. Ideal for cooking meats and veggies when camping, it features a large cast iron cooking surface and powerful heat output.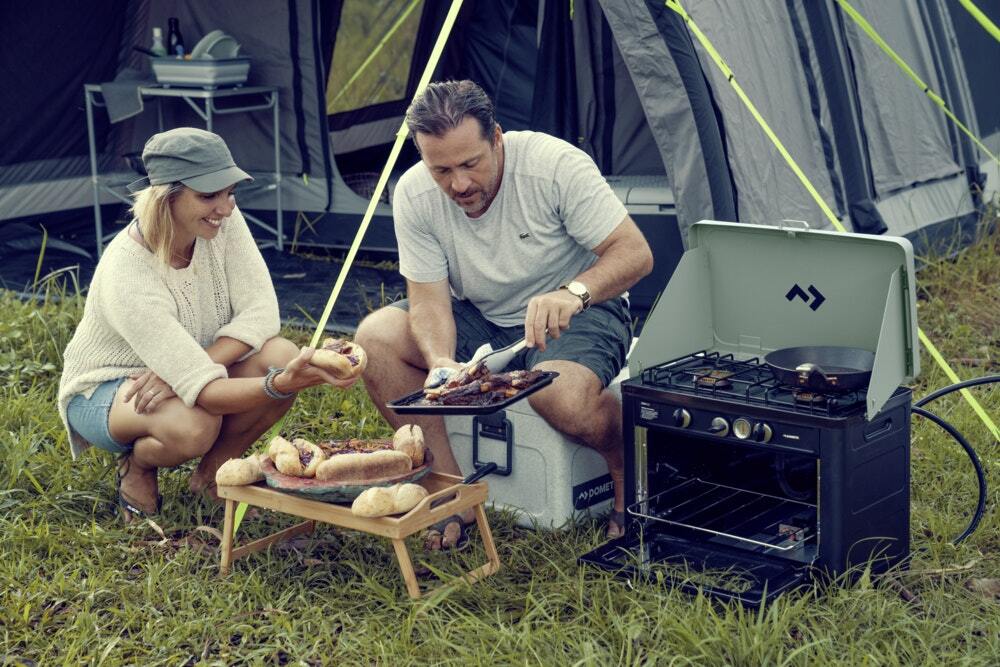 Camping Furniture
Last but definitely not least in this Dometic review, we have camping furniture. Table, chairs, and even a stretcher camping bed – Dometic has thought of everything to help everyone relax at the end of a big day exploring.
All the furniture is designed with adjustable legs for stability on uneven ground. And it shouldn't surprise you by now to find out that they have been designed for quick and easy setup, meaning you'll enjoy even more time to relax from the very start of your trip.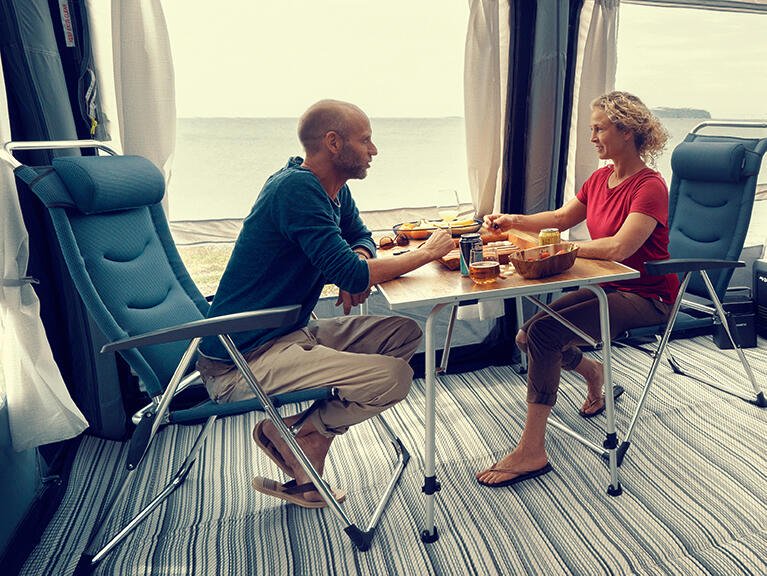 Portable Battery Charger
Time to take our Dometic review to the tech side of your camping trip – the battery charger. The PBC110 is the brand's first portable battery charger designed for camping trip and outdoor adventures. In other words, it's not for you to install in your vehicle.
Whether you have a lithium, AGM, gel or sealed lead acid battery type, this battery charger will keep your power charged up.
Want to know our favourite feature? This charger is an adjustable rate charger meaning it can be switched between 2amps, 5amps and 10amps (which is why we love it).
There's added protection against reverse polarity, short-circuiting and internal overheating, so you can rest assured your battery and gadgets will be safe. The PBC110 is also incredibly lightweight and compact.
Generator
Dometic knows exactly what it takes to keep camping appliances running – after all, they are one of the top caravan appliances brands in the market! So, you can expect a positive Dometic review for their new inverter generator.
With a maximum power output of 2100W, the Dometic PGE121 can run ANY Dometic caravan air conditioner. That alone is reason to buy it. Most caravan air conditioners require a 2400W generator, but this one does the job for Dometic air conditioners.
Pure sine wave inverter technology means you can run even the most sensitive appliances, with three output types: 12V DC, 240V AC or USB. The Dometic PGE121 can even be stored on its side, so you can maximise your space.
Another top feature is the clever eco-mode technology which adjusts the engine RPM based on the connected load. For you, this means maximum fuel efficiency and minimal noise.
This generator even comes both an electric start and recoil start – there is no other portable generator of this size on the market with electric start!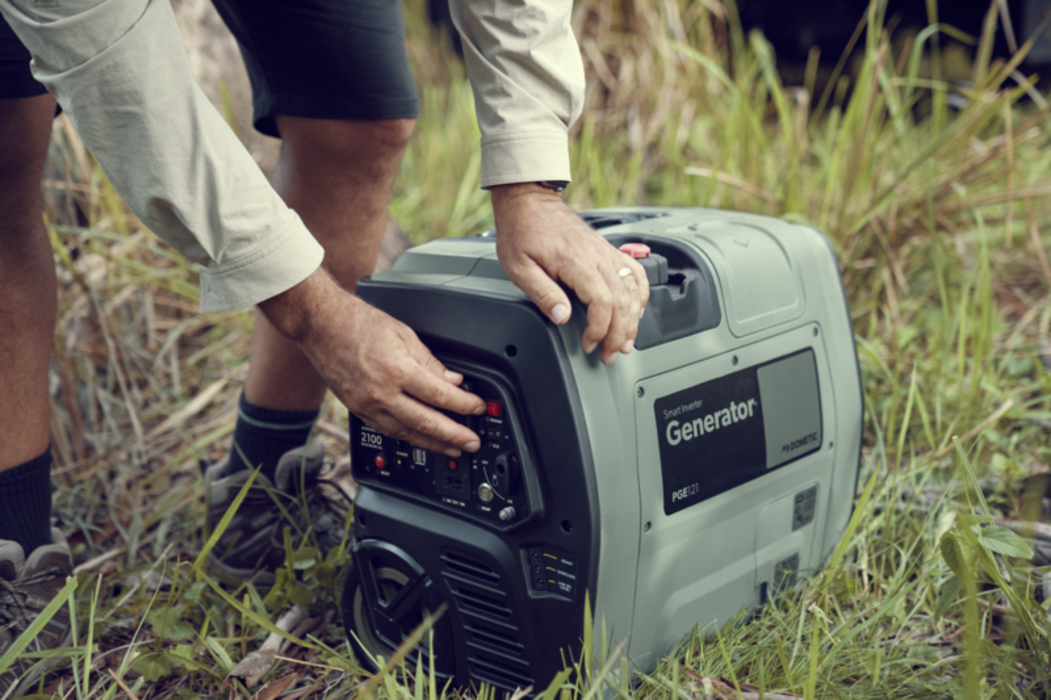 The Verdict
Dometic really does have the outdoors covered with the new camping and leisure range. If there's one thing our Dometic review shows, it's everything has been designed everything for complete ease– from setting up the tent and awning, to cooking and eating!
DISCLAIMER* Please note, this advice is general in nature and we strongly recommend consulting the product manual and where relevant, a professional installer.
---
Leave a comment