Solar vs Solar vs Solar. How do you choose?
Over the last decade there has been a large increase in the solar options available on the Australian market for those of us who choose to get out and enjoy this beautiful country. Whether it's off to your favorite local camp ground that has the perfect quiet spot by the river, you enjoy travelling the Old Tele and tackling Palm Creek or seeing if you can make it over Big Red in the Simpson. Commonly, to all of these amazing spots it is getting away from the world we are all used to and not always having easy access to a reliable source of electricity.
An easy way to solve this is an auxiliary battery or two and having a way to recharge them when you are sitting back and enjoying this beautiful country.
What is the best way to recharge your batteries? The quiet, simple, cheap and reliable answer to this is solar. However, how do you pick from the hundreds of options on the market. I will try and sort through a few of the big options on the market and see what hints and tips I can give away as well.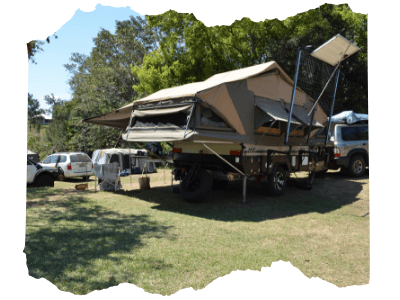 Comparing All Three Solar Panel Types
To compare the solar panel options, the common factors people will compare include cost, size (physically speaking as opposed wattage), weight, setup time, daily power output and securability (how easy is it to steal).
Lowest value for money is solar blankets, as the newest and technically hardest to manufacturer there is a price premium that relates to this product. As we are seeing in increase in popularity for these, we are already starting to see lower cost versions come to market.
The cheapest option per Watt is a fixed panel, though with the competitive nature of solar power in Australia, folding kits are not far behind per Watt. Keep in mind with a fixed solar panel, you are normally buying just the solar panel, you need to supply cables, connectors, solar regulators etc.
So finally, folding solar panel kits are normally the middle ground, with a lot of possible movement in their pricing due to the different cost of extra components that can be bundled with the kit. Though if you are looking for good value and an option that is ready for use straight away, this is the way to go.
So purely on a pricing basis you have multiple options from basic entry level kits to more complete options all the way up to the ultimate option in performance, space and weight saving.
Personally, I have tried multiple different options in the folding solar panel market (80, 100, 150, 160 and 240 Watt and finally back to a 160 Watt kit). I also have a pair of fixed panels that were used successfully for a fixed roof installation on my 4wd which should be shortly repurposed for an install on a camper trailer. I have also looked at, sampled and tested multiple options in folding solar blankets, going back multiple years. I have found multiple interesting options recently but as I don't have a space or weight restriction, I have no current justification for the outlay for a solar blanket and therefore both folding and fixed solar panels are my personal choice.
Which Solar Panel is Right For You?
Like most things, it depends on your specific requirements, needs, space and budget. For most people a large set of 200 or 300 Watt solar blankets made from monocrystalline panels would meet your power needs and space requirements but then the budget needs to stretch to $1,000 - $2,000 depending on brand. Whereas a fixed panel of 100 Watts might be a bit low on overall power output and take up more weight but then might only be a tenth the cost.
Chasing the highest performing solar setup that suits most people, a 140 – 200 Watt folding solar panel kit is a good overall compromise, an average buy price with average space and weight while outputting enough for shorter trips or setups using less than 50 -70 Amps per Day.
Once you are looking to get away for longer periods of if you have higher power usage requirements per day (100+ Amps per Day) then you are probably heading into the realm of requiring fixed panels, with a total system of 300+ Watts.
You always have the choice of using a combination of products in your solar setup in order to get the best from each solar option.
It is becoming more common to see combined solar setups which may include a fixed roof panel that is big enough in most situations, and a smaller solar blanket that can be easily setup just in case a bit more power is required.
Solar Panels Compared
Folding Solar Panel vs Fixed Solar Panel vs Solar Blanket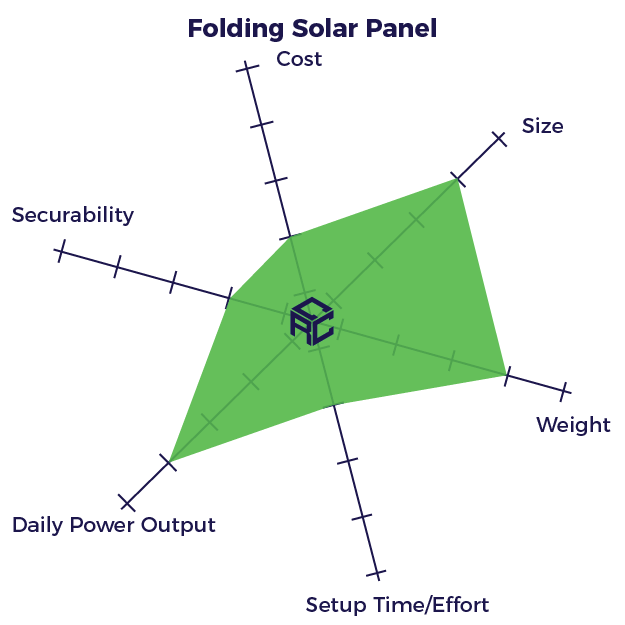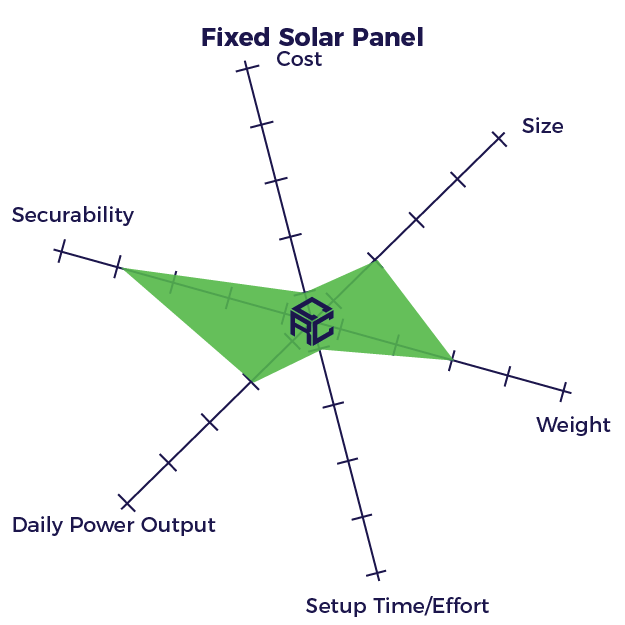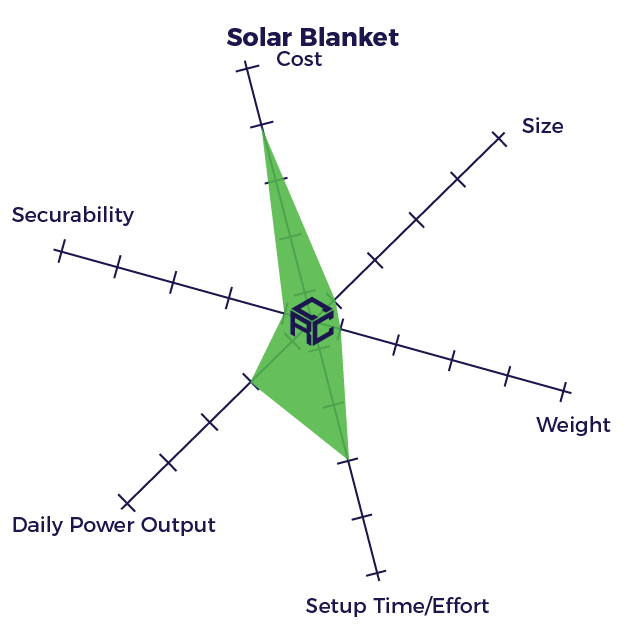 Solar Panel Usage Tips
With plenty of testing on both my own gear and Years of R&D testing on hundreds of different solar panel kits, I have picked up on and collected a few tips that can make a big difference to the possible output power of your solar panel kit.
Move your regulator as close as possible to the battery, even physically attach the regulator to the battery box
Reduce cable length from the solar panel to the regulator, 3 Meters is a good length
Fit each connection point with a 50 Amp Anderson Plug
Make a 5 Meter extension cable, with 50 Amp Anderson Plug at both ends
Select cabling as heavy as you can go, I would suggest 8mm Auto cable or 8AWG
You now have a simple solar panel setup, you have the flexibility of either setting up your solar panel 3 or 8 Meters away from your battery and you have maximised the output from your solar panels and regulator.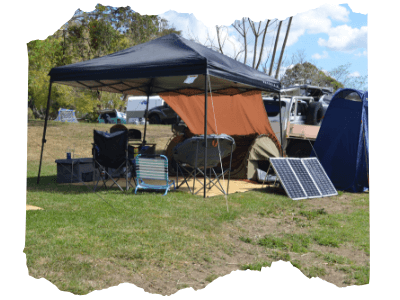 Now this has been a discussion on different options on the Australian market for solar panels but these have all been for monocrystalline panels. Polycrystalline panels used to be a cheaper option, though they have fallen out of favour a number of years ago as the pricing became very similar and generally monocrystalline panels are the better option as far as output goes.
The other option is amorphous panels, though not discussed above they have begun regaining some of their previous popularity, though they are still a more expensive option, and still typically only used for the folding solar panel options, again adding to their cost. Their main performance advantage comes down to use in partial shade environments, so if you just keep your panels in sunlight, you will find monocrystalline panels the best option.
Caravan RV Camping offer a variety of monocrystalline solar panels, available as fixed, folding or blankets. Brands of solar panels available include Baintech, Bushman, Camec, Coast, Dometic, Enerdrive and Evakool. Should you need any assistance in deciding on the type or size solar panel for your battery setup, give Caravan RV Camping a call on 1800 787 278.
Brodie Thompson
Brodie is an avid adventurer spending his weekends, four wheel driving or camping. From the hinterland to the beach, Brodie tackles it all. He has had a keen interest in electronics and technology since a young age and is always combining this knowledge with his experience and love of camping and the outdoors.