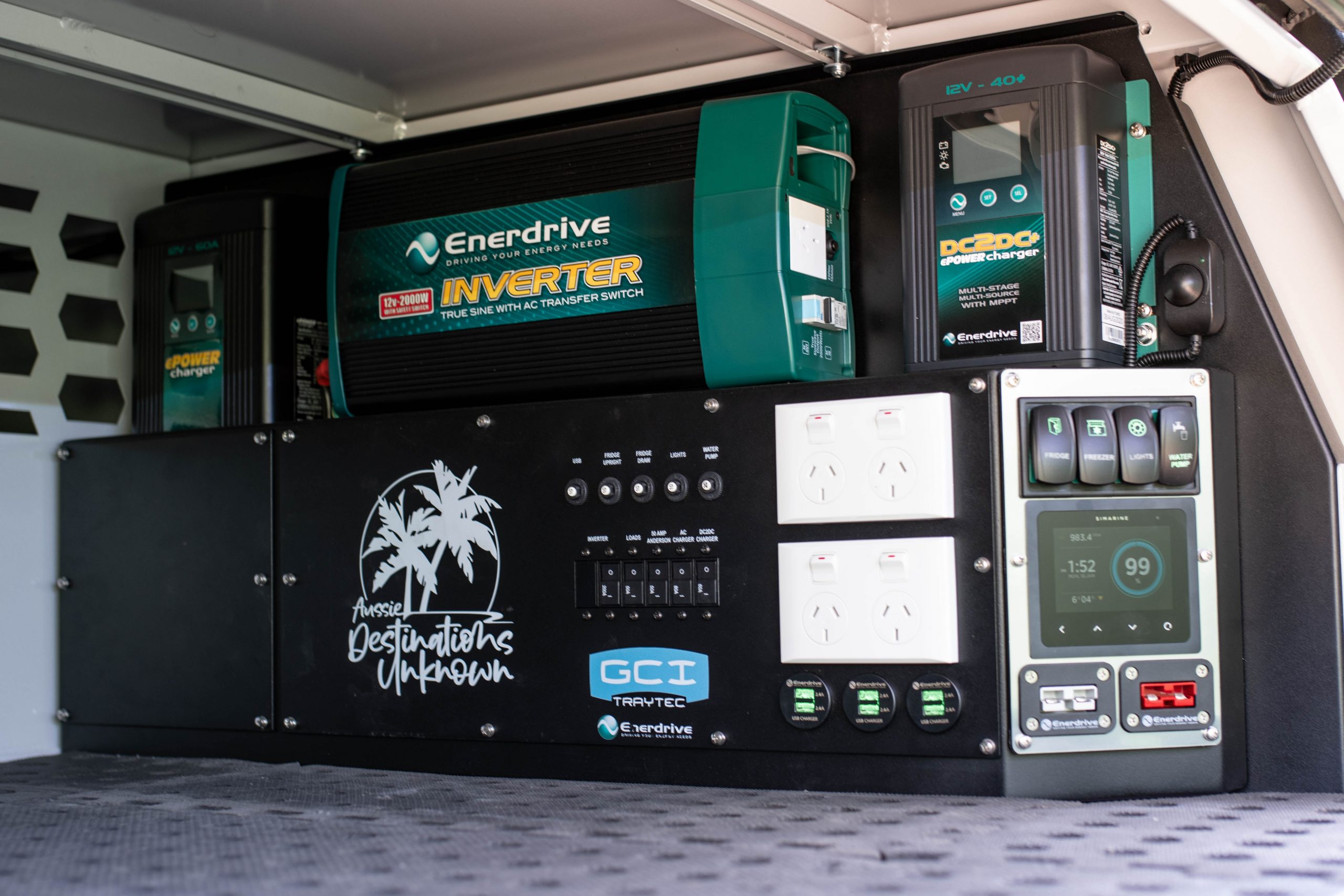 Any caravan or RV owner will tell you how important a battery management system is if you want to stay powered up on the road.
A battery management system will provide real-time performance data so you can manage your power usage and make sure you are never caught short.
All you need to do is open your phone app to monitor tank levels or see how many amps your fridge is drawing from the batteries.
But buying a battery management system can be overwhelming - there are so many features and options to consider, and a growing range of systems to choose from.
In this guide, we've done the hard yards for you. We've tested the best battery systems on the market and compared them to see which one is best for your off-grid adventures.
What Is A Caravan Battery Management System?
A Caravan Battery Management System is a central hub for all your battery charging, monitoring and protection. Depending on the system you choose, it can be one device with a display screen or multiple devices set up on a pre-wired board or box.
Whatever the set-up, you need to make sure your chosen battery management systems can do the following:
Charge your batteries from various inputs, such as solar, vehicle battery and 240V mains power.

Monitor water tank levels.

Monitor various parameters of your battery bank, such as voltage, depth of discharge, temperature.

Provide current draw data for appliances powered from your battery bank.
Which Battery Management System?
We've listed the top battery management systems according to the key things you need to look for:
Output current.

Battery compatibility.

Maximum solar input.

Warranty.
Check out our BMS comparison table below: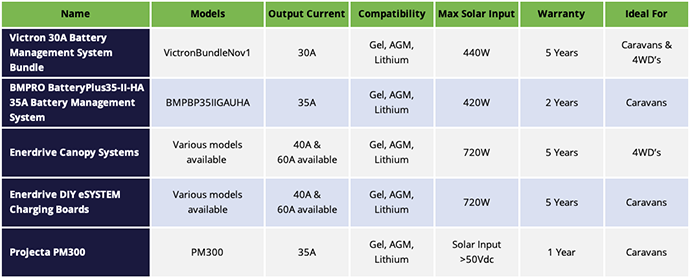 Let's take a look at the models in more detail:

Victron 30A Battery Management System Bundle
There's a lot to love about the Victron bundle - it's efficient and great for anyone who likes to manage their power system on their phone app. It also comes with a massive 5 year warranty.
What's in the bundle? You get a SmartSolar MPPT Charge Controller, Orion-TR Non-isolated DC-DC Charger and Blue IP22 Smart Charger. It also comes with a Bluetooth-enabled battery monitor ready to show your battery voltage, current, power, ampere-hours consumed and charge status.
If you don't require AC charging, we offer a more afforable bundle with a SmartSolar MPPT Charge Controller, Orion-TR Non-isolated DC-DC Charger and Bluetooth-enabled battery monitor.
BMPRO Battery Management Systems
The most popular battery management systems in BMPRO's range is the BatteryPlus35. It is designed to manage a dual battery set-up in caravans. Operating from 100-240V AC mains power supply, auxiliary battery and solar panels, it has a voltage output of 12V and can provide 35A to charge your batteries.
Compared to the previous version, the BatteryPlus35 also gives you high side current sensing, a single LED output indicator, better battery terminals, a reset switch, a 40 amp peak battery output rating and better over-voltage protection. There's a 40A rated uncontrolled +BRK battery output for loads with a higher current rating, such as heaters.
Best of all, this system is pre-wired with a mains power supply cord ready to use in powered sites. It's fully equipped to charge deep cycle batteries and work with solar panels.
The BMPRO J35 series features in a number of Jayco caravans around Australia. Jayco is a trusted name in the caravan world so you know you're getting a product that is going to last the distance. You may also find other leading caravan manufacturing brands use the BatteryPlus35. When looking into the J35 series be aware that if you are intending to charge lithium batteries you will need to pick from J35B-L or J35D. The J35B-L features 14 X 12VDC outputs, 35A maximum output current, and 20A solar input current. The system also has multiple battery protection features to keep your battery healthier for longer. The J35D is a bit more advanced with 14 X 12VDC outputs, 35A maximum output current, 30A maximum charging current, and 25 Amp solar input.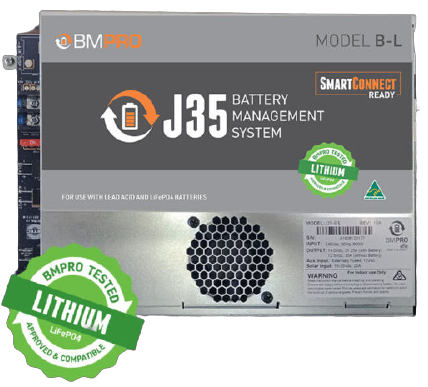 Pro Tip: The BMPRO Battery Management Systems require additional accessories to get the most of of your unit. Such as the JControl and JHub.
The entire BMPRO range is designed and manufactured in Australia for Aussie conditions.
If you do have an existing J35 set up and you would like to make the upgrade to lithium the BMPRO J35D BMS Existing Full Lithium Upgrade Bundle with MiniBoostPro 30A DC-DC Charger, JControl & B300 Shunt is for you.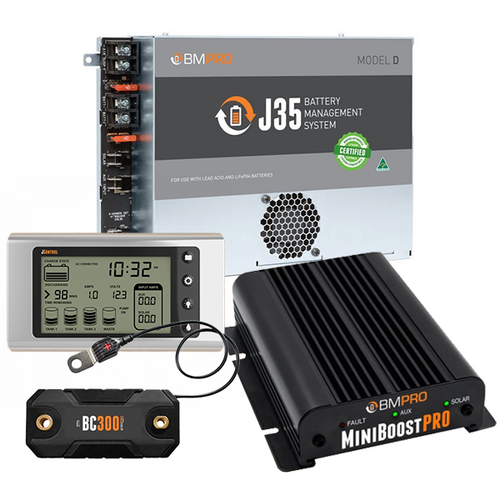 Enerdrive Canopy Systems
The powerhouse in Battery Management and Charging equipment for Caravan, RV and 4X4 is Enerdrive Australia. The reason why so many people are turning to Enerdrive is the rise of lithium batteries. Many people are doing away with their old AGM batteries and upgrading to Lithium. Enerdrive is the perfect partner to execute this upgrade.
Enerdrive has created six compact power solutions to run electrical equipment in the back of your 4WD, including a fridge, lights, and even a coffee machine. The Enerdrive Canopy systems mainly target the 4×4 market, but have been known to get installed into toy hauler trailers and camper trailers as well.
There are four models in this range:
The Explorer: The lightest and cheapest in the range, The Explorer gives you a minimum power option in a neat package. It features an ePOWER DC2DC 40+ Charger (Vehicle/Solar) with ePRO Plus Battery Monitor, Simarine LCD Battery WIFI Monitoring System and 4 pre-wired circuit breakers for main power equipment. The Twin USB 2.4A Hi Amp Sockets are very handy, as are the Pre-Wired Battery & Fridge Anderson Plugs. There's an option to add on the Water/Fuel Tank Module and replace one or both USB sockets with a Cig Socket. There's even a battery reset button in case you need to kick start your flat battery from the DC2DC charger.

The Traveller: The Traveller has everything from The Explorer, giving you more power plus an ePOWER 40A AC Charger. Unlike the Explorer, the ePRO Plus Battery Monitor is optional. As standard, this pack comes with a Simarine Battery Monitor and you can choose to swap it out for an ePRO Plus battery monitor or Simarine Battery Monitor and Quad Shunt Module if you prefer.

The Adventurer: Moving up a level, the Adventurer comes with 4 x Additional Circuit Breakers, ePOWER 40A AC Charger, ePOWER 2000W AC Transfer Inverter and Main System & Inverter Circuit Breakers. The downside is there are no Pre-Wired Battery & Fridge Anderson Plugs. Enerdrive also throws in four more circuit breakers for air/water pumps and main system and inverter Hi-Amp circuit breakers.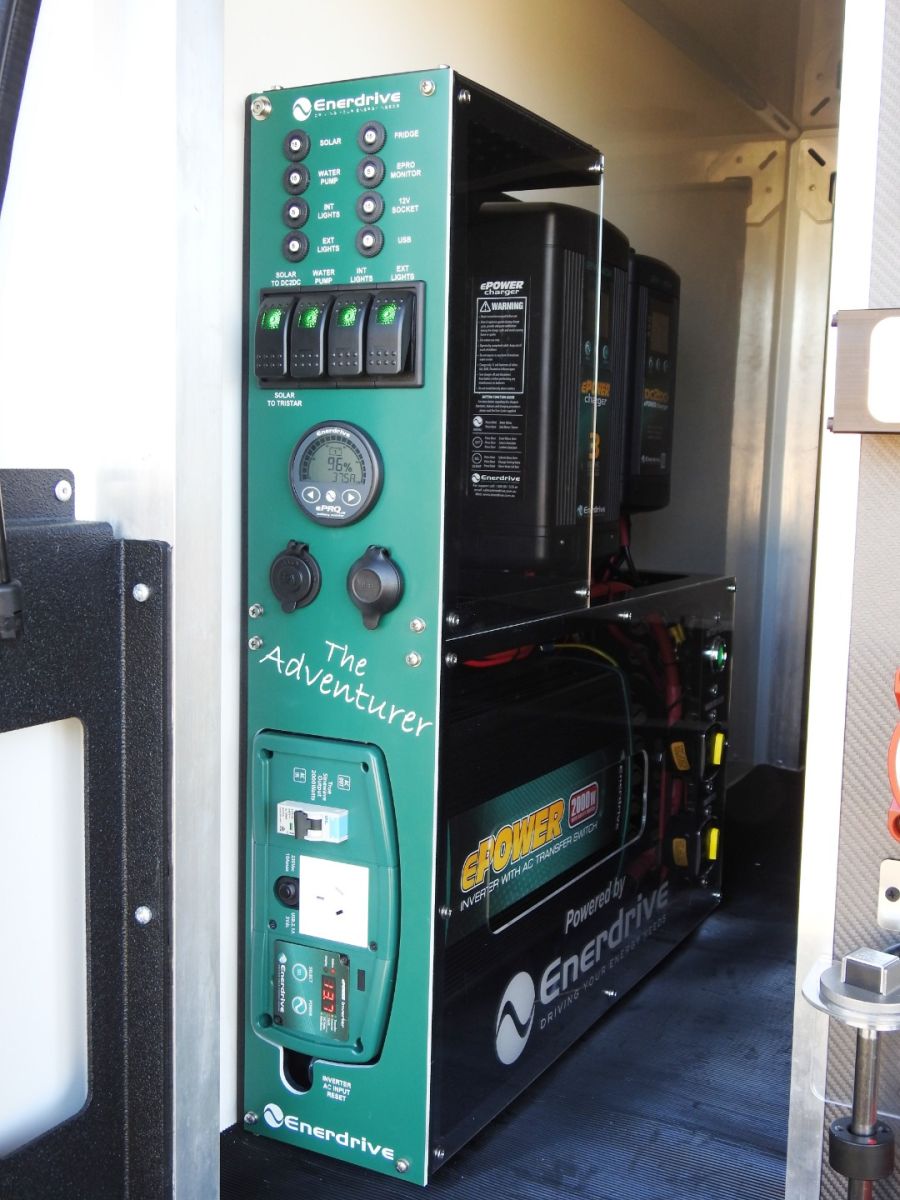 The Lackey: Think of this as the Tradie Pack, it comes with ePOWER DC2DC 40+ Charger (Vehicle/Solar) and ePOWER 2000W AC Transfer Inverter with a built-in RCD safety switch. You also get a Low Battery Cutout DC Loads 60A, 175A Anderson Plug Battery Input, a range of circuit breakers, and Ignition Input for Smart Alternator Equipped Vehicles. This all comes in a 3mm Aluminum Powder Coated Case Structure.
Compare all the features and inclusions below: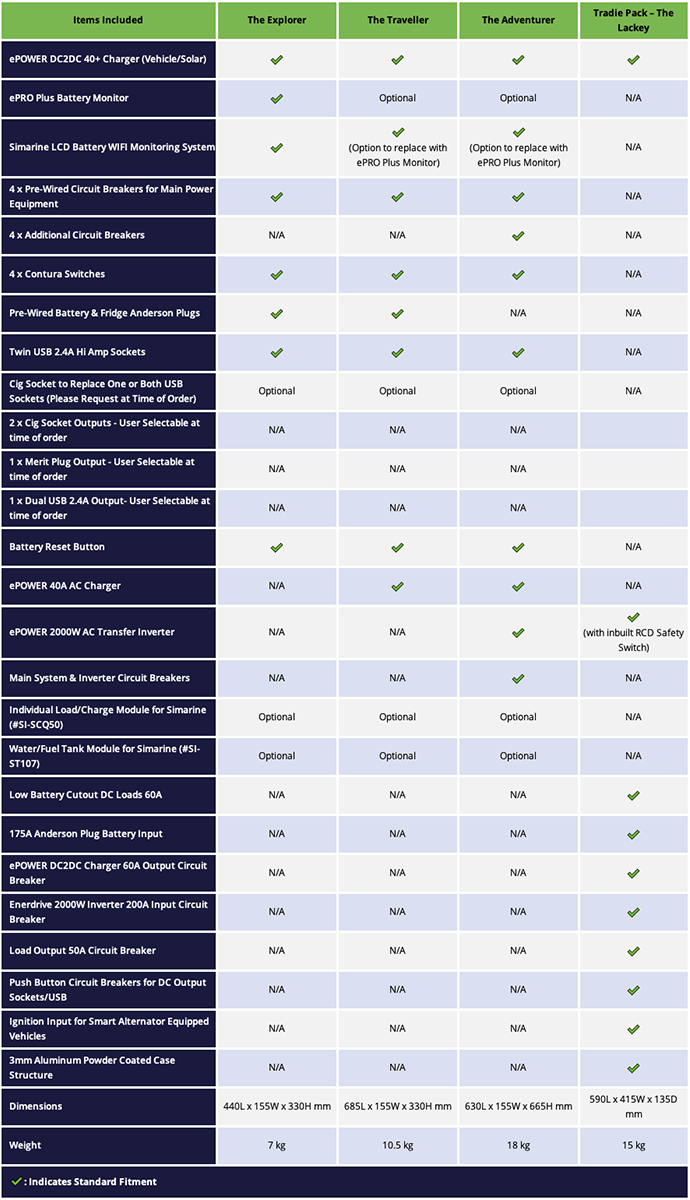 Enerdrive DIY eSYSTEM Charging Boards
If you're willing to give it a go yourself and have basic electrical knowledge, Enerdrive makes DIY Installation Kits which can be installed in 4WD canopies, caravans, camper trailers, and more.
There are ten board variations, with different layouts, dimensions and electrical components depending on what you're after. For a smaller board with AC & DC charging and battery monitoring, check out the Enerdrive e-System E.
It comes with a Enerdrive ePOWER 12V 40A DC to DC Battery Charger, 12V 40A Battery Charger, and ePRO PLUS Battery Monitor as well as circuit breaker, fuse blocks and low battery cutout.
If you want an inverter and individual charge and load monitoring in a larger kit, check out the Enerdrive e-System F 40A. It comes with an Enerdrive ePOWER 12V 40A DC to DC Battery Charger EN3DC40+, Enerdrive ePOWER 12V 40A Battery Charger EN31240, Simarine Pico LCD WIFI Monitoring Screen, Simarine SC301 300A Main Battery Shunt and Simarine SCQ25T Individual Load/Charge Module.

You also get safety features such as a 40A Low Battery Cutout, Main System Circuit Breaker 120A, Inverter Circuit Breaker 200A, Solar Input Positive Circuit Breaker 40A and fuse connections. Plus, you get a 12mm Black Plastic Mounting Board which is both water and rot resistant.
A huge advantage of any of the Enerdrive Power Systems is that they are pre-wired as far as possible, saving time and money in the long run. Rather than messing around trying to find all the right components, you can be confident you have the right size fuses and breakers, appropriate cable size and secure connections.
Any Enerdrive system comes with a generous 5 year warranty and backup tech support on their hotline. That's what makes this brand so popular with Aussie tourers.
Compare all the DIY Installation Kit models in this table: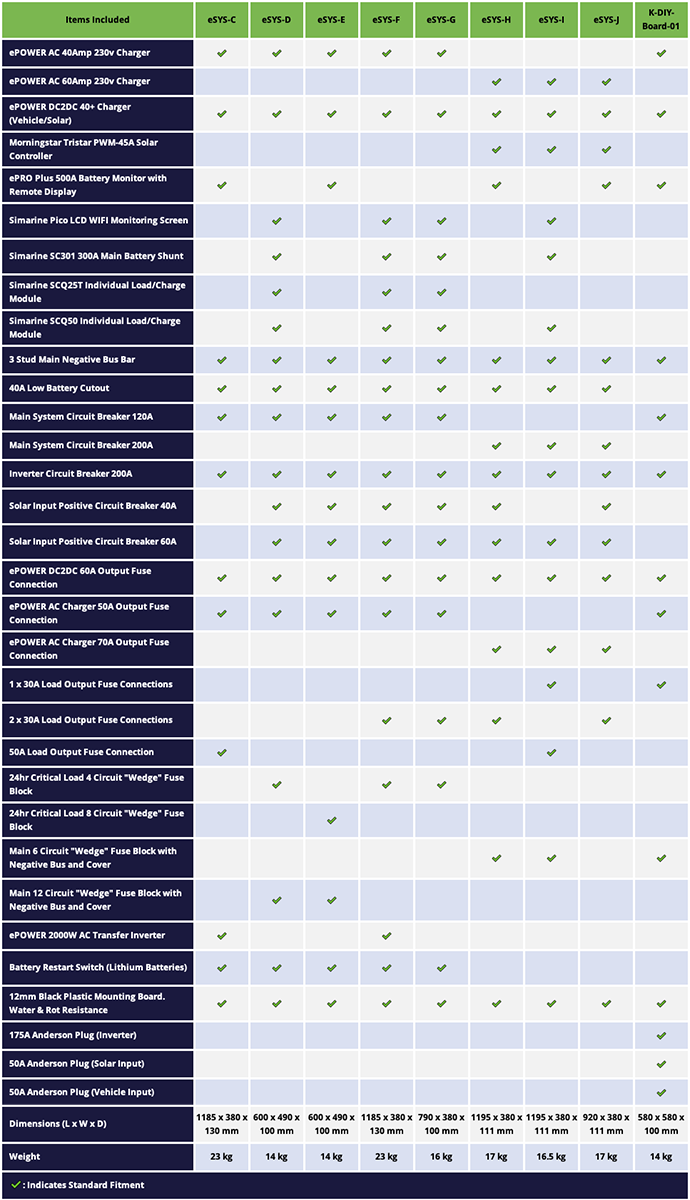 Projecta PM300
The Projecta PM300 offers a slightly higher output current of 35 amps and comes with a remote LCD screen, making it easy for you to check the status of the battery and charging information at a glance.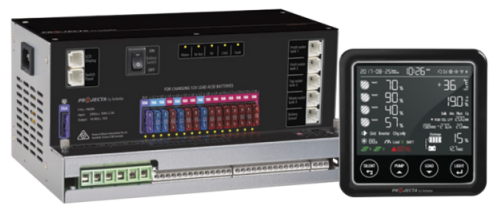 You can also check on the solar power, water level, and electrical systems.
Top features include a load switch, a night mode and a silent mode - so you can maintain your battery system without worrying about noise. It comes with protection features and sensors, and an MPPT 30A solar charge controller to optimise the power from solar panels.
The downside is it only comes with a 1 year warranty, which is less than the other brands.
Find the right BMS for you in our wide range at Caravan RV Camping.
DISCLAIMER* Please note, this advice is general in nature and we strongly recommend consulting the product manual and where relevant, a professional installer.
---
Comments (1)
Motorhome Power Management System

Hi, I'm looking to go 24v instead of 12v but I see that all these systems cater only to 12v. Do you know of a system that caters to 24v?





www.caravanrvcamping.com.au Response
Hi Paul, there are systems that cater for 24v, we don't generally have these bundled up though. Jump on our LIVE Chat or send us an email at sales@caravanrvcamping.com.au and solutions team member will be able to talk you through some options.
---
Leave a comment