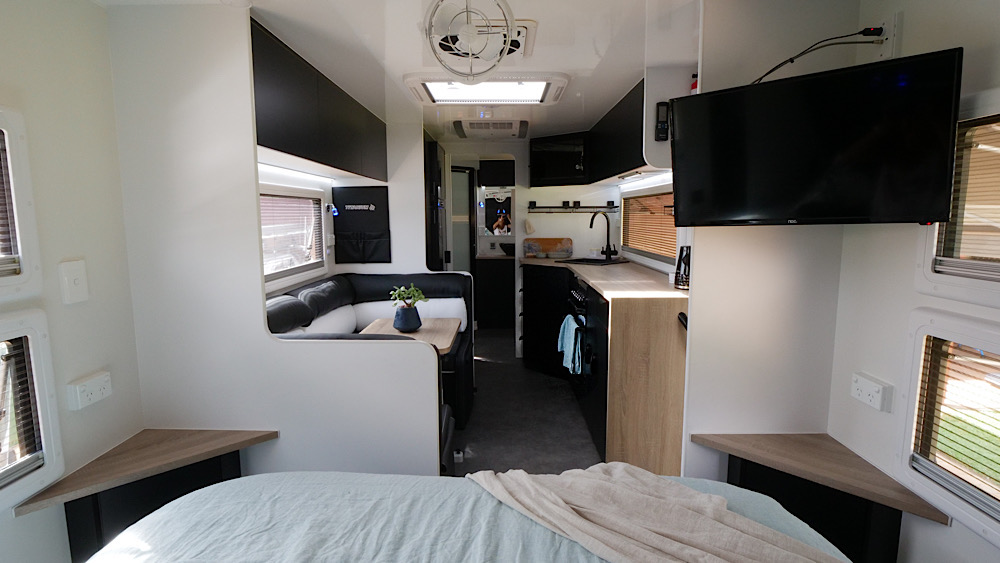 Stay on top of the news, keep up to date with your favourite show or watch that game you just can't miss. Just because you're travelling doesn't mean you have to go without the luxury of a caravan TV!
After all, what's better than kicking back and relaxing in your caravan with your favourite shows after a long day of travel and adventures? And if you're travelling with kids, a caravan TV will be a lifesaver when you need to keep them occupied on rainy days or in the evenings.
The one question is, which is the best caravan TV for your travels? Read on for our best tips:
Types Of Caravan TV's
A caravan TV can be installed in your caravan, motorhome or boat. Some models, like the RV Media Evolution 32" Smart TV, include a DVD player and USB ports so you can plug in your own media and disc drives.
Just like at home, smart televisions are available so you can browse the internet and stream from your favourite channels, such as Netflix, YouTube, Stan or Amazon Prime. Englaon also have a range of smart TV's that include bluetooth, WiFi and a DVD player - it's a one stop shop!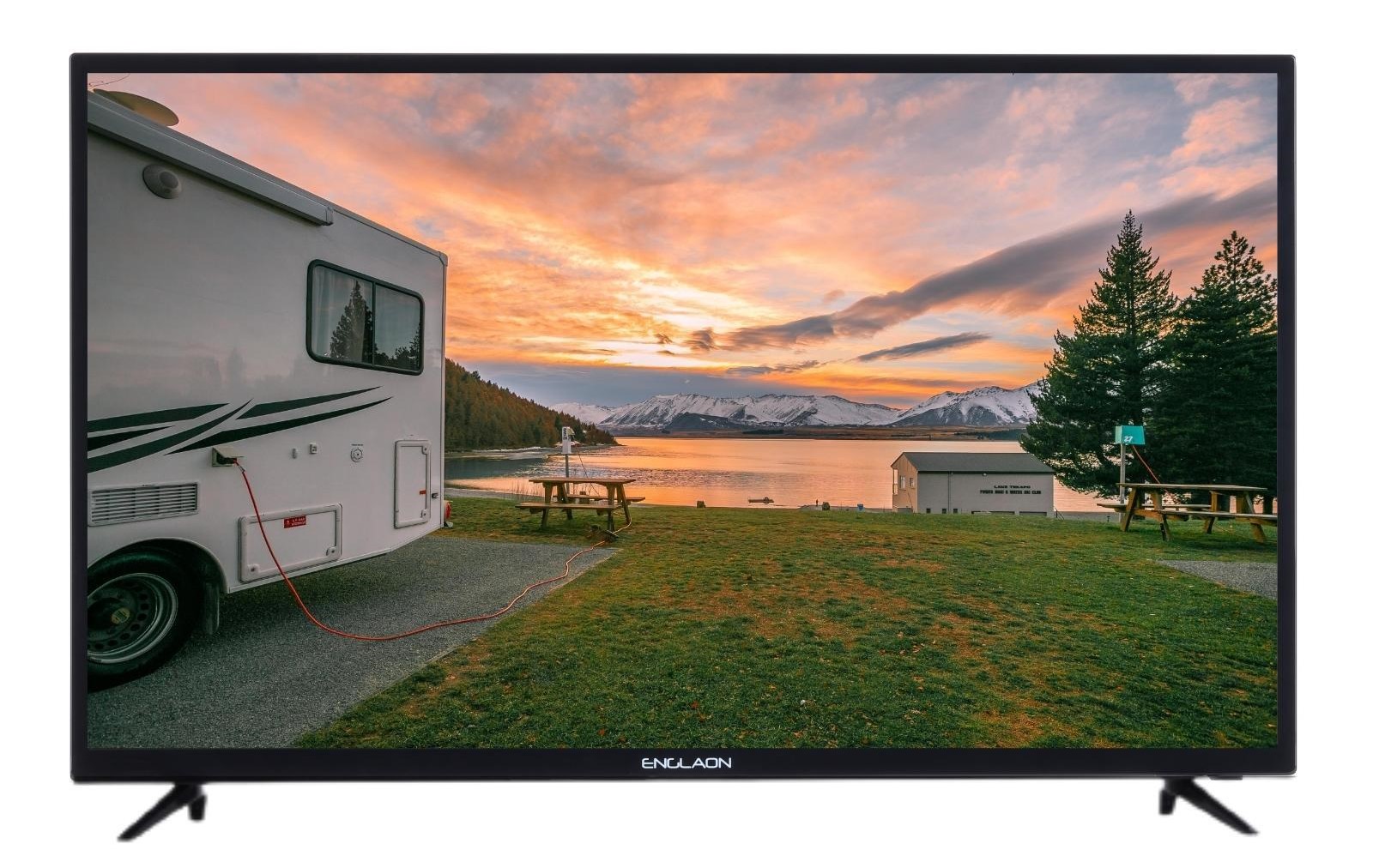 Another factor to consider is whether you want a 12V, 24V or 240V caravan television. Some TVs can be used with both 12V and 240V for convenience on the move.
What Size TV?
One of the key things that you need to think about when choosing a caravan TV is the size. The best size comes down the space available in your caravan or RV. Choose sizes from 18.5" to 32" depending on your needs. Caravan TVs tend to be built with a compact and thin design to easily fit into your caravan. One of the most popular size models we sell is the RV Media 24" Evolution TV.
Do You Need A Smart TV?
Can you go without Netflix, YouTube, Stan or Amazon Prime for a few weeks or months? If not, you might want to consider a smart TV for your caravan. A smart TV, like the RV Media 32" Evolution, means you can browse the internet, stream movies, TV shows and play music on demand, as well as pick up the usual free to air channels too.
Just remember that you'll also need access to a strong WiFi connection for the smart TV to stream well. That's where an RV WiFi system will come in handy, as it designed to work from the 4G mobile network.
If you're looking for a Smart TV with built in WiFi we highly recommend the Englaon range. The Englaon 24" Full HD Frameless Smart 12V TV comes with built in bluetooth, WiFi, DVD player and Chromecast! Plus it is frameless so your 24" is all screen for a nice compact, yet easy to see viewing!
What Features Do You Want?
You'll be amazed what features you can get on a caravan TV! Depending on your budget, here's a few to consider:
WiFi

Chromecast

DVD player

USB multimedia playback

Quick tune buttons for easy tuning

Low RV battery warning

Bluetooth functionality for speakers

Headphone outputs

PVR for pausing live TV

Backlit remote
How Will You Install Your Caravan TV?
Do you want to mount the TV on the caravan wall, or will it be on a stand? Consider what space you have allocated for your TV. This will determine the size of your TV. Some TVs give you the option of buying a stand as extra, so you have options.
What Accessories Do You Need?
There are a few accessories you may need for your caravan TV:
WiFi System – If you're buying a smart TV, you need a reliable WiFi system.

Antenna – Some models come with an antenna, but it's best to check

240V Power Adaptor & Lead – Depending on the model, you may need to buy this as an extra accessory

Stand – Depending on the model, you may want to buy a stand for the TV
Our Top Caravan TV Brands:
What's Your Budget?
Let's talk dollars. How much can you afford to spend on your caravan TV? Prices start from as little as $230 up to $800, so make sure you know the features you want before you buy.
Ready to compare caravan TVs? Check out our wide range of televisions today.
DISCLAIMER* Please note, this advice is general in nature and we strongly recommend consulting the product manual and where relevant, a professional installer.
---
Comments (7)
TV wall bracket

Hello Is it safe to travel with your TV mounted on the wall bracket? I am afraid it may vibrate loose? Thank you for answering Heather





www.caravanrvcamping.com.au Response
Hi Heather, if you have purchased a wall bracket that is specific to caravan 12v TV's they should have straps or a locking mechanism to hold the TV in place in transit. This will then make it safe to keep mounting while on the move
---
Red plug

I have a caravan firetail tv i think it has three plugs to go into tv one from tv aerial coax cable and the power one the one coming from the aerial has a red end on it but the lady told me when we bought the caravan that it doesn't go in the red slot so where does it go as I can't remember where she said it went





www.caravanrvcamping.com.au Response
Hi Pattie, unfortunately we can't assist. Perhaps you can refer back to the televisions manual or the manufacturer for more assistance
---
12v or 240v

My TV has both a 240v step down (to 12v) transformer and a 12v plug. Do I run it solely on the 12v plug even when I have mains hookup? My solar and 240v battery charger will keep the battery topped up





www.caravanrvcamping.com.au Response
Hi Gavin, the choice is yours on how you wish to run in when connected to mains power.
---
RV IN connection

Hi. The RV IN connection on the side if my sphere ONYX S2 has snapped off. Is it possible to get a replacement part?





www.caravanrvcamping.com.au Response
Hi Lynne, unfortunately we don't stock spare parts for this particular unit.
---
Tv Remote

Hi, do you have a remote for a Rovin 21.5" Full HD LED TV DVD Combo 12V/240V?





www.caravanrvcamping.com.au Response
Hi Peter, unfortunately we don't have a remote for the brand in question. We do however have a great range of 12 volt Televisions if you think it is time for an upgrade
---
Leave a comment