Hot water is one of life's simple luxuries when you're travelling. Imagine heading off into the bush and free camping knowing that you can indulge in a hot shower at the end of a day's exploring. Or how about when you need to do the washing up? Forget cleaning dishes with cold water. A caravan hot water system means you have sparkling dishes in an instant.
Which is the best caravan hot water system for your adventures? Read on for our buyer's guide to caravan hot water systems:
Types Of Caravan Hot Water Systems
Nowadays there are lots of different options to choose from: gas, electric, diesel, instant, and more.
If you're also looking for a heater, you can get a combination unit, like the Truma Combi. This is an all-in-one heater and caravan hot water system that comes in diesel and gas/electric models.
Do You Want A Gas Or Electric Caravan Hot Water System?
The first big question you need to ask yourself is this: how will it be powered?
Gas is ideal if you don't always have electricity readily available. Instant, gas-only hot water systems are very popular and easy to use. They do require a 12V connection to ignite the burner. On the other hand, caravan hot water systems running on gas can cause condensation and need to be externally vented.
If you have plenty of power available, go for an electric 240V system.
Can't decide?
Check out the units that offer both gas and electric for the greatest flexibility. This gives you the option of connecting to mains power when it's available at a caravan park or using gas when free camping. For example, the Truma UltraRapid Hot Water System needs 12V to ignite, then operates on gas or 240v when available.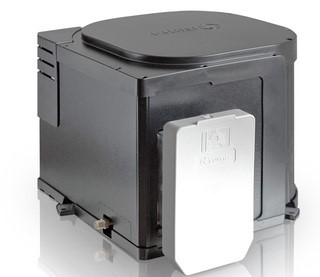 Expert Tip: Gas and electrical hot water systems MUST be installed and serviced by a licensed gas fitter.
How About A Diesel Hot Water System?
If you're running on diesel, good news! There are diesel hot water systems that tick all the boxes. The Truma Combi D 6 is a powerful diesel heater for larger motorhomes AND it can also be used to heat water. This heater has the added bonus of being extremely compact and lightweight.
Another option is a standalone diesel hot water system from Diesel Heat. We have four models available, three with an Eberspacher Furnance and one try level with a Belief Furnance.
Features include:
Ideal for caravans and boats due to 316 stainless steel components
Rapid heat time
Pre assembled and tested for easy installation
Option to add a Kalori air heater kit to turn into a heater & hot water system combination unit
What About A Portable Hot Water System?
Off-road caravans and camper trailers may not have the room for an onboard plumbed in hot water system. A portable hot shower is an affordable luxury when camping through the colder months. These easy to set up compact options are a very popular addition in the 4x4 off roading market.
Our best seller is the Gasmate Water-Tech 5 Litre Water Heater with Pump & Shower Attachments with most customers choosing to opt for the Gasmate Water-Tech Shower Stand as an accessory.
The portable shower is hung in a convenient location, connected to a gas and 12V supply, then fed from a water source via a submersible pump.
Another hardcore off-grid brand is Bushranger. They offer are portable hot water shower kit for under $300: Bushranger Portable Gas Hot Water Shower Kit.
Both these portable hot water shower kits include hoses, fittings and pumps. All you need is a Gas Bottle, 12V source and a water supply. You can even pump creek water to a bucket via a filter.
How Long Does A Caravan Hot Water System Take To Heat The Water?
It depends on the type of system. Instant gas hot water systems heat the water as it flows through, making it hot in seconds. The Truma AquaGo gives you hot water in just six seconds!
The burner starts automatically when the hot water tap is opened and water flow is greater than 1.5 litres per minute. A burner control adjusts the heater output according to the inlet water temperature and flow to maintain a consistent outlet temperature of around 45-49°C. To conserve gas, the burner switches off automatically when the tap is turned off. And there's a thermal cut-off switch to stop scalding temperatures.
Other systems take up to 45 minutes to the heat the water, which means you need to plan ahead or be willing to wait. For example, the Truma UltraRapid Gas and Electric water heater takes 45 minutes on gas, 40 minutes on electric or 28 minutes on both, based on heating 14 litres of water from 20°C to 65°C.
That said, it will continuously reheat the water while you're showering, so somebody else can shower immediately after you and still enjoy hot water.
How Long Will The Gas Last?
If you're looking at gas hot water heaters, you'll want to know which models consume more gas. Instant or tank models? After all, you don't want to run out in the middle of a nice hot shower.
Instant models, like the Truma AquaGo and Camec 13kW Digital Instant, as well as the Camec 13kW Digital Instant with Flojet 12V will use more gas but you have the option to use it selectively and only heat what you need, when you need it. So it works out to be about the same consumption as a model with a tank.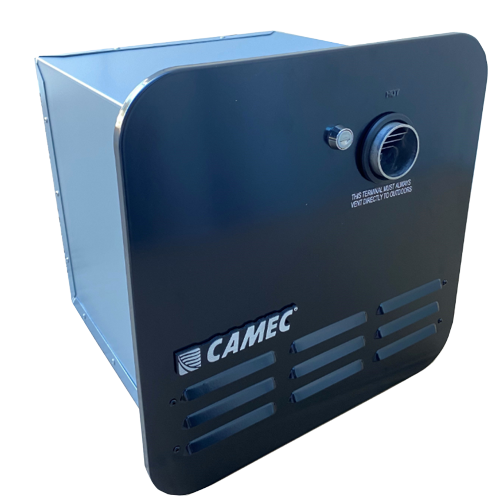 How Many People Will Be Using It And How Often?
This will determine how much hot water you need on tap while caravanning, aka your storage capacity. Of course, if there's only two of you but you both love long, hot showers – that's another factor to consider!
Another thing to look at is the system's recovery rate. In other words, how quickly it can heat or reheat the stored water. The better the recovery rate, the more efficient your system.
An instant caravan hot water system is ideal if you are living out on the road and the whole family is using the hot water because you don't need to worry about waiting for the hot water to heat up all over again.
Where Are You Travelling?
Think about where you're traveling to and the types of climates you'll encounter. If you'll be heading into colder climates, such as the alpine regions of Victoria or New South Wales, the Truma systems are your go-to systems.
What Water Supply Do You Connect To?
Either connect to mains water at the caravan site or your caravan tank. Hot water systems do not work well if you use creek water – however clear you think it might be!
Typical Plumbing Installation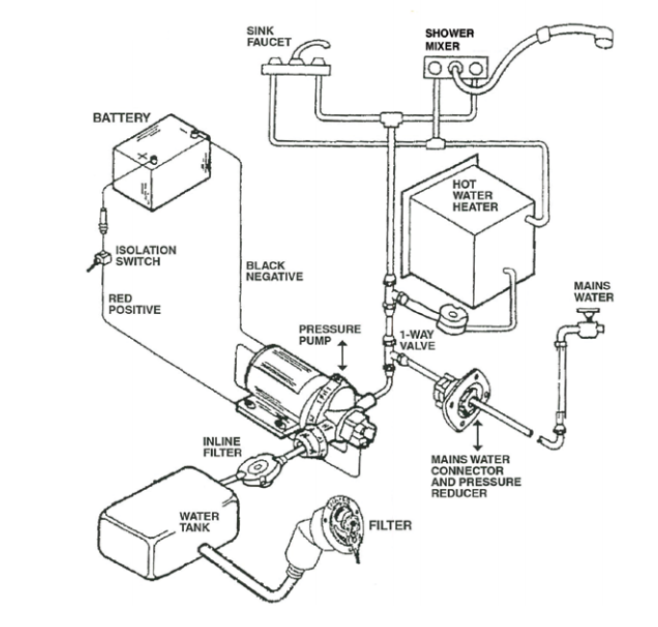 What's Your Budget?
Whatever you can spend, opt for a reputable brand, like Truma or Camec. That way you know you're getting a reliable system with a warranty. Truma & Camec offer a 2 year warranty on their hot water systems.
If the budget is tight, don't compromise on quality – simply choose a model with fewer features, like the Truma UltraRapid.
Which Brand Should You Choose?
Like any caravan appliance, you should always choose a trusted brand for peace of mind on the road. For caravan hot water systems, that means Truma and Camec. Don't be tempted by the cheaper models – they simply won't be as reliable.
Truma systems come with some great innovations to make sure you always have a great experience. For example, the AquaGo might be on the pricier end of the scale, but it will deliver continuous hot water of up to 49 degrees. Simply set your perfect temperature using the electronic control panel and never worry about messing around with the cold water tap again. This system also comes with a 1.3L water stabiliser which eliminates temperature fluctuation and spikes, often caused by changing water pressure or burner cycling.
Camec have released a new 13kW model which has 30% more power than the old instantaneous gas hot water system. We have created a bundle deal with the Flojet 12V Triplex Water Pump for your convenience!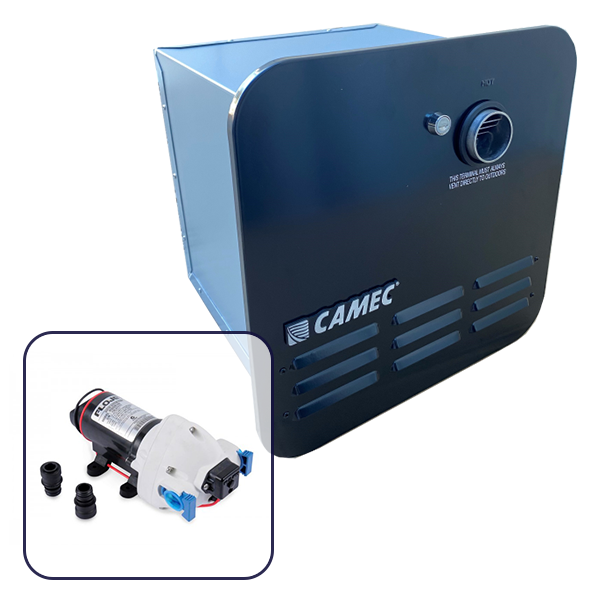 Expert Tips And Tricks
If you only take away one tip, let it be this: All caravan gas hot water systems need to be installed and serviced by a licensed gas plumber.
The thing about gas in a caravan is that it is dangerous if not installed and ventilated properly. Make sure you bring in a licensed gas fitter and vent the gas hot water system properly.

Having problems with your hot water system? Before you throw it out and buy a new one, check out our troubleshooting tips.
Check out our complete range of caravan hot water systems online today! Still have questions? Give our product experts a call on 1800 787 278.
DISCLAIMER* Please note, this advice is general in nature and we strongly recommend consulting the product manual and where relevant, a professional installer.