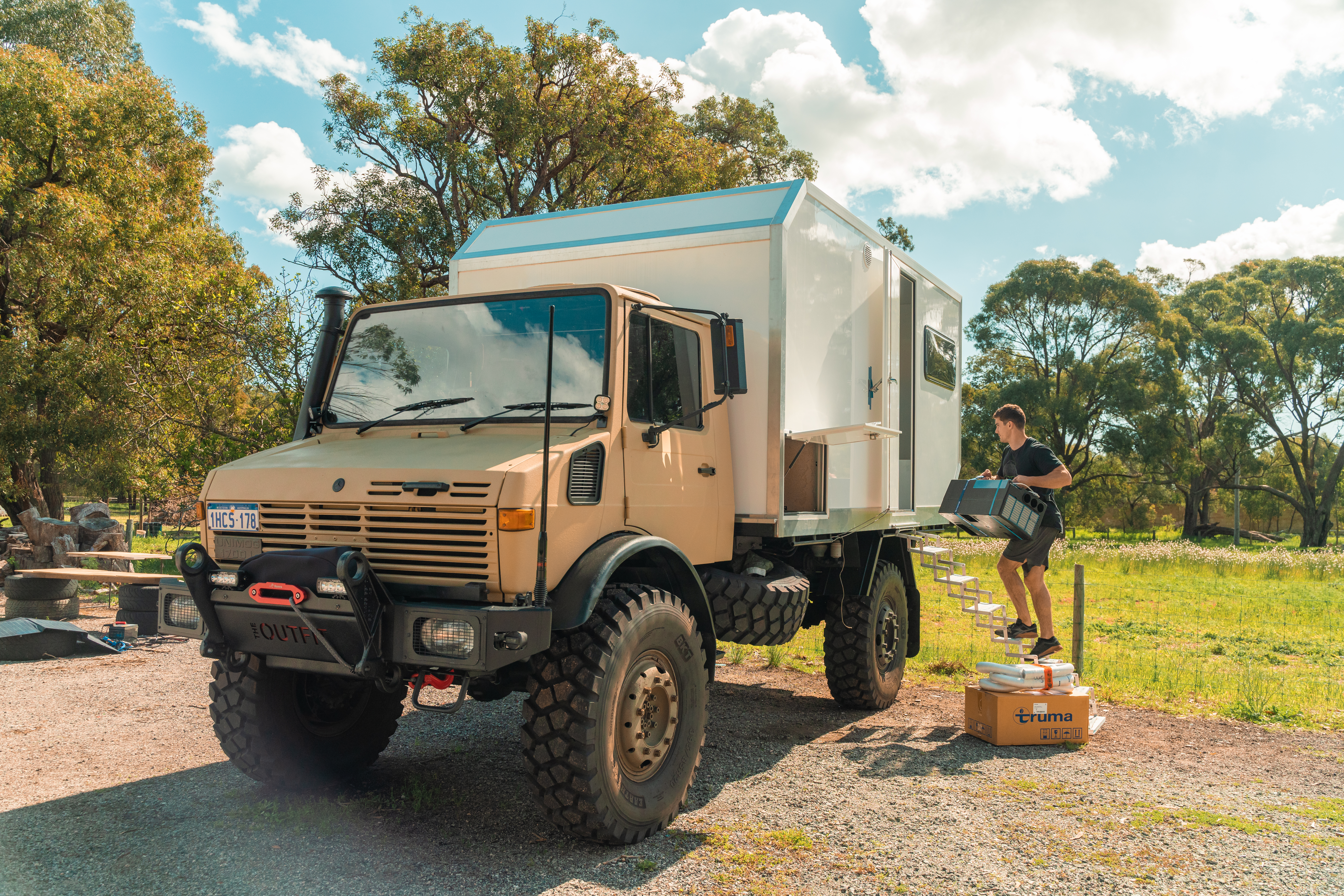 Are you in the market for a caravan air conditioner? If you're weighing up between under bunk air conditioners and rooftop air conditioners, you've come to the right place. While rooftop air conditioners are the most popular models on the market, under bunk air conditioners offer lots of advantages for caravanners in Australia.
Read our guide to caravan under bunk air conditioners:
Underbunk Vs Rooftop:
What's the difference between under bunk air conditioners and rooftop air conditioners?
Just like the name suggests, a rooftop air conditioner is mounted on the vehicle rooftop and blows air through a roof mounted distribution box into your van. These are the most common types of air con unit.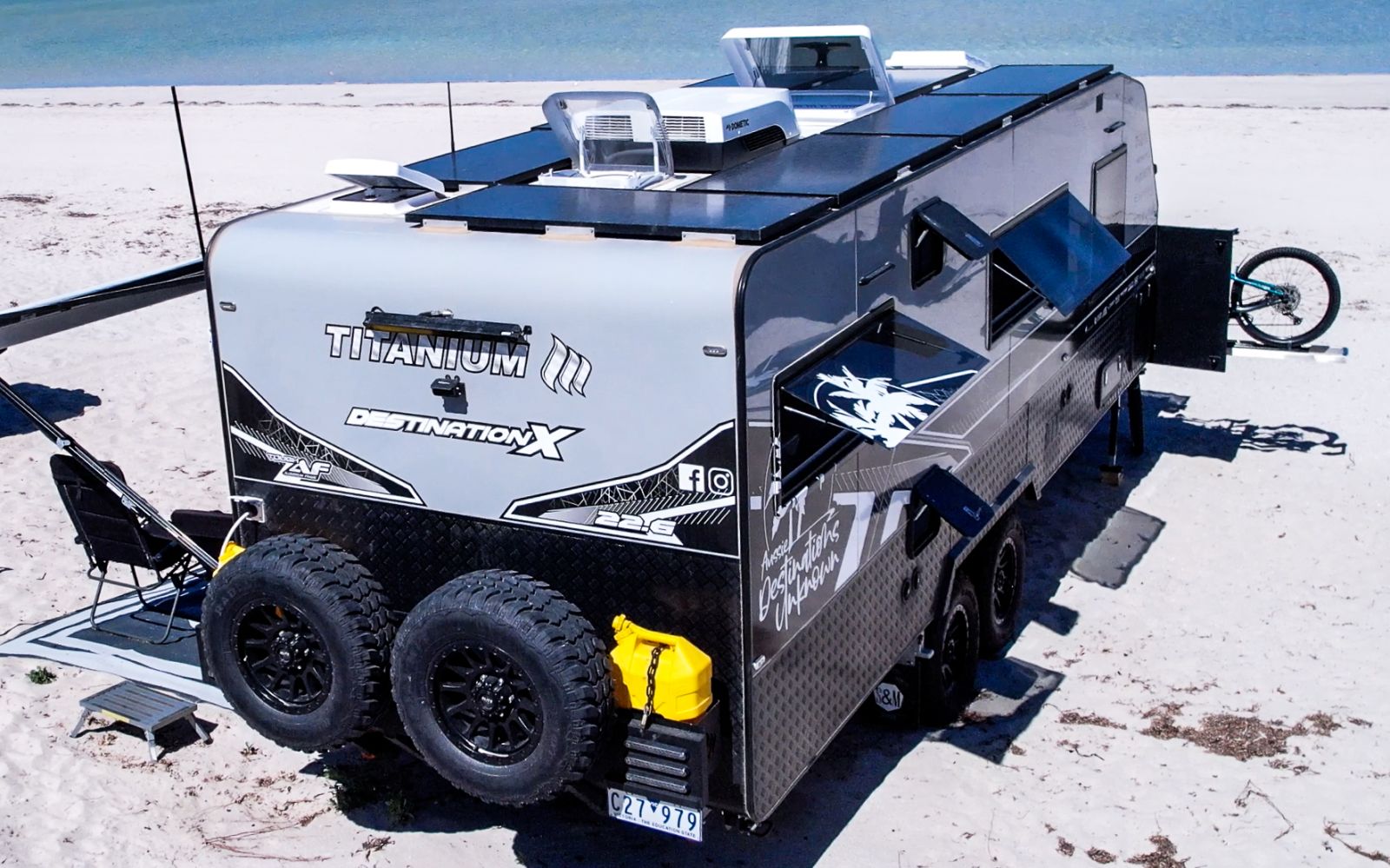 A caravan under bunk air conditioner is mounted inside the van. It is vented through the floor for air exchange and cold air outlets are connected to ducting for distribution around the van.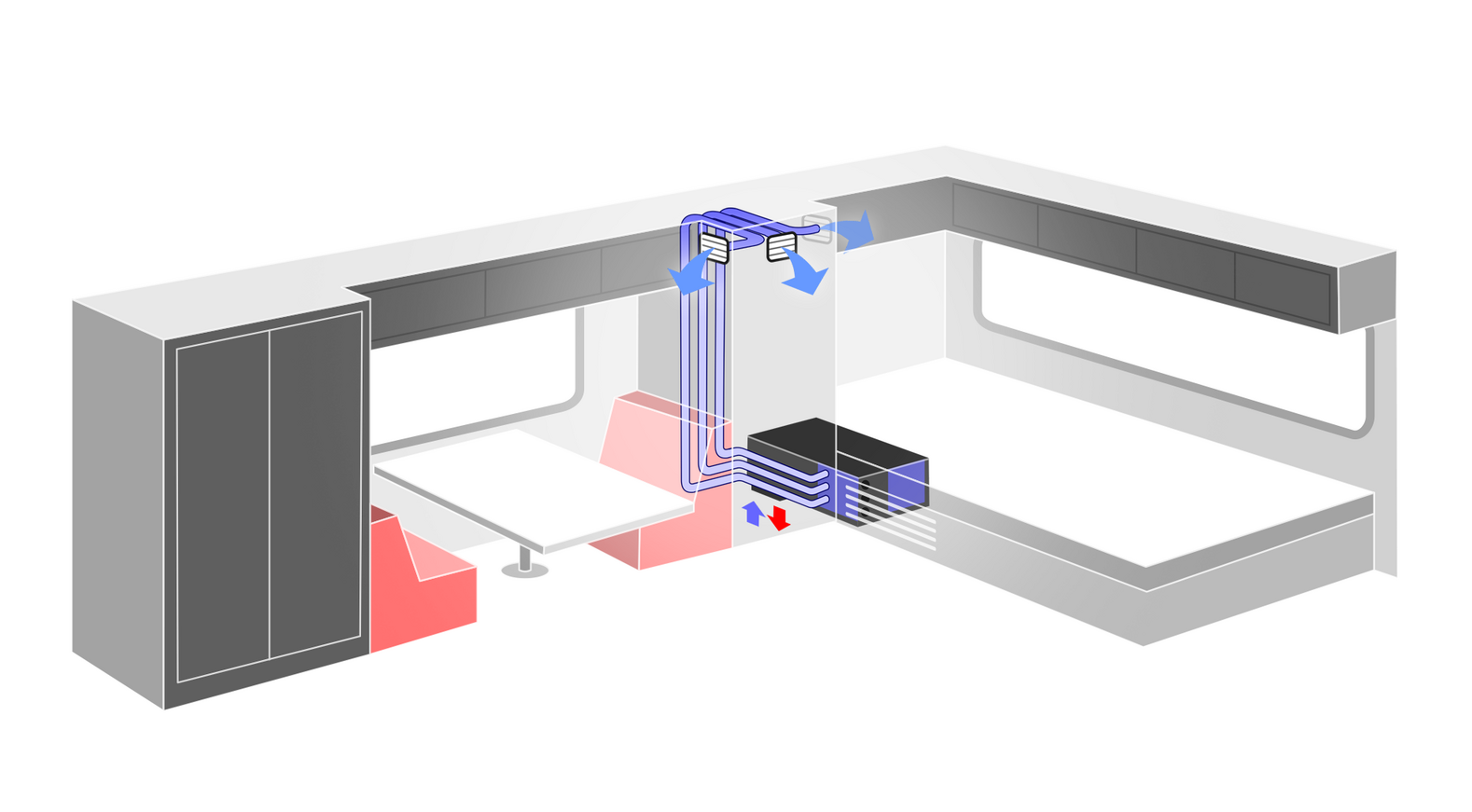 There are pros and cons of each type.

Why Buy An Under Bunk Air Conditioner?
Under bunk air conditioners are the best choice if for some reason you can't or don't want to mount an air conditioner on your roof. Consider an underbunk air con if you have one of the below vehicles:
Pop top caravan: Pop tops are not designed to hold a roof mounted air con unit, which makes under bunk air conditioners a better option.

Off-road camper trailer or small caravan: They tend not to have the roofspace or design for a rooftop air con unit. A lower centre of gravity for a camper trailer will also help improve its stability, especially where terrain is not level.

Bus and long wheel base van conversion: Underbunk air con units help save space on the roof and maximise room for solar panels.

Under Bunk Air Conditioner Pros And Cons:
Pros
Ideal for caravans that can't support the weight of rooftop air cons

Compact design and can be mounted in a range of places throughout your van

Affordable - can be as low as around $1500

Easy to operate.
Cons
You still need to find space in your van for the unit

Requires ducting - which has to be purchased separately

Not as much choice in models

Not as powerful as rooftop models and therefore not as efficient for larger caravans and RVs.

How Do You Power Under Bunk Air Conditioners?
It's the top question when adding an air con unit to your caravan. The good news is you can power under bunk conditioners using deep cycle batteries and generators, as well as normal mains power if available. The continuous power draw of the Truma Saphir Comfort underbunk is only 1008W, which is quite low for an air con unit.

What Will You Pay?
As always, it depends on the brand and features you want. Top of the range units can cost up to $2700 full price, while the mid-market units like Finch Australia are significantly less at $1565. Bear in mind, with under bunk air conditioners, you also need to buy ducting. A 5m roll of ducting is usually sufficient for the Truma Saphir or Finch HB9000 Air Conditioner. If not, we also offer a 10m and 15m ducting roll for Truma and 10m and 20m for Finch. Shop our full range of caravan air conditioner accessories here!
Under Bunk Air Conditioner Brands:
Truma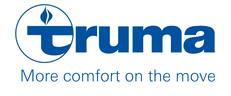 Truma air conditioners blend premium German engineering and performance with a generous 2 year warranty. The Truma Saphir Comfort is at the top of the class for caravan under bunk air conditioning, and the smallest in its class for design. Not only is it super lightweight at just 23.5kg, it is also very compact, which makes it great for installation under a bed or cupboard with a vent to the outside.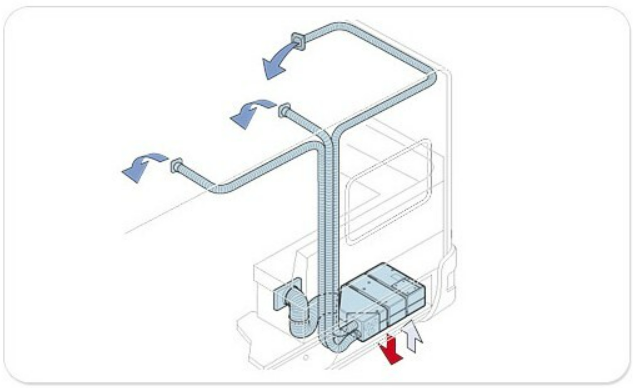 The great thing about the Saphir Comfort is the high power, which means it can deliver sufficient cool air to the very last corner of your vehicle up to 6.5 metres in length. You can use a remote control or digital control panel to adjust the settings between four modes: cooling, heating, automatic and air circulation, as well as three fan speeds.
The unit is always quiet, but in sleep mode, the fan runs even slower and it is barely noticeable. Another great feature of the Saphir Comfort is that it not only cools the air but also cleans and dehumidifies. This is brilliant for allergy sufferers.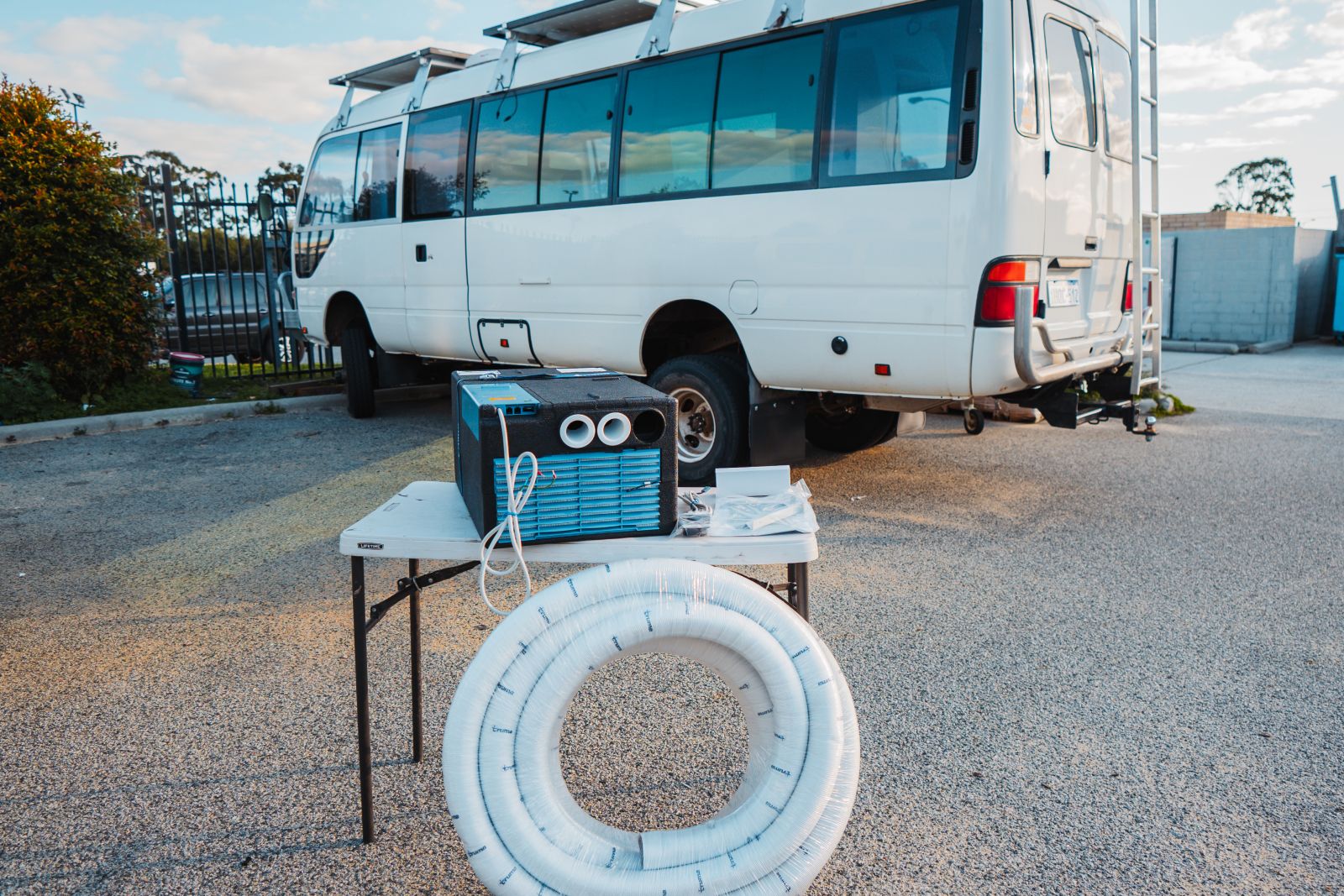 The Saphir Comfort can also be paired with the heating unit, Truma VarioHeat, via the CP Plus Panel. This means you can enjoy the "Automatic Climate Control" function - simply set the system to "Auto", choose your desired temperature and let the CP Plus automatically turn on the gas heater when it is too cold or the air con when it is too hot. What more could you want when travelling through all the Aussie seasons!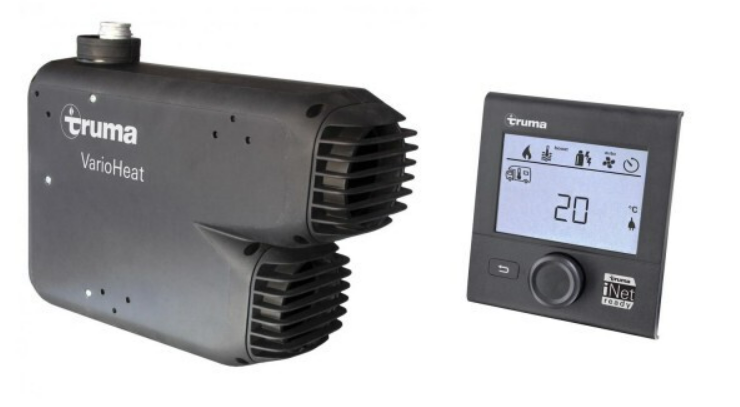 Finch Australia

Another top brand is Finch Australia. This reputable company is Australian owned and operated, so you can trust that they know how to keep caravanners comfortable in all weather! They also manufacture a range of rooftop air conditioners under the Houghton Belaire brand.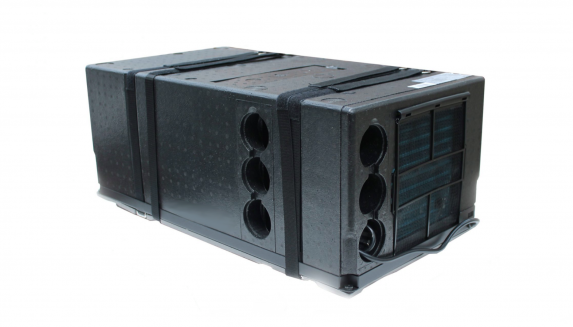 If you're on a budget and don't want to compromise on quality, the under bunk model of choice is the Finch Australia HB900. This under bunk air con unit comes in at around $500 less than the Truma equivalent, though it only comes with a 1 year warranty.
It's easy to use thanks to the electronic climate control model with touchpad, and a remote control. The Finch HB900 has around 2.2kw cooling and 1.8kw heating capacity, which is plenty for a small caravan. You also enjoy electronic defrost to allow the unit to operate in temperatures as low as 1 degree - that's almost freezing!

To view all Caravan RV Camping Air Conditioners and Accessories - Click here!
DISCLAIMER* Please note, this advice is general in nature and we strongly recommend consulting the product manual and where relevant, a professional installer.
---
Leave a comment