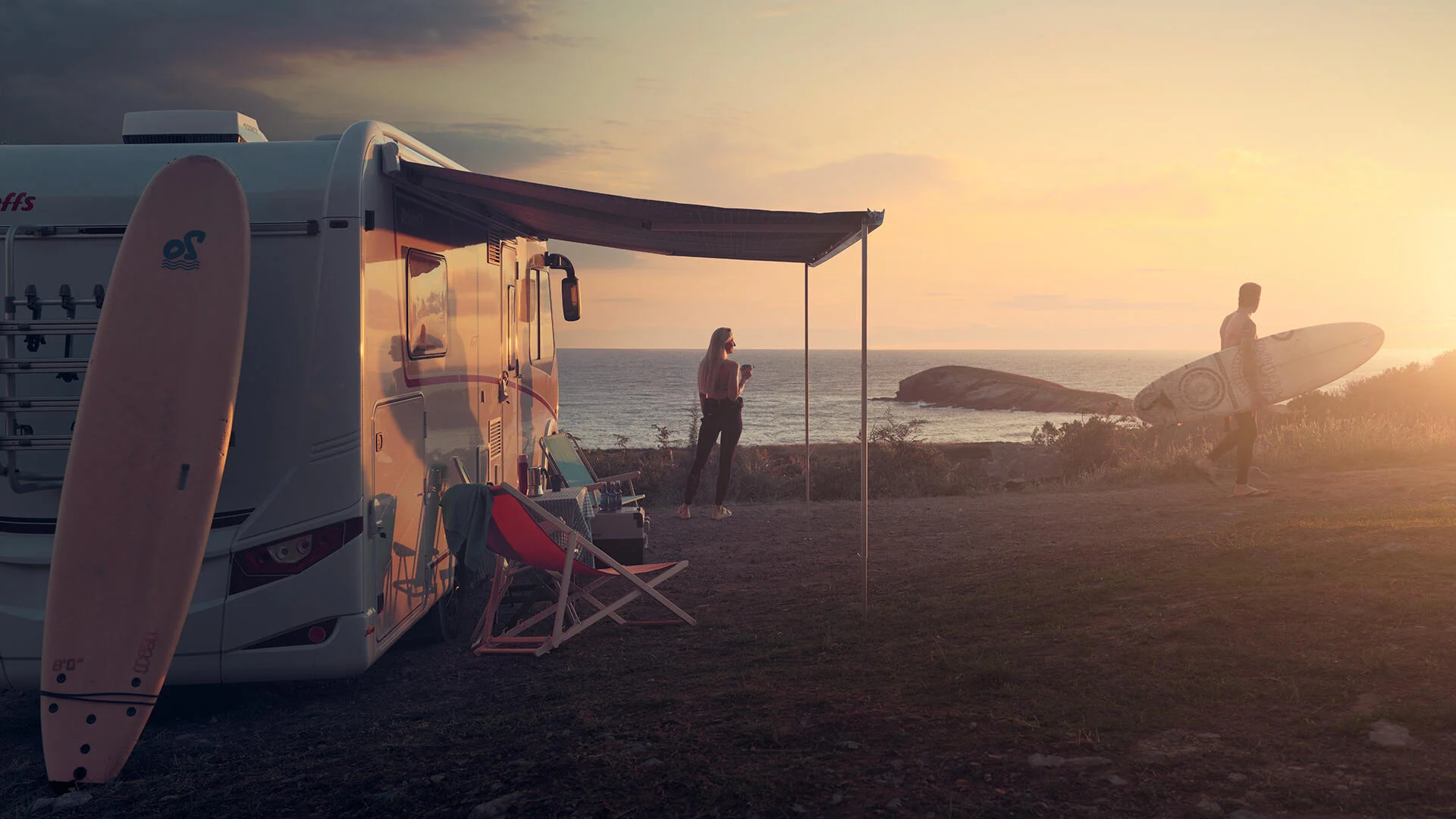 Thinking about adding an awning to your caravan? Great decision! An awning is an easy way to add extra living space to your caravan so you can enjoy even more comfort on your trip. Just imagine sitting under your awning at the end of a long day exploring, sipping your favourite wine and chatting with new friends as dusk falls.
Now you just need to work out the right awning for you. Will it be a caravan roll out awning or box awning?
The good news is that roll out and box awnings will fit most caravans and RVs. Yet both styles have their pros and cons, depending on what you're looking for. Here, we help you weigh them up so you can make the right decision for your adventures:
Caravan Roll Out Awnings
Roll out awnings are a popular choice of awning. A caravan roll out awning needs two components for installation: a hardware kit to attach to the side of your caravan, and the fabric roller.
You can opt for manual or electric roll out awnings. For electric roll out awnings, you can't go past the Carefree range. They provide up to 20ft. For manual awnings we reccommend the Dometic 8700 available between 10' and 19'.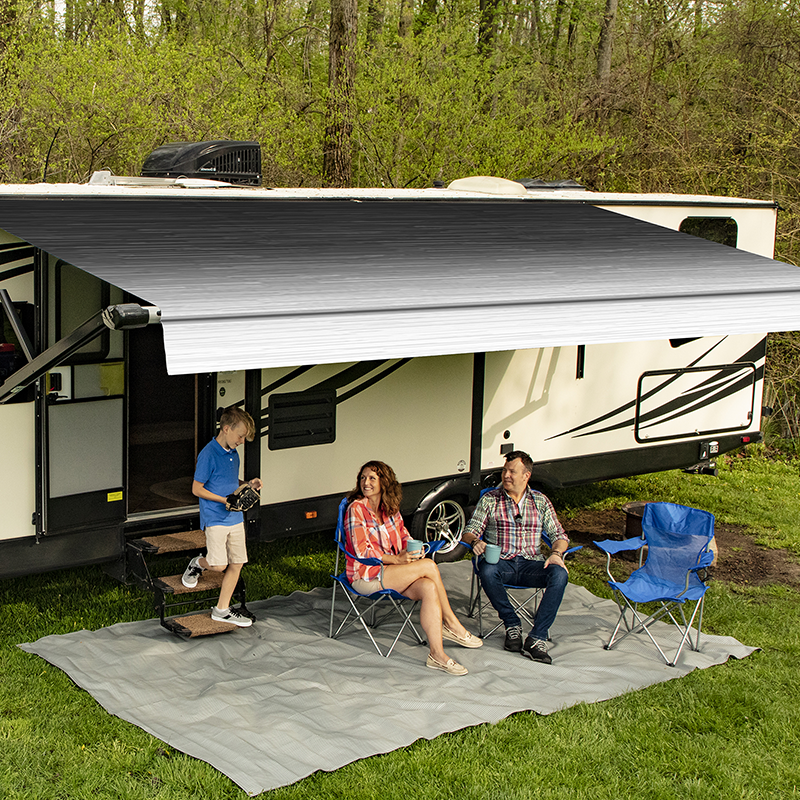 Pros Of Caravan Roll Out Awnings:
Roll out awnings are more robust and strong against the elements than box awnings. Roll out awnings can even be permanently installed on the side of your house – that's how sturdy they are!

If you only want to replace your existing awning, caravan roll out awnings with fabric are available without the arms. So, you only need to replace the part that is worn out and not the whole kit.

Roll out awnings offer larger sizes. For example, the Carefree Eclipse manual roll out awning comes in sizes from 14ft to 18ft.

Need accessories? There are a number of accessories to suit roll out awnings such as the Aussie Traveller Anti-flap Kits and Curved Roof Rafters. There is also a wide range of sunscreens to provide shade and privacy. The Coast V2 Sunscreens are a great option for your roll out awning

Roll out awnings can be a good option for pop-top vans.
Cons Of Caravan Roll Out Awnings:
You need to install them to your vehicle, which requires some skill and time.

Not all caravan walls are large enough for the awning hardware and arms, so you need to consider space requirements before you buy.

Large caravan roll out awnings may need extra hardware to support the larger size, such as rafters, tie downs, and cradles, which come at an extra cost.

Roll out awnings tend to be more expensive than box awnings, though manual roll out awnings are still budget friendly.
Caravan Box Awnings
Box awnings are a cheaper and easier option for caravan owners. They are easier to install and operate compared to a caravan roll out awning. Some box awnings come with wall mounting brackets for easy installation. But, if you are mounting to a campervan, you need to purchase brackets to fit your van.
Pros Of Box Awnings:
A box awning is slightly easier to install and setup, making it perfect for novice or solo travellers who don't have the confidence to install a roll out awning.

Manual box awnings are great if you're on a tight budget – they start from as little as $819 for a Fiamma 1.8m box awning.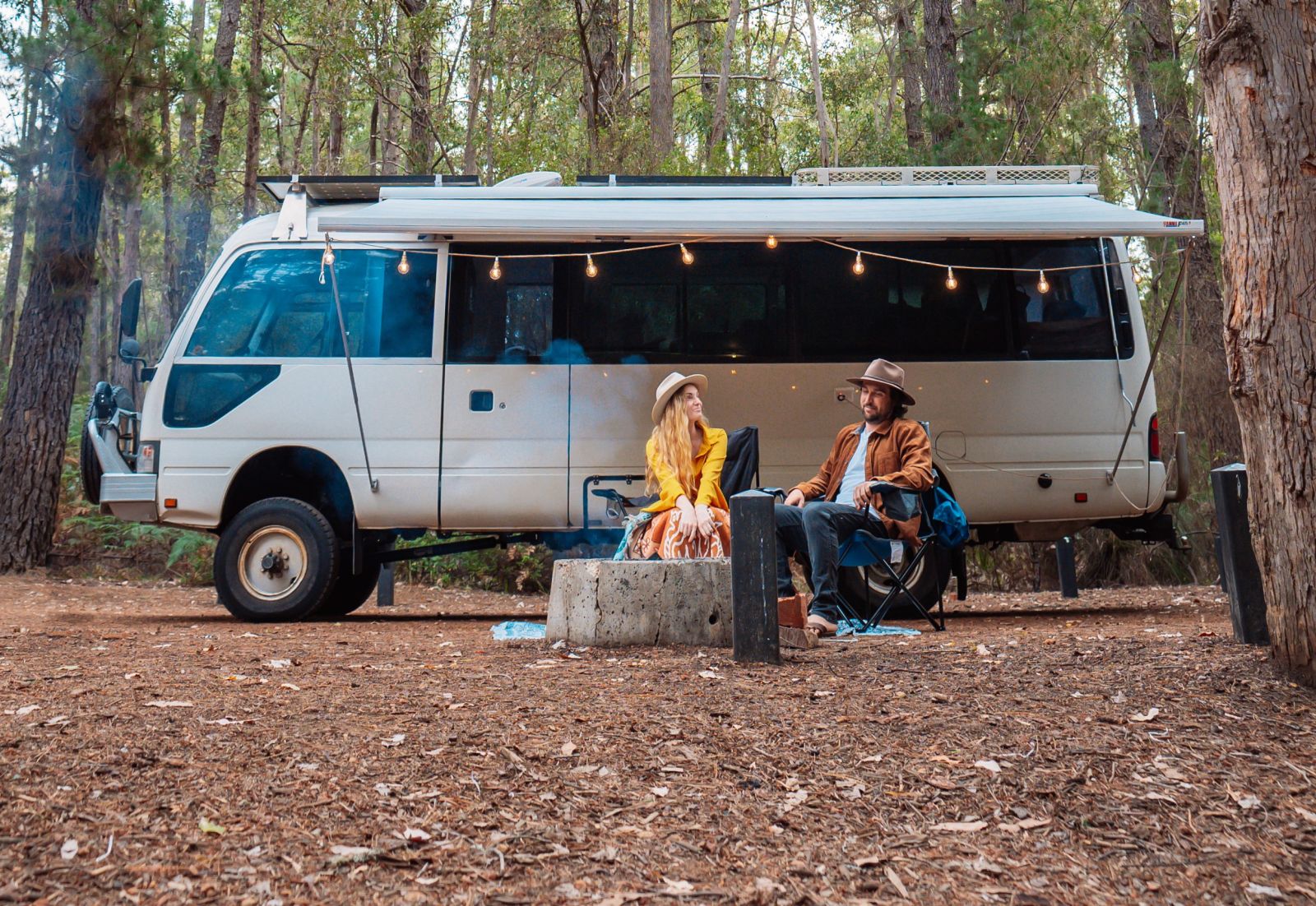 Box awnings are smaller and compact in design, and don't have annoying side arms to bump into.

The most popular range of Box Awnings are the Fiamma F45 available in a black, white and titanuium casing. These are a great substitute for the bag awnigns found on most Jayco campervans. These are also a fantastic option for motorhomes and buses that can't have harware installed down the side. For added convenience you can add a motor to your Fiamma F45 and F80 awning to make it electric and fuss free.
Accessories are available for extra sturdiness, such as ropes and hooks for securing to the ground.
Cons Of Box Awnings:
You are limited with the lengths available for box awnings compared to the larger options you get with caravan roll out awnings.

If you damage your box awning fabric or it gets worn out, replacement fabric is not sold separately. You will need to purchase the complete kit which can be costly.

If you plan on using your awning on a permanent basis, a box awning is not as robust as a roll out awning and might not last the distance.
Our Verdict
Whether you choose a caravan roll out awning or box awning comes down to your individual needs and budget. Box awnings are definitely the easiest to install and operate, while roll out awnings are more sturdy and will stand the test of time as you explore the country. Whichever you choose, take the time to work out which one will fit your caravan and find the best quality for your budget in our caravan awning range.
-
DISCLAIMER* Please note, this advice is general in nature and we strongly recommend consulting the product manual and where relevant, a professional installer.
---
Leave a comment