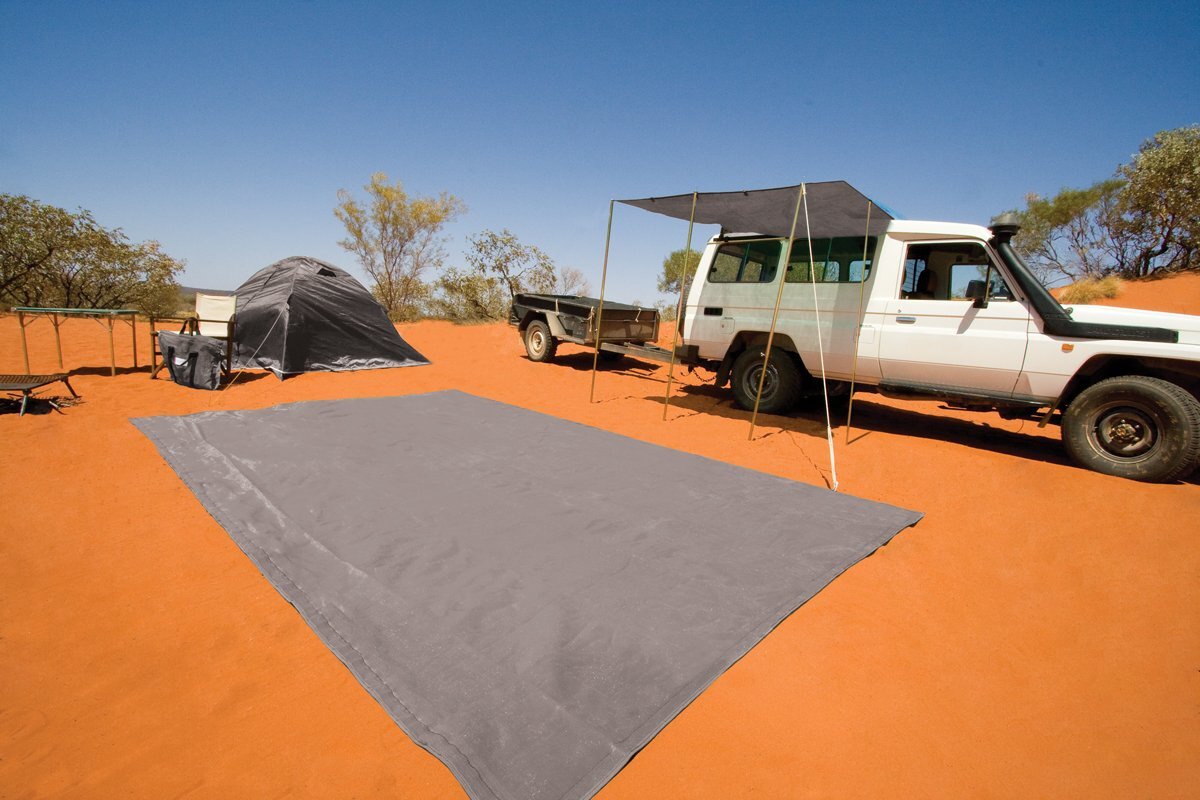 Annexe matting is the one thing that can make or break the outdoor area for your caravan. As any serious caravanner will tell you, it is an absolute must-have. Why?
Because annexe matting makes a more comfortable outdoor area to relax in, while also limiting the amount of dirt and sand that you accidentally traipse into your van.
Annexe matting also prevents the outside of your van from becoming a muddy mess - instead, water and dirt will fall through the holes in the mat.
The question is, which annexe matting should you buy?
Follow our guide:
Measuring For An Annexe Mat
As a rule of thumb, aim to choose a mat that fits within your caravan's awning size. Alternatively, you can choose a bigger one to cover the ground from the front to the back of the van.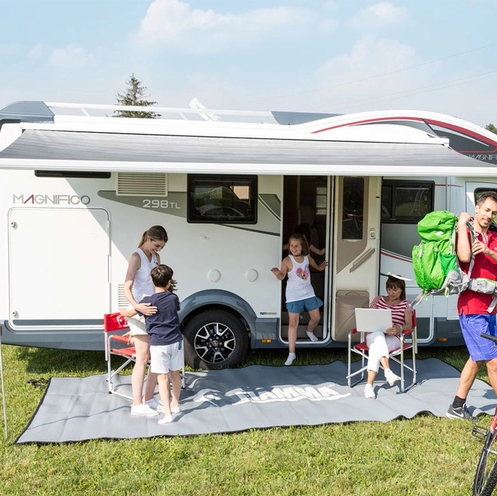 Another factor to consider is whether you want to peg down the annexe walls. If yes, you will need a mat that fits to the correct positions of the pegs. If you try to peg through the annexe matting, you will damage it.
Which Annexe Matting To Choose:
There are two types of annexe matting to choose from: rubber matting and synthetic mesh matting.
Weigh up their pros and cons before you buy:
Rubber Matting
Pros:
Super comfy: The PVC foam material gives you a soft spongy feel which makes the annex matting comfortable to walk on with bare feet, and provides incredible protection from sharp sticks and stones underfoot.

Easy to clean: One of the biggest benefits of rubber matting is that it's easy to keep clean by simply sweeping off any leaves and debris.

Very tough: Rubber matting won't fray if it is accidently ripped.

Stays in place: No need to peg down a rubber mat as it will grip onto concrete pad sites

Super affordable: Foam matting is a budget-friendly option.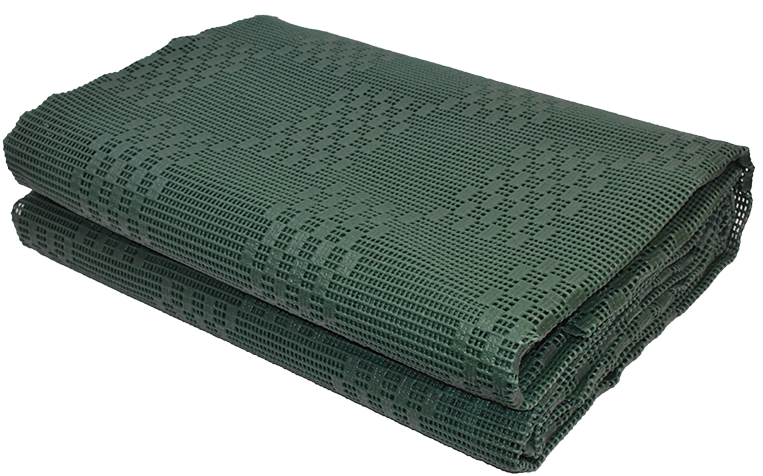 Cons:
Doesn't withstand water and food damage well: The foam can rot over time if it's exposed to water or kids spilling food and drinks.

Heavier to carry: Rubber matting is heavier than synthetic mesh to carry.
Check out our range of foam annex matting.
Synthetic Mesh Matting
Pros:
Quick to clean: One shake and all the sand and dirt falls back through the weaving, and, for a better clean, you can easily hose off the mat and hang it on the line to dry.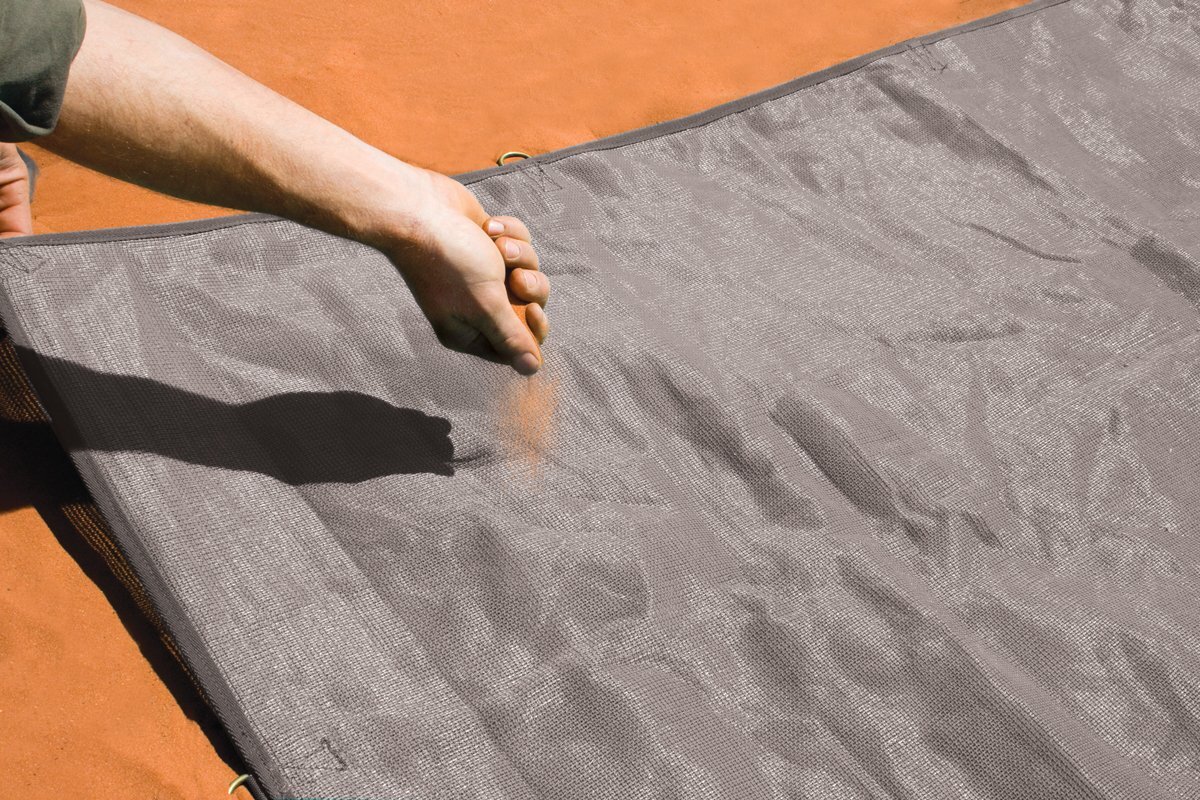 Lightweight: Synthetic mesh matting is very lightweight which makes it easy to store and carry.

Extremely durable: This annexe matting can withstand many trips before it starts to wear.

Keep it flat: You can peg the mat down tight to avoid lumps, bumps and potential trip hazards.
Cons:
Rough underfoot: A synthetic mesh mat doesn't feel as soft underfoot as a rubber mat.

Can be a trip hazard: If it isn't held down properly, the mat can curl up and become a risk.

More expensive: Compared to rubber annexe matting, the synthetic mesh matting is more costly. For example, a 6m x 2.5m mesh mat can be at least three times the cost of a rubber mat of the same size.
Check out our range of synthetic mesh matting.
Pro Tip: Always choose a synthetic mat with strong binding and peg holes - the last thing you want is for the mat to last for one trip before it starts falling apart!
Which Brands Of Annexe Matting?
There are lots of brands out there, but here are our top two picks for high and low budgets:
Best In Show: CGear Matting
Designed in Australia for Australian conditions by a proudly Australian owned company, CGear matting is the premium, top of the range mesh matting on the market. Put it this way, the CGear Multimat was originally designed as a deployable helimat to eliminate dirt, dust and debris from being kicked up by helicopter rotors on landing!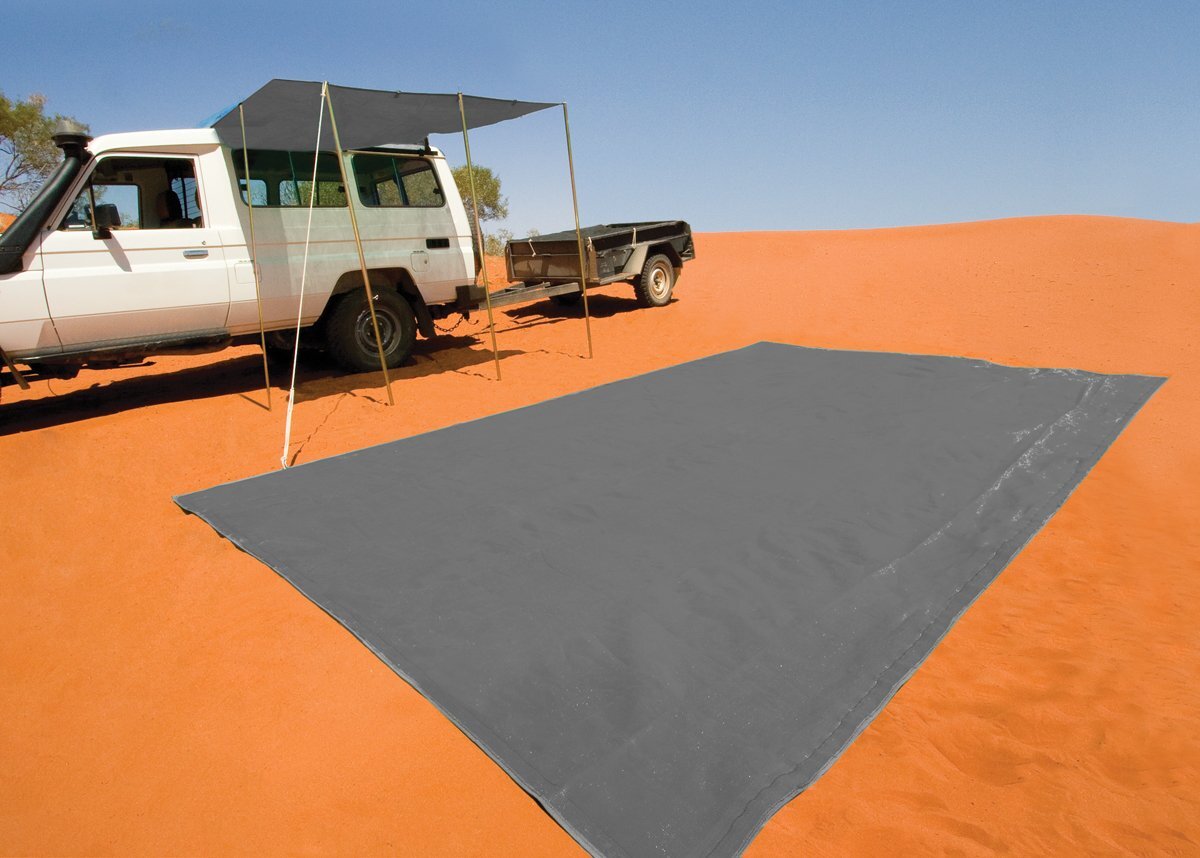 It has all the advantages of a mesh mat - sand and dirt fall straight through to the ground beneath, but won't come back up through the mat. The Multimat can also be used as a shade mat to provide 90%+ UV protection, and as windbreak mat for screening.
The best thing about these mats is the quality. CGear mats are extremely durable and are made with reinforced edges and stainless steel D-rings. They won't tear or fray, even if cut!
Choose from different sizes to meet your outdoor area specs, from 2.4m x 1.8m up to 2.4m x 7.5m.
Best For Small Budgets: Camec Matting
For a more affordable annex mat, Camec will get the job done.
The weave mat is designed to be warm, non-slip and allows the air to circulate. It's also hemmed for extra strength and has pegging eyelets around the matting so you can peg it tight and prevent tripping.
However, what you gain in dollar savings, you lose in quality. These mats are not as durable or tough as the CGear equivalents.
Camec matting is a great entry level mat and is available in a range of sizes, including the popular 2.5m x 7m.
Browse our range of annexe matting online today.
DISCLAIMER* Please note, this advice is general in nature and we strongly recommend consulting the product manual and where relevant, a professional installer.
---
Leave a comment