Buying an inflatable tent is a whole other ball-game to buying a regular tent. You already know the benefits of an inflatable tent - they promise a faster and easier setup, greater strength, better wind resistance, and super easy repair thanks to the inflatable poles.
Sure, they're not cheap, but the innovation and cool features are worth the money!
Now, how do you choose the right one for your camping adventures?
First, Let's Look At The Inflatable Tents On The Market:
The range of Dometic Inflatable Tents includes roomy 4-person and 6-person tents in different styles. All of them are packed full of features for everyone from beginner campers to camping enthusiasts.
Aside from the size, the biggest difference between the Dometic inflatable tents is which material they are made from:
Weathershield polyester material is durable, lightweight and weather-resistant with UV protection.

Weathershield polycotton fabric boasts a cotton content of 35% which creates a more breathable material to reduce condensation in the tent and regulate the interior temperature. This is the most durable material too.
Added Extras
There are a few features to look out for which might make or break your decision. For example, the Daydream tent comes with a tough sewn-in groundsheet to protect the underside of the tent as well as a soft fleece carpet for added comfort underfoot.
Which Tent?
Stradbroke
Best for avid campers who will use it throughout the year.
The Stradbroke inflatable tent is a bigger investment to start with. But what you get for your money is a stronger and more resilient cotton material for longer life and exceptional resistance against wear and tear.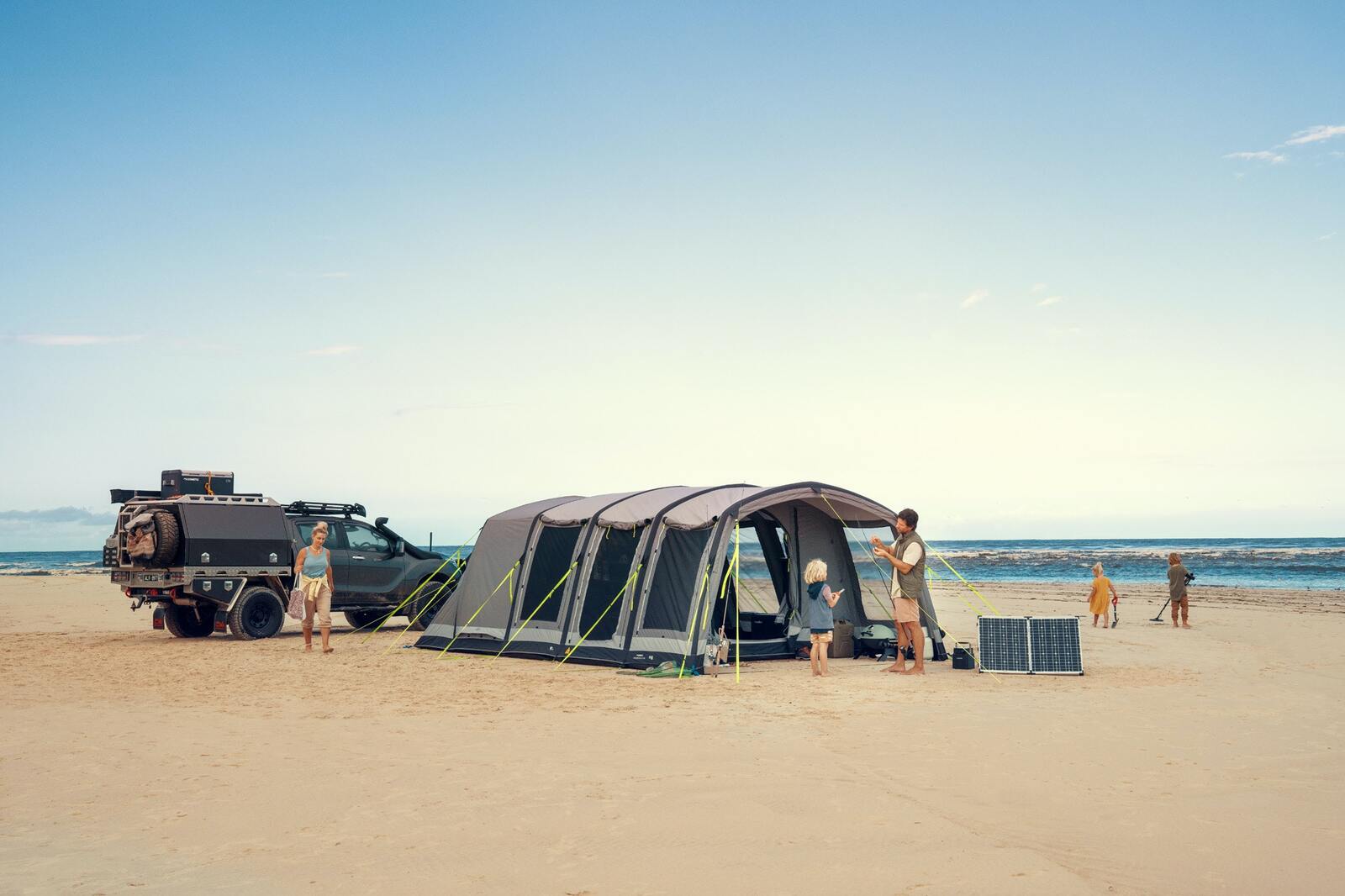 The Stradbroke inflatable tents boast Weathershield TC material which also regulates inside temperatures better, making it ideal for colder climates to keep warm air in and give you a comfortable night's sleep.
This tent comes with a weather-protected porch, which is brilliant if you want to enjoy some fresh air while keeping your gear out of the rain. There's also a flyscreen and removable inner tent allowing a darkened sleeping space.
Pro Tip: Use the footprint to protect the base of the tent from sticks and rocks protruding through the bottom of the tent floor.
Available as a 4-person and 6-person
4-person measures 3200 x 2100 x 5400

6-person measures 3800 x 2100 x 6200
Daydream
Best for campers who take trips a couple of times a year for shorter periods of time.
The Daydream is a fantastic inflatable 6-person tent that will serve family camping trips well. One of the top features is the long 7m internal area - perfect to spread out in. This tent is also a little taller which makes it perfect for growing teenagers and taller people.
This tent is made from the Weathershield 68D, a polyester fabric that doesn't breathe as well as the Stradbroke but is still durable, lightweight, UV protected and weather-resistant.
The tent comes with a footprint and carpet included, as well as great design features such as an enclosed front entrance which is a practical area for creating a large indoor space when the weather is inclement and a large open porch when it's pleasant.
There are also multi-level ventilation points and a darkened inner tent to regulate the interior temperature, increase airflow and promise a good night's sleep.
Available as a 6-person tent measuring 3800 x 2200 x 7000.
Hayman
Best for small groups and shorter weekend trips.
There's a lot to love about the Dometic Hayman 4 inflatable tent. It's jam-packed full of features including large oversized windows and a darkened inner tent to help to regulate the interior temperature and increase airflow. This tent has a sewn-in groundsheet and variable inner tent as standard.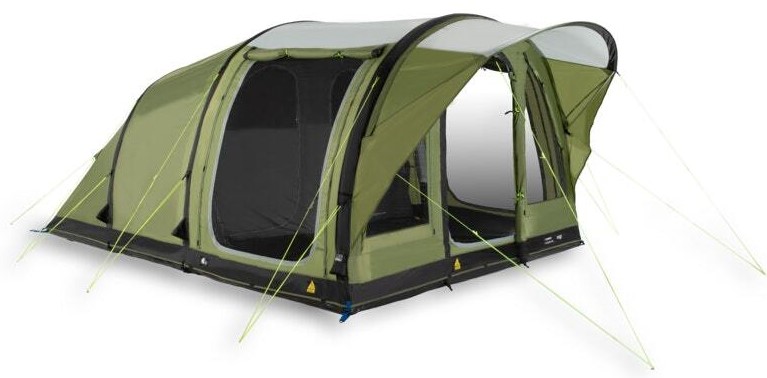 Like the Daydream, it is made from the Weathershield 68D material, which is lightweight and weather-resistant with UV protection, but not as durable or breathable as the Stradbroke.
Available as a 4-person tent measuring 3000 x 1950 x 4100.
Browse our range of inflatable tents online today!
DISCLAIMER* Please note, this advice is general in nature and we strongly recommend consulting the product manual and where relevant, a professional installer.
---
Leave a comment