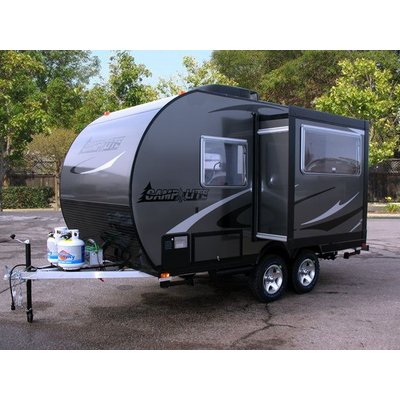 The Hottest Caravan Trends of 2016
This year has been a lucrative one for the Australian caravan industry. Experts had already predicted that 2016 was going to be a record-breaking year for caravan sales, especially with the caravanning demographic growing to include a younger population of campers.
However, it seems this has now been confirmed with the chairman of Jayco, Gerry Ryan being quoted as telling The Weekend Australian, "This is the best I have seen the market in 40 years", with half of Jayco's RVs currently being sold from their southeastern Melbourne plant.
This year alone, Jayco plans to manufacture and sell 11,600 RVs, which amount to a combined value of $600 million.
This boom in the caravan industry has been attributed to the low value of the Australian dollar, with Stuart Lamont, the chief executive of the Caravan Industry Association explaining, "The low dollar is making international travel less attractive. We are finding people are taking shorter breaks." He goes on to state, "Last year, Australians spent $8.7 billion on caravans and camping, which is up about 24% over the past 3 years."
With this recent booming interest in caravanning, caravan manufacturers have been going the extra mile to stand out from their competitors.
The following few sections will outline the hottest caravan trends to hit the industry this year.
Lightweight Materials
Manufacturing lighter RVs makes sense for the industry.
RVs that are lighter are able to be towed by a larger variety of vehicles, use less fuel (as a result of a lower tare mass), and are simply much safer in general.
This year, the industry's top manufacturers have been experimenting with a variety of construction materials for the lightest caravans possible.
Some examples include using lightweight, aluminum frames in conjunction with fiberglass paneling, and either a hot-dipped galvanized (which creates a layer of zinc) or a Duragal-protected chassis.
In regards to aesthetics, many local manufacturers are also seeing successful results with Alucabond cladding, which was popularized through its use in the building industry.
Alucabond cladding is essentially composed of a resilient polyethylene sandwiched between two lightweight aluminum composite sheets.
Gerry Ryan and Jayco, however, have been offering sleek fiberglass composite finishing at lower prices this year. These reduced prices will likely see an increase in demand for this type of aesthetic in the future.
Smaller Size
In conjunction with the market's attempt to create lighter RVs, smaller-sized caravans have also been increasing in popularity in 2016. The teardrop trailer, in particular, has been breaking onto the scene with the vengeance, presenting a great starter RV option for the family on a budget.
Teardrop trailers generally measure between 8 and 10ft in length and 4 to 6ft in width.
Weighing less than 1000 lbs., like other lighter caravans, the teardrop trailer can be towed by a variety of vehicles with very little effect being seen on fuel consumption.
Advanced Technological Components
As a result of living in the modern digital age, campers are now seeing technology play a larger and larger role in luxury caravan camping.
Considering that hands-free technology has already been popularized in vehicles such as boats and cars, it's no surprise that it is now breaking its way into the caravanning industry, as well.
The year 2012 marked the emergence of RV electronic stability control systems (popularized by Al-Ko), while 2015 saw the development of caravan anti-theft devices equipped with microdot technology and GPS tracking, as well as fully independent caravan Wi-Fi kits.
This year, however, centralized digital management systems are taking center stage, with Finscan's smart phone-operable model leading the way. This convenient system synchronizes all of your battery charging, solar, and water levels onto one handy screen, while also providing easy-to-use touch switches that enable campers to quickly control their interior/exterior lights and water pump.
As mentioned, the Finscan digital management system is also completely operable via the associated Finscan smartphone app.
Lithium-Ion Batteries
Lithium-ion batteries, and lithium-ion phosphate batteries, in particular, function via moving ions which ultimately eliminate the need for the weighty plates associated with traditional lead-brand batteries.
In addition to being much more lightweight, lithium-ion batteries are also known for their ability to deliver higher energy levels, power density, charging efficiency, and a longer life span than their lead brand counterparts.
The popular caravan manufacturing company Bushtracker, has recently reported that 98% of buyers are now requesting a built-in lithium-ion battery system amongst their caravan prerequisites.
For more information on lithium-ion batteries, please see our article entitled "Lithium-Ion Battery Technology is Here".
Slim Solar Panels
In another attempt at creating the most lightweight caravan possible, many manufacturers are now using innovative, super-slim solar panels.
These panels, which boast a thickness of approximately 3mm, are also designed for superior flexibility and aerodynamics.
Their ability to be mounted directly onto an RV or vehicle's roof makes for much less wind drag resistance, also improving fuel efficiency in the long-run.
Advances in Water Filtration and Cookware
An increased interest in caravan camping would naturally spawn an increased interest in innovative caravan camping accessories.
Water filtration systems and caravan cookware have both seen large advances in the year 2016.
Affordable and efficient reverse-osmosis filters are increasing in popularity while Elsan-branded Caravan Toilet Blue Bags are also quickly becoming a camping favorite due to their quick and easy method of use.
Cooking on the road is also becoming an increasingly comfortable task with this year's collection of efficient and quick-heating electromagnetic induction heaters and thermal crock pot cookers, like the Dreampot and Ecopot.
Technology Disruptors
To be frank, technology disruption seems to be more of an issue for RV manufacturers than campers themselves, however, it's is only fair to mention that with the boom of the caravan industry, is a boom of caravan industry "disruption".
Companies such as Airbnb and Uber have each had negative consequences for the taxi, car, and hospitality industries, but have ultimately been beneficial in widening the market for consumers.
While the caravan camping industry has yet to experience a direct impact from technology disruptors, sites such as HomeCamp.com (which rents backyards as caravan parks) and MyCaravan.com.au (which pairs caravan owners and people looking to rent caravans) have already begun to crop up.
As of yet, however, the magnitude of this particular trend remains to be seen.
DISCLAIMER* Please note, this advice is general in nature and we strongly recommend consulting the product manual and where relevant, a professional installer.