Dometic IBIS 4 Caravan Air Conditioner
Caravan Air Conditioner
Reviews: Rated 5/5 based on 19 reviews. SKU: IBIS4-ADB-KIT
---
$2,459.00
In Stock
Dispatch Delay 10-14 Days
---
Dometic IBIS 4 - Roof Mounted Caravan Air Conditioner with Inverter Technology
The Dometic IBIS Mk4 roof top air conditioner is the next generation of the Dometic IBIS Range, with a new sleek design the new IBIS MK 4 is not only lighter than the IBIS MK 3, it is also much quieter and more efficient than its predecessors. Inverter technology and universal aperture mounting kit makes the IBIS 4 interchangeable with any RV Air Conditioner on the market.
Features:
Automatic Display Brightness: Ambient light sensor automatically adjusts brightness of display
Auto Mode: Set temperature & system will decide mode and fan speed
Sleep Mode: Sleep mode reduces fan speed and compressor speed for reduced noise
Direct Mode Selection: Key modes are at your fingertips
Turbo Fan Speed: Higher fan speed for faster cooldown
Compressor Type: New Generation Variable Speed Compressor
LIN-BUS/CI-BUS: Connectivity with CI-BUS compatible control panels
Optimised Airflow: Increased efficiency and reduced noise
Low Fan Noise: 3 Standard Speeds (Less fan noise than IBIS3)
Low Profile ADB: 48mm height
2 Piece ADB: Simplified assembly due to reduced number of ADB parts
Dual Cylinder Inverter Compressor: Reduced vibration highly effective
Specifications:
Weight: 40kg
Nominal (Compressor Capacity): 3600W
Cooling Capacity (ISO5151): 620W to 2878W
Heating Capacity (ISO5151): 981W to 3029W
Current Draw (Cooling/Heating): 2.2A to 8.0A / 2.2A to 7.5A
Start-up Current: Less than 6.9A
Fan Speeds: 4 (Including Turbo Speed)
Roof Opening Fitment: 400 x 400mm or 360 x 360mm (universal)
Dimensions: (L) 1112mm x (W) 758mm x (H) 230mm
Suits roofs thicknesses: From 20mm - 100mm, if above 100mm see - Extension Duct Kit Ibis MK4
Operating temperature range: -2 degrees and 52 degrees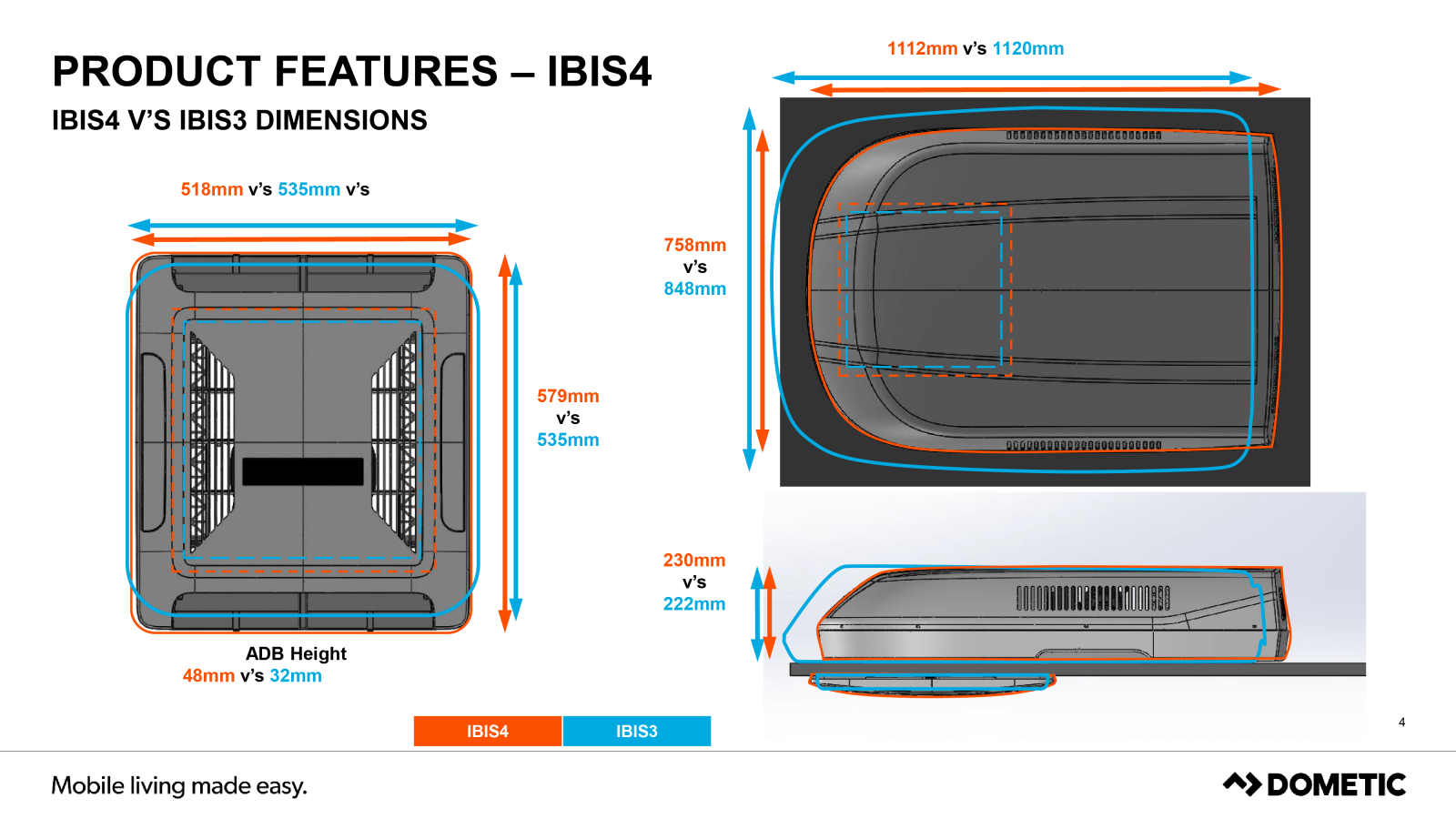 Want to replace your existing Caravan Air Conditioner with an IBIS 4?
Replacing your existing air conditioner has never been easier with the IBIS 4 being able to fit into both, 360mm x 360mm and 400mmm x 400mm roof cut-outs. Currently, all RV air conditioners across all brands are made to suit these two sized cut-outs mentioned above. Not all RV air conditioners are made to suit both and having a unit that fits all existing apertures takes the hassle out of selecting the right air conditioner for your caravan.
Check that you have enough space available on your roof! Whilst the Ibis 4 overall length is physically like most other brand air conditioners measuring in at 1120mm in length, the slightly different mounting offset can make the Ibis 4 sit a further 100mm back (approx.) from where your existing similar sized unit currently is positioned. Any solar panels or hatches that are mounted extremely close to the rear of your existing air conditioner may hinder the installation of your Ibis 4. To be safe - allow an extra 200mm of space behind your existing unit. To be exact - you need 840mm minimum clearance measured from the centre of your roof cut-out rearward of free space.


Cooling Capacity: 2.6 kW
Dimensions: 758 x 230 x 1112 mm (W x H x L) (Rooftop Dimensions)
Roof Opening: 360 x 360 mm and 400 x 400 mm (W x D)
Weight: 40 Kg
Air con

To early to tell yet but fast service. Good people to deal with




(5)
IBIS 4 Air Conditioner

By:

Allan Hoare

on 25 April 2020

This Air Conditioner is a good as the hype in the advertising. Comes on nice and smooth, not like my previous one that came on with a thump and off the same way. I found the IBIS 4 was very easy to install. I highly recommend it.




(5)
Ibis Air con

By:

wayne threlfo

on 16 April 2020

Great service - great product




(5)
Dometic ibis 4

By:

Dennis king

on 18 March 2020

Fitted to replace eletrolux air conditioner, lighter and a lot quitter even when run with turbo fan, compaired to when the old one was on lowest setting. Test run with my 2 kva Honda generator which handles it with easy on heating and on cooling will have to wait until the weather gets hot to see how the generator goes when it comes to cooling a hot caravan. Heavy to fit on your own if you want to fit it your self but can do if you have help, suplied instructions are clear and easy to follow




(4)
Worth the extra money to get the best!

By:

Chris Richards

on 6 March 2020

Air con Installed Working well very quiet Features are good Well worth the extra $ to get the best! Thanks




(5)
Ask a Question or Submit an Answer to this Product
---
Q) We have an older model ibis Mkll and are looking to upgrade to a new unit after feeling the heat this summer whilst on our holiday break, we have noticed the new Aircommand Ibis MK4 is now available and the unit looks fantastic. Just wanting to know if it will fit in the same size hole in our roof? Is it a direct replacement for previous models? Many thanks in advance.
A) Hi There, yes, the new Ibis Mk4 has taken the RV market by storm. There have been multiple upgrades to the unit which intern is leaving the rest of the rivals in its wake, The Ibis Mk4 has a integrated adaption kit to suits existing apertures 400 x 400mm or 360 x 360mm there for making it a suitable replacement for all previous models of the Ibis and almost every RV air conditioner on the market.
Q) Hi, I have an Aircommand sparrow installed on my full height caravan and is over 8 years of age. I'm wanting to upgrade to a bigger more powerful unit but still want to keep a sleek low-profile design as I don't have much room to fit under my garage. Is the Ibis MK4 a low-profile design?
A) Hello, Yes, the Ibis Mk4 is one of the most low-profile sleek designs on the market. The total height of the unit is 230mm making it only 15mm higher than your Aircommand Sparrow, fingers crossed for you and hope this suits.
Q) Hi, we have an old Dometic roof top air conditioner on our caravan and are interested in the Ibis Mk4. What is the overall installed weight of this unit? As we are right on the border with our weight levels as it is.
A) The total installed weight of the Ibis Mk4 is 40Kgs, 8Kgs lighter than the previous model which means every little bit to its user as the authorities are cracking down on road users who are overweight with their caravans, trailers etc.
Q) Hello, I own a pop top caravan and am very interested in the new Dometic Ibis MK 4. I have already purchased the H-frame to suit and was just wondering if this unit will still fit my roof thickness as the H-frame nearly doubles my roof thickness. Any ideas would be greatly appreciated?
A) Hi, great question, the Ibis MK 4 accommodates roof thicknesses from 20mm - 100mm. If your roof thicknesses goes beyond 100mm you will need to purchase an Extension Duct Kit - Ibis MK4, for every 10mm over you will need one duct per every 10mm. I hope this helps and thank you for your enquiry.
---
Best Sellers From This Category: