---
FREE SHIPPING NATION WIDE!
DOMETIC IBIS MK4 NEXT GENERATION INVERTER ROOFTOP AIR CONDITIONER
Dometic IBIS Mk4 roof top air conditioner is the next generation of the Dometic IBIS Range, with a new sleek design the new IBIS MK 4 is not only lighter than the IBIS MK 3, it is also much quieter and more efficient than its predecessors. Inverter technology and universal aperture mounting kit makes the IBIS 4 interchangeable with any RV Air Conditioner on the market.
Features:
Automatic Display Brightness: Ambient light sensor automatically adjusts brightness of display

Auto Mode: Set temperature & system will decide mode and fan speed

Sleep Mode: Sleep mode reduces fan speed and compressor speed for reduced noise

Direct Mode Selection: Key modes are at your finger-tips

Turbo Fan Speed: Higher fan speed for faster cooldown

Compressor Type: New Generation Variable Speed Compressor

LIN-BUS/CI-BUS: Connectivity with CI-BUS compatible control panels

Optimised Airflow: Increased efficiency and reduced noise

Low Fan Noise: 3 Standard Speeds (Less fan noise than IBIS3)

Low Profile ADB: 48mm height

2 Piece ADB: Simplified assembly due to reduced number of ADB parts

Dual Cylinder Inverter Compressor: Reduced vibration highly effective
Specifications:
Weight: 40kg

Nominal (Compressor Capacity): 3600W

Cooling Capacity (ISO5151): 620W to 2878W

Heating Capacity (ISO5151): 981W to 3029W

Current Draw (Cooling/Heating): 2.2A to 8.0A / 2.2A to 7.5A

Start-up Current: Less than 6.9A

Fan Speeds: 4 (Including Turbo Speed)

Roof Opening Fitment: 400 x 400mm or 360 x 360mm (universal)

Dimensions: (L) 1112mm x (W) 758mm x (H) 230mm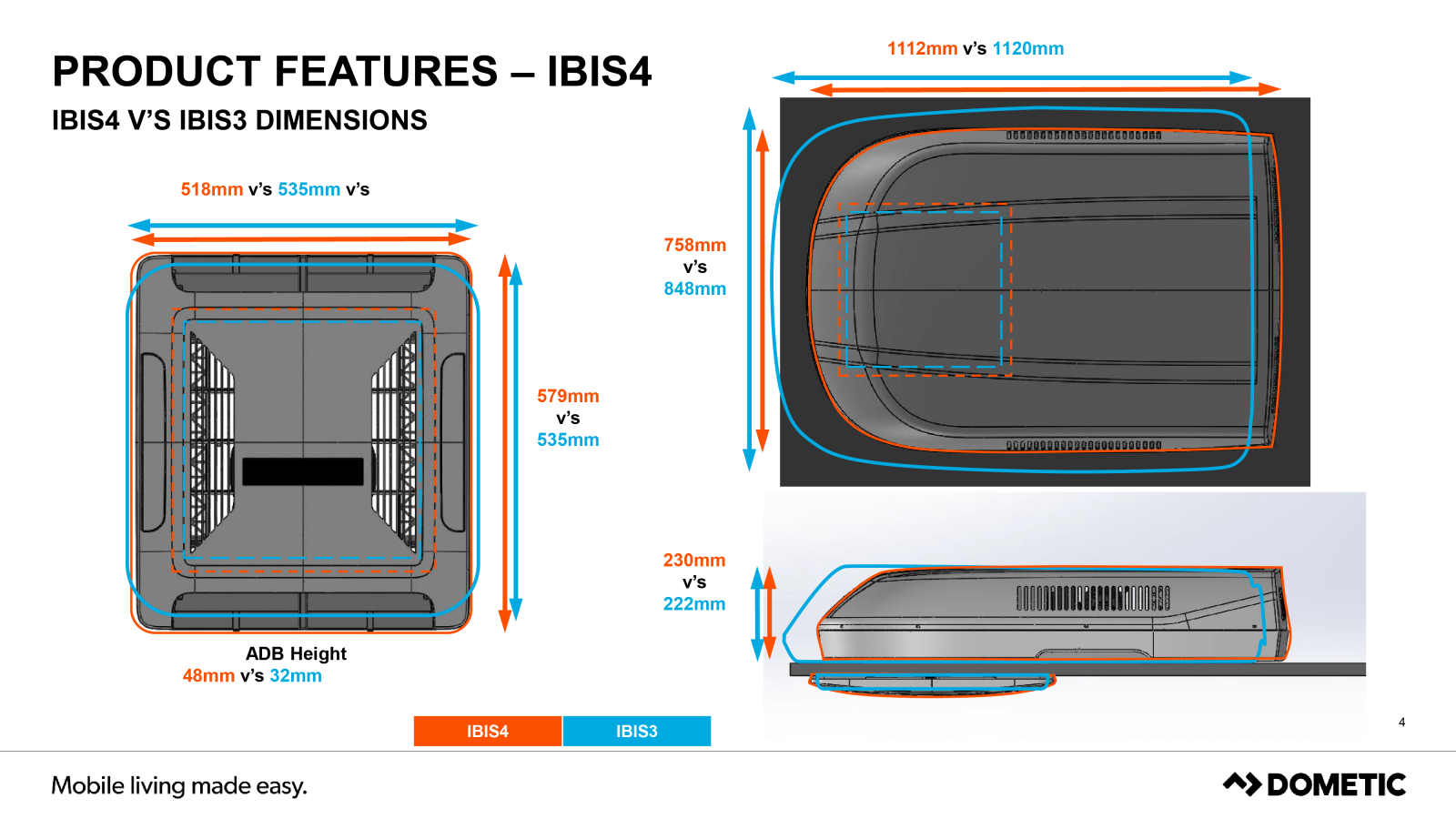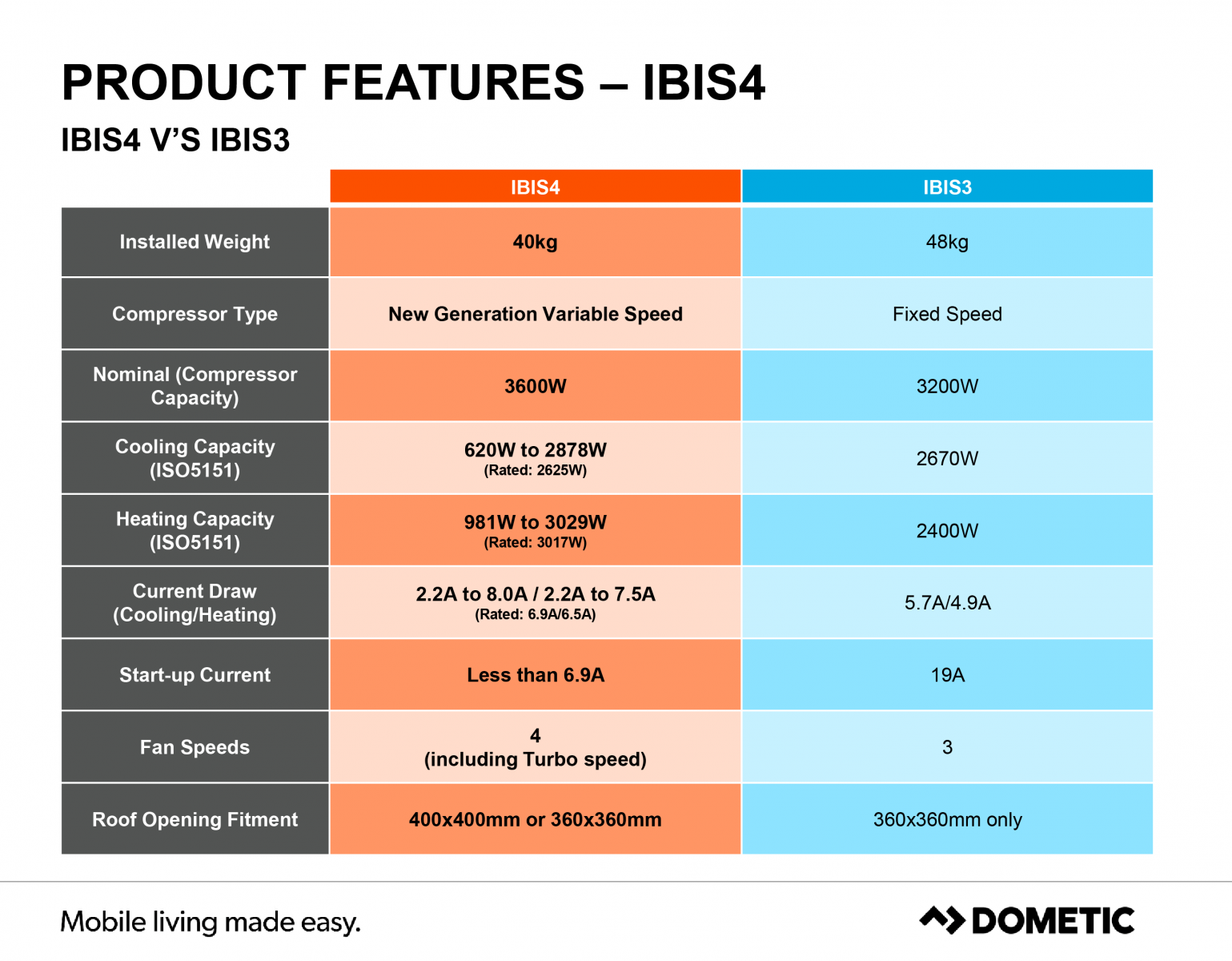 Ibis 4

By:

Joechalles

on 20 February 2019

A wonderful air conditioner,, much superior to the old one I had,,, and you people at caravanrvcamping did a great job with fitting the new Ibis 4,, thank you. Joe Challes..




(5)
Does the Job

By:

Joe Challand

on 30 January 2019

Replaced my Ibis 3 with the Ibis 4 - much quieter and cools the van down quicker. Very impressed I could get it installed through Caravan Rv Camping the very next day.




(5)
Ask a Question or Submit an Answer to this Product
---
Q) We have an older model ibis Mkll and are looking to upgrade to a new unit after feeling the heat this summer whilst on our holiday break, we have noticed the new Aircommand Ibis MK4 is now available and the unit looks fantastic. Just wanting to know if it will fit in the same size hole in our roof? Is it a direct replacement for previous models? Many thanks in advance.
A) Hi There, yes, the new Ibis Mk4 has taken the RV market by storm. There have been multiple upgrades to the unit which intern is leaving the rest of the rivals in its wake, The Ibis Mk4 has a integrated adaption kit to suits existing apertures 400 x 400mm or 360 x 360mm there for making it a suitable replacement for all previous models of the Ibis and almost every RV air conditioner on the market.
Q) Hi, I have an Aircommand sparrow installed on my full height caravan and is over 8 years of age. I'm wanting to upgrade to a bigger more powerful unit but still want to keep a sleek low-profile design as I don't have much room to fit under my garage. Is the Ibis MK4 a low-profile design?
A) Hello, Yes, the Ibis Mk4 is one of the most low-profile sleek designs on the market. The total height of the unit is 230mm making it only 15mm higher than your Aircommand Sparrow, fingers crossed for you and hope this suits.
Q) Hi, we have an old Dometic roof top air conditioner on our caravan and are interested in the Ibis Mk4. What is the overall installed weight of this unit? As we are right on the border with our weight levels as it is.
A) The total installed weight of the Ibis Mk4 is 40Kgs, 8Kgs lighter than the previous model which means every little bit to its user as the authorities are cracking down on road users who are overweight with their caravans, trailers etc.
---
Others Also Bought
---
More From This Category