As we launch into new adventures in 2022, It's never been more important to support Australian made camping gear.
When you buy Australian Made, your dollar goes to supporting the Australian lifestyle and you are injecting life directly into our economy.
Best of all, you can be confident that your Australian made camping equipment is specially designed to perform in the unique Australian environment.
After all, you get what you pay for, and when it's Australian made, that means you're getting high quality equipment that's designed to be enjoyed here in your own backyard.
Labels can be confusing, and there are a few different terms out there to look out for when buying Australian made.
What's The Difference Between Australian Made and Australian Manufactured?
Australian Made: At least 50% of the production costs remain within Australia and the product needs to have substantially be made in Australia.

Australian Manufactured: Products are manufactured in Australia from materials and components sourced overseas.
We've put together a list of Australian Made and Australian Manufactured camping equipment so you can buy Aussie with confidence:
Australian Made:
BMPRO
If you're in the market for power and battery management systems, BMPRO is a great pick for your Australian made camping equipment. BMPRO is an Australian brand specialising in smart RV, power, battery management and monitoring systems – think "Battery Management Pro".
Check out the BMPRO Prosmart Sensor Monitor with App to monitor water levels in your fresh or grey water tanks, gas levels in your BBQ and propane bottles, tyre pressure (TPMS), temperatures in the fridge, freezer or inside your vehicle, and 12V battery charge – all from an easy-to-use app on your smartphone.
BMPRO are such experts that they were even commissioned by Jayco to produce a complete range of Battery Management Systems for the latest models of caravan, including the BMPRO J35B-L Battery Management System for Lead Acid & Lithium Battery. New Age, Concept Caravans and Coronet RV are also known to use BMPRO systems, and there are now at least 150,000 units installed in Aussie caravans and RVs alone.
RV Storage Solutions
If you're looking for storage, fridge slides and other storage accessories for your RV and 4WD, check out the Australian made camping equipment by RV Storage Solutions.
The company is owned and operated by the Oliver Family, who have been manufacturing storage solutions in Australia for over 25 years. They are avid caravanners, campers, gold prospectors and fisher folk who love the Australian way of life, which means they couldn't be better qualified to make camping equipment!
We recommend you check out their all-purpose slide and tilt fridge slide.
BBQArm
If there's any country that knows how to BBQ, it's Australia! So, it goes without saying that Australian made camping equipment should include barbecues and BBQ accessories, like the BBQArm.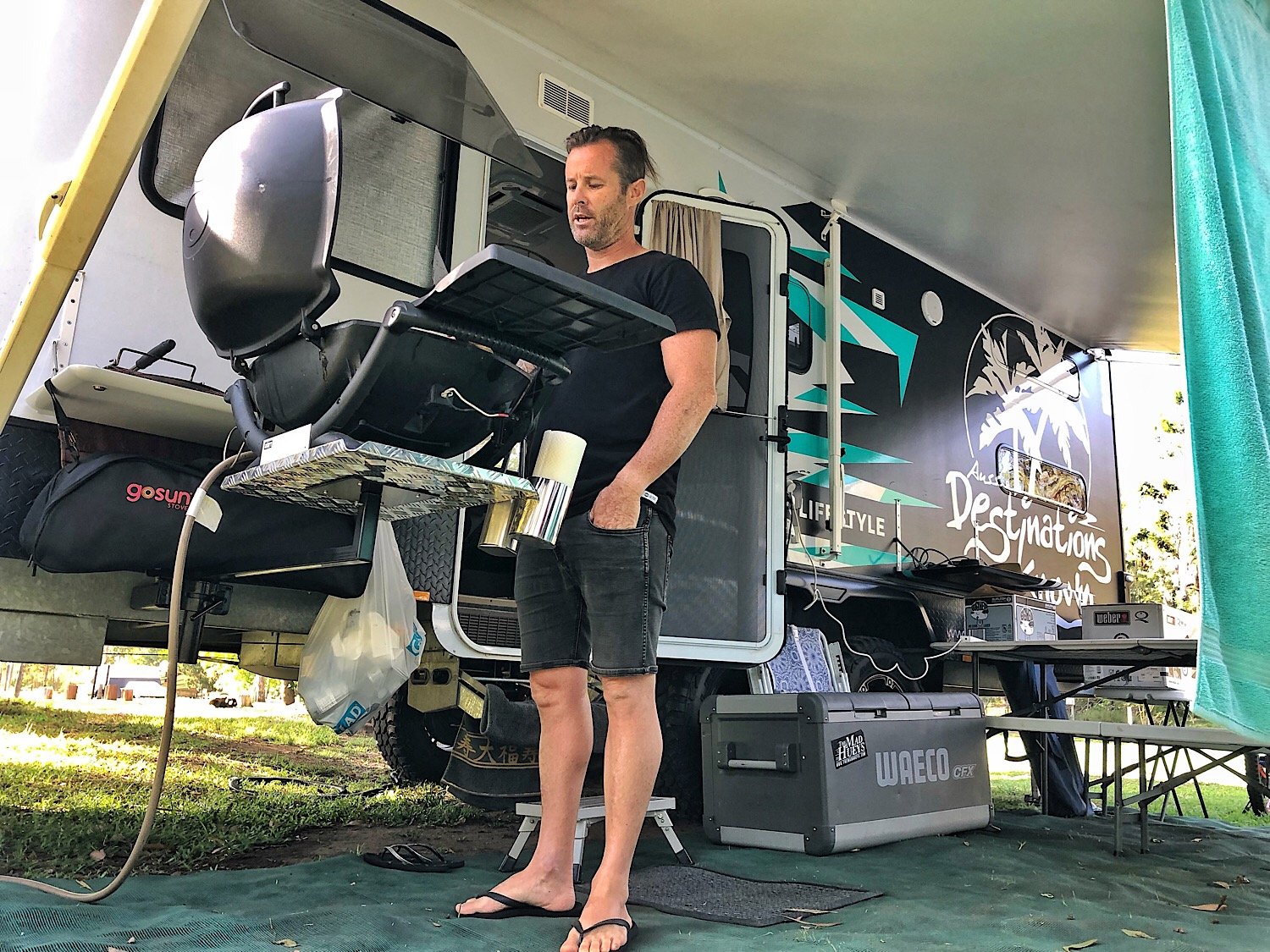 The BBQArm is made on the Gold Coast by Tony and Kylie, who describe themselves as a "typical Aussie family with a passion for the beach, bush and the great outdoors". It was Kylie's desire for a neater campsite and Tony's frustration with trying to fit everything in the van that led to the BBQArm.
The BBQArm is built to withstand Australia's harsh climate extremes, as well as being made by a local team of fabricators who source Australian made steel and local materials wherever possible.
Bog Out
One thing that should always be on your list of Australian made camping equipment is recovery gear. BOG OUT is a recovery system made to turn your wheels into winches.
Designed, tested and made in North Queensland for over 10 years, the system is made from exceptionally strong materials, and is suited to sand, mud and snow.
Check out the Single Pack or Twin Pack to suit your needs.
Muk Mat
Completely Australian owned by an Aussie couple who love the outdoors, the muk mat is an original artificial grass mat for when you want to keep your tent, car and caravan clean. Simply lay down your caravan outdoor mat or caravan step mat and know that your indoor space won't be full of sand and dirt!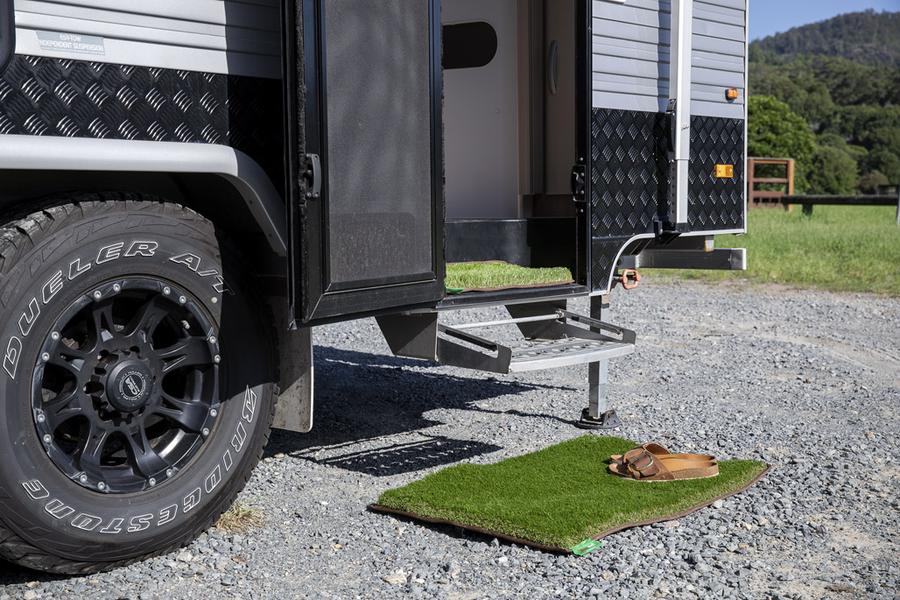 Muk mats are made from recycled, synthetic grass materials and are available in four sizes: muk mat step, muk mat original, muk mat large, and extra large in a variety of trim colours to suit your needs.
Ampfibian
Ampfibian designed Australia's first 15A to 10A adaptor back in 2005. Today their adaptors are a trusted name for safely and legally connecting your caravan, RV or motorhome wherever 15A power is not available.
Based in Northern NSW, Ampfibian's electrical safety products are designed and manufactured in Australia. You can be confident the range of power adaptors, surge protectors, and weatherproof connector protectors are built tough for life on the road and reliable performance under all conditions.
Haigh
For Australian made camping equipment like levellers and ramps, Haigh is a trusted brand that's been around since the seventies. They manufacture not only RV equipment but also automotive accessories from their base in the Sunshine Coast. When you choose Haigh, you know your gear is made in Australia and specifically designed to be tough and strong.
Lightforce Lights
Lights for 4WD vehicles don't come much better than Lightforce. Their award-winning HID housing and mounting systems have won awards and the 240 XGT system is so powerful and robust, it's the choice for off-road racers and the hard-core enthusiast worldwide.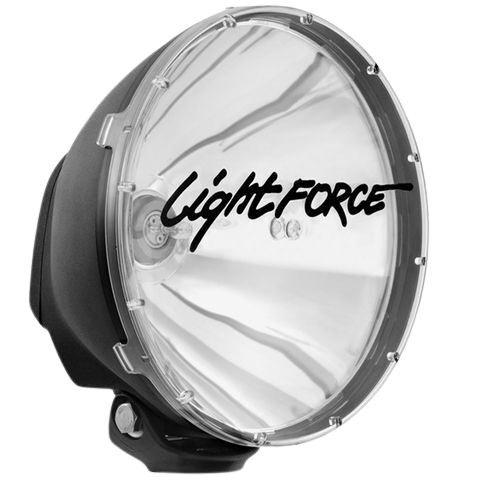 Based in Adelaide, this brand is Aussie born and bred for over 35 years. Aussies trust their equipment for driving, touring and hunting in the bush, because every product is made and tested for Australian conditions.
Australian Manufactured:
The following products are manufactured in Australia, using components sourced overseas.
Evakool Fridges and Iceboxes
The family-owned Aussie business has been making fridges for more than 30 years, so when it comes to keeping things cool in the Australian climate, they know their stuff.
A large selection of Evakool products use components from overseas, but they are assembled and commissioned locally in Australia at Evakool's HQ on the Sunshine Coast in Queensland. When it comes to performance, that makes a difference, you can be confident they are made for and tested in Australian conditions.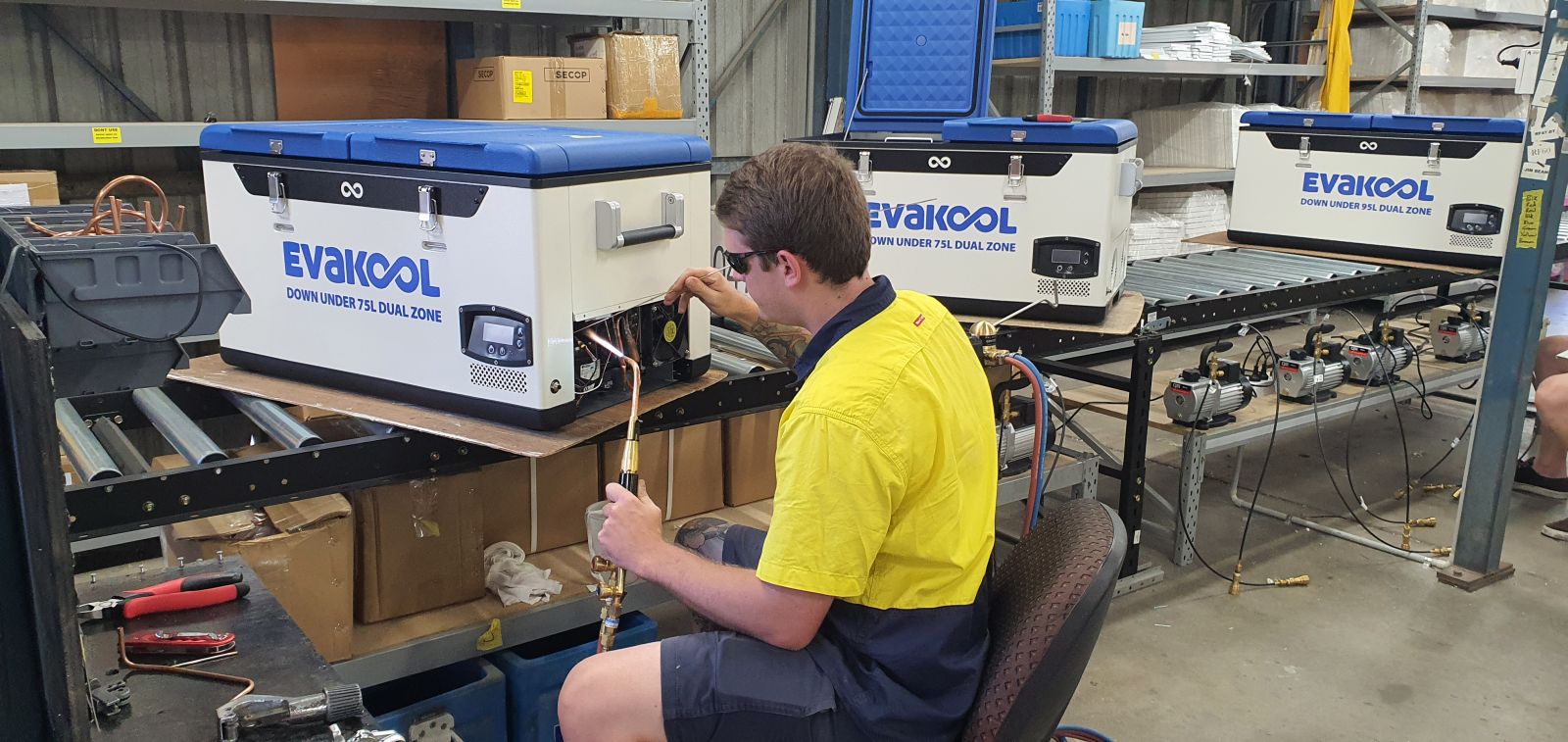 Top Australian manufactured products for caravanners include the Glacier Xtreme, a heavy-duty dual zone fridge freezer. Evakool even has a Down Under series, which is as Aussie as it gets. Featuring a world renowned Secop compressor and highly efficient roll bond evaporator system, Evakool Down Under is the ultimate portable fridge/freezer for your 4WD, camping and caravanning adventures.
Evakool Fibreglass Fridges and Fibreglass Iceboxes are also manufactured in Australia, specifically to withstand Australia's harsh conditions. In fact, their legendary insulation means an Evakool fibreglass icebox can store ice up to 15 days! (Depending on size and usage).
Enerdrive Power Systems + Canopy Systems
The name "Enerdrive" has been part of the Australian vocabulary for power products for years. Here's a fun fact: Enerdrive was born out of another company called Advance Trident Limited, which mainly served the marine market. In 2008, Australian businessman Chris McClellan led a management buyout, changing the name and direction of the company in the process. Because McClellan's background was mobile power for boats and caravans, he fuelled the business with passion and direction to become a leading supplier of independent power products.
In 2021, global organisation Dometic acquired Enerdrive into their portfolio. This will open up the Enerdrive brand to the global market and expand their domestic presence. Enerdrive is committed to maintaining their current level of customer service and aftersales warranty and technical support.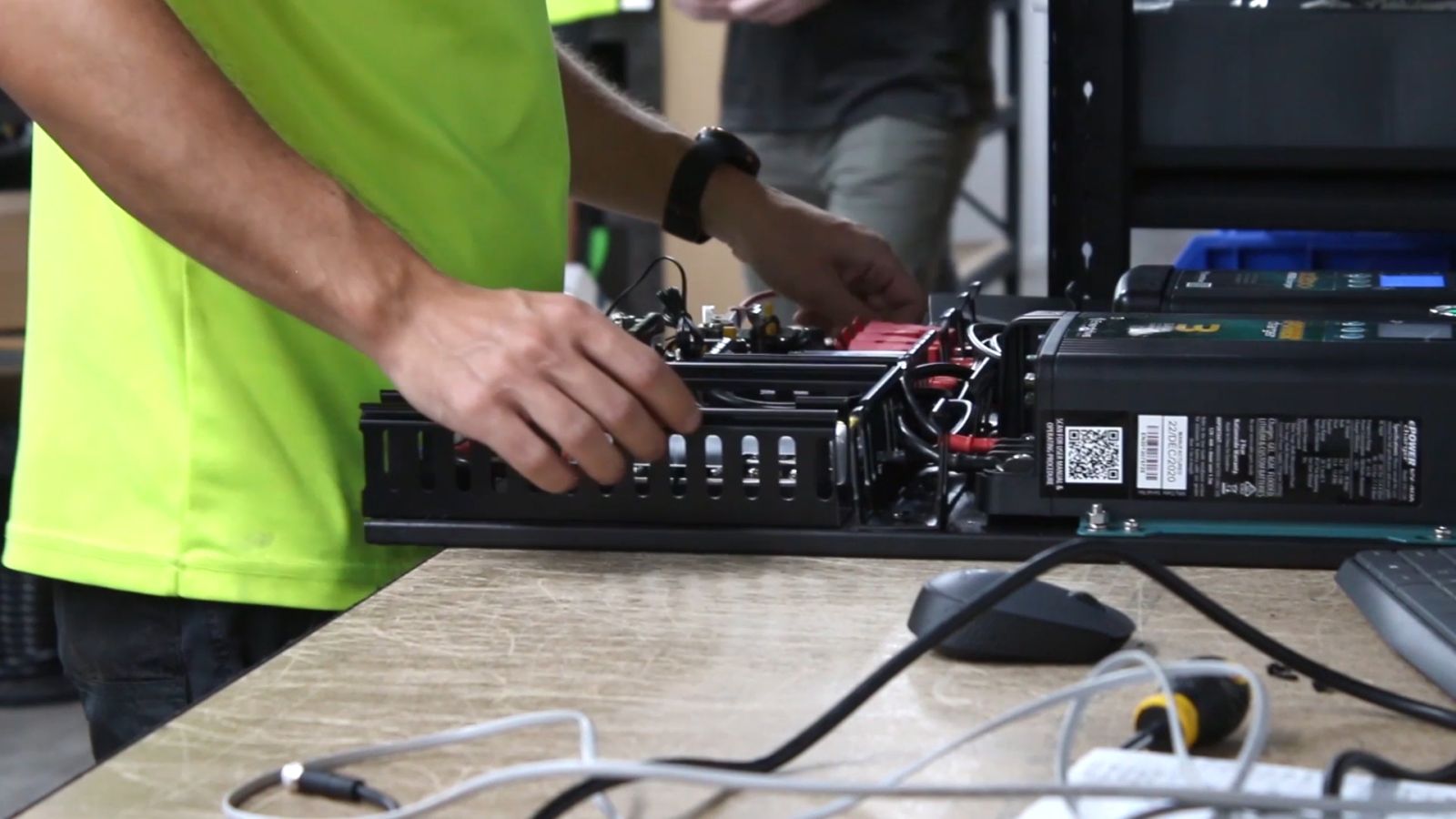 Enerdrive employ a dedicated production team that manufacture and assemble power systems and canopy systems in Brisbane, QLD. Targeted at the 4x4 and caravan market, these ready made 12V off-grid systems cut down installation times for DIY installers and professionals alike. Systems include a combination of DC to DC chargers, AC to DC chargers, battery monitors, inverters, switches, fuses and safety protection. If you own a 4x4 dual cab with a canopy on the back, you should seriously consider Enerdrive's innovative canopy system range.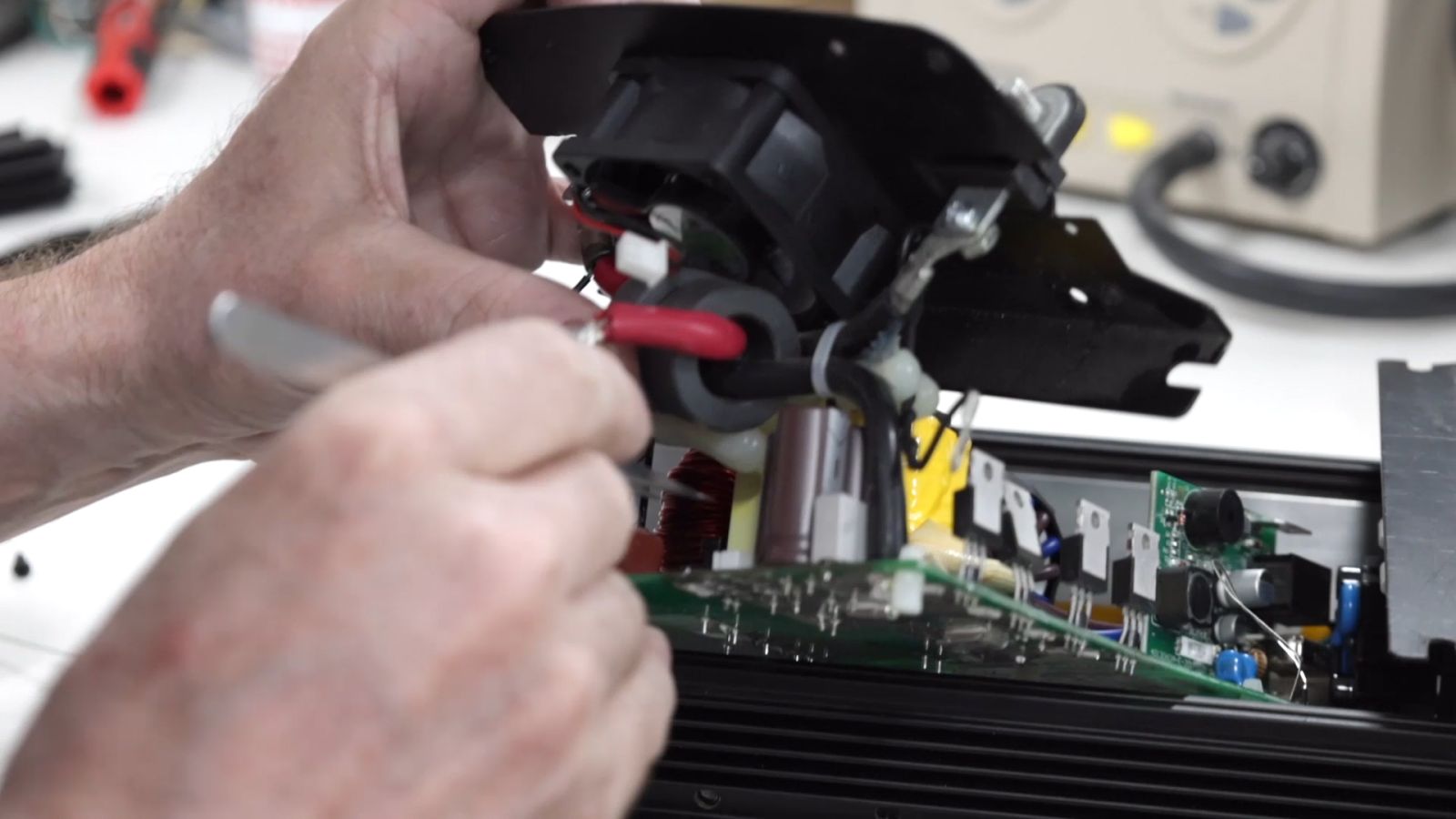 Support local – Shop Australian made camping equipment in our store here.
DISCLAIMER* Please note, this advice is general in nature and we strongly recommend consulting the product manual and where relevant, a professional installer.