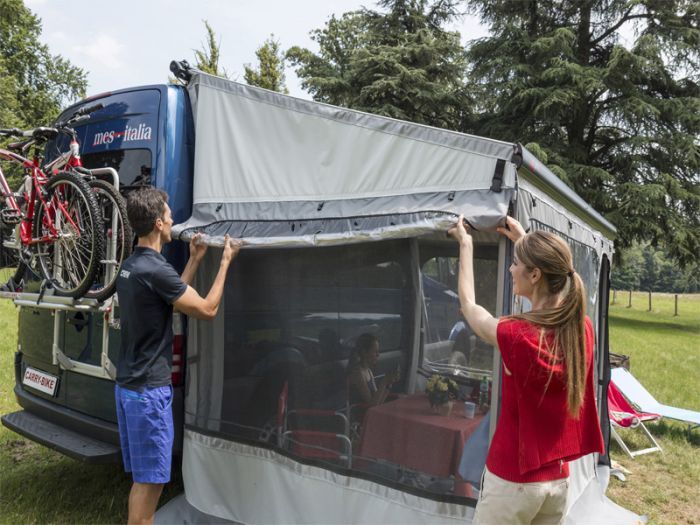 Caravan Privacy and Sun Screens: What's the Difference?
Are you tired of crowded surroundings, nosy neighbours, and glaringly hot sun? If so, then you are definitely not alone. While caravan camping can be relaxing, sometimes we'd just prefer a bit more privacy, especially when taking advantage of popular caravan park locations and on-site living.
If you're in this type of crowded situation, then you may want to look into caravan sun and privacy screens. These handy caravan additions have boomed in popularity as more and more people are beginning to partake in caravan camping adventures and leaving the bricks and mortar.
We have put this article together to go over everything you should know prior purchasing either a caravan sun or privacy screen.
Caravan Sunscreens
Many new campers, unfamiliar with camping terms, are often confused about the difference between a sun and privacy screen. In general, sunscreens are strictly geared towards providing shade and shelter from environmental elements, like rain, heat and windy conditions. They are usually installed along the end or side walls of a caravan, to block and minimise Australia's harsh conditions.
Campers can then sit between the caravan and sunscreen, shielded from the heat or rain, and able to enjoy a bit of shade. Depending on their make, some sunscreens can also act as a privacy room. Ultimately blocking you from the view of nosy neighbours, peering eyes and giving you the shelter, we have come to expect from our extended tours away.
Privacy Screens
Privacy screens are extremely similar to sunscreens. Like sunscreens, privacy screens also create a barrier of privacy from your nosy Joe Blow next door. Whilst we all love a chat on our vacation some of us love the privacy guaranteed by the shade barrier between our set up locations.
For even more space, some campers opt for fully-annexed privacy rooms.These privacy rooms are made up of four separate walls and They also have a full-sized door, with many styles also displaying features like screened windows.
Best Brand?
While every person will undoubtedly have their own personal preference, Coast to Coast has definitely become a majority favourite. Like Caravan RV Camping, Coast to Coast has over 40 years of experience working in the caravan industry, and privacy screens are only one of the high-quality products that they produce.
Coast to Coast Awning Kits
As mentioned, Coast to Coast is renowned for their high-quality sun and privacy screens. Their high-quality awning kits, however, are the number one choice in providing the ultimate privacy and comfort. Each Coast to Coast awning kit has been created to last, featuring better splines, stronger D-Ringed triangles, added edge hemming to reduce the chances of fraying, and superior strength steel pegs.
if you require further information please feel free to contact one of our friendly staff on 1800 787 278 or www.caravanrvcamping.com
DISCLAIMER* Please note, this advice is general in nature and we strongly recommend consulting the product manual and where relevant, a professional installer.
---
Leave a comment