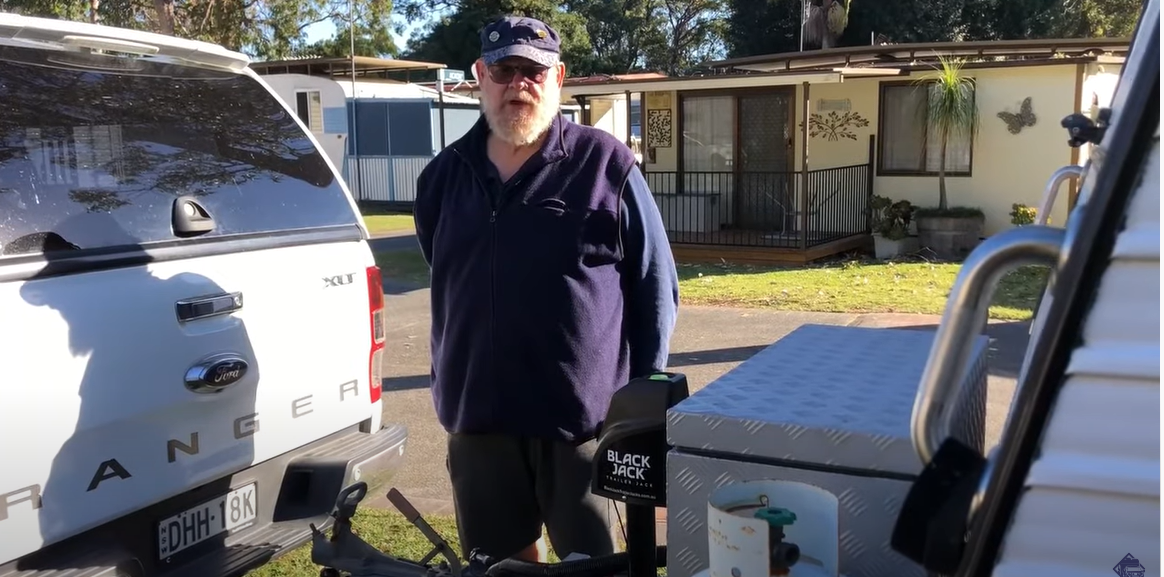 If you ask people to recommend an electric caravan jack, there's one model that will come up again and again: Black Jack.
So what is it about this electric caravan jack that makes it a popular accessory for today's caravanners?
Why should you choose a Black Jack Caravan Jack over all the other caravan jack brands out there?
Let's take a look.
What Is The Black Jack Caravan Jack?
The manufacturer describes the Black Jack Trailer Jack as "the simplest, quietest and most advanced electric jack on the market today." And we couldn't agree more.
There's simply nothing else like it on the market – which is probably why this electric caravan jack is one of our best sellers here at Caravan RV Camping.
You can purchase a model with a wiring harness for easy installation. Or if you already have cabling, get the Black Jack Caravan Jack with clamp only and no harness.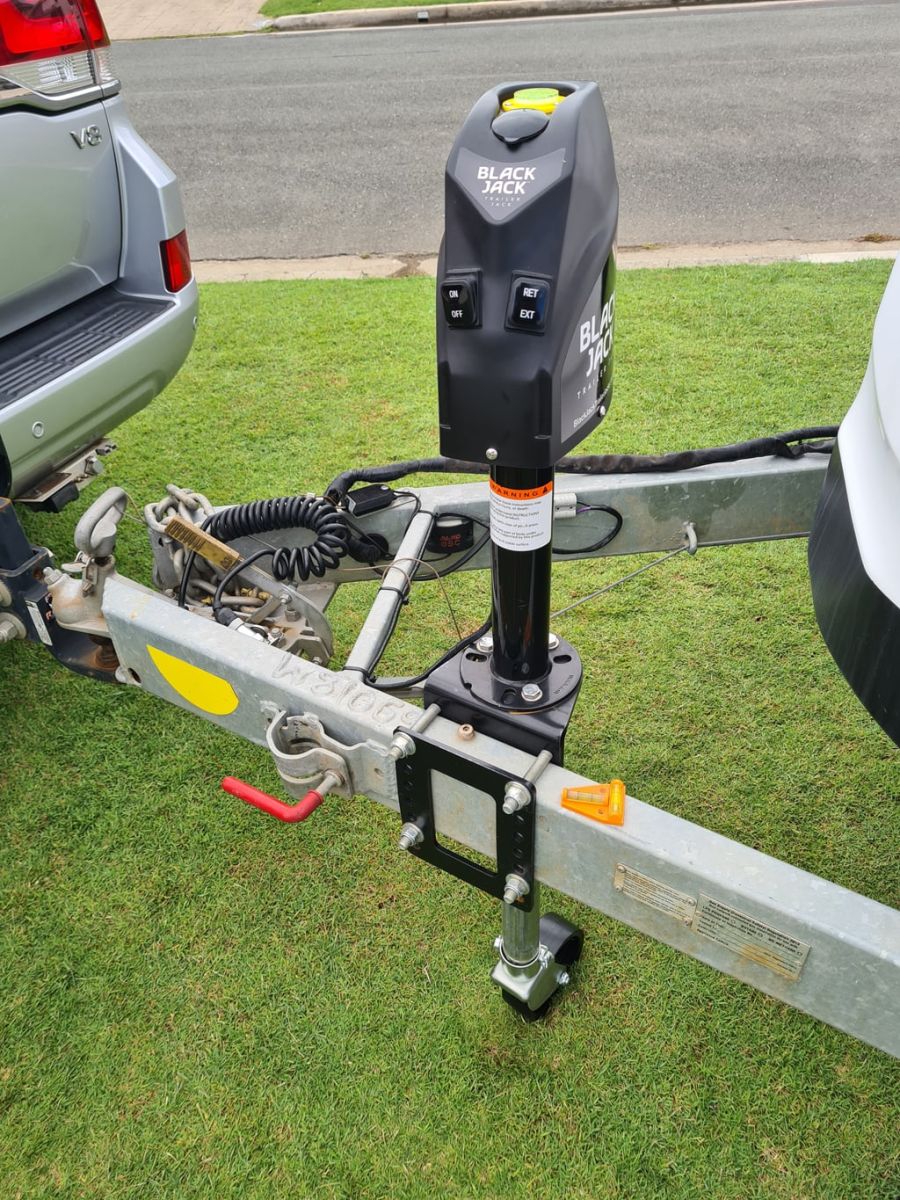 Features We Love About The Black Jack Caravan Jack
One of the top things we love about this electric caravan jack is the easy DIY installation – the jack comes with a cable that can be connected directly to your 12 volt battery, this is ideal if your battery is fitted into the tunnel boot at the front of the caravan. There are bundles available with a wiring harness that includes 5m of cable for a more solid and troubleshoot worthy install.
When you're ready to go, use the switch button to Raise or Lower – what could be simpler? The 1600kg lifting capacity will lift just about any caravan or trailer, and there's a 560mm stroke for those tall off-road caravans and high suspended vehicles.
Black Jack has added all the bells and whistles to this electric caravan jack. For all those times you arrive at or leave the campsite in the dark, there's an LED light to make life easy. A built-in level indicator means you can easily adjust the caravan level after you unhitch. There's a removable foot pad for more stability on soft or unstable surfaces, and just in case things don't go as planned – there's even an emergency crank handle for back up.
Why Choose An Electric Caravan Jack Over Manual?
Using a manual caravan jack has always been physical work. You have to bend down and strain. To make a tough job even tougher, some jockey wheels will rust and de-grease over time which makes it harder to wind up and down.
An electric caravan jack solves all that. It makes light work of lifting or lowering your caravan, so your muscles, joints and back don't pay the price.
As if that wasn't easy enough, Black Jack has added a folding foot to its electric caravan jack, so you don't need to remove the jack at all. It can stay in place while you're on the road.
Why Not Purchase A Black Jack Bundle?
Here at Caravan RV Camping we offer a range of Black Jack bundles to suit all caravanning needs. The Black Jack Electric Trailer Jack Bundle with Harness kit & Weight Scale is a great option for the heavy packer and a solution to check your tow ball weight before hitching to stay safe on the roads. Alternatively, there are bundles to help level your caravan, pick from the Black Jack Electric Trailer Jack Bundle with Harness kit & Redfoot Levelling Big Block or the Black Jack Electric Trailer Jack Bundle with Harness kit & Redfoot Levelling Camper Levellers. You can shop all Black Jack bundles here.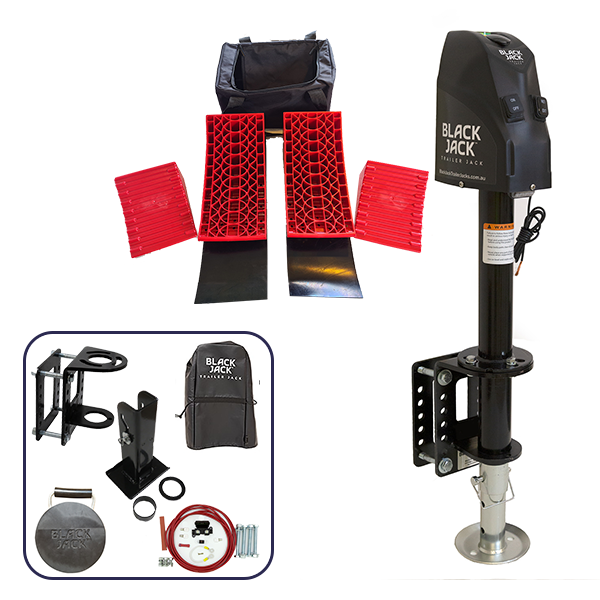 See Why Our Customers Love It
Shayne, 10 August 2023
"This Fastway and blackjack combo has made things so much easier. No more sway and weight balanced to the front wheels. And the blackjack has made setup that much easier, my son can even do it."
Rick, 11 September 2023
"So amazed at this Blackjack. Its reach is way more than the standard jockey wheel and easy to use. Fitting was simple with little effort and time. I wired a safety switch in the tunnel boot so I control who and when it's operated"
Ian Mackay, 15 October 2022
"After several years of caravanning, an unfortunate accident looked to put an end to our touring. Enter the Black Jack electric jockey wheel. After discussions with other caravanners one name kept cropping up - Black Jack. So we bit the bullet and installed one. Wow! Why I hadn't done it before I don't know! Yes, it seems to take forever for the foot to reach the ground, but once there raising the caravan is as easy as pushing a button. Lowering the van is just as easy. At this stage you are probably saying " it only takes me 2 minutes to do that". Well, yes, but for me it means the difference between travelling or not. Raise a sweat, no not me and with an almost 500mm range and built in bubble level, I can have the van levelled quickly and easily. One problem is that other caravanners often want to see how easy it is to use. So a 5 minute setup often lasts much longer. What rating would I give it? 11 out of 10. The Black Jack is a great product, very well built and the kit I bought even included 2 stubby coolers! Attention to detail is very evident in the product and installation instructions. It does what it says on the box and you won't regret getting one."
Greg, 4 August 2022
"The Black Jack is great, best item I've bought for the caravan, easy to install and use, saves the back and gets me drinking beer and relaxing quicker"
Clayton Priddle, 23 June 2022
"Have to say this is the most amazing bit of kit you can buy. Still enough flexibility to move the draw bar in place without having to jockey your car around. I have never pushed my Hybrid (2.6t) so a wheel is not necessary. The folding leg is a sensational idea. Highly recommend. In fact have already had 2 mates buy these after seeing mine"
DISCLAIMER* Please note, this advice is general in nature and we strongly recommend consulting the product manual and where relevant, a professional installer.
---
Comments (1)
Vs Trail-a-mate

Because this doesn't come with an attachment to jack my tandem axle van in the event of having to change a wheel, I have opted for the Trail-a-Mate. It requires a little more effort than the electric item, but I'm only 83 so can still manage that!
---
Leave a comment