Jack Antenna
Author: Renee Napthali Date Posted:16 June 2016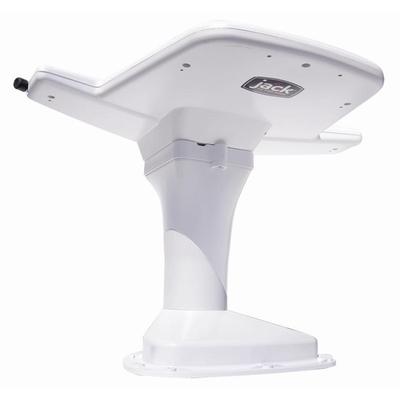 The following few paragraphs, provided by Caravan RV Camping, Australia's leading online caravan superstore, will be briefly going over a few of the benefits and features integrated into these two Jack Antenna models.
Jack Antennas: Outdoor or Roof-Mounted?
After extended periods on the road, books, magazines and travel games can become boring and lose their entertainment value.
We miss the luxuries of simply laying back and indulging in a great television show or movie, the ability to drift off and mentally relax.
For these types of situations, a caravan antenna is a great and affordable investment, allowing you to partake in many types of entertainment typically not available while camping.
In general, the Jack line offers two types of caravan antennas currently available for purchase
An outdoor, exterior-mounted model

A rotating, roof-mounted model
The basic outdoor Jack antenna model is a simple, affordable option suited to caravans, RVs, and campers.
Available Australia-wide, Jack's outdoor antenna model features an integrated amplifier geared towards enhancing VHF and UHF reception to its utmost capacity.
In regards to installation, this model also comes with a universal bracket for pole mounting, eliminating the need to purchase additional hardware.
This model's specifications include:
Antenna head dimensions of 415 mm (w) x 318mm (d) x 55mm (h)
Frequency bands:
VHF- 47-230 MHz with 20 dB gain

UHF- 470-860 MHz with 25 dB gain
Jack Outdoor Antennas are heavily discounted at Carvana RV Camping running off the shelves for only $110.00
As their names suggest, Jack Antenna roof-mounted models are installed onto the roof of your caravan.
With delivery available Australia-wide, the roof-mounted Jack model features many convenient benefits in comparison to its market counterparts and is considered a "new and improved" version of the basic Jack outdoor model.
Features integrated into the Jack Roof Mounted antenna include, but are not limited to:
User-friendly, rotating abilities geared towards a wider range of reception

Improved UHF reception for newer, digital channels (in addition to traditional VHF reception)

An integrated amplifier able to enhance performance in low-reception areas

A tiny, sleek design engineered for wind resistance and advertised as 70% smaller than traditional caravan antennas

Absolutely NO crank handle due to one, convenient fixed height

A simple installation compatible with a variety of roof thicknesses (32-114mm)

Elimination of reception "dead spots" due to system's rotating capabilities
In regards to specifications, this model is advertised with the following:
Dimensions of 318 mm (l) x 220 mm (h) x 415mm (d)

Total weight of 1.04 kilograms

Maximum roof pitch of 3 degrees

Required roof thickness of 32mm to 114mm
Frequency bands:
VHF- 47-230 MHz with 20 dB gain

UHF- 470-860 MHz with 25 dB gain
With all of the integrated features and flexibility provided by the roof-mounted model, it's easy to see why it's considered the next step-up from the former.
Because of this fact, the roof-mounted model is almost three times the price of the basic outdoor version. However, with a total price of around $249.00, this is the best price on the market so get in quick while this price lasts.
---
---