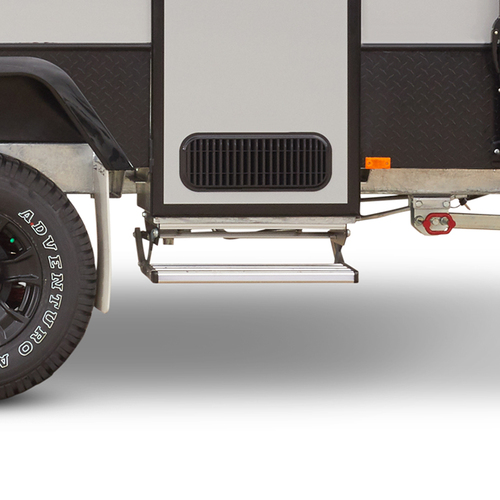 Caravans are big, bulky vehicles and, regardless of height, most of us require a set of steps to comfortably enter them. These steps, however, do not come with the purchase of a caravan and must be bought as an addition.
Although steps seem fairly straightforward, there are actually a vast variety of models and styles available.
If you're looking to purchase a new set of caravan steps, here are a few things you should be considering.
Number of Steps
In general, most steps feature either one or two stepping platforms. While this may seem like a minor difference, the number of stepping platforms ultimately offers campers a variety of different advantages.
Steps with one single platform are often smaller and easier to store along your travels. It's not rare to see campers conveniently stowing single platform steps beneath their caravan when not in use.
Single platform steps may not be ideal for older campers or those with mobility issues as they require a larger step to enter and exit the caravan. The base of single platform steps are also often significantly less sturdy than those of double platform steps.
Steps with two platforms, by their nature, are generally bigger and more difficult to manoeuvre around the inside of a caravan. However, newer folding models seem to eliminate this issue.
Two-platform steps often cannot be stored beneath a caravan. Because these steps are hard to see in car mirrors, campers must take great care when driving near the caravan with them in place. As mentioned, these steps are generally preferred by older individuals or those with mobility issues as they are sturdier and require less knee strain to use.
What It's Made Of
Not all steps are created equal and the material from which they are constructed is just another way in which they differ. Most caravan steps are built using steel, aluminium alloy, or plastic.
Steel steps are the heaviest steps and can become susceptible to rust if their paint is somehow damaged. Aluminium alloy steps are stiffer and lighter than steel but also tend to be more expensive.
Compared to aluminium and steel steps, plastic steps are fairly light and relatively easy on the wallet. Unfortunately, however, many plastic steps do not offer folding capabilities as a result of the ribbing technique used to strengthen them.
Type of Tread
For safety reasons, most caravan steps come equipped with some kind of a tread, however, different models often use different types. Plastic steps often have a moulded tread, while steel and aluminium alloy steps use either metal mesh or a rubber tread plate.
If you're looking for a superior grip, rubber treads are generally considered to be the most slip-resistant type of tread. Various glow in the dark treads can also be purchased to add extra grip and to help see the steps at night.
Angle of the Legs
The sturdiest steps are those built with legs angled outwards- as opposed to vertical. Angled legs create a large base area, drastically reducing the chances of tipping.
DISCLAIMER* Please note, this advice is general in nature and we strongly recommend consulting the product manual and where relevant, a professional installer.